Un niño de 11 años descubre un agujero para comprar la RTX 3090 sin esperas
Un pequeño genio con suerte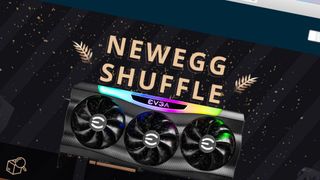 (Image credit: Newegg / EVGA)
Ante la avalancha de bots y revendedores, todas las tiendas tienen algún sistema para limitar la compra de tarjetas gráficas como la GeForce RTX 3080 y la Radeon RX 6900 XT, que se usan para criptominería. Pero un avispado niño de 11 años de Florida ha encontrado un agujero en el sistema Newegg para evitar colas y añadir una EVGA FTW3 RTX GeForce 3090 directamente a su cesta de la compra.
Para mucha gente en Estados Unidos, el Newegg Shuffle es una de las mejores oportunidades para hacerse con una nueva tarjeta gráfica sin tener que luchar contra bots y revendedores: un sistema de lotería que te da la oportunidad de comprar la consola, obligando a los usuarios a registrarte para reservar los artículos deseados y, si te tocaba, recibir la oportunidad de comprarlos.
La suerte de la lotería
Newegg puso en marcha Shuffle para ayudar a mantener las consolas PS5 alejadas de los revendedores. Estos compraban todo el stock disponible con bots y lo revendían a un precio inflado para obtener pingües beneficios.
Después, el sistema de la lotería se extendió rápidamente para incluir otro hardware que con los mismos problemas, como las GPU de gama alta.
La lotería es muy difícil de ganar, dado el gran número de participantes. PCMag informa que una media de 100.000 personas participan en cada sorteo.
Pero el agujero en le proceso descubierto por el chavo Ricardo Santana Jr, residente en Florida, sorteó este proceso del sorteo utilizando la herramienta "Build your PC" de Newegg.
Este sistema permite comprar una selección de componentes para crear tu propio PC para gaming.
En el navegador de PC, la herramienta no te permitía añadir la GPU de forma independiente. Pero Santana descubrió que en la aplicación móvil sí se podía. De hecho, podrías añadir cualquier GPU a tu cesta y pasar por caja sin tener que añadir ningún otro componente. Funcionaba incluso si las tarjetas aparecían como agotadas.
PCMag reprodujo el mecanismo — como se puede ver en el vídeo sobre estas líneas — y confirmó su legitimidad.
Entre tanto, Newegg se ha dado cuenta de ello y lo ha corregido. Andrew Choi, director de marca de Newegg, afirma que "la vulnerabilidad sólo afectó a un pequeño número de tarjetas gráficas. Detuvimos todos los pedidos posteriores".
Ricardo Santana Sr — padre del niño de 11 años — contó a PCMag que resistieron la tentación de abusar de la laguna porque querían que otras personas tuvieran la oportunidad de hacerse con la tarjeta: "pensé en comprar más, pero no quise abusar y quería dar a otras personas la oportunidad. Creo que ellos (Newegg) están priorizando la venta de construcciones personalizadas con el inventario que tienen para el Shuffle. No estoy seguro de cuánta gente está ganando el Shuffle, pero yo probé muchas veces y nunca gané".
---
Opinión: bien hecho
Al principio pensé "¿para qué demonios necesita un niño de 11 años una RTX 3090?" [es la envidia sana — Ed.], pero me alegro por ellos francamente.
Newegg ha dado las gracias a la familia por haber encontrado el fallo, así que está claro que no hay resentimientos. Esperemos que las otras compras sean por parte de jugadores y no de gente que quiere sacar provecho.
Santana Sr. apuntó que "es terrible que tengamos que llegar a este extremo para poder obtener estas tarjetas". Es un sentimiento que lleva meses frustrando a los jugadores y constructores de PC. Las recientes noticias en torno a la caída de las criptomonedas parecen indicar que podríamos ver GPUs en las tiendas a un precio asequible y con suficiente inventario para repartir. Pero no sabemos cuándo empezará a pasar.
Por ahora, me quedo con estas historias felices en medio de la tormenta de noticias deprimentes que rodean la escasez de hardware. Sólo espero que todos los gamers podamos compartir la felicidad pronto.
Sign up to receive daily breaking news, reviews, opinion, analysis, deals and more from the world of tech.
Jess is a former TechRadar Computing writer, where she covered all aspects of Mac and PC hardware, including PC gaming and peripherals. She has been interviewed as an industry expert for the BBC, and while her educational background was in prosthetics and model-making, her true love is in tech and she has built numerous desktop computers over the last 10 years for gaming and content creation. Jess is now a journalist at The Verge.