Image 1 of 6
Image 2 of 6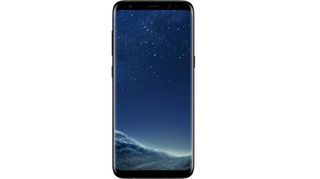 Image 3 of 6
Image 4 of 6
Image 5 of 6
Image 6 of 6
15. Samsung Galaxy S8
Last year's top phone is still a cracking buy
Release date: April 2017 | Weight: 155g | Dimensions: 148.9 x 68.1 x 8mm | OS: Android Oreo | Screen size: 5.8-inch | Resolution: 1440 x 2960 | CPU: Exynos 8895 | RAM: 4GB | Storage: 64GB | Battery: 3000mAh | Rear camera: 12MP | Front camera: 8MP
Amazing camera
Lovely design
Brilliant screen
Biometric issues
No surprise, the curved Samsung Galaxy S8 was the best phone when it launched a year ago and it deserves to remain on our top 10 list thanks to its remarkable design and now cheaper price.
Screen: The 5.8-inch curved screen was deemed the best on the market when it launched and it still holds up thanks to its 18.5:9 aspect ratio that stretches up and down the phone. Its color reproduction and contrast ratio look even, if if you don't have it cranked all the way up wot Quad HD.
Battery life: The battery life, despite being smaller than in previous devices from Samsung, is still pretty decent. It's not amazing, but it's not very far from the performance of the Galaxy S9 and will last around a day... although you might want a little top up wirelessly or fast charged.
Camera: The camera is still very strong, despite being usurped by the S9 - the auto mode offers clean, crisp and clear shots every time and combined with screen quality makes you want to show off your best snaps. There's an easy-to-use pro mode as well to get the best out of your snapping.
Mini verdict: The Samsung Galaxy S8 is an easy way to upgrade a recent Samsung flagship smartphone without paying the full price of the slightly superior Galaxy S9. It has a great camera and enviable curved screen design. The not-center-aligned rear fingerprint sensor is a pain, but one you can overcome if the price is right.
Read more: Samsung Galaxy S8 review