It's obvious that we'd see iPad Pro deals in 2018 simply because they're the most powerful and expensive tablets that Apple makes. There's wiggle room for price drops over time and you'll see plenty of iPad Pro deals on this page, as online retailers are eager to compete for your interest in Apple.
There are even cheaper iPads if you check out our iPad deals page. It lists the best deals on every model of iPad. And there are Apple laptops on sale if you look at our in-depth best MacBook deals page.
The iPad Pro fits in between Apple's other devices, with options massive screen sizes: the 12.9-inch iPad Pro, 10.5-inch iPad Pro, and the still-on-sale iPad Pro 9.7. They all have the power of a computer, yet the portability of a mobile device.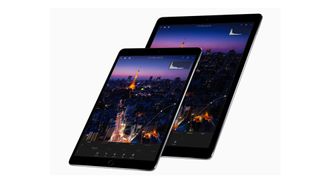 iPad Pro deals in 2018
Instead of naming the newest iPad Pro, the iPad Pro 2, Apple continue the irritating trend of giving the latest version the same name as the last one. Obviously this can make it difficult to pick out the new from the old sometimes, but we're here to help.
First of all the 10.5-inch iPad Pro is a new size, as the previous smaller model was 9.7-inches. There is once again a 12.9-inch model though. How do you tell the difference between the new and old iPad Pro models? Your safest bet is to double check the internal spec and look out for one key difference, the new iPad Pros use an A10X processor chip, and the older ones sport the A9X. So if you want the latest version, look out for that A10X.
So, that's a faster processor to give it the edge over the older iPad Pro, you're also getting a modest upgrade to the rear camera, with the biggest megapixel boost being given to the front camera, which now provides a much clearer FaceTime experience.
Both new models are available in 64GB, 256GB and 512GB sizes. You'll also need to consider if you want a standard iPad Pro to only use Wi-Fi for online activities, or to opt for a cellular route and tie it too a data-only SIM only deal. Be warned though, cellular models are even more expensive.
The screen itself benefits from smaller bezels and a small boost in resolution, for the best iPad screen yet. There's no two ways about it though, the changes aren't exactly earth shattering and if they're not going to make much difference for you, we'd advise taking a look further down this page as we've listed the best prices available for the older iPad Pro models, where you might be able to make a significant saving over these new iPad Pro deals.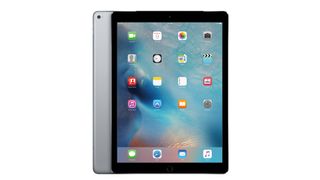 iPad Pro 12.9 deals
The original iPad Pro is a tablet titan
At launch, the original iPad Pro was one of the most impressive tablets on the planet. At 12.9-inches from corner to corner it's the biggest iPad ever with the most powerful internal components ever seen in a dedicated touchscreen tablet. The iPad Pro is available in multiple configurations. The standard WiFi version is available in 32GB, 128GB and 256GB models, while the 4G version comes in 128GB and 256GB versions. Prices start from $799 in the US, £729 in the UK and $1,149 in Australia but of course, as retailers compete for your money, you should never pay these prices! Here are the best iPad Pro deals currently available.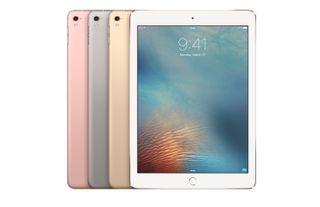 iPad Pro 9.7 deals
The new 9.7-inch iPad Pro is effectively an iPad Air 3
Available from March 31, the iPad Pro 9.7 is Apple's new flagship 'standard' iPad. It was announced on March 21 and hits the shelves instead of an iPad Air 3. As well as having a smaller screen, the iPad Pro 9.7 is also 8mm thinner than the iPad Pro 12.9, weighs 276g less and has exactly the same Apple A9X chip inside. The camera is actually better in the 9.7-inch model, and can do 4K video recording at 30fps. The iPad Pro 9.7 is available in WiFi-only and 4G configurations of 32GB, 128GB and 256GB while prices start from $599 in the US, £499 in the UK and $849 in Australia. As always, you should be able to find a better deal than that!