The cheapest MacBook Pro deals in December 2023
All the best prices for the MacBook Pro that are available now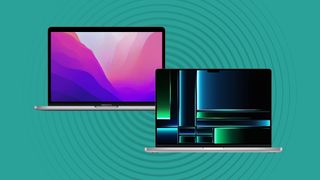 (Image credit: Future / Apple)
The MacBook Pro is a powerful luxury laptop and a premium choice for many creative professionals. And that's why it carries such a high price. It is possible to get a saving, though, and that's what we're here to help with by bringing you all the best MacBook Pro deals.
Of course, it's important to say that these MacBook Pro deals are all relative as these high-end Apple laptops already start off pricey. Still, when you buy a MacBook, you know you're getting one of the best laptops out there - that's why they sit so highly on our buyer's guide.
But that doesn't mean you should pay more for it than you have reason to, especially when there are bound to be big discounts in this year's Black Friday deals. We'll bring you all the best Black Friday MacBook deals as we spot them over the next few months.
There's also the chance for more savings with the latest Apple promo codes and Best Buy discount codes - or through the Apple student discount if you're eligible.
Check out all the latest MacBook Pro deals below to get one for the best price today. And if you'd still prefer to save more money, you could check out the other non-Pro MacBook deals, including the latest MacBook Air deals. We've also gathered up a good selection of iPad deals if you want a more flexible and portable option.
For more budget-friendly options, you can browse through many other laptop deals we've spotted this week on cheaper devices and Chromebooks.
Today's best MacBook Pro deals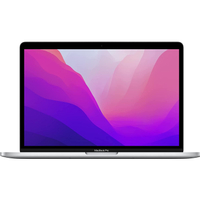 MacBook Pro 13-inch (M2, 2022): was $1,299 now $1,049 at Amazon
The latest 13-inch MacBook Pro with the powerful M2 chip is also available for its lowest price ever. It's a tough sell at full ask as it's not a revolutionary upgrade over the previous model and the newest MacBook Air M2 is actually better value for money in our opinion at just $50 more. Still, we loved this premium Apple laptop in our MacBook Pro 13-inch M2 review for its high performance in creative tasks such as photo and video editing, as well as the impressive battery life of around 15 hours.
13-inch MacBook Pro deals
A premium price for the power of the M2 chip
Brand new M2 chip
Impressive 20-hour battery life
Terrific performance
M1 Air is better value for money
Prices for Apple's latest 13-inch MacBook Pro featuring the powerful new M2 chip start at $1,299 / £1,349 for the standard model with a 256GB SSD. It's the cheapest MacBook Pro model available, then, but clearly still priced as a premium option.
In our MacBook Pro 13-inch (2022) review we came away impressed with the device because of its excellent performance and battery life. However, we also felt it was slightly redundant given there's no new design and the recent MacBook Air with the M2 chip is a better value-for-money option right now. Sure, the performance increase with the latest MacBook Pro device is nice, but it's generally more power than necessary for most.
Meanwhile, the new MacBook Air doesn't fall too far behind in terms of performance and will more than comfortably handle your everyday use as well as more involving tasks. Best of all? It has a fresh design, better battery life and starts at $100 / £100 less. Convinced? You can check out today's best MacBook Air deals.
An older MacBook Pro that's now harder to find
Powerful M1 chip
Fan cooling for better performance
17 hours battery life
Dated and hard to find
When it was first released the MacBook Pro (13-inch) with an M1 chip offered a stark upgrade in processing power at a similar price range to the previous 2020 Intel model.
In our MacBook Pro 13-inch (2020) review, we found it certainly delivered on Apple's promise of a revolutionary experience. The performance saw a considerable boost from the new M1 hardware, even running legacy apps designed for previous Intel machines. The design was similar, but it was a seriously powerful machine with a price that even managed to undercut other high-end ultrabooks in value at the time.
Nowadays, though, this dated device is harder to find, not regularly on offer and not the best value for money when you can pay a little more for a newer device or just as capable MacBook Air M2.
14-inch MacBook Pro deals
A professional-grade powerhouse
New M2 Pro and M2 Max chips
Impressive battery life
Gorgeous display
No deals this early
The MacBook Pro 14-inch (2023) is one of two new laptops that were surprisingly announced by Apple in January. The standout feature is the inclusion of the latest M2 Pro and M2 Max chips that power the device, offering some extremely high levels of performance.
Of course, given this MacBook is so new, it's highly unlikely that we'll see any deals at this early stage. There is the outside chance of a very small discount at retailers such as Amazon or Walmart as we've seen this before for previous models. However, the odds are very low, so expect to pay full price for the next few months if you're interested in one of Apple's newest premium laptops.
Now we've had some proper hands-on time and published our MacBook Pro 14-inch (2023) review, we can safely say that this is a solid upgrade over the last generation model. The specification boost is worth the price bump, so creative professionals after a compact and portable workstation will definitely want this on your shopping list.
The best value option for creative professionals
Excellent performance
Stunning screen
Impressive battery life
Overkill for general users
Even though it's now older, the MacBook Pro 14-inch (2021) is still a standout device for creative professionals. This is a compact and powerful laptop that comes with a considerable number of ports so you can finally leave all those dongles and hubs in the cupboard.
In our MacBook Pro 14-inch (2021) review, we found the M1 Pro chip at its core offers fine-tuned performance that takes it leaps and bounds above the competition. The battery life impresses, too, while the crisp Liquid Retina XDR display is one of Apple's best screens yet. Because of that, it received our Editor's Choice award, so it's still a good buy today even with the latest version getting a specs bump.
This device is probably a touch more than necessary for the general user: both in terms of power and price. Those still looking to jump onto the Apple ecosystem but don't need quite as much performance and features would be better to consider the MacBook Air or even an iPad.
16-inch MacBook Pro deals
A pricey productivity beast
Apple's most powerful laptop
Fanatastic screen
Huge 20-hour battery life
No deals this early
The MacBook Pro 16-inch (2023) is the second of two new laptops that were announced by Apple in January. As with the smaller version, the headline inclusion is the latest M2 Pro and M2 Max chips that power the laptop to give it incredible performance for even the most intensive creative and productivity tasks.
Naturally, given this MacBook has only just been released, there are no deals available so far. We might see some discounts at select retailers in the weeks ahead, but if so, they will likely be very small - perhaps $100 / £100 max. Keep an eye on places such as Amazon, Walmart and Best Buy as these are the place most likely to offer a discount based on previous sales.
It could still be worth the investment at full price, though, if you need a powerful workstation with one of the best displays on a laptop. Those are the features we praised most in our MacBook Pro 16-inch (2023) review. It's also a significant improvement over an Intel-based MacBook, so those looking to upgrade from one of those older devices should find it to be a worthwhile investment.
Still recommended, even though it's older
Exceptional performance
Gorgeous mini-LED display
Long battery life
Large, expensive and heavy
The MacBook Pro 16-inch (2021) simply couldn't be beaten when it was first released. Apple's huge overhaul of the 2019 MacBook Pro came with a substantial boost in power through the M1 Pro or M1 Max chip, sported a stunning mini-LED display and came packed with a host of other most-wanted new features.
We still think it's one of the best laptops for creative professionals according to our MacBook Pro 16-inch (2021) review. Those after a more static workstation will appreciate the jump up to a 16-inch screen. Though, of course, the 14-inch is a lot better for portability. It's also substantially cheaper, too, so those who don't need all the excessive power and are on a smaller budget will do just as well going for the smaller version.