E3 2018: all the announcements from gaming's biggest show
From FIFA 19 to Tomb Raider and everything in between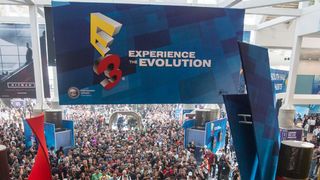 E3 2018 has now come to an end but what a year it was. Big announcements, exciting trailers and some outstanding gameplay. If you're looking to catch up on the news from the show, we're got everything right here as well as our hands-on impressions with some of hottest games of the show.
TechRadar has the exclusive scoop on some of E3's biggest news: Netflix is bringing a Minecraft: Story Mode to its service. Minecraft: Story Mode on Netflix will be a five-part episodic adventure and will be available to stream later this year.
Additionally, TechRadar also broke the news that Telltale Games is developing a game based on Netflix's hugely popular Stranger Things series.
Of course, we've played games! Emma Boyle rounded up 10 big things you need to know about Assassin's Creed Odyssey and told us why Cyberpunk 2077 might be the reason she leaves the real world, while Nick Pino went hands on with Super Smash Bros. Ultimate (and actually won).
Nick also played Spider-Man on PS4, and writes it's the game fans have waited their entire life for. And Emma took Skull and Bones for a sea-worthy spin.
One of the most compelling games we played at E3 is called Concrete Genie. It deals with bullying and what it's like to be a creative teenager who'd rather paint than fight. It's a beautiful, moving tale, and one we highly recommend.
You can bet we've got opinions about the biggest gaming show on Earth. Our Matt Hanson writes that Microsoft's showcase makes him glad he's a PC gamer, while Emma Boyle notes the PlayStation E3 event was a bad presentation of good games.
Joe Osborne writes that Nintendo Switch finally leaned into its multiplayer niche at E3 2018, while Damien McFarren dissects what worked and what didn't at Ubisoft's E3 conference.
We also grilled a Microsoft VP about whatever happened to VR on Xbox One X, plus found out from Microsoft that cloud streaming will complement Xbox consoles, not replace them.
Cut to the chase
What is it? The world's biggest annual gaming expo in Los Angeles
When is it? Show dates are June 12 – 14
The announcements of E3 2018
Nintendo
Image 1 of 11
Nintendo rounded out the press conference portion of E3 2018 with its signature fun and charm.
It was rumored long before E3 2018 started, but now it's been confirmed: Battle Royale hit Fortnite is coming to Nintendo Switch and it's available on the Nintendo Switch eShop right now.
An inordinate amount of time was spent on Super Smash Bros. Ultimate, but being the biggest SSB game, who can blame 'em?
This game includes every single character from the mascot-filled fighting series, including characters that were only available via downloadable content on Wii U, and non-Nintendo characters like Sonic, Pac-Man, and Snake (from Metal Gear Solid).
We got a look at this year's Pokemon Let's Go, but Nintendo didn't dive into the 2019 RPG of Pokemon.
For an in-depth take on Nintendo's E3 conference, check out Joe Osborne's piece on how Nintendo Switch leaned into its multiplayer niche during its big Direct broadcast.
And for a quick look at the coolest things Nintendo announced at E3 2018, then check out our round up of the five most exciting games Nintendo showed off.
Sony
Image 1 of 23
Sony did something different with its PlayStation E3 showcase this year, and whether you liked it or not, it still delivered when it came to great games.
The Last of Us 2 was treated to a new trailer, one showing Ellie fighting for her life and that perfectly set the tone for the game.
There's so much buzz around Death Stranding, it's deafening, and a new trailer unveiled at E3 will only serve to strengthen that buzz.
Ghost of Tsushima came out strong with a stunning, artful trailer at E3, showing a huge open world, combat reminiscent of Assassin's Creed and the importance of stealth in the game.
And everyone's favorite spider-inspired superhero got a gorgeous trailer of his own. The Marvel's Spider-Man trailer featured a who's who of villains, from Electro to Vulture. Not only does the footage give us a good look at combat, it really showcases the traversal mechanics; Spidey moves fluidly both on foot and through the air.
While it will be some time yet before we can play many of Sony's most-talked about games, one thing that might tide us over is the release of Call of Duty Black Ops 3 on PlayStation Plus for free starting today. Hey, it's something, right?
If you're short on time or just want to know what the coolest of the cool was from the PlayStation conference, have we got the roundup for you.
PC Gaming Show
Image 1 of 13
Don't think E3 is just about console gaming. The PC Gaming Show gives lots of love to PC games, and this year's installment didn't disappoint.
If you watched Jaws or Deep Blue Sea and thought, "I'd love to play a game where I'm the shark," then Maneater is the game for you. It's the new open-world, single-player Action RPG from Blindside Studios, and it looks like a ridiculous(ly) good time.
For those fans of Player Unknown's Battlegrounds who just felt like it could use quadruple the player count, Mavericks: Proving Grounds might just be the game you've been waiting for. Mavericks features 400-player, last-man standing games, which opens in beta on August 18. That's nothing; the open-world MMO-shooter game will eventually support up to 1,000 players.
Satisfactory is the latest building adventure game from Coffee Stain Studios and from the looks of its first trailer, it's almost like a first-person SimCity game. On the PC Gaming Show stage, Coffee Stain Studios announced the first closed alpha in the coming months and users will be able to sign up for updates on the Satisfactory website.
Short on time, then check out the 10 most exciting PC games from this year's PC Gaming Show!
Ubisoft
Image 1 of 15
Ubisoft's E3 2018 press conference didn't disappoint, with big announcements, new game trailers and even stunts in the theater.
Skull and Bones got a brand new cinematic trailer, and it shows the gritty realism of the game in stunning detail. Plus, there's a new gameplay trailer that reveals even more about the anticipated 2019 title.
Ubi rolled right into Beyond Good and Evil 2, revealed as a prequel to the action in the first game. Jade also makes a return as a main character. After years in the cooker, this game is starting to feel very real.
Fans of Nintendo should be pleased to learn that Ubisoft and Nintendo are teaming up once again, this time with Starfox coming to Starlink: Battle for Atlas. The game launches on October 16 for PS4, Xbox One and Nintendo Switch, though Starfox will be a console exclusive just for the Switch version of the game.
Finally, Ubisoft ended its keynote with the game everyone is waiting for: Assassin's Creed Odyssey. Set in ancient Greece, you play an outcast Spartan hero, either Alexios or Kassandra. The trailer is gorgeous, of course, and sets the stage for what should be an epic odyssey that's out on October 5.
Bethesda