The best Xbox deals in December 2023
Deals
Contributions from
last updated
All the latest sales on Xbox consoles, games, and accessories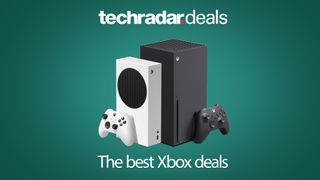 (Image credit: Future)
Xbox deals aren't exactly rare, but we still haven't seen many substantial discounts on Microsoft's latest Xbox Series X and Xbox Series S consoles just yet. Fortunately, though, there are regular savings to be enjoyed on games, accessories, and more. To help you figure out what's best for you, we've gathered all the latest Xbox deals in one place.
Since its launch in November 2020, the latest Xbox has gone from strength to strength as helped by there being two models to choose from. The Xbox Series X and Xbox Series S have their own pros and cons. Even better, by having two distinct models, Xbox stock has been reasonably steady in both the US and the UK.
And the Series S has already been discounted a number of times in the last year by up to $50 / £50. We've seen a number of good value Xbox bundles, too, that include some of the latest games such as Hogwarts Legacy or extras for popular titles like Rocket League and Fortnite.
Whether you're looking to buy a new Xbox, or you want to treat yourself to some cheap Xbox games, there are lots of options. You may also be interested in tracking down a cheap Xbox controller deal if you're keen to enjoy more multiplayer sessions at home or you simply fancy a change of color scheme.
That's before we get into arguably the best deal that's exclusive to Microsoft consoles: Xbox Game Pass. It offers you access to a huge library of games with new titles added throughout the year. We're not talking about just older titles either as some of the latest games like Halo Infinite and Forza Horizon 5 arrived on the service the same day as release.
Finding cheap Xbox Game Pass deals is essential to how you'll enjoy your new Xbox, while you can browse through all the best Xbox Game Pass games to find some truly fantastic games to choose from.
No matter what Xbox-related item you're after, we track down all of the best Xbox deals every month, along with offers that mean you'll pay the lowest prices for all your games, accessories, and other extras. We also keep an eye out for any Xbox bundle deals too, so you can buy everything all at once.
Have a scroll down to see what's already out there to see if anything appeals. And remember, check back in regularly to see what new additions hit the sales.
Xbox Series X deals
The Xbox Series X is priced at $499 / £449 / AU$749 and is the most powerful of the two latest Microsoft consoles. It's also huge, with its innards offering 4K / 60fps gameplay as well as 4K / 120Hz support. You really need one of the best TVs to get the best picture quality out of it, but it's worth it.
Offering significantly faster loading times, alongside Dolby Vision and Dolby Atmos support, this is Microsoft's flagship console.
Stock can still sometimes be a little tricky to come by but it's generally available throughout the year at most major retailers. You'll rarely see a substantial discount on the console, though, but we have seen a few small price cuts every now and then. Today's lowest prices for the flagship Xbox are just below.
Xbox Series S deals
The Xbox Series S is minuscule yet mighty. It's the smallest Xbox ever made and runs almost silently. Somehow, though, it still offers some powerful specs plus fast loading times so you won't miss out on some of that next-gen power.
Aimed at gamers looking for 1440p resolution rather than 4K, it's clear that some concessions have been made, but that's also why it's much cheaper than the Series X. There's also no disc drive so you're reliant on the 512GB SSD built-in to the console to store your digital games (although you can upgrade it with the Seagate Storage Expansion Card for Xbox).
More likely to be on sale, check out the current offers on the Xbox Series S below. Generally, you'll see $50 / £50 / AU$50 off the appealing console when it's reduced. That's an attractive discount for a console already priced at a reasonable $299.99 / £249.99 / AU$499.
Xbox game deals
Below is just a small sample of today's lowest prices for the best Xbox Series X games and the best Xbox One games. Don't forget to check if the game is already on Xbox Game Pass if you're a subscriber and remember that Xbox One games are backwards compatible with the Xbox Series X / S so you've got a huge catalogue to check out.
We update the best Xbox game deals regularly, from the latest releases to older bargains.
Xbox Game Pass deals
Xbox Game Pass is one of the best deals in gaming. Think Netflix but for games and you're not far off. Pretty much all the latest Microsoft first-party releases are included on the service, often from the day of release.
Additionally, there's EA Play bundled in at no extra cost so you gain access to plenty of EA games. Microsoft's acquisition of Bethesda means many big titles like Fallout 4 and The Elder Scrolls 5: Skyrim - Special Edition are now also included as well.
This a great deal even at full price, but you can save even more cash with the Xbox Game Pass deals below.
Xbox Live Gold deals
Signing up for Xbox Game Pass Ultimate can be better value for some people if you want everything possible, but if you solely want Xbox Live Gold, there are some cheap Xbox Live Gold deals around.
This gives you access to online multiplayer, two free monthly games, and exclusive discounts during sales, read below to see what Xbox Live Gold deals are going on at the moment.