With Hogwarts Legacy, you'll have the chance to enter the Harry Potter universe and experience your very own magical adventure.
Developed by Avalanche Software and published by Warner Bros. Games, Hogwarts Legacy is the kind of open-world wizarding adventure that has been long-awaited by fans of the Harry Potter series. It will allow you to wander the halls and grounds of Hogwarts, explore familiar locations in the wider wizarding world and learn spells and potions galore.
While there's much in the game that will be familiar to those who know the series well, there appears to be a real emphasis on forging your own individual adventure. As such, Hogwarts Legacy will have a completely original story set in the 1800s, taking players away from the timeline of the books and films and the characters that populate them.
Hogwarts Legacy previously had a release window of "Holiday 2022", but Warner Bros. recently announced it had been delayed into 2023. Although, that delay announcement did come with the long-awaited confirmed release date for the Xbox Series X, PS5, and PC versions of the game. Nintendo Switch players will have to wait a little longer for their final release date.
If you're looking to get up to date on all the Hogwarts Legacy details that have been shared and dig into all the latest rumors, too, then keep reading for everything we know so far.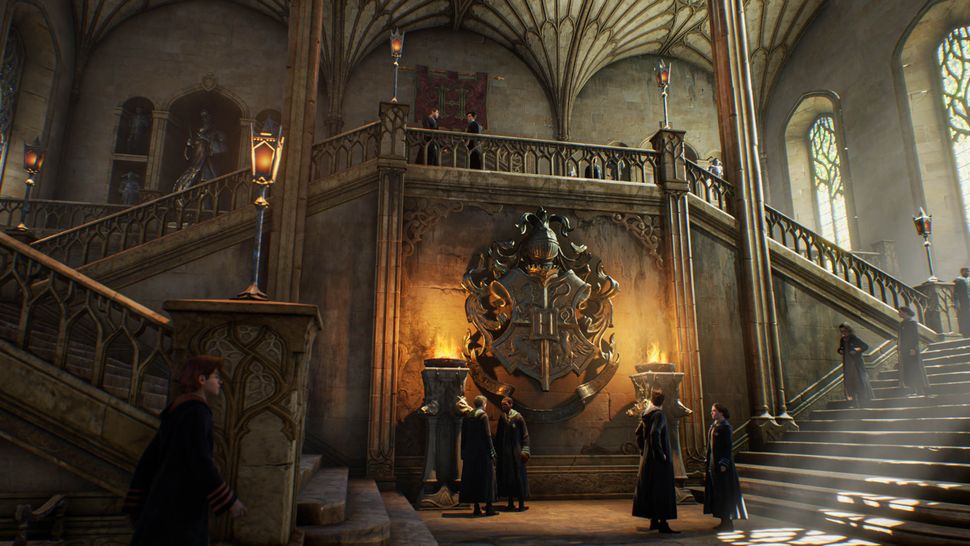 Hogwarts Legacy: cut to the chase
What is it? An RPG title based on the Harry Potter franchise, set in the 1800s
When can I play it? February 10, 2023
What can I play it on? PS5, Xbox Series X/S, PS4, Xbox One, PC, and Nintendo Switch
Hogwarts Legacy release date and platforms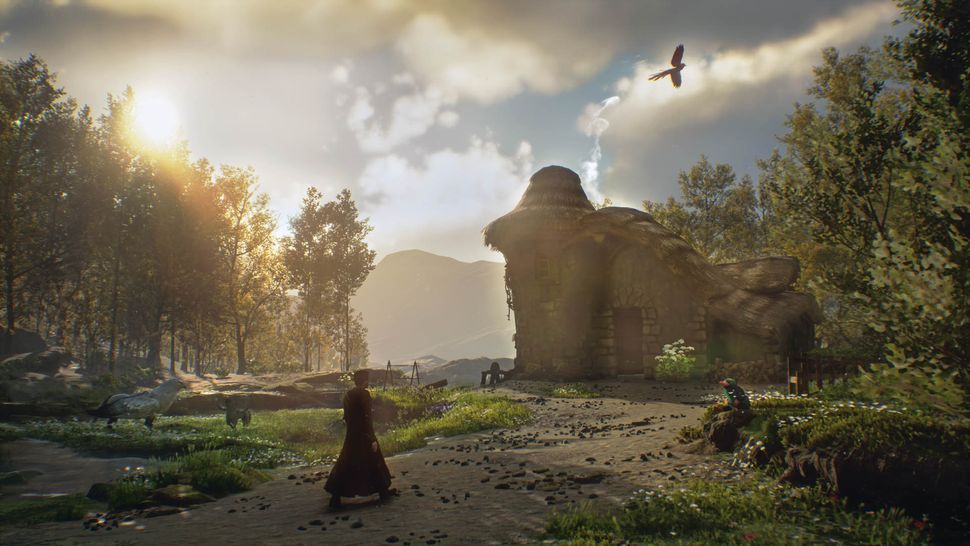 A Hogwarts Legacy release date has finally been revealed. It's coming to Xbox One, Xbox Series X, Xbox Series S, PS5, PS4, and PC on February 10, 2023.
While a Nintendo Switch version is coming, too, Warner Bros. doesn't yet know when it will be ready.
When Hogwarts Legacy first leaked, Bloomberg reported that it would come to next-gen consoles in 2021. However, the start of 2021 saw an official delay to 2022, as publisher Portkey Games confirmed more time was needed to get the game in tip-top shape. In August 2022 this was pushed a little further forward to the current release date with the developer stating on Twitter (opens in new tab) that it needs "a little more time to deliver the best possible game experience."
Hogwarts Legacy trailers
Next-Gen Immersion trailer
A new trailer from PlayStation is giving us some glimpses of Hogwarts Legacy in action while detailing all of the ways the game will take advantage of the PS5 hardware to increase player immersion. We're talking DualSense support, 3D audio and 4K visuals.
State of Play gameplay
In March 2022, a PlayStation State of Play dedicated to Hogwarts Legacy showed eager fans 14 minutes of gameplay on the PS5. Covering everything from character creation and combat, to classes and exploration, the gameplay is the best look at Hogwarts Legacy we've had so far.
Reveal trailer
The first Hogwarts Legacy trailer was shown off at Sony's September 2020 PS5 price and release date reveal. It gave us a peek at the game's environments, with fantastical creatures, plenty of wand-action, and hints at a mysterious power that your character holds...
Hogwarts Legacy story and setting
Hogwarts Legacy is an RPG set in an immersive, open-world. Taking you to the wizarding world of the 1800s, Hogwarts Legacy is creating some distance between itself and the familiarity of the books and films but fans of the Harry Potter series have been assured that the game will be "firmly rooted in the Harry Potter universe". The developer says it's aiming to "chart new territory by creating fresh ways for fans to immerse themselves in the wizarding world".
There's an original main story that runs through Hogwarts Legacy, just in case you were worried that the game would let you loose in the school with absolutely no adventure whatsoever.
According to a post on the PlayStation Blog (opens in new tab), you will start at Hogwarts in your fifth year, coming to the school after surviving some kind of mysterious incident. Your character apparently has "ties to an ancient magic" which will "put you on a collision course with a goblin rebellion led by Ranrok, aided by his alliance with the Dark wizard Victor Rookwood, who both present formidable threats to the entire wizarding world."
According to the post, Ranrok "has seen a glimmer of a magic that wizardkind tried to hide – even from themselves – and he wants that power in particular. His worldview is skewed by his hatred of wizards, which makes his alliance with Victor Rookwood particularly tenuous. Once Ranrok gets what he wants, no one will be able to stop him and the wizarding world will be doomed."
To unearth the mysteries behind the mysterious magic and stop Ranrok's rebellion, you will have to work with Professor Eleazar Fig.
If you don't recognize the name Professor Fig, well, that's not because you're a forgetful fan—as Hogwarts Legacy is set in the past, you won't see many familiar protagonists from the books and films. Although, there may be some ghostly apparitions that you'll know, like Nearly Headless Nick.
You probably won't be particularly concerned with the lack of familiar faces, though, as there's a whole new cast of characters for you to meet as you join Hogwarts as a new fifth year student.
Hogwarts Legacy gameplay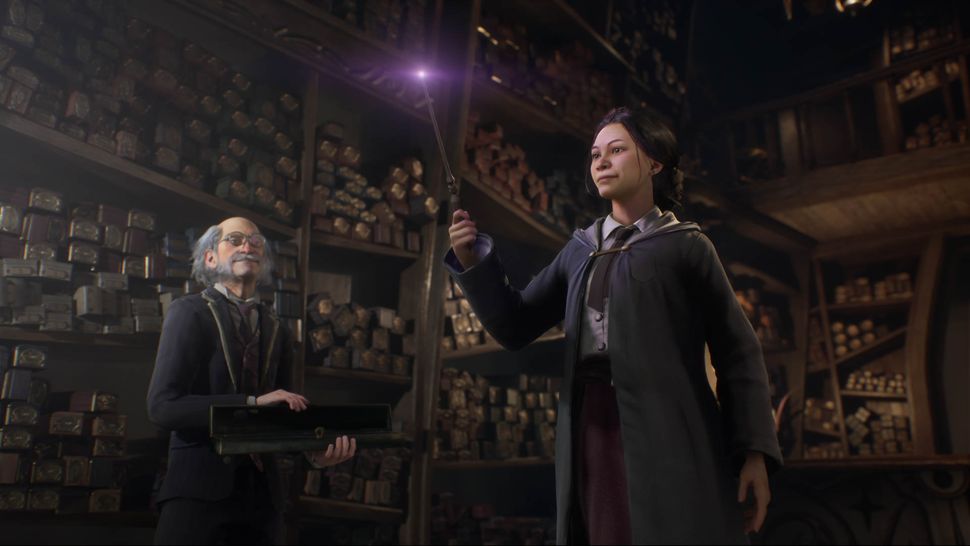 As confirmed in an official FAQ (opens in new tab) for Hogwarts Legacy is an entirely single-player experience with no online or co-op modes.
With that focus on the single-player experience, the game appears to be all about crafting your own personal adventure in the wizarding world. It's no surprise, then, that you'll create your own character in a character creator that seems to allow for a fair bit of customization, based what we were shown in the Hogwarts Legacy gameplay reveal.
According to a report from Bloomberg (opens in new tab), the character creator for the game will be trans-inclusive, with the report stating that sources "familiar with the game's development" have revealed that the game will allow players to customize their character's body type, voice and gender placement for school dormitories.
The sources also say that players will be allowed to choose a masculine or feminine voice, regardless of their character's body type, and will get to choose whether they want to be a 'witch' or a 'wizard', with the latter choice placing them in the applicable dormitory and affecting they're addressed by other characters in the game.
Once you've created your character and selected your house, there'll be classes to catch up on and new friends to make. To add an extra layer to the social aspect of the story, you'll nurture those connections, with your magical new pals able to teach you abilities and act as companions on quests and adventures.
During school hours, you'll be learning and casting spells and charms, brewing potions, and attending a host of classes so you can graduate alongside your classmates.
The new spells and abilities that you learn from your professors and fellow students will be useable in combat and in puzzles through the wider game world. The range of spells that you learn will allow for choice when it comes to combat styles. Players can, for example, go in "all wands-blazing" or cast a Disillusionment charm for a more stealthy approach. "Different techniques will be required to counter enemy strengths and weaknesses that should make every encounter feel engaging."
In your down-time, you can explore the school, from iconic locations you've seen in the films to secret passageways that contain puzzles for you to solve. There's even a few locations we've not seen in the movies, like the Hufflepuff common room.
On that note, if you're worried about which House you'll be sorted into, don't be. You'll be able to choose for yourself. The Hogwarts Legacy official website reveals that players can choose their House at the start of the game. Although we don't know how the choice will be made, or whether houses will be able to be changed later on down the line.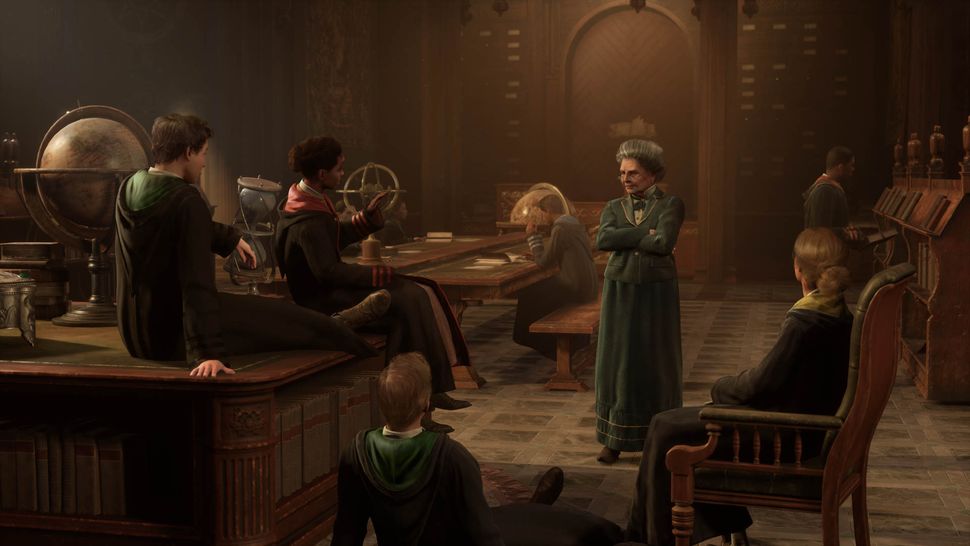 Another feature that ties into your late start at Hogwarts is the Room of Requirement. Here you can grow plants for ingredients, brew potions, upgrade gear and more. You even have your own House Elf to do your bidding. To top that all off, you'll have a menagerie where you can keep the various magical creatures you'll run into throughout the course of the game.
See, you're not just limited to Hogwarts in your travels; you'll be able to visit the neighboring village of Hogsmeade, as well as a smattering of other hamlets speckled throughout the countryside. These locations are populated with NPCs and side quests you can dig into at your leisure, with dynamic seasons and climates to really bring them to life.
Not only that, the surrounding area will be filled with magical beasts. Some have been corrupted and are aggressive, while others are at risk from poachers. You can choose to rescue anything you find cute and cuddly, and take care of it back at the school.
It's also shown you'll get an opportunity to get your broom skills up to scratch so you can traverse the world a lot faster than on foot, though there's been no mention of playing Quidditch so far.
A morality system has also been rumored to play a role in the game and the official FAQ certainly indicates that players will have to make decisions as they play, stating "players will also encounter missions and scenarios that will pose difficult choices and determine what they stand for."
A March gameplay reveal also touches on players going over to the dark side, with a student in Hogwarts robes appearing (opens in new tab) to use the infamous 'killing curse', so that should make for some interesting choices.
If you're on PS5 then you'll get to take advantage of your hardware, with particular focus on the DualSense controller. According to a post published to the official PlayStation Blog (opens in new tab), the development team have tried to make the controller "an extension of your wand". The post explains how the controller's adaptive triggers will mean that "you'll feel the magical resistance at your fingertips through every spell, whether firing off a basic cast or summoning the strength for a more powerful charm."
Haptic feedback will also come into play when casting spells, with each one feeling unique. "We've specifically isolated these effects to the right side of the controller to let the DualSense become an extension of the wand you hold in the game," the post says. "And when you deflect a spell with Protego, you'll feel the sizzling of the magic being reflected and absorbed by the Shield Charm."
Beyond spells, adaptive triggers and haptic feedback will also allow you to feel more immersed when performing other activities in the game, like crushing potions ingredients or flying on a Hippogriff or broomstick.
When it comes to the DualSense's light, if it's not flashing due to spellcasting, then you'll find that your chosen house colors appear on it, with blue and bronze for Ravenclaw, scarlet and gold for Gryffindor, green and silver for Slytherin, and yellow and black for Hufflepuff.
As far as visuals are concerned, on PS5 the game will run at 4K and you'll be able to choose between Performance and Fidelity modes, with the former prioritizing frame rate while the latter leans into visual fidelity.
For audio, the game takes advantage of the console's 3D audio capabilities, with the promise of "additional immersive sounds through the DualSense controller speaker, like the soft flap of a Hippogriff's wings and effects of each spell you cast" for those not using headphones.
Finally, the PS5's SSD should mean "quick loading times no matter how you choose to move from place to place, whether you take the scenic route on a broom or fast travel via the Floo Network."
Hogwarts Legacy news and rumors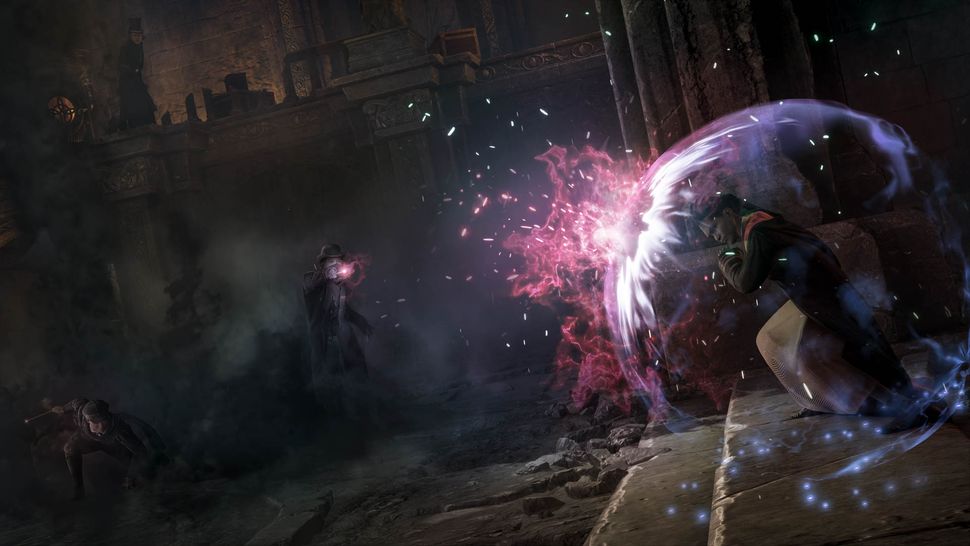 A peek at the UI?
Hogwarts Legacy fans have been looking closely at the gameplay revealed during the March Sony event and they might have caught a glimpse of the game's UI in a brief few frames.
As posted to the HarryPotterGame subreddit (opens in new tab), menu elements with what appear to be four equipped spells and potentially a mini map appear for only a few seconds. It's highly likely that what's shown is placeholder UI given the game is still in development.
However, we can maybe glean some of the spells that you'll be able to use in the game from what's shown. Based on the images in the UI, the spells equipped by the players appear to be Wingardium Leviosa, the levitation spell; Accio, the object retrieval spell; and Lumos, the light spell.
No next-gen upgrade path?
Pre-orders have started to appear for Hogwarts Legacy at retailers in the US and the UK. As reported by VGC (opens in new tab), with these pre-orders, the game appears to cost just under $70/£70 on PS5 and Xbox Series X, while costing around $60/£60 on the last-gen PS4 and Xbox One.
However, it remains unclear if there will be any kind of paid or free upgrade path included with the game or whether or not the Xbox version of the game supports Smart Delivery.
Free or paid upgrade paths have become common in games recently as they allow players who are currently struggling to get their hands on the latest-gen consoles to buy the game for their current hardware and carry on playing, without having to buy the full game all over again, when they eventually get hold of a next-gen system.
If there is no upgrade path for Hogwarts Legacy, it'll mean that players who opt for the PS4/Xbox One version of the game will be able to play the game on PS5/Xbox Series X thanks to backwards compatibility. They won't, however, be able to access the next-gen version and the enhancements that likely come with the PS5 and Xbox Series X versions.
At the moment, definite plans around the price and upgrade path for Hogwarts Legacy remains unclear, with digital pre-orders yet to go live.
No microstransactions
It's been confirmed by Avalanche Software that Hogwarts Legacy will not contain any microtransactions. This is stated explicitly in an FAQ (opens in new tab) for the game, which says "Hogwarts Legacy does not have in-game purchases or micro-transactions" but it has been re-iterated by Avalanche Software's community manager, Chandler Wood, on Twitter.
"We've seen this question coming up and want to set the record straight," Wood said. "There are no microtransactions in Hogwarts Legacy."
We've seen this question coming up and want to set the record straight.There are no microtransactions in Hogwarts Legacy.March 17, 2022
Red Kite Games and Sumo Digital helping out
Sumo Digital has announced that two of its studios are involved in the development of Hogwarts Legacy. In a Twitter post, Sumo Digital confirmed that Sumo Nottingham and Red Kite Games are both involved in the game and that they're "hard at work with the teams at Warner Bros. Games and Avalanche Software on a magical new adventure under the Portkey Games label."
We are very excited to share the news that two of our studios - @RedKiteGames and Sumo Nottingham - are involved in the upcoming Hogwarts Legacy videogame. pic.twitter.com/tNHHv9HyXeDecember 9, 2021
JK Rowling doesn't have much involvement, apparently
According to the Bloomberg report, Rowling doesn't have much involvement in the game's creation and the game's official FAQ (opens in new tab) states while the game "is inspired by J.K. Rowling's Wizarding World", the author "is not directly involved in the creation of the game."