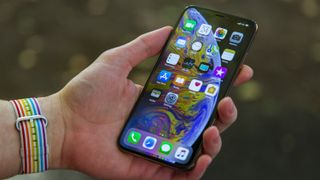 11. iPhone XS Max
The super-sized iPhone is a great phone
Release date: September 2018 | Weight: 208g | Dimensions: 157.5 x 77.4 x 7.7mm | OS: iOS 12 | Screen size: 6.5-inch | Resolution: 1242 x 2688 | CPU: A12 Bionic | RAM: 4GB | Storage: 64/256/512GB | Battery: 3,174mAh | Rear camera: 12MP+12MP | Front camera: 7MP
Excellent screen for media
More powerful again
Battery life not world-beating
Super expensive
Pronounced ten S (like tennis) Max, the iPhone XS Max is part upgrade over Apple's game-changing iPhone X and part upgrade over the larger iPhone 8 Plus.
It builds on the all-screen, notch-laden, almost bezel-free design with more power under the hood, improved cameras, a new storage option and a huge screen and even huger price tag.
Screen: The 6.5-inch OLED screen on the iPhone XS Max really grabbed our attention - it's fantastic for video streaming and gaming.
Battery life: It's has improved a little on both handsets over the iPhone X, but you'll still find yourself plugging both of these phones in each night to ensure you'll get through a whole day in the morning.
Camera: The dual camera setup on the iPhone XS Max is fantastic. The Smart HDR mode makes images even clearer, brighter and more detailed, and Apple's famously intuitive interface makes snapping great shots a breeze.
Mini verdict: If your hands are as big as your bank balance, the iPhone XS Max takes Apple's smartphone to a whole new level with plenty of additional screen space.
Read our in-depth iPhone XS Max review
Price comparison: The best iPhone XS deals