48-inch OLED TVs have well and truly arrived. When they first launched there weren't many to choose from. But fast-forward to the end of 2021 and the compact OLED TV panel size is now appearing in more places than ever.
There's a good reason for that, too. Even as the average TV size continues to increase, there are many of us without the space for a massive 65-inch 4K TV, meaning that a 48-inch OLED TV is a smart choice for those needing a quality television at a practical size.
It's also a good option for anyone with TVs in multiple rooms. If you already own a gigantic TV in your living room, you won't want another in a second room unless you're blessed with loads of space.
Another thing that's changed about 48-inch TVs is their price. While they're still a bit more expensive than their LED-LCD counterparts, many of the 48-inch OLEDs available to buy right now can be found for around $1,000 / £1,000.
Below you'll find our top selection of the best 48-inch OLED TVs ranked by their price-to-performance ratio by our expert reviewers.
Best 48-inch OLED TVs in 2021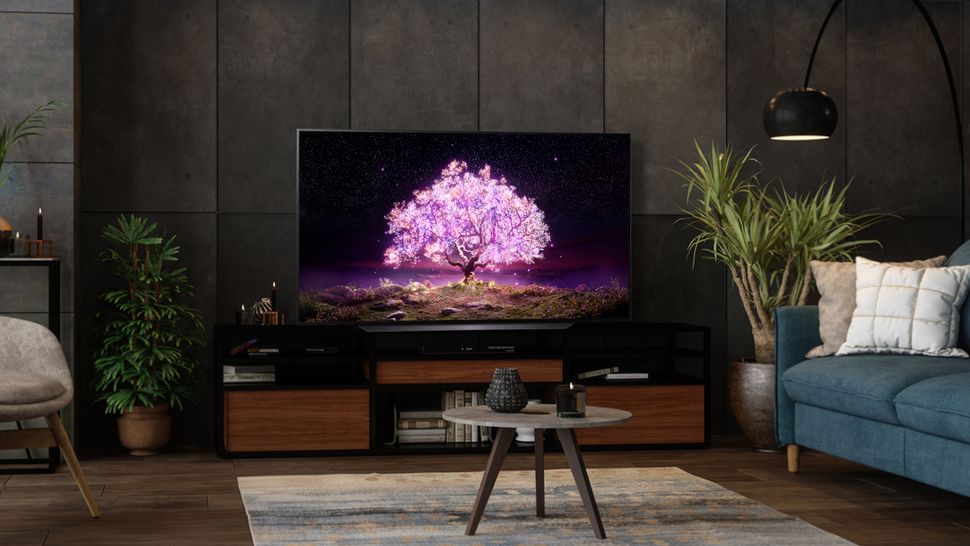 The LG C1 is the follow-up to last year's CX, which was the first 48-inch OLED TV to make it to market. It's only a little bit more pricey than its older cousin, and makes for a great form factor with a quality OLED picture.
You can expect breathtaking 4K HDR images, with Dolby Vision (but not HDR10+_ support for keen cinephiles, along with OLED's trademark deep blacks, rich colors and infinite contrast ratio.
As of 2021, LG is making use of an a9 Gen 4 chipset, which adds in AI processing to between distinguish between objects and their backgrounds – something that's at the heart of a lot of advancements in today's TV market. This stellar OLED TV packs in four dedicated HDMI 2.1 ports (ideal fo next-gen gaming) and even comes with a new Game Optimiser menu that gives you the option to quickly adjust brightness, contrast and VRR on the fly.
The LG C1 isn't flawless, as we did encounter issues around how the new a9 Gen 4 processor upscales faces, and how reflective the all-glass screen is during daylight hours, but the issues are few and far between. Overall you're getting a knockout OLED TV, and this 83-inch size will only make its charms all the more obvious.
Read our full LG C1 OLED review

The Panasonic JZ980 OLED certainly seems like a smart buy, especially if you're not fussed about the swivel stand used in higher-up models, and we feel that its compact size, OLED panel, and premium HCX Pro AI processor are all very good signs.
It's the only 2021 Panasonic OLED to get a regular OLED panel, rather than the Master HDR Professional Edition found on the JZ1000, JZ1500 and JZ2000, meaning you should get a great picture, but not quite on the level of higher up models.
The JZ980 will make do with a slightly more basic motion processing system, Smooth Motion Drive, rather than the Smooth Motion Drive Pro tech used on the JZ1000 and above. You'll also get quite traditional TV 'feet', rather than the handy swivel stand found on more premium Panasonic screens.
It's unclear what difference the downgrade in motion handling has, though, and Panasonic has refrained from offering review units for 980 series models in the past, making it hard to judge.
Given the general quality of Panasonic TVs, though – even for mid-spec LCD TVs like the excellent HX800 we reviewed last year – we hesitantly give our approval.
Read more: Should I buy the Panasonic JZ980 OLED?

You can't fault Sony for getting the most out of one of its most impressive televisions. The 2019 Sony A9G/AG9 has got a new 48-inch size, a year after its initial release, giving it a new lease of life at a lower-than-ever price point.
Called the A9S in the US, or more simply as the A9 in the UK and Ireland, the smaller model packs in everything we loved about its larger iterations.
As a 4K HDR television, you're getting state-of-the-art streaming resolution and an expanded dynamic range for enhanced color and contrast. You'll get Sony's X-Motion Clarity feature for smooth, judder-free movement, as well as Acoustic Surface Audio to literally vibrate audio out of the OLED panel itself. Google Assistant and Alexa are naturally both here, and you'll be using an Android smart TV platform that largely improves on its past iterations.
The A9S/A9 retails for $1,899 / £1,799 (around AU$2,600, though Australian availability is yet to be confirmed). Note that UK viewers won't get Freeview Play, with all its catch-up apps for British broadcasters.
Read our full Sony A9G/AG9 TV review

Philips' flagship OLED for 2020 is a brilliantly high-spec television, joining an already star-studded lineup of Philips OLEDs in the UK and Europe, including the entry-level 805.
The OLED+935 is powered by Philips' fourth-gen P5 processor – the best iteration yet, with new AI algorithms ensuring it applies the most relevant processing to every content type. Motion handling is particularly improved, while the audio setup – a built-in 70W soundbar from audio specialist and recurring partner Bowers & Wilkins – should make sure the OLED+935 feels like a fleshed-out home cinema machine.
Let's not forget the four-sided Ambilight too, with the set projecting onscreen colors from every edge of the set for an immersive light show during films, TV shows, or games. It's also the only set in this list that supports both HDR10+ and Dolby Vision dynamic HDR formats (the other two only support the latter), and the only one with a complete roster of Freeview Play catchup apps in the UK.
Don't expect it in the US for now, as Funai licenses the Philips brand in the states. Not many Philips OLEDs make it to Australia either – currently only 2019's OLED804 is in its online AU store – but UK shoppers can enjoy this set's delights for £1,799.
Read more: Philips OLED+935 review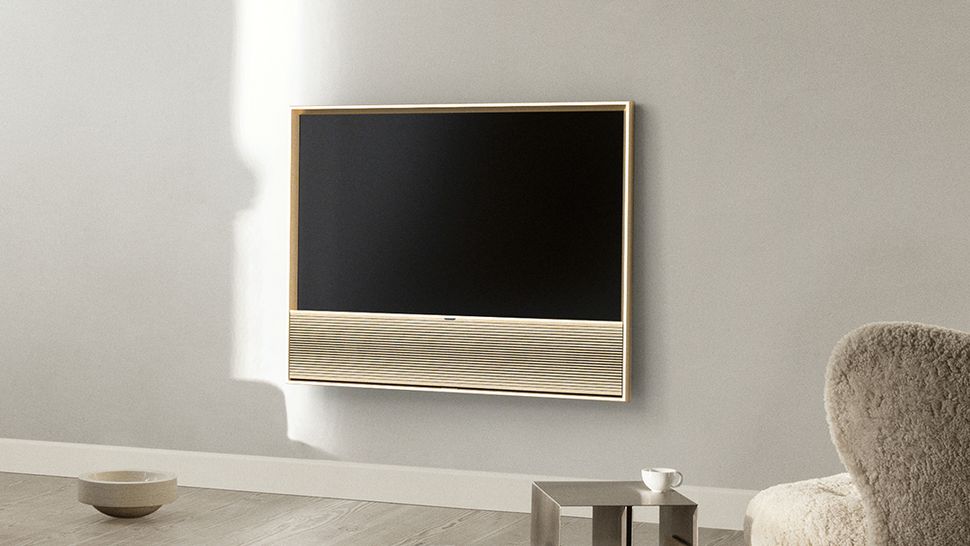 Bang & Olufsen's Beovision television range just got a new member: the Beovision Contour, a 48-inch OLED TV.
The Beovision Contour is described as an "all-in-one TV and music experience", featuring audio technology from B&O's first ever soundbar, the Beosound Stage – but reportedly with improved bass performance.
It's the smallest OLED from Bang & Olufsen so far, given the company tends to make headlines with super-large screens like the 88-inch Beovision Harmony. But the Contour loses none of B&O's premium attitude – or the premium prices usually involved.
Buyers can opt for a swivelling aluminium floor stand, wall-mounting, or a tabletop stand to place on higher surfaces. There's a host of color options for both the floor stand and the wood veneer around the set itself, from Gold and Silver to Black Anthracite (coal).
In order to keep things looking pretty, too, we're told that "All cables are routed through the centre rear of the TV and hidden from view, offering a holistic 360-degree design, which allows the TV to remain visually appealing from any angle."
The Beovision Contour is available now online and in-store across the UK and Europe, with global availability (including the US) coming in February 2021. It retails for $5,999 / £5,150 (around AU$8,250).
The original 48-inch OLED is the LG CX. While it's a 2020 model, you can still find it at many retailers, at a decent price that undercuts the newer LG C1 model that tops this guide.
You still get a market-leading OLED panel, with LG's a9 Gen 3 processor and all of the expected benefits of OLED: incredibly deep blacks, a contrast ratio to die for, and vivid colors throughout. The CX doesn't quite have the audio array of the WX or Gallery Series GX, but with 2.2. channel speakers it's still a step above cheaper sets.
At just $1,299 / £1,155 / AU$2,300 for the 48-inch model, you're saving a small amount over the 55-inch model, as well as saving in space.
Its relatively low input lag (just 13ms with Game Mode) make it a great choice as a gaming monitor, too – which feels more reasonable at its smallest size, making it easier to fit into a study or bedroom compared to its larger 65-inch or 77-inch iterations.
It's worth noting that LG has slipped up on Freeview Play – the UK broadcaster catch-up service – and currently only supports iPlayer, BBC News, and BBC Sport out of the usual roster.
Read our full LG CX OLED review