TechRadar Game of the Year Awards 2017
Introduction
2017 has been a fantastic year for games – from stunning open worlds like The Legend of Zelda: Breath of the Wild and massive online shooters like Destiny 2 to runaway indie success stories like Cuphead.
While we'd love to praise every game we've loved from the last 365 days individually, we just don't have the time. Or the word count.
With 2018 coming at us faster than an Xbox One X game's frame rate, we decided to take the time to vote for the games that have stood out most for us this year.
We've looked at games in a couple of different ways – firstly by platform exclusives, then by genre, and then we had the struggle of picking our overall favorite game of the year.
Of course we also have the most important category of all – our reader choice awards. Over the past week you, our readers, have been voting for your own personal favorite game of 2017 and now that the votes are in we have our ultimate winner.
In order for games to be considered for this list they had to be released between the dates of January 1, 2017 and December 31, 2017, but other than that, everything was on the table: HD re-releases, iPhone and Android games and experimental titles like PlayerUnknown's Battlegrounds.
So, without any further ado welcome to the 2017 TechRadar game of the year awards.
Reader's choice - Horizon: Zero Dawn
TechRadar readers have made their voices heard and those voices are crying out praise for Horizon: Zero Dawn. It may be a PlayStation exclusive but it's had a lot of love this year and that's for very good reason.
We're not sure whether you love the strong protagonist, the robot dinosaurs or the wide open game world (let's face it, it's probably all three) but with 42% of the vote, it's your firm favorite.
Game of the Year 2017 - The Legend of Zelda: Breath of the Wild
Let's keep the big awards coming - our game of the year. 2017 saw a lot of utterly fantastic releases but we at TechRadar have agreed that The Legend of Zelda: Breath of the Wild was the best of the best.
The Nintendo Switch couldn't really have asked for a better launch title with this one. An incredible wide open world, an exciting adventure and genuine freedom to play how you like - what's not to love?
It seems most of the gaming world has fallen in love with Link's latest adventure and we're glad to say we're no different.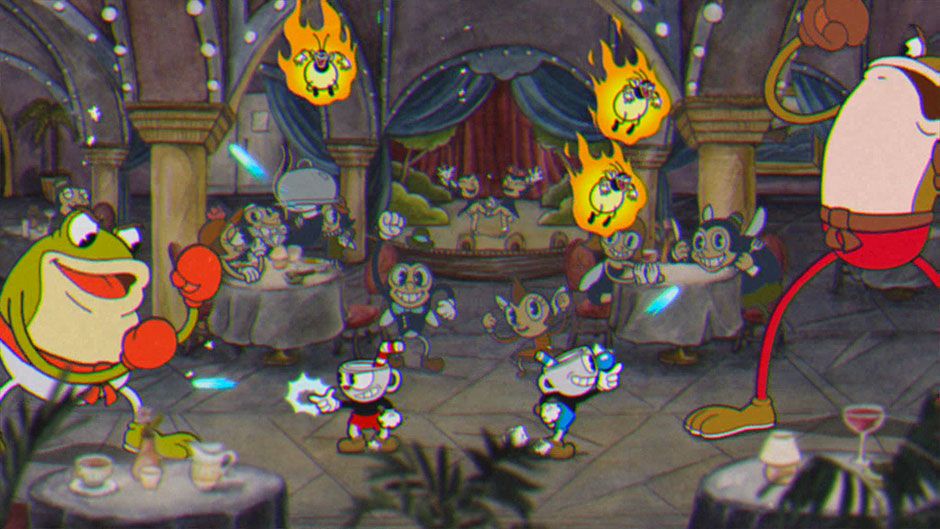 Best Xbox exclusive - Cuphead
With its 1930s inspired animation and 1980s inspired gameplay, Cuphead is an indie game that captured the hearts and imaginations of gamers from its very first announcement. Released earlier this year after a long development it's now one of the most original and stylish games available not only on Xbox but generally.
Don't let its charming visuals fool you, though - it's a damn difficult game to win.
Best PlayStation exclusive - Horizon: Zero Dawn
It's your favorite game of the year and it's by far and away our favorite PlayStation game of the year. Horizon: Zero Dawn is one of those titles that's a true console seller.
Offering a vast and stunning open world, an intriguing concept (post-apocalyptic robot dinosaurs? Yes please) and a powerful, intriguing heroine this is one of the year's most outstanding titles and one of the best examples of the kind of single-player narrative adventures PlayStation is becoming known for.
Best PC game – PlayerUnknown's Battlegrounds
This one won't really come as a surprise. This battle royale extravaganza has been one of our most pleasant surprises this year and one of our favorite experiences on PC.
It's managed to make a classic gameplay form feel fresh again and even gamers who don't play it are familiar with the phrase 'Winner, Winnter, Chicken Dinner' such is the scale of the phenomenon.
Best Nintendo exclusive - The Legend of Zelda: Breath of the Wild
It's our overall favorite game of the year, so you'll be unsurprised to see The Legend of Zelda: Breath of the Wild receive the accolade for our favorite Nintendo game of the year too.
As the single launch title for the Nintendo Switch, it's safe to say Nintendo had a large amount of faith in The Legend of Zelda: Breath of the Wild. And it was right to – this open world Zelda title took our breath away with its scale and genuine sense of adventure.
Best VR game - Superhot VR
Superhot VR is a shooter that's a prime example of how to do virtual reality right. A first-person shooter that moves only when the player does is original as it is, but when you incorporate VR you get something genuinely exhilarating.
Re-designed for the virtual reality platform, this game requires full-body involvement and makes you feel like you're playing through your very own slow-mo action sequence.
Best mobile/handheld game - Metroid: Samus Returns
Metroid: Samus Returns stands out as one of the strongest exclusive handheld titles released this year. Though a Metroid 2 reimagining wasn't something we had particularly cried out for, it's something we're very glad was made.
By adding modern mechanics and some of the best 3DS graphics we've seen yet to the original Game Boy game, Samus Returns is an excellent addition to the Metroid lineup that feels more like a brand new game than any kind of outright remake.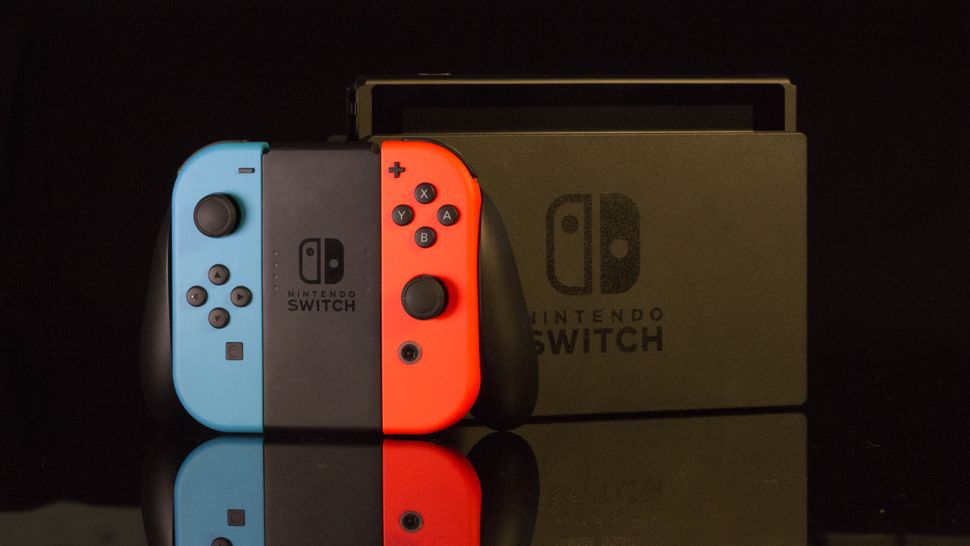 Best hardware - Nintendo Switch
There were a few notable gaming hardware releases this year but the Nintendo Switch has stood out as our favorite. Finally bringing us a console that can be played on the move and plugged into our TVs this hybrid felt like (and still feels like) a genuine innovation that's only getting more exciting with the more games that are released on it.
Best action/shooter - Wolfenstein 2: The New Colossus
Our favorite action and shooter title of the year? That would have to be Wolfenstein 2. It's violent, absurd and full of over the top action but it also has a well-written story and great characters to add some heart. Looking to dual-wield some shotguns and take down hoards of Nazis all while enjoying one of 2017's best and wildest game scripts? Look no further.
Best RPG - The Legend of Zelda: Breath of the Wild
Oh, look, it's Link again! Breath of the Wild is our favorite overall RPG release this year too. Why? Because this is a game that dedicates itself to giving you freedom.
The sprawling game map is a big part of that freedom, but we also love the way Breath of the Wild gives you a start point, an end point and everything in between is pretty much up to you. You can craft the Link adventure you want and that's what makes it so great.
Best online multiplayer - PlayerUnknown's Battlegrounds
Despite the fact that it's rather difficult to win, PUBG is our favorite online multiplayer. Sure, battle royale gameplay is nothing new, but PUBG's gradually shrinking map brings a refreshing urgency to it that we love.
It's also nice to play an online combat game that doesn't make you wade through menus of weapons and armor stats or complex crafting systems to get down to the business of playing. It's an online life that doesn't try to consume your offline one and for that, it gets its very own chicken dinner.
Best racing/sport - Forza Motorsport 7
For arcade-style racing, the Forza series should be your first port of call. This is the latest game in the Motorsport franchise and it has some excellent tracks and a great soundtrack. As the game that was developed to show off the chops of Microsoft's new 4K machine, Forza Motorsport 7 looks simply fantastic and we definitely recommend seeing it running in 4K at 60 frames per second with HDR.
Best narrative - Uncharted: The Lost Legacy
PlayStation exclusives tend to be excellent single-player narrative adventures and the Uncharted series is a great example of this. While this isn't a fully-fledged Uncharted game starring Nathan Drake, it's a spin-off with an almost identical spirit.
Despite being shorter than the average game, The Lost Legacy manages to pack in a thrilling adventure and it's a treat to explore new character arcs. It's a great example of how a game doesn't have to be long and drawn our to tell an intriguing and memorable story with characters you love.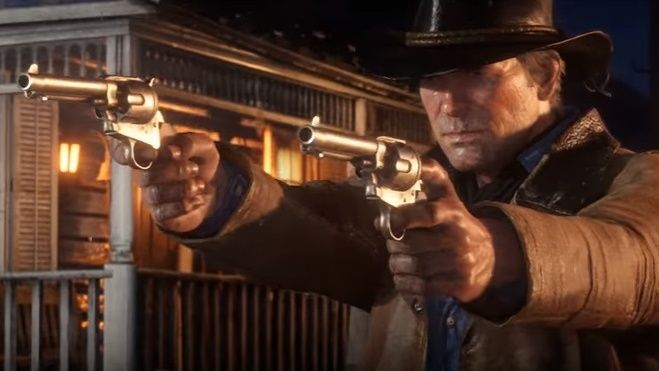 Most excited about - Red Dead Redemption 2
There are a lot of exciting games lined up for 2018 but the one that has the TechRadar team's trigger fingers itching the most is Red Dead Redemption 2. A new Rockstar outing is always a thrill, and we really can't wait to get back to the gun-slinging Wild West for an all new story.