Best FPS games - essential first-person shooters
Best
Contributions from
last updated
Target the best FPS games for some killer fun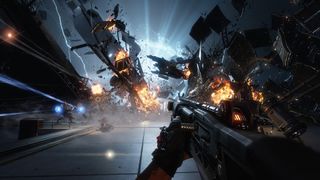 (Image credit: EA / Respawn Entertainment)
The best FPS games are loaded with action, whether you play alone or with friends. Playing a first-person shooter, especially a multiplayer game, can lead to some serious commitment – you learn the quirks of different weapons and characters and study maps and player behavior to make it to the top.
The best games also stay fresh, whether that's thanks to useful updates and new seasons, or simply because they feel different depending on who you play them with. Many first-person shooters make it onto our list of best multiplayer games for that reason. Playing in teams fosters competitiveness and it helps you bond, that's why a lot of games like Counter Strike 2 or Left 4 Dead 2 become regular activities rather than games you play a few times – they are a way to challenge yourself and spend regular quality time with friends.
Some of the games on this list offer a cohesive world and a plot for you to explore, for others it's simply enough to know who your character is and how to start the action, so whether you're using crossplay or you're looking for the best game for your platform, we have the best FPS games no matter what system you're playing on.
Best FPS games to play in 2023
Why you can trust TechRadar We spend hours testing every product or service we review, so you can be sure you're buying the best. Find out more about how we test.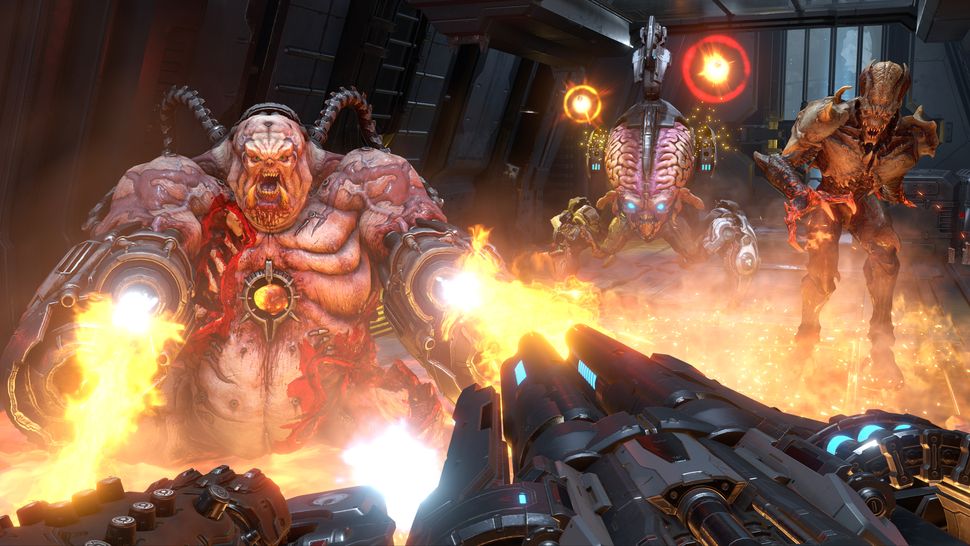 A fast, brutal headbanger of a game
Why we love it
DOOM Eternal takes everything that made its predecessor great, and cranks it up to 11. There's new traversal puzzles, and even more demon-slaying weapons of mass destruction to play around with.
Platforms available: PS5, Xbox Series X|S, PC, and Nintendo Switch
Following the successful reboot of the Doom franchise in 2006, id Software doubles down on its pristine systems and satisfying shooting, drafting in platforming to make the combat more fluid, a rogue's gallery of deadly bosses, and an engrossing storyline.
Doom Eternal is easily one of the best FPS games for the sheer rush it provides. It looks as great as it feels, providing a speed and impact that makes it feels downright satisfying, especially when you exploit an enemy's weak point. If you really want to take something apart, there is still no better game, and it even offers a good story to boot.
Titanfall 2
Make a mech buddy
Why we love it
Titanfall 2 offers up a compelling campaign, featuring epic mech battles and a surprisingly heartwarming story. One mission in particular, which features a time-swapping mechanic, will go down as one of the best in recent memory. Well worth playing, even years after its initial release.
Platforms available: PS5, Xbox Series X|S, and PC
People have fallen in love with Titanfall 2 left and right because it fulfills one of those nerd dreams that video games are perfect for – it lets you get in the robot. As pilot Jack Cooper, you get to both control the titan BT and venture out on your own. Stranded on an alien planet, it's your teamwork and problem-solving skills that will get you home.
Titanfall doesn't only come recommended because it feels really good to stomp around in a titan, but because you will also have a great time outside of it. Jack jumps from platform to platform, wall runs with the best of them, and generally adapts to any environmental puzzle quickly and with style. The vel design in Titanfall 2 is fantastic, with ever-changing environments that are a joy to look at and explore. If you're looking for a good single-player campaign, this is one of the best FPS games (and one of the best Xbox One games). Just be aware that the multiplayer doesn't work anymore. Read our Titanfall 2 review for more.
Counter-Strike 2
For the pro player in you
Why we love it
Counter-Strike 2's wall of noise and violence will feel impenetrable to newcomers but a welcome upgrade for long-term Counter-Strike fans. It's the best competitive shooter on the market, but it's so difficult for new players to get on board that it won't be for everyone.
Platforms available: PC
If you're serious about accuracy and competition in games, then Counter-Strike 2 may be the game for you, it's an updated version of CS:GO, featuring some major technical improvements. Given its predecessor's status as a great breeding ground for esports professionals, Counter-Strike 2 demands a level of skill and tactical know-how that is far beyond the more casual shooters in this list and will certainly test your limits as an FPS player.
Even if you're not trying to be the next Shroud, squadding up with your friends, learning the maps and concocting stealthy hero moments, unraveling an enemy team's composition with clever wall bangs and grenades is deeply satisfying, and something to try if you're bored of the mainstream shooters that constantly coddle the player. Counter-Strike 2 holds its reputation as one of the best FPS games, or at least the game a lot of people regularly return to. If you want to work on your aim, do it here.
SuperHot
Super slow-mo for those looking for something a bit different
Why we love it
Superhot is a uniquely different kind of FPS. for one, it relies on puzzle-solving to an extent, blending it with excellent environmental design and precise shooting. A great time, whether you're playing in VR or not.
Platforms available: Oculus Quest, PS5, Xbox Series X|S, Nintendo Switch, and PC
An excellent FPS for anyone who wants to do more than shoot, Superhot is a game where time moves when you move. This means that careful manoeuvering and precision shots are of utmost importance, and the game consistently lobs intricate combat arenas at the player to test their reaction speed and the finer points of their FPS skills. This is all wrapped up in a simple but effective art style and an unexpectedly engrossing campaign that is far too good to spoil.
Superhot is unique, stylish, and visceral, and it's a good game for those who get overwhelmed the faster and busier a shooter becomes. What's more, if you're lucky enough to own a virtual reality headset, you can check out Superhot VR, which ups the immersion and expertly transposes this puzzle shooter gem into the virtual realm, making it one of the best VR games.
Left 4 Dead 2
Fun with friends dead or alive
Why we love it
After so many years since the launch of Left4Dead 2, you may be wondering why it's still so highly regarded as an FPS. This primarily comes down to its replayability, and the fact that it's such a blast to play with friends. It's often on sale these days too, giving it a very low barrier to entry indeed.
Platforms available: PC and Xbox Series X|S
Zombie horde shooter Left 4 Dead 2 is a testament to Valve's ability to consistently reinvent aspects of the shooter genre. In this exciting gem from 2009, that holds up effortlessly today, you push through carefully crafted gauntlet maps while an AI director places new zombie types, hordes, and items to challenge teams of four in a procedural fashion.
Every round is unpredictable and full to the brim with a special kind of chaos, one that is only exacerbated in Versus Mode, where teams of four can face off against each other, swapping each round to play as the zombies and the humans. You're going to love Left 4 Dead 2 for its chaos, mowing through hordes of enemies together with friends has yet to be done better. Not only is Left 4 Dead 2 an excellent FPS game, but it's also one of the best horror games.
Halo Infinite
An impressive co-op experience that's only improved since launch
Why we love it
Halo Infinite evokes the best games from the long-running FPS series. The multiplayer is tight, action-packed and great fun with friends, while the campaign offers up a giant map to explore and fight through.
Platforms available: PC and Xbox Series X|S
Halo Infinite gets a rough shake these days, mostly due to its questionable post-launch seasonal multiplayer content. Its campaign is well worth the price off entry however, offering up a large sandbox map to fight your way through. The story is the best it's been in years, and when paired with the co-op functionality, gives players a chance to relive their glory days.
If you're looking for an FPS that's a bit more classic-feeling, Halo Infinite strikes the right balance. It has modern design sensibilities, including a grapple hook that allows for faster movement when compared to older Halo games. New maps have been added since launch too, and as it stands, Halo Infinite is now a very impressive FPS, with enough to keep you busy for months.
Dusk
A throwback with its own identity
why we love it
Dusk is the best kind of throwback, evoking what made games like DOOM and Quake exciting in the first place, while proving its own merits in the genre.
Platforms available: PC

Dusk is quite special in the retro FPS space because it's much more than just a graphical callback. The game features stellar level design in gorgeous and creative environments, alongside a large cast of nightmarish enemies to blast back to the hells they crawled from. It comes highly recommended if you're looking for a super-polished horror FPS experience that successfully marries design sensibilities both old and new.
Wolfenstein II: The New Colossus
A rip-roaring, blood-soaked campaign that'll keep you guessing
Why we love it
Wolfenstein II: The New Colossus cements the series as one of the best in gaming, especially for single player campaigns. Its twisting narrative seriously goes places, and it'll keep you guessing right up until credits roll.
Platforms available: PC, Xbox Series X|S, PS5, PS4

The modern Wolfenstein games really are absolute powerhouses when it comes to single player FPS experiences. Wolfenstein II: The New Colossus is particularly great, with a campaign that will leave you slack-jawed and mesmerized by the smart, wonderfully directed action at play.
Once again, you'll blast your way through hordes of enemies, using giant machinery and weapons to tear through levels based on an alternate version of history. To say the story is unique would be an understatement, so just know that over the course of its runtime, you'll laugh, cry and question just what the hell you just watched.
Escape From Tarkov
Nail-biting extraction-based shooting
why we love it
There's few games quite like Escape From Tarkov. It inspires rage, terror and ecstasy in equal measure, with a simple gunplay system that's quick to pick up but hard-as-nails to master. Try jumping in immediately after a wipe update to experience a new and relatively level playing field.
If you like your FPS games to be tense, tactical and high-staked, thirds few better experiences than Escape From Tarkov. Thanks to regular updates that level the playing field, EFT is actually quite friendly to newcomers, if you get in at the right time that is. It's extremely stressful, but a great time with friends. For fans of PUBG, Counter-Strike and shooters that borrow from military-sims.
Best FPS games: FAQs
What FPS games are coming out soon?
With 2023 now at its end, we look forward to 2024 for upcoming FPS games. Stalker 2 is arriving at some point, as is a new Call of Duty game. We'll have to see what else is announced in the next few months.
What is the best FPS game?
This depends on your taste! As our list shows, FPS games come in many forms. If you're looking for tactical team action, we suggest trying Escape From Tarkov, but if you're after a gripping single-player campaign, then we recommend Doom Eternal or Titanfall 2. Apex Legends holds our spot for the best battle royale.
We've got a list of all the best single-player games if you're looking to take on a solo adventure, but we've got a list of the best co-op games too should you want to enjoy a title with your friends.