The cheapest Samsung tablet deals in December 2023
Where to buy a Samsung's Galaxy Tab for the best price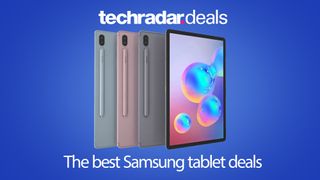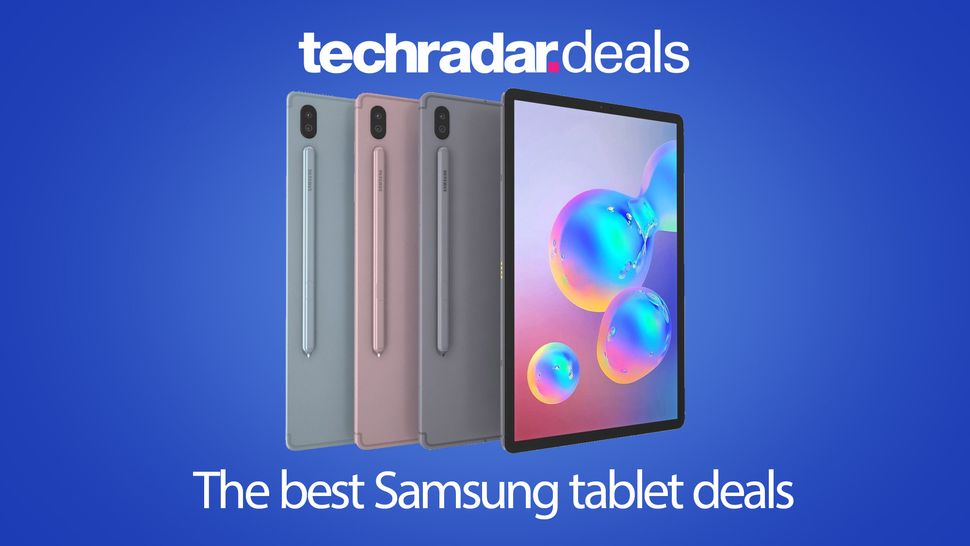 (Image credit: Future)
There's a wide variety of Samsung tablets to choose from if you need a new device that's capable of general everyday use, advanced tasks or some gaming. Fortunately, there are also a lot of Samsung tablet deals available at any one time - and even more during sales such as the 4th of July sales and Prime Day - so we've gathered all of the best offers right here.
Whether you go for the top-of-the-line Samsung Galaxy Tab S8 with its power to rival the iPad Pro or stick to a cheaper option with the Galaxy Tab A8 entirely depends on how you plan on using your new device. Either way, we're here to help you get the best value for money with our roundup of the latest prices, including any that are a part of the Amazon Prime Day tablet deals.
We go through all the potential use cases below alongside our guide to the best Samsung tablet deals available right now. That way, you can be confident in the knowledge that you're buying the most suitable tablet for your needs.
If you find you'd like to view a few more options, including some even cheaper devices, then our guide to today's tablet deals has a few more options. There's also our iPad deals page for all the best prices for Apple devices.
We've also gathered together some excellent laptop deals if you decide you need a more fully-fledged machine for your computing needs.
Samsung Galaxy Tab S range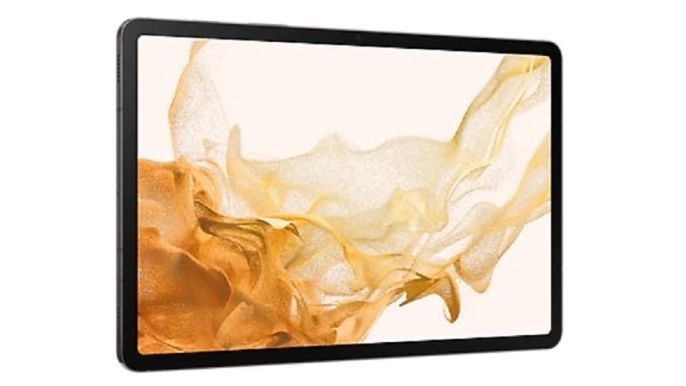 Samsung Galaxy Tab S8
Samsung's latest tablet is here
Weight: 505g | Dimensions: 165.3 x 253.8 x 6.3mm | Screen size: 11-inch | Resolution: 2560 x 1600 | CPU: Snapdragon 8 Gen 1 | RAM: 6GB | Storage: 128GB-256GB | Battery: 8,000mAh | Rear camera: 13MP, 6MP wide | Front camera: 12MP
Premium design
High-quality and responsive screen
Free S Pen stylus included
Minimal upgrade over Tab S7
The brand new Samsung Galaxy Tab S8 sports an 11-inch, 2560 x 1600 resolution screen that also offers a high refresh rate of up to 120Hz to deliver a smooth image during demanding tasks such as gaming. It also comes with a 13MP main camera and 6MP wide option on the back, as well as a 12MP ultra-wide front-facing camera best-suited to video calls. 8GB of RAM is included as standard, while storage options include a 128GB or 258GB version, with the option to expand that up to 1TB with a microSD card.
There are more deals recently, so you can save a good chunk of money off the manufacturer's most powerful tablet. Even more so if you trade in an old device at the same time. You're able to order one at a number of retailers right now with many still running the promotion that gets you a free year of Disney Plus membership with your purchase.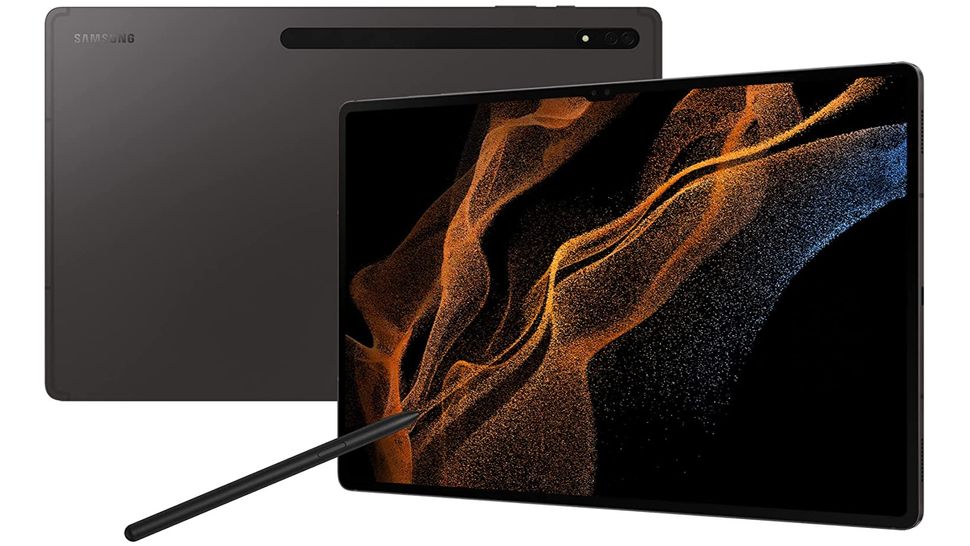 Samsung Galaxy Tab S8 Ultra
A large screen at a high price
Weight: 726g | Dimensions: 208.6 x 326.4 x 5.5mm | Screen size: 14.6-inch | Resolution: 2960 x 1848 | CPU: Snapdragon 8 Gen 1 | RAM: 8-16GB | Storage: 128GB-512GB | Battery: 11,200mAh | Rear camera: 13MP, 6MP wide | Front camera: 12MP, 12MP wide
Huge screen
High-quality display
Excellent with included S Pen stylus
Niche and expensive
Compared to the standard tablet in this new range, the Galaxy Tab S8 Ultra boasts a much larger 14.6-inch screen. Storage options are available all the way up to 512GB, while there's also an option to increase the RAM to 12GB or 16GB – should you want the performance boost.
Altogether, though, this is a very large, weighty and expensive bit of kit. For the everyday user, this is likely going to be overkill. The focus is definitely on creatives and professionals who need a bigger second screen – and it has the price to match those demands.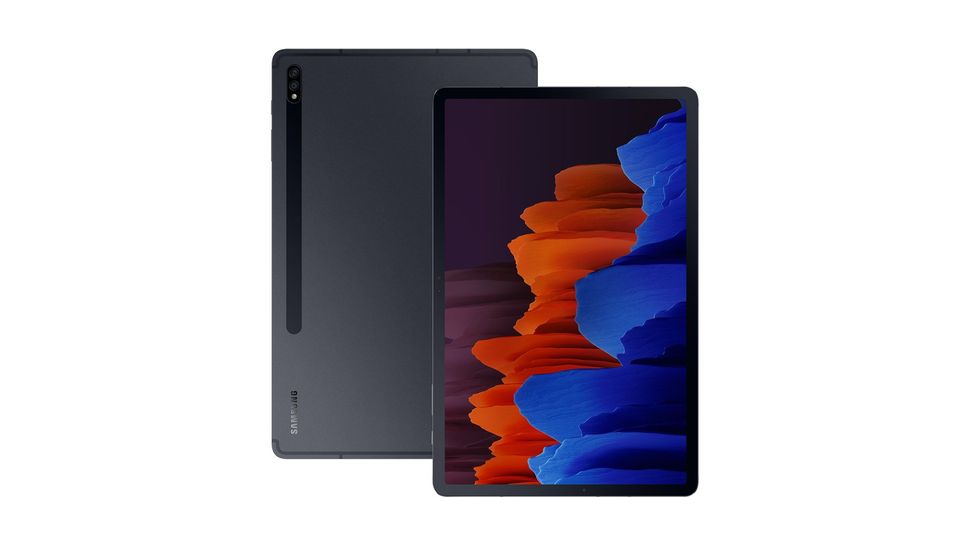 Samsung Galaxy Tab S7 Plus
Best for the big screen treatment
Weight: 575g | Dimensions: 285 x 185 x 5.7mm | Screen size: 12.4-inch | Resolution: 2,800 x 1,753 | CPU: Snapdragon 865 Plus | RAM: 6GB | Storage: 128GB-512GB | Battery: 10,090mAh | Rear camera: 13MP, 5MP wide | Front camera: 8MP
Larger, better display
Powerful battery life
New Snapdragon 865+ processor
Same processor, RAM and storage as standard model
With a 10,090mAh battery and a larger display, the Samsung Galaxy Tab S7 Plus is more designed to replace a laptop in many portable capacities. You're getting a powerful machine here, but at a $200 premium over the standard S7 model below. Considering the processor, storage and memory remains the same between both models this really is one for those who value screen real estate and battery life over all else.
That display panel is really something to celebrate though. With a stunning 2,800 x 1,753 resolution sitting on an OLED screen with a 120Hz refresh rate and HDR10+ built in, it's a delight to watch and with Dolby Atmos audio, even better to hear.
Released in August 2020, Samsung tablet deals have hit this latest release a few times over the course of the last year. That means you'll find it with a $50 - $80 discount if you're shopping at the right time.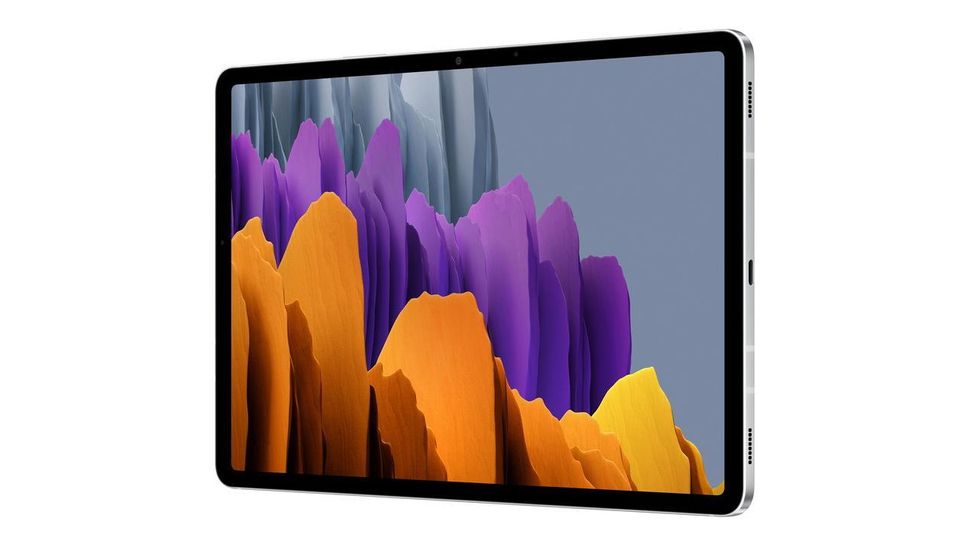 Samsung Galaxy Tab S7
Last generation release for non-professional users
Weight: 498g | Dimensions: 253.8 x 165.3 x 6.3 mm | Screen size: 11-inch | Resolution: 1600 x 2560 | CPU: Snapdragon 865 Plus | RAM: 6GB-8GB | Storage: 128GB-512GB | Battery: 8000 mAh | Rear camera: 13MP, 5MP wide | Front camera: 8MP
New Snapdragon 865+ processor
Battery improved over S6
Considerably cheaper than S7+
Thicker design
If you're looking to pick up the latest model, the Samsung Galaxy S7 will likely be your first port of call. While the S7+ does offer a larger screen and better battery, you're certainly paying for it with MSRP starting at $849.99.
Meanwhile, the standard model comes in at just $649.99 - it's still an expensive tablet, but you're saving $200 here and still getting the same Snapdragon 865+ processor, memory and storage options, and camera specs. You are dropping your screen resolution but that 1600 x 2560 at 120Hz with HDR10+ is certainly nothing to be sniffed at, even if it's running on an LED panel.
The costs cut here are in the battery and screen, and if you're not going to be powering through media-intensive work all day every day, it might be worth considering the cheaper option here.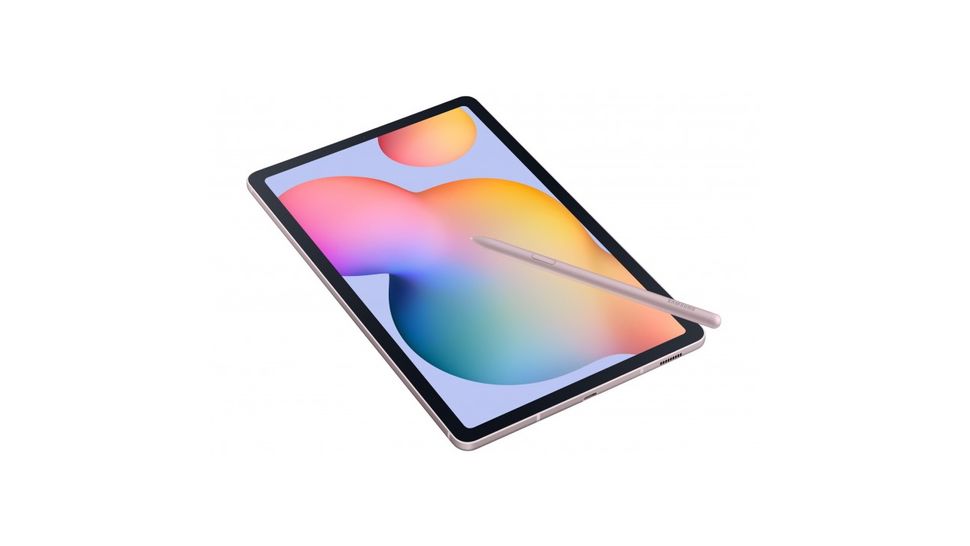 Samsung Galaxy Tab S6 Lite
A cheaper alternative for lighter use
Weight: 467g | Dimensions: 244.5 x 154.3 x 7 mm | Screen size: 10.4-inch | Resolution: 2000x1200 | CPU: Exynos 9611 | RAM: 4GB | Storage: 64GB | Battery: 7,040mAh | Rear camera: 8MP | Front camera: 5MP
Cheaper price point
Strong battery life
A little underpowered
The Samsung Galaxy Tab S6 Lite actually comes in heavier than the fully fledged model. That's not surprising, though, as the corners cut to achieve such a low price point are plain to see. While those looking for a powerful device to rival the iPad Pro should probably scroll back up to the S6 and S7 models, if you're just looking for a simple tablet to browse the web, stream video, and catch up on some emails the Tab S6 Lite does so in style.
You're still picking up a spacious 10.4-inch display, a strong battery life and grabbing S-Pen functionality (with a free pointer to go with it no less) which puts this model above the budget Tab A versions further down the page. What's more you're still picking that up for a great price, but don't expect this device to replace your main work machine.
Plus, Samsung's tablet deals tend to hit this cheaper model particularly well, meaning you can save some serious cash when the sales do appear.
Samsung Galaxy Tab A range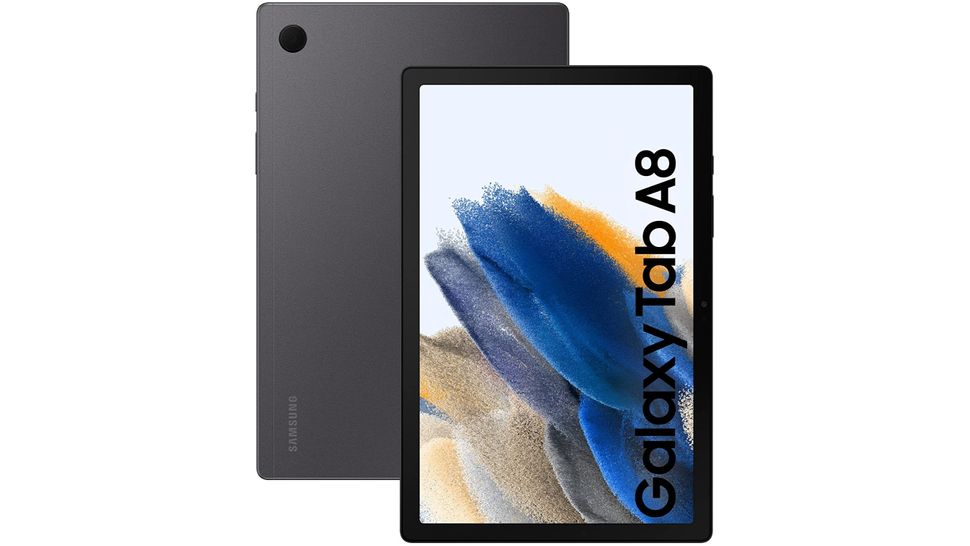 Samsung Galaxy Tab A8
Solid performance at an affordable price
Weight: 476g | Dimensions: 7mm x 169mm x 247 mm | OS: Android 11 | Screen size: 10.5-inches | Resolution: 1920 x 1200 | CPU: Octa-core processor | RAM: 3GB | Storage: 32-64GB | microSD slot: Yes, up to 1TB | Battery: 7,040mAh | Rear camera: 8MP | Front camera: 5MP
Full HD wide display
Long battery life
Dolby Atmos support
Affordable, but not the cheapest
The Samsung Galaxy Tab A8 is an affordable tablet that still delivers solid performance thanks to the 3GB RAM and Octo-core processor. The latest device in Samsung's range of budget tablets is light and portable, too. Meanwhile, the wide 10.5-inch display and Dolby Atmos surround sound support make it an ideal tablet for watching movies and TV shows. There's an 8MP rear camera and a 5MP front-facing camera on the Tab A8, as well, while it boasts an impressive 13-hour battery life.
It has a recommended price of $219/£219 for the standard WiFi version, but it can often be found for under $200/£200 at a number of retailers. That makes it around $50/£50 more expensive compared to similar-sized cheap tablets from Amazon and Lenovo, but the design and performance improvements are well worth the extra investment in our eyes.