It was quite spectacular just how cheap Samsung Galaxy S9 deals got so quickly after release. Even just a couple of months after release, we started seeing sub-£25 per month tariffs on Samsung's latest and greatest flagship phone and the good times continue to roll.
You can see all the best Galaxy S9 deals in our price comparison below, but the price point we're still loving is that £23 per month option - both Vodafone and O2 have impressive tariffs, with the upfront price coming down to a more reasonable level again. In fact, it's not a million miles off what you'd pay to buy a one year older Galaxy S8 deal at the moment..
You can compare Galaxy S9 deals and get the best data, call and text allowance for for your needs using our daily refreshed comparison chart. Or scroll down to our handpicked S9 deals below to see which are the hot ones you should take advantage of now. Vodafone may be having the best of things at the moment, but there are still decent offerings on EE and O2, as well - and much cheaper than Galaxy Note 9 deals of course.
You can get the lowdown on the fantastic new flagship phone from Samsung in our whistle-stop review below (or just head to our Samsung Galaxy S9 review here). The Galaxy S9 is certainly a great phone, now use our chart to compare deals and get a great price...
Today's top 5 best Galaxy S9 deals on contract in the UK: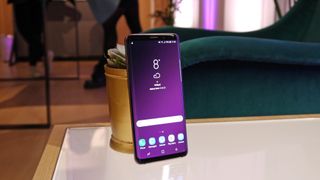 Samsung Galaxy S9 review
Screen size: 5.8-inches | Resolution: QHD+ | Rear camera: 12MP | Weight: 163g | OS: Android 8 Oreo | RAM: 4GB | Storage: 64GB | External storage: microSD up to 400GB | Battery: 3000mAh
Incredible camera
Convenient finger scanner
Improvement on the astonishing S8...
...but not by much
Augmented reality not fully realised
So it's finally here, and our general impressions are predictably positive. The Samsung Galaxy S9 is really all about the camera, with most of the unveiling ceremony concentrating on the improvements that have been made to the front and rear snappers. It comes out of the box running off Android's latest Oreo operating system and a new chipset should make your using experience as swift as possible. We only wish it improved on the Galaxy S8 more...
Read TechRadar's Samsung Galaxy S9 review

Best Samsung Galaxy S9 deals by network:
EE, O2, Vodafone or Three? Whether you have a preference or not, below you'll find some of our favourite Galaxy S9 deals available from each major network.

The best Samsung Galaxy S9 deal on EE
The best Samsung Galaxy S9 deals on O2
The best Samsung Galaxy S9 deals on Vodafone
The best Samsung Galaxy S9 deals on Three