You'll find all of this week's best iPhone 12 Mini deals all neatly laid out just below, including our top picks and recommendations for those looking for that perfect pocket-sized device. While small, don't underestimate this device, it's every bit as powerful as its 12-series siblings - and cheaper too. For the first time ever, this week's iPhone 12 Mini deals are also offering a free device without a trade at Verizon. This is the first time ever this carrier has offered a 5G compatible device under these terms - and you can check it out just below.
iPhone 12 Mini deals: quick links
Jump to your relevant section:
1. This week's best deals
2. Mini-review
3. Compare carrier plans
We've added a breakdown to each recommendation, just so you know exactly the terms, and the cost, of each individual offer. As expected, there are a few hoops to jump through to get the very best iPhone 12 Mini deals this week, however, a free phone is on the cards at a number of retailers.
Following the initial release of Apple's iPhone 12 deals, the Mini was essentially part of a 'second-wave' of devices, alongside the more premium iPhone 12 Pro Max deals. We've been covering deals across all the devices since launch and so far, we've mostly seen options for trade-ins mostly, although a number of smaller carriers like Mint Mobile have also offered some good options on the 12 Mini specifically.
Retailing at an introductory price of $699, the iPhone 12 Mini shares all the hallmarks of its larger siblings - namely a new A14 Bionic processor and an upgraded OLED screen and camera system. It's also rocking Apple's new 'Ceramic Shield' technology, which the tech giant claims is four times more shatter-resistant than standard glass designs. That's a good thing too, especially since the 12 Mini shares the same squared-off edges and glass-backed design of the iPhone 12 and iPhone 12 Pro.
Just below we're rounding up this week's best introductory iPhone 12 Mini deals alongside a much more detailed mini-review. You'll also find a quick specs sheet, just in case you were wondering how this new little device measured up against the competition.
iPhone 12 Mini deals
Apple iPhone 12 Mini: free with an eligible unlimited plan at Verizon
No trade-in needed: Verizon's latest iPhone 12 mini deal might not be making quite the same waves as those on the 13, but don't discount them - it's quite possibly the best promotion all year from the carrier. Never before have we seen a 5G compatible iPhone (or 12-series device) go for free without a trade-in but that's exactly what's available right now. Simply pick up a device with an eligible unlimited data plan and voila - free 5G goodness.
Total cost: $0 | Monthly cost: $0 (30 or 24 mo)
Apple iPhone 12 Mini: $699 $599, plus trade-in options at Apple
Price cut: Apple's now cut the price of all iPhone 12 mini deals (including unlocked devices) by a whole $100 thanks to the recent launch of the 13 mini. While it's not quite as powerful as the latest device, the 12 mini is still a fantastic choice if you're looking to save a few bucks - plus, if you're trading in you could save even more this week.
Apple iPhone 12 Mini: $17.50 $1 with eligible unlimited plan at AT&T
Price cut: AT&T's slashed the monthly price for its iPhone 12 Mini deals yet again this week down to just $1 per month. No trade-ins are needed here, but you will need to be picking up a device with a new unlimited data plan to be eligible, so bear that in mind. If you're looking to trade, we'd recommend considering the iPhone 13 mini, which is currently free with an eligible trade a new unlimited plan.
Total cost: $8.75 | Monthly cost: $262.5 (30 mo)
Apple iPhone 12 Mini: device, plus 12-months of free data plan at Mint Mobile
Mint Mobile's iPhone 12 Mini deals will score you an additional year of service on the house if you buy a device upfront with a 12-month plan. While a bit pricier upfront, you're generally saving a lot of cash here in the long term considering this prepaid carrier's plans come out at much, much cheaper than the usual offerings from Verizon and AT&T.
Total cost: $809 (plan incl)
iPhone 12 Mini deals: what you need to know
iPhone 12 Mini: specs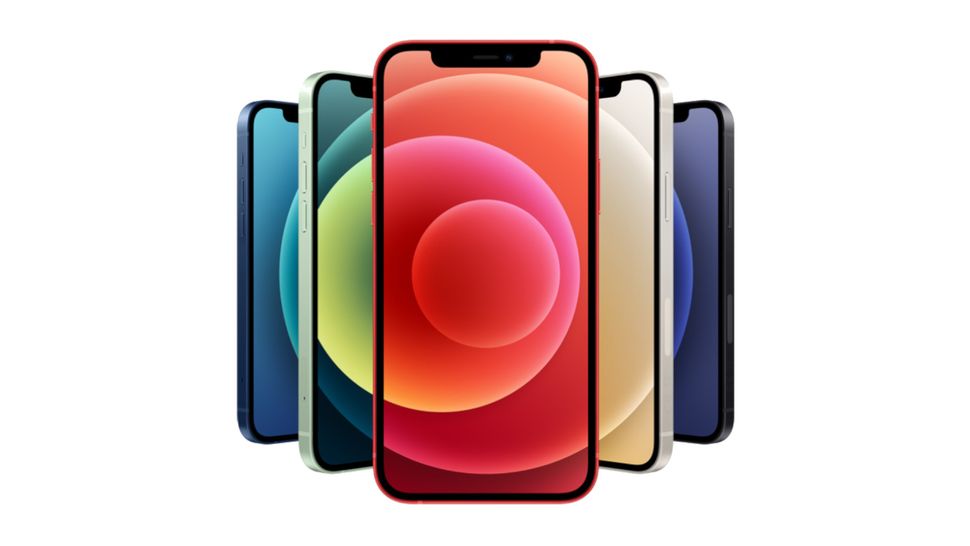 OS: iOS 14 | Screen size: 5.4-inch OLED| Resolution: 1080 x 2340 | CPU: A14 Bionic| Memory: 4GB | Weight: 135g |Storage: 64/128/256GB | Battery: 2,227mAh | Rear camera: 12MP dual wide/ultrawide| Front camera: 12MP
The iPhone 12 Mini represents a new direction for Apple. Never before have they opted to make a smaller, cheaper version of their main flagship (in this case the iPhone 12) that still retains all that power and new tech under the hood.
With the latest A14 Bionic processor, camera system, iOS, and squared-off edge aesthetic, make no mistake about it - the iPhone 12 Mini is very much a modern flagship device, just in a slightly smaller form factor. With 5G compatibility too, it's simply a choice for those who want a new iPhone that resembles the smaller, classic designs of yesteryear.
All new 12 series iPhones feature a glass-backed design that Apple claim is four times more shatter-resistant than its previous designs thanks to what it's calling its Ceramic Shield technology. Another key upgrade is the new Mag-Safe charging technology too, which Apple introduced to make wireless charging a lot easier. It's essentially a magnet that will stop your phone from slipping on the mat, although Apple has stated wireless charging won't be quite as fast on the Mini, probably due to overheating reasons.
While it's still early days, we at TechRadar think the iPhone 12 Mini has the potential to be a real hit. It's got all those modern appointments and key upgrades over the iPhone 11 - namely 5G, a new processor, and OLED display, but coming in at $100 cheaper right from the bat. It's also got that classic palm-sized form factor that'll easily slip in and out of any pocket.
Read more in our iPhone 12 Mini review.
iPhone 12 Mini deals: compare carrier plans
Apple iPhone 12 Mini: save up to $900 with an eligible trade-in and activation rebate at Walmart
Not looking to trade? We recommend considering Walmart's iPhone 12 Mini deals this week. This carrier does offer trade-ins like many others, but uniquely also offers an additional $200 rebate for activation on carrier devices. You still get that without a trade, which means generally lower monthly rates here than if you bought the device outright via a carrier.
Total cost: $0 (AT&T) | $50 (Verizon)