Editor's note: November 2022
It's a great time of year for deals on all kinds of tech, including digital photo frames. We're on the cusp of some big shopping events coming up, most notably the Black Friday deals, and many of the frames in this list are contenders for price drops.

For example, during last year's Black Friday event our number one photo frame, the Aura Mason Luxe got a $30 (or 12%) discount, taking it down to a price that it's only briefly beaten once since. We'll be highlighting deals like this in our Black Friday camera deals guide, so it's worth bookmarking that page to return to during the run-up to the sales event.

To help you build your battle-plan, we've rounded up some great choices below – and thanks to our built-in price comparison tool, we'll show you the best deals from across the internet.

Mark Wilson, Cameras editor
Looking for a flexible way to display your photos at home? The best digital photo frames are perfect for personal slideshows. Sharp, chic and easy to use, the leading models put your personal snaps front and centre. From affordable frames to premium screens, we've tested the finest digital photo frames available and ranked our top picks in the list below.
What's the best digital photo frame for most people? With a neat look, slick interface and detailed display, we highly recommend the Aura Mason Luxe. Its app is simple to use, while a 9.7-inch screen makes it big enough show off your favorite photos but small enough to fit on any shelf or desk.
That said, it's not the cheapest choice on the market. If you're looking for a great value alternative on a tight budget, the 8-inch Nixplay Nix ticks a lot of boxes for not a lot of money. Alternatively, if you want an option which also supports for video calls, Facebook's Portal is worth considering.
Whether you want a simple panel or a smart display, our expert team has comprehensively tested the best options. Our guide is designed to help you find the right digital photo frame for your needs and budget, covering models across a range of price brackets. We've also included some useful buying tips to keep in mind when deciding which frame is the best fit for your home. Need some more in-depth advice? Check out our guide on how to buy a digital photo frame.
Once you've found your favorite frame, you'll find links beneath each entry that take you straight to the best deals available right now. And with Black Friday right around the corner, we'd expect to see several of the best digital photo frames discounted in November. Be sure to bookmark our dedicated Black Friday deals page to keep on top of the latest offers.
The best digital photo frames in 2022:
Why you can trust TechRadar Our expert reviewers spend hours testing and comparing products and services so you can choose the best for you. Find out more about how we test.

The Aura Mason Luxe is a clear cut above most other photo frames. It's stylish, has greater character to its design and, most important of all, the screen is excellent in most respects.
Its 4:3 aspect display is perfect for not just adding some color to your room with your photos, but to actually get an up-close look at them. Pixel density is so high they look sharp and detailed even when you get your face right up to the screen. We found that color is natural-looking and well-saturated too, so you can be sure you're seeing a fair representation of the photos you fling its way.
There's also a social side to the Aura Mason Luxe. You can invite friends and relatives to send photos to the frame, and everyone in this inner Aura circle can "like" and comment on the images, creating a cosy sort of private social network. The cost of the Mason Luxe may seem high for a 10-inch photo frame, but after our tests, we conclude the quality of the software and hardware justifies the expense.
---
Nixplay's 2K Smart Digital Photo Frame features one of the sharpest screens on the market. With a resolution of 2048 x 1536 pixels, the display offers detail for days – and it's vibrant, too, with impressively deep blacks and more than enough brightness to beat the screen's reflective coating.
At 9.7 inches, the display also strikes an excellent middle ground: with a flexible stand setup that can support the frame in portrait or landscape orientation, the Smart Digital Photo Frame will fit on almost any shelf, while also giving images enough real estate to really be seen and enjoyed. Handily, it can also be wall-mounted.
As with other Nixplay frames, the settings menu offers no shortage of customisation options, from transitions and colour adjustments to sleep timers and the sensitivity of the motion sensor. Controlled via the physical remote (or the virtual replica in the app), the frame is responsive and pretty intuitive, even if the high resolution means text sometimes appears a little small.
One of our favourite things about this frame is that loading up photos via the partner app is a straightforward process. Create, populate and organise multiple playlists using photos from your smartphone, or sync with Google Photos to display AI-generated smart albums. You can also connect with friends to easily receive snaps and assign them to your frame.
One final note: in matte black, the frame's bezel is sizable but understated. In contrast, the metal-effect variant is both excessively reflective and a serious fingerprint magnet, distracting from what is otherwise a sharp and capable Wi-Fi frame.
---
Classier than most competitors, the Aura Carver stands out with an embossed border and angular, free-standing design. Its 10.1-inch display isn't as sharp as the slightly pricier Carver Luxe, but we found its 1280x800 panel fine in testing, with pleasant colors and good viewing angles. It helps that the screen can adjust automatically to ambient conditions and go impressively bright, helped by a semi-matte finish.
We think Aura frames have the slickest software out there, and the Carver is no exception. It doesn't have a touchscreen, but the subtle touch panel on top makes it easy to flick between photos. Other settings are found in the similarly streamlined smartphone app, although customisation options are limited. Friends and family can contribute to your slideshow, but there's no support for albums.
It's also worth noting that the Aura Carver requires a consistent Wi-Fi connection to display your photos, and it's only designed to sit in landscape orientation. But if you want a hassle-free frame with no paywall and unlimited cloud storage, the Carver is a fantastic choice.
---
A cheap and cheerful photo frame, the Aeezo Portrait 01 is more flexible than its price tag suggests. Its no-frills, plastic build won't win any design awards, but it's neat enough, even if the simple stand has limited stability.
We were largely happy with its photo reproduction in our review. Color depth isn't exceptional, but the 10-inch display strikes a good balance when it comes to detail: hard edges aren't too soft or too sharp. It is less bright than other frames in the same price bracket, though.
Rather than cloud storage, you can load photos onto its 16GB of internal storage via the Frameo app, or from an SD card or USB stick. That means you're not reliant on constant Wi-Fi connectivity or third-party servers. The interface isn't sophisticated and the app is less glossy than others in this list. But like most of the frame, it all works as it should. Overall, the Portrait 01 is good value.
---
The Netgear Meural isn't quite like other digital photo frame. By the standards of this category, it's a pretty high-end buy, but it's actually the entry-level model in Netgear's series of art displays. They scale all the way up to a 21.5 inches.
This is a 15.6-inch photo frame you can orient in portrait or landscape. It's a large canvas for your photos, and the Meural app offers access to a huge library of paintings and other art works. They can inject some culture into your home. You have to pay for a subscription to get full access, but a good few handfuls are available without one.
In our time with it, we found that the matte finish display is a great way to display art in a way that doesn't just look like a repurposed tablet or smart display. However, its color depth isn't perfect and a more pixel-dense display than the 1080p panel offered here is desirable if you want to actually look closely at your photos rather than let use a photo frame as a passive way to enhance a room.
---
With a generous border and glass facade, the Skylight Frame is one of the more attractive photo frames we've tested. It's larger than most 10-inch models, but its white surround and classy design give it real presence on a shelf. In use, its responsive touchscreen feels quite a lot like a tablet: you can pinch to zoom and swipe to switch photos. It's not sophisticated, but it works smoothly and makes it easy to find specific images.
We don't think the Skylight Frame does a perfect job of representing images. Its compression software can add visible artifacts, soften images and make certain hues look unnatural. That said, its 1280x800 pixel LCD holds up well against similarly priced rivals, even if its 255-nit brightness is a long way below the Aura Carver.
The frame works fine without Wi-Fi, but key features are only available with a paid subscription, including cloud storage. Despite these reservations, we still think the Skylight Frame is a good choice if you want a statement photo frame.
---
Facebook is phasing out its Portal devices for consumers, but right now that makes this 10-inch display excellent value at its new low price. Meta will continue to provide support for existing customers and its core functionality will continue unaffected.
While it's primarily device for calling friends and family, Meta's social screen does a side-gig as a slick digital photo frame. Styled like a floating box frame with neat lines and a quality finish, it's an attractive fit for contemporary shelves – provided there's space for the supporting leg. The stand can prop the Portal in portrait or landscape, but it sticks out by 12cm – and the power cable exits from its end, so it can't sit flush against your wall.
Up front, the 10-inch display is vibrant and responsive, with good detail and color reproduction. The panel is quite reflective, but there's enough brightness to counter glare – though this dips when viewing from a 45-degree angle.
Setup is straightforward and the slick touchscreen interface is matched by the polished partner app. which particularly impressed us. Photos can be sourced from Facebook, Instagram or your smart device, then sorted into albums which can be individually enabled.
You can't change how the Superframe slideshow is sorted or tweak the transition style, though – only the duration of each slide. Nor can you extend the sleep setting beyond an hour: if the Portal's sensor doesn't detect motion for 60 minutes, it'll automatically sleep. Not a major issue, unless you position the Portal on a high shelf or in a far corner where it misses any movement.
You do need a Facebook or WhatsApp account to activate the Portal, which will be a negative factor for some – but with Alexa, Spotify and family apps included, it's certainly a feature-packed frame.
---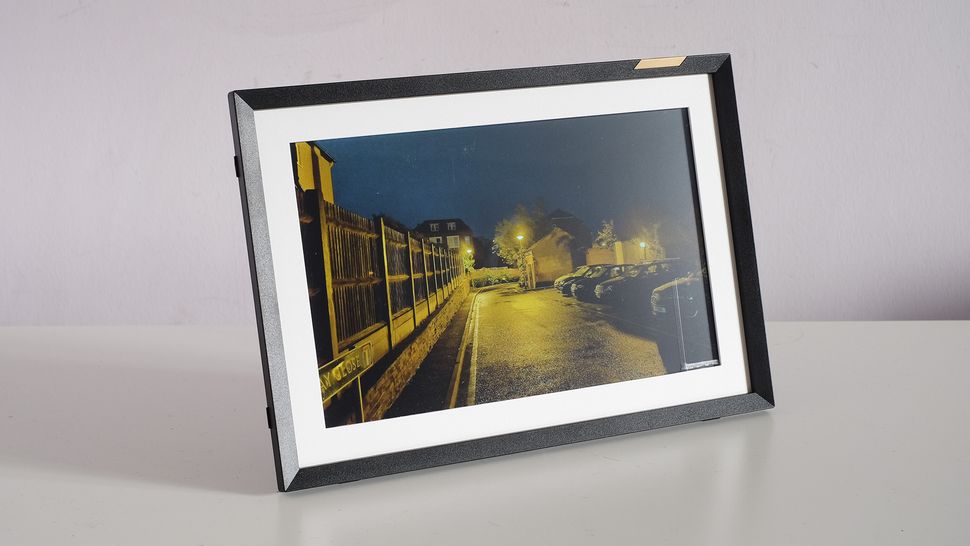 The Nixplay Touch 10 passes for a traditional photo frame at arm's length. Its back is heavily sculpted, but this will usually be hidden away from view. While its slot-in stand didn't feel especially sturdy in testing, the frame itself isn't heavy enough to make this a problem.
Its plastic display surface softens reflections, and photos generally look good. We liked the color temperature during our time with the Nixplay, finding that it could produce rich tones, even if its LCD panel lacks the depth of OLED. We were less impressed by its sharpening, which caused edges to appear pixellated.
Lag does make the touchscreen interface feel clunky. You'll also need to pay for the frame's full capabilities, although most users will be fine with the 10GB of cloud storage and five 'playlists' you can create with a free account. It's auto switch-off abilities aren't hidden behind a paywall, either: an activity sensor can snooze the display when no-one's around, making this is a frame that can run by itself.
---
The Nest Hub Max is both a hub for smart devices and a portal for accessing Google Assistant at home, but it also does well as a digital photo frame. Styled like a 10-inch tablet attached to a fabric-skinned speaker, it forms a neat free-standing package with a small shelf footprint – even if the screen's plastic shell and bezels don't feel particularly premium.
The fixed stand setup means you can't adjust the display angle from its default upward tilt. While this will be an issue if you want to place the frame on a higher shelf, the viewing angles are otherwise good, with decent saturation and plenty of brightness – provided you're fine with a reflective panel.
At 1280x800, the resolution of the touchscreen could be higher, but we found that there's still good detail with no noticeable pixellation – and it makes controlling the Nest Hub Max a cinch. Swipe between photos or tap the pop-up controls to hide, star or share particular images, or do the same thing with voice commands.
The Nest Hub Max can display art backgrounds, a full-screen clock or a selection of snaps from your Google Photos account. It supports Live Albums, features the option to show portrait pics in split-screen and offers time, weather and image data overlays – but you can't manually change the slideshow order. And because it only works with Google Photos, the Nest Hub Max makes sense mainly for those already invested in the company's cloud backup service.
---
How to pick the best digital photo frame for you
Where will you place it?
Most digital photo frames include some kind of stand, but not all can be wall-mounted. Similarly, some only work in one orientation, while others can switch from portrait to landscape. It pays to consider placement, including how a frame's finish will fit with your decor.
What screen size do you need?
Screen size can vary substantially, from 8 to 13 inches. Frames with smaller displays can be easier to place and are sometimes sharper. Larger options offer more space for your snaps but won't always have a higher resolution. The sweet spot is usually somewhere around a 9-inch Full HD display.
How will you add images?
Many of the latest digital photo frames rely on cloud storage to host your slideshow, letting you add photos directly from different devices. Others feature social media integration. But if your images live on hard storage, consider something with a memory card or USB input.
How much control do you want?
Some digital photo frames offer seamless simplicity, while others allow you to adjust every setting – from brightness to sleep schedules. It's worth checking what a given frame lets you tweak, especially if you're particular about color balance or slideshow transitions.
How smart does it need to be?
More than passive panels, several of the best digital photo frames in 2021 are actually fully fledged smart displays. That means voice control, media streaming and smart home integration. Whether you need this additional functionality will depend on the other devices already in your abode.
What is the best size digital photo frame?
Digital photo frames are available in a wide range of sizes. Which dimension is right for you will depend on your available space, as well as your own personal preference. Smaller digital photo frames are more compact and easier to place in your home, but offer less canvas space for your digital images. Larger photo frames give your treasured snaps room to shine, but require a larger footprint – and the biggest screens risk dominating a room.
While you can find digital photo frames with screens as small as 5 inches, we think the smallest you should realistically look at is 8 inches. A frame such as the Nixplay Nix Digital Photo Frame 8-inch benefits from a small footprint that's easy to place almost anywhere, while still giving your images enough room on screen to be clearly visible. Any smaller and you risk having to squint to see your snaps.
The largest digital photo frames feature displays to rival your average laptop. The Nixplay Seed Wave, for example, ships with a 13-inch panel. This puts your pictures clearly front and centre, but it's not exactly subtle. It risks looking like a small TV and blends less well into the background – although it certainly makes your shots unmissable.
We think the best size digital photo frame is between 9 inches and 10 inches. Models like the Google Nest Hub Max, Aura Carver and Facebook Portal all feature screens which measure in at around the 10-inch mark, while our favorite digital photo frame right now – the minimalist Aura Mason Luxe – has a 9.7-inch display. These hit the sweet spot for visibility and flexibility. A display at this size will also provide better pixel density than a much larger screen, improving clarity and sharpness (especially with Nixplay's 2K frame, which features a high-resolution 9.7-inch screen).
How we test digital photo frames
Digital photo frames are unique devices with a range of specific factors to test. We put each frame through a range of scenarios to ensure each one is worthy of a recommendation.
We place each digital photo frame in a series of similar viewing scenarios to assess the sharpness and brightness of its display. This will usually include a dark environment, a daylit room and a bright spot in direct sunlight. Using an identical set of photos, we look at the accuracy of color reproduction, the clarity of each image and the viewing angles of the frame. We also take into account the proportions of the display and whether any cropping is likely to affect standard-sized digital images.
When it comes to ease of use, we start by adding a batch of images to each frame. We'll do this in every way supported by a specific frame, so if there's an app as well as memory card support, we'll assess how simple it is to upload images using both techniques. We'll also dive deep into settings menus to understand how straightforward a given frame is to operate, as well as which settings can be customized. We look first and foremost for commonly desired options, such as customizable slideshow intervals, sleep timers and color adjustment sliders.
We also review the physical design of each frame in a few ways. Unboxing a frame, we try each of its potential orientation and mounting options to assess how simple it is to assemble and switch between different positions. Then by placing each frame in a range of locations (usually including a shelf, desk and wall), we look at the footprint and dimensions of the frame, focusing specifically on whether its shape, size and stand angle make it easy to position and arrange as required.