Here's a fun fact: Ultra HD, commonly referred to as 4K, has four times the amount of pixels of standard HD. It has twice the horizontal pixels and twice the amount of vertical pixels, resulting in a 3,840 x 2,160 resolution that makes 4K one of the sharpest formats on the market.
But despite its nearly unparalleled visual fidelity, Ultra HD has one major hurdle to leap before it's ready for prime time: a lack of content.
Trying to find a show to watch in 4K is like finding a needle in an ultra crisp haystack, with more hay added to the pile every single day.
If sifting through the chaff isn't your cup of tea, we're here to help with a list of every place you can find 4K Ultra HD content from sources like Netflix, Amazon Prime Instant Video and YouTube as well as some more obscure places like UltraFlix, M-Go and even Sony's insanely expensive FMP-X10 Ultra HD media player.
Netflix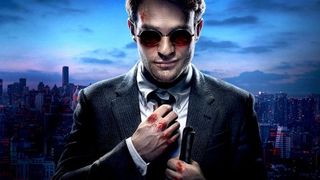 Netflix is a great first stop for A/V enthusiasts on the hunt for ultra-sharp content. Offering plenty of UHD programming from original shows like House of Cards, Daredevil and Marco Polo, to hosting a half-dozen movies like World War Z, Star Trek: Into Darkness, The Avengers and Skyfall, there's more than enough content here to keep you occupied until 4K picks up speed.
Ready for Netflix in 4K? Check out our handy "How to watch Netflix in UHD" guide.
Recommended 4K content:
House of Cards
Daredevil
Breaking Bad
Marco Polo
Sense8
World War Z
Star Trek: Into Darkness
Skyfall
Amazon Prime Instant Video
Netflix isn't the only streaming service with access to an Ultra HD collection of films and TV shows: Amazon has plenty of 4K video in both paid and free varieties. But in order to get the most out of the service's UHD selection, you're going to need an Amazon Prime subscription so you can access Prime Instant Video. On it you'll find original programming like Bosch, Alpha House, Transparent, Mozart in the Jungle and Red Oaks as well as films like Crouching Tiger, Hidden Dragon, Hitch and Philadelphia in 4K.
Can't find something you like on Prime Instant Video? Check out Amazon Instant Video storefront for tons of 4K content available to purchase or rent.
Recommended 4K content:
Bosch
Alpha House
Transparent
Mozart in the Jungle
Red Oaks
Crouching Tiger, Hidden Dragon
Hitch
Philadelphia
YouTube
Here's the scenario: You just bought a brand-new 4K TV and are looking for something to show off at your next party to impress your guests. As strange as this might sound, the Ultra HD content you're searching for is in the same place that you go to watch cute cat videos and skateboarders eating it on concrete. YouTube offers dozens of 4K videos that display landscapes from all over the world in stunning 3,840 x 2,160 resolution.
Recommended 4K content:
UltraFlix
In the category of "Don't judge a book by its cover" is the Ultra HD streaming service UltraFlix which, admittedly, has a website that looks like it's stuck somewhere around 2005. The service supplies you with 4K movies directly to your PC, Android device or select brands of televisions for a small rental fee. UltraFlix is supported on Samsung, Sony and Vizio TVs.
Recommended 4K content:
The Good, the Bad, and the Ugly
Interstellar
Robocop
Rocky
Ip Man
Elton John: The Million Dollar Piano
M-Go (exclusively on Samsung TVs and Roku)
M-Go's rise to relative power directly correlated with the fall of the physical disc-renting service Blockbuster. When M-Go became the place to rent movies on devices like the Roku 2 and Roku 3, brick and mortar video stores took a dive in attendance. Now that M-Go has to compete with more mainstays like Amazon Instant Video and RedBox, it's had to come up with different ways to stay on top. One such way is Ultra HD movie rentals.
Recommended 4K content:
Dawn of the Planet of the Apes
X-Men Days of Future Past
The Wolverine
Life of Pi
Die Hard
Sony FMP-X10 4K Media Player
Everything mentioned up until this point had two things in common. Content is relatively cheap and most are available anywhere in the US and UK. The Sony FMP-X10 is a little different. Pricing for the US-exclusive device starts at $699 (about £450, AU$940) and movies go for around $30 (about £20, AU$40). Movies are downloaded from Sony directly, as opposed to being streamed from one of its servers, however because Sony also owns one of the biggest movie production houses on the planet, its player has one of the largest sources of content to draw from before anyone else.
An extra word of warning before you pony up the $700 for Sony's ultimate UHD machine: Make sure that your TV supports HDCP 2.2. If it doesn't, the X10 will be one of the most expensive paperweights you ever purchase.
Recommended 4K content:
The Amazing Spider-Man 2
American Hustle
Godzilla
Pineapple Express
Th...th...th...th...that's all folks!