The five-layer Nectar Mattress is an affordable memory foam bed-in-a-box that we feel would suit most sleepers. There's good motion isolation (ideal for couples), and the Nectar does a decent job of regulating temperature. The lighter weight side sleepers on our testing panel didn't find it comfortable for long periods due to its firmer feel, but it's a great choice for most stomach and back sleepers. If you have a heavier than average body though, you may sink in too much. Otherwise, the Nectar Memory Foam mattress is a good all-rounder for enjoying better sleep for less, and it comes on a 365-night trial, with a Lifetime Warranty.
Pros
+

365-night risk-free trial

+

Lifetime warranty

+

Firm feel yet still comfortable

+

Decent temperature regulation
Cons
-

Strong off-gassing smell

-

Weak edge support
Why you can trust TechRadar We spend hours testing every product or service we review, so you can be sure you're buying the best. Find out more about how we test.
Nectar Mattress review in brief
Affordable compared to memory foam rivals
Firmer feel is supportive for back sleepers
Edge support was weak on our testing model
Note: Nectar sells in both the UK and the US. This guide focuses on the Nectar Memory Foam UK mattress – for the US review, toggle the flag drop-down menu in the main navigation bar.
The Nectar Mattress (also known as the Nectar Memory Foam and occasionally as the Nectar Classic) is the entry-level option from the leading sleep specialist, designed to deliver comfort, support, pressure relief, motion isolation and temperature regulation at a very reasonable price.
It's 25cm deep with five layers, and it's also certified as climate-neutral. And if you check our best mattress, best memory foam mattress and best mattress for side sleepers guides, you'll find it sits highly in the rankings, thanks to its combination of support, comfort and value for money.
While Nectar used to stand out in the UK mattress market thanks to its 365-night trial plus a Forever Warranty, other brands including Eve Sleep and Nectar's sister brand, DreamCloud (see our Nectar vs DreamCloud guide to compare the two), have recently matched Nectar and increased their trial periods from 100 nights to a full year.
At a glance: Nectar Mattress
Best for: Couples; Back and combi sleepers
Type: Mattress in a box
Trial: 365 nights
Guarantee: Lifetime
Firmness: Medium-firm (6.5/10)
Materials: CertiPUR foam; polyester
Depth: 25cm
Sizes: Single, small double, double, king, super king
A 365-night trial period means that if you feel the Nectar Mattress isn't right for your sleep, you can return it at any time within a year; that's a definite bonus considering that when you buy online, you don't get to try the mattress out yourself, and have to depend on the brand's product information and reviews such as this one.
The Nectar Mattress is also competitive in terms of price, with an RRP of £569 for a single and £879 for a double, and there are regular Nectar mattress sale offers to reduce that price by up to 50%.
Beyond that, there aren't many ways in which the Nectar Memory Foam stands out from its competitors. The medium firm feel is very common in the mattress in a box sector, and you can't customise it. Nectar Sleep rates the firmness as a 6.5 out of 10 on the firmness scale, which we'd agree with for average to heavier weight bodies, but for lighter bodies it feels more like a 7 out of 10.
Within the context of the Nectar range, the Nectar Mattress is the most basic option. You could also look at the Nectar Essential Hybrid Mattress (usually available at the same price as the Nectar Mattress) for more responsive support thanks to its additional layer of springs, or for a more advanced foam option there's the Nectar Premier Mattress, which is 28cm deep with improved support and better temperature regulation.
Also in the range (and moving up in price) is the Nectar Hybrid Mattress, with a micro pocket spring layer for enhanced breathability and motion isolation, and topping out the selection is the Nectar Premier Hybrid Mattress, which features two spring layers and promises an optimum sleep experience.
Back to the Nectar Mattress itself, its quilted top layer and pressure-relieving memory foam combine to create a 'cradling' sensation, and while this offers some minor sink-in cosiness, you won't feel as though you're disappearing into the bed here. This also helps to keep your spine aligned during sleep, depending on the body weight. A dynamic support layer adds a little bounce and breathability too, with a sturdy foam base providing a good foundation for back and side sleepers in particular.
Based on our review experience, the Nectar Memory Foam should suit you if you are of an average to slightly heavier body weight and enjoy a firmer mattress with a little push-back and contouring. If you prefer a softer feel and of a lighter weight, we'd recommend the Emma Original instead. As we explain in our Emma Mattress review, this all-foam bed-in-a-box is comfortable for all body types and sleep positions except for heavier bodies.
There's minimal motion transfer with the Nectar Mattress too, which is good news for couples sharing a bed, but during testing we found the edge support to be weak. Especially when we compared that to the Simba Hybrid, though the Simba is a more expensive model. For more on that model, read our Simba Hybrid Pro mattress review.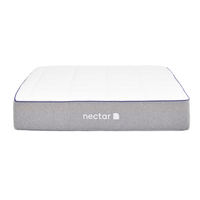 See the Nectar Memory Foam from £569 at Nectar
The Nectar Mattress comes with a 365-night trial, so you can return it during that year's period if it isn't right. If you do keep it, Nectar Sleep offers a Forever Warranty on all its mattresses, though we'd encourage you to read the terms and conditions before buying so that you know what's covered. The Nectar Mattress is competitively priced too, with a double often reduced to £501, undercutting some rival models (but not all) by around £100.
Nectar Mattress review: materials
Five-layer memory foam mattress
Quilted cover draws away excess heat
Breathable foam to boost airflow
The Nectar Memory Foam mattress has five layers in total, including three layers of CertiPUR-certified foam. There's open-cell foam for better breathability, premium memory foam for body support, and seven-zone support foam for spinal alignment and to reduce motion transfer.
On top is a quilted cooling cover designed to draw heat away from the body, while also adding a nice touch of cosiness. We found this worked to an extent, but we wouldn't call Nectar a proper cooling mattress. It does however maintain a neutral temperature for sleeping, and even the hot sleepers on our panel slept more deeply on it with less kicking off of the covers. Finally, a firmer base layer provides a steady foundation to the mattress and keeps it in place on the bed frame too.
Like many other manufacturers, Nectar Sleep uses toxin-free materials for its Memory Foam mattress, meaning this bed is free from heavy metals, harmful dyes and ozone-depleting chemicals. It also packages the Nectar in recyclable cardboard, although the mattress itself is vacuum-sealed in a lot of tough plastic with an additional plastic wrap.
Nectar Sleep states that the manufacturing process of the Nectar Memory Foam is 100% carbon neutral right up until it arrives at your home, but we're not fans of all that plastic.
Nectar Mattress review: price and deals
The most affordable Nectar mattress
Discounted by up to 43% most months
Well priced though not the cheapest among its rivals
With an RRP of £569 for a single and £749 for a double size, the Nectar Memory Foam is currently the brand's most affordable mattress (don't pay too much attention to the RRP and discounts; you'll generally pay a very good price for it). That's compared to the Nectar Hybrid, with an RRP of £879 for a double size, and the Nectar Premier, with an RRP of £979 for a double. It's sometimes bundled with free bedding too, including the brand's best pillows for comfier sleep.
Here's the official pricing for the Nectar Memory Foam mattress:
Single: £569
Small double: £739
Double: £749
King: £819
Super king: £929
When compared to the Emma Original mattress, also constructed with a triple-layer of foam, the Nectar Memory Foam mattress is more expensive – the Emma Original RRP is £50 cheaper at £699, though it's regularly discounted by up to 50% at Emma Sleep.
Depending on the Nectar mattress deal running at the time, you can usually get a double size Nectar Memory Foam for £426.93. In comparison, a double size Emma Original is often reduced to £349.50 at Emma Sleep, which is a fantastic price for such a comfortable memory foam mattress.
The biggest differences between these two brands come in the trial period and guarantee. The Nectar Mattress comes on a 365-night trial and has a Lifetime Warranty, while the Emma Original comes on a 200-night trial and has a 10-year guarantee. So the longer term value lies with the Nectar. Both manufacturers offer free delivery: Emma delivers within one to three working days, while Nectar delivers within three to five working days.
Simba is the other biggest rival to the Nectar Mattress, with its Simbatex Foam Mattress being the closest in price at £479.40 (RRP £799) when included in the Simba mattress sale. The Simbatex has the same trial period and guarantee length as the Emma, the same medium-firm rating, and is also 25cm tall like the Nectar and Emma.
Nectar Mattress: Firmness and comfort
A medium-firm mattress (6.5 out of 10)
Most comfortable for back and combi sleepers
Quilted top layer provides an extra hit of cushioning
The soft quilted cover on the Nectar Memory Foam feels plush and we enjoyed sleeping on it, but don't be deceived by the initial hit of softness – the Nectar is firm enough to offer stability for back sleepers and most average to heavier body weights, except for much heavier bodies. The lighter weight sleepers on our testing panel who preferred side sleeping struggled on the Nectar Mattress and felt there wasn't enough cushioning to reduce pressure on the hips, shoulders and knees.
The rest of our testing panel rated the Nectar Memory Foam for firmness, although our lead reviewer, a combination sleeper, found it most comfortable while sleeping on her back, while stomach sleeping was fairly uncomfortable.
After a few nights, side sleeping caused a slight ache at the hips in particular, but placing a cushion beneath the body evened this out – you shouldn't have to do this though, which is why we don't recommend the Nectar Mattress for lighter weight side sleepers. Our average weight reviewers didn't have any issues with aches and pains, even when sleeping on their side.
While mattress firmness and comfort is entirely dependent on the individual, Nectar rates this mattress as a medium firm (6.5 out of 10), and we would say this is accurate for the average sleeper. Those lighter in body weight on our testing panel disagreed and rated it as a firm (7 out of 10).
The overall comfort of the Nectar Memory Foam is good, with plenty of support for spine alignment depending on your build. Average to heavier weight sleepers will also notice the mattress has a more cradling feel, conforming to the body for comfort. However, if you sleep particularly hot, this might be an issue for you despite the Nectar being designed with breathable foam and a heat-dissipating cover.
Nectar Mattress review: performance
Minimal motion transfer
Decent temperature regulation
Edge support is lacking
We tested the Nectar Memory Foam mattress in a small double size for approximately three weeks before writing this review. As we explain in our mattress methodology, during the review process we focused on the main areas of comfort and performance, including pressure relief, motion isolation, edge support, temperature regulation and ease of set-up.
We also looked at durability (gauging this on the Nectar's build quality, materials and from user reviews), in order to give a fair assessment of how we think the Nectar Mattress will hold up in the long-term. Here's what we discovered during testing…
Setup
Score: 4.5 out of 5
The Nectar Mattress arrived in a sturdy, easy-to-manoeuvre cardboard box, delivered straight to our apartment door by couriers. There was minimal outer packaging, but there was a lot of plastic wrap used to keep the mattress tightly compressed and rolled for delivery.
Set-up was a cinch. At around 31kg, the small double size we tested was easy for our lead reviewer to unpack and unroll onto the mattress by herself. The wrap was easy and quick to remove with the included Nectar blue plastic cutting tool, designed to ensure you don't damage the fabric on the mattress during the unrolling process.
Once we'd placed the Nectar onto the bedframe and unrolled it, it started to take shape straight away, although we noticed one corner remained flatter for a while and took an extra few hours to catch up. Within around six to eight hours, we'd say the mattress was suitable for sleeping on, but it properly expanded after around 48 hours. Nectar suggests it can take around 24 to 72 hours for it to fill out properly.
The manufacturer also recommends using an adequate base or bed frame, and that if your base has slats, then each one should be at least 5cm in width and no more than 10cm apart otherwise this could affect the performance of the Nectar Mattress.
Off-gassing
Score: 3 out of 5
Off-gassing is when the chemicals in mattress foam are released as the bed is unrolled and expanding. While Nectar guarantees all the materials in the mattress are non-toxic, with foam that is CertiPUR-US-certified and not harmful to human health, this model still had a noticeable odour as we unpacked it. While this did eventually disappear, it did take a few days to clear completely.
While off-gassing is common with foam beds and usually nothing to worry about, the odour can be unpleasant, so we always recommend fully opening the bedroom window if possible, and letting air circulate in the room as you unpack your mattress and wait for it to expand. We do the first part of the unboxing with our windows closed so that we can get a good indication of the off-gassing stench, but we open them soon after.
Pressure relief
Score: 4 out of 5
Our testers who were average weight and heavier found the pressure relief of the Nectar Memory Foam to be decent, with the cradling quality of the foam keeping the body feeling held and the pressure points nicely cushioned. In addition to our lead reviewer sleeping on the Nectar for three weeks, and our testing panel trying it out too, we also performed a sinkage test using a 20kg weight. We placed this in the middle of the mattress and measured it sinking in to around two inches. This is less than on comparable mattresses we have reviewed, with the Emma sinking in to around three inches and the Simba Hybrid Pro sinking in to around four inches.
All our reviewers felt their spines were aligned well when back sleeping, except for our lighter weight lead reviewer (who is also shorter in height). She found that sleeping on her side was not as supportive along the pressure points, with the hips in particular feeling sore after a short while. Stomach sleeping was hit and miss across our testing panel, but this sleeping position was not typical for any of our reviewers anyway so we must take that into account.
If you are in need of extra pressure relief, then a plush mattress topper would work well on the Nectar Memory Foam, with the firmness of the mattress adding plenty of support and the topper allowing the shoulders, hips and knees to be cushioned. If you prefer a softer memory foam mattress altogether, then the Emma Original memory foam mattress would be our recommendation.
Motion transfer
Score: 4 out of 5
As well as testing the Nectar with a co-sleeper, we also paired our testing panel into couples to rate the motion isolation. For each pair, we asked one tester to lie down while the other rolled around next to them, got up from the mattress and sat back down abruptly, and even jumped into bed. We then asked them to switch roles to get a good overall opinion.
We were impressed with the minimal motion transfer of the Nectar Memory Foam and found there was little movement on the bed even between the most restless of co-sleepers. Our lighter weight lead reviewer also tested the motion transfer with a playful toddler jumping and bouncing around on the bed next to them, and noted that the Nectar still felt stable, with surprisingly little motion from the toddler being transferred.
In addition to our human testers, we also performed a drop test with a 6kg weight. We placed an empty wine glass on one edge of the Nectar Mattress, where a person would sleep, and dropped the 6kg weight from a series of different heights to see how it affected the stability of the glass (to give us an indication of motion transfer).
The 6kg weight had little effect on the stability of the glass when it was dropped from 10 inches away, then eight inches away. Only when the weight was dropped from six inches away did the glass wobble but not tip over.
Temperature regulation
Score: 3.5 out of 5
While memory foam can sometimes sleep hot, we encountered no particular issues with the Nectar Mattress. Saying that, if you sleep very hot, then this probably won't be the right mattress for you as there's no cooling tech and the temperature of the mattress feels neutral in warmer weather.
We slept on the Nectar as the seasons changed from cool nights to slightly warmer, so our reviewers were able to experience how the bed fared temperature-wise, while using different bedding ranging from a 10.5-tog duvet plus a heavy blanket, to just the duvet.
The Nectar Memory Foam features a cooling cover complete with heat-wicking fibres, and we feel these did help the mattress to feel more breathable compared to other all-foam models we have tested. In particular, the Emma Original slept warmer. Plus the addition of gel memory foam adds some freshness to the layers too, but in terms of 'cooling' features that's it.
If you have no issues with overheating, you're likely to be fine on the Nectar. If you sleep hot, consider a hybrid mattress instead, such as the DreamCloud Luxury Hybrid (priced from £499.50 at DreamCloud). This is cooler by design because it uses coils and foam, and air flows better through and around coils.
Edge support
Score: 3.5 out of 5
The edge support of the Nectar Memory Foam Mattress was its biggest let down. Our lead reviewer and members of our testing panel took it in turns sitting on the edge of the bed, and it felt precarious for all of them. Sleeping near the edge is not so much of a problem if you sleep solo, but when co-sleeping it is an issue if you're sharing a smaller bed and need every inch of space to both sleep comfortably.
To test the edge support further, we placed a 20kg weight near the edge on the left and right side and at the bottom. We saw noticeable compression, plus the Nectar Mattress was significantly squashed in the one corner that took a while to expand when we were unrolling the mattress. Elsewhere on the mattress it fared a little better, although it still wasn't great.
While we would have liked a little more edge support, for the lower price point we can't complain too much. Heavier weight sleepers, however, should seek out a more robust mattress with better edge support. Again, we'd recommend the Simba Hybrid Pro (RRP from £1,149 at Simba).
Durability
Score: 3.5 out of 5
As we explain in our feature on how long does a mattress last, most boxed mattresses last for around six to eight years. While the durability of a mattress is a hard one to call after only testing it for a few weeks, we were reasonably confident that the build of this material offers good value for money, especially as its backed by a Lifetime Guarantee. While it might not last the distance of more expensive brands, the materials are good quality and the stitching is neat. However, based on the testing with weights, and the edge support, we do think that wear and tear might kick in a little earlier than expected.
The firmness of the Nectar Mattress could also soften over time and especially during the warmer months (a common scenario with foam beds), so if you're after a firmer mattress that stays firm, then we can't guarantee that you'll find it with the Nectar Memory Foam. While we realise that the uneven expansion of our testing panel might be a one-off, it did eventually fill out. However, that one wonky corner did remain noticeably softer than the rest.
The best advice we can give to anybody thinking about buying the Nectar Mattress is to take full advantage of the 365-night trial period, as this will give you a fair idea of how durable it is. Remember to invest in the best mattress protector you can afford to help your mattress last longer, while learning how to clean a mattress properly will also keep it in better condition for the years ahead.
Nectar Mattress review: customer reviews
Nectar Sleep has nearly 11,500 user reviews on its website via Trustpilot, with an average star rating of 4.4 out of 5 stars. We analyse these reviews to pinpoint any specific trends that keep popping up, which could indicate problems with the mattress over longer term use. Positive user reviews focus on how the Nectar Mattress is comfortable despite the firmer feel, with some customers reporting a reduction in backache after sleeping on it for a few weeks.
Other user reviews picked up on how easy the Nectar Mattress is to unbox and set up, with many saying it was fully inflated much quicker than what Nectar Sleep recommended. There were positive user reviews for the dispatch and delivery side too, but we all found complaints about both of these and about the returns process, with some customers feeling it all took too long.
Other critical reviews mentioned the strong off-gassing smell and that for them it lingered for weeks – our experience was that it dissipated completely after several days. There were also some customers who stated that the mattress was either too hard or too soft, and that there was also an issue with it sleeping too hot. We noticed that the Nectar Sleep customer service team is quick to reply to feedback and to provide a solution to problems that arise.
The Nectar Mattress is also sold on Amazon and there are a handful of user reviews to look at. The critical reviews also mentioned some unevenness in the mattress, with a dip appearing after a while. One of the positive user reviews commented how, "A new mattress can take some time to get used to, yet I feel my body is already feeling the benefits of this mattress after a week," while another said, "I alternate between back and side sleeping and this is perfect for both."
Should you buy the Nectar Memory Foam mattress?
Nectar's 25cm-thick medium-firm memory foam mattress is good value for money and a great pick if you're looking for the best mattress in a box. It hugs your body and is breathable, with the three layers of foam providing plenty of comfort, support and spinal alignment. If you're searching for an affordable memory foam mattress then this is a solid choice, and it would go well with Nectar's own duvet, which is one of our picks in our best duvet roundup.
However, if you have a lighter body weight or prefer to have your pressure points properly cushioned, look elsewhere. Again, we'd recommend the Emma Original for an overall softer, more cushioned feel. Plus, it's cheaper than the Nectar.
If you sleep particularly hot, then you also might want to shop elsewhere and opt for a mattress that has extra cooling features or springs, which offer better airflow. Good examples are the Simba Hybrid Pro and the DreamCloud, though both are more expensive.
In conclusion, after testing the Nectar Memory Foam for three weeks we feel this mattress is a good budget choice, and the brand has frequent sales throughout the year to lower the price further. Plus, with a 365-night trial period, free delivery and a Lifetime Guarantee, you have little to lose.
Grace Franks is an experienced sleep and mattress writer who has written for our sister sites Tom's Guide and T3, among other brands. She's interested in organic and eco-friendly sleep products, and how good sleep can improve our general wellbeing. When not writing about mattresses, Grace loves reading, creative writing, and practicing yoga.