Best Buy just unleashed new Black Friday deals - here are 19 offers I recommend
Black Friday deals are live at Best Buy - shop my top picks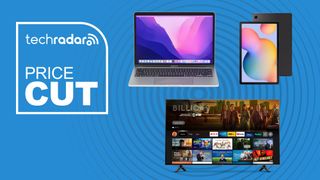 (Image credit: Future)
Looking to shop for Black Friday deals right now? You're in luck because Best Buy has just unleashed a new wave of Black Friday deals, and they're excellent. You'll find record-low prices on OLED TVs, headphones, laptops, Apple devices, appliances, and smart home gadgets from brands like Samsung, LG, Sony, Apple, HP, and Dell. To help you wade through all the offers, I've gone through today's sale to bring you the 19 Best Buy Black Friday deals I recommend.

• Shop Best Buy's full Black Friday sale

Why am I recommending these 19 Black Friday deals? They all include lowest-ever prices; meaning the item has never been cheaper. If you worry about a deal being discounted further on Black Friday proper, Best Buy has you covered. The retailer has a Black Friday price match guarantee, which means if the price of an item goes lower during the holiday season, Best Buy will match it.
Some of today's top deals include this massive Samsung 75-inch 4K smart TV on sale for a stunning price of just $579.99, the best-selling Echo Pop smart speaker marked down to just $17.99, and Apple's powerful MacBook Air on sale for $749.99.
See more of today's Best Buy Black Friday deals that I recommend, and keep in mind that today's sale allows you to score an early bargain and avoid the madness of Black Friday proper - win/win.
Best Buy Black Friday deals - quick links
19 Best Buy Black Friday deals I recommend