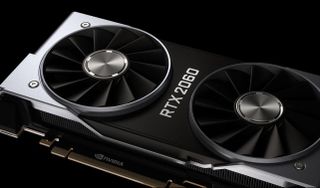 (Image credit: NVIDIA)
With its series of RTX graphics cards, NVIDIA is wowing the gaming world. Thanks to NVIDIA's Turing architecture, they are capable of powering real-time ray tracing, which is a feature that overhauls a game's lighting and makes it realistically and dynamically shift as you move throughout the environment. This means that your games will look and feel more immersive than ever before. Many people worry that ray tracing will hamper performance — and in some instances, it can — but you can lessen the impact that ray tracing will have on your system by making use of Deep Learning Super Sampling (DLSS), the other standout feature of RTX GPUs. This nifty anti-aliasing technology uses learning algorithms to generate high-quality frames while reducing the amount of power needed to draw them as much as possible. RTX cards paired with a powerful processor and a good amount of RAM can easily produce over 60 FPS in games at high settings with ray tracing.
The NVIDIA GeForce RTX 2060, the start of the RTX line up, is just $300 with holiday sales. If you don't have a suitable system to add the RTX 2060 to already, you can still build an amazing gaming PC that will be capable of supporting the power of RTX for under $1,000:
CPU | Intel Core i5-9600K 3.7 GHz 6-Core Processor | $227.88 at Newegg
CPU Cooler | Cooler Master Hyper 212 EVO 82.9 CFM | $33.89 at Amazon.com
Motherboard | Gigabyte Z390 UD ATX LGA1151 Motherboard | $100.89 at Amazon.com
Memory | OLOy 16 GB (2 x 8 GB) DDR4-2666 Memory | $59.99 at Newegg
Storage | HP EX900 500 GB M.2-2280 NVME Solid State Drive | $56.99 at Newegg
GPU | EVGA GeForce RTX 2060 6 GB GAMING Video Card | $299.99 at Newegg (w/ promo code 9BLKFPRE32 & mail-in rebate)
Case | DIYPC Ranger-R8 ATX Mid Tower Case | $34.97 at Newegg
Power Supply | SeaSonic 520 W 80+ Bronze Certified Fully Modular ATX | $73.99 at Newegg
Total: $888.59
NOTE: Prices recorded 11/21/19
This system is more than capable of hitting the modern standard of 60 FPS+ performance while also leveraging the benefits of RTX, making your gameplay experience look and feel better than ever before. But instead of trying to convince you, how about we put forth some raw benchmarks to prove it?
GeForce RTX 2060 Benchmark Results
Though it's technically the start of NVIDIA's RTX lineup, the RTX 2060 is far from an underwhelming video card, and these raw benchmarks prove it. When supported by the hardware specified above, the RTX 2060 is able to provide players with the necessary power to experience all the joys of ray tracing and high settings, all without sacrificing 60+ FPS, no matter what game you're playing.
Swipe to scroll horizontally
| Ray-Traced Game | Recommended Settings | Average FPS |
| --- | --- | --- |
| Control | 1920x1080, High Preset, High RT, DLSS On | 76 |
| Call of Duty: Modern Warfare | 1920x1080, Max Settings, RT On | 79 |
| Metro Exodus | 1920x1080, Ultra Preset, High RT, DLSS On | 76 |
| Shadow of the Tomb Raider | 1920x1080, High Preset, High RT | 67 |
| Battlefield V | 1920x1080, High Preset, High RT, DLSS On | 70 |
Now, let's look at how specifically ray tracing and DLSS improves the visual quality of each title listed above.
Control
Image 1 of 2
The shiny pristine floors and windows and the various differently lit environments of Control make for an excellent way to show off how ray tracing vastly improves the look of reflections. In addition to that, ray-traced global illumination allows for the scene to be naturally illuminated by other objects, and shadowing is greatly improved, too.
Call of Duty: Modern Warfare
Image 1 of 2
Call of Duty: Modern Warfare enjoys a vast improvement to its shadows with ray tracing enabled. The largest difference is that shadows appear much softer when further from the source object. Additionally, shadows from environmental props like foliage are significantly richer.
Metro Exodus
Image 1 of 2
Arguably one of the best-looking games ever made, Metro Exodus is simply jaw-dropping with ray tracing enabled. The main way that the game uses NVIDIA's new technology is to bolster global illumination with it, allowing for improved lighting, ambient occlusion, and various other effects. All of this helps bring post-apocalyptic Russia to life.
However, that's not all. Ray tracing also allows for emissive light sources to impact global illumination, which lets bright, colored lights like those created by the in-game flamethrower to fill the area around the player with rich and saturated flame effects.
Shadow of the Tomb Raider
Image 1 of 2
As with Call of Duty: Modern Warfare, Shadow of the Tomb Raider's shadows benefit from the power of ray tracing. With more realistic shadow depth, more accurate shadow casting, and softer overall shadows in general, Lara Croft's already-beautiful adventure looks even better.
Battlefield V
Image 1 of 4
As the first game that ray tracing was available with, Battlefield V pulls no punches when it comes to showcasing its impressive effects. Nearby buildings, bridges, wires, trees, various other objects and even the player model are reflected on to windows and water. Other smooth surfaces such as vehicles and trolleys, tanks, and weapon models accurately reflect the nearby environment. These reflections appear with ray tracing even when they appear off-screen, something screen space reflections cannot do.
On top of this, the real-time nature of ray tracing allows for the way levels look and feel to dynamically change over time, which is a perfect fit for Battlefield's trademark environment destructibility.
With all of the awesome holiday deals out there for the RTX 2060, getting your hands on the power of RTX has never been easier. And although NVIDIA has already improved the performance of RTX to the point where you can enjoy its benefits on an affordable mid-range PC without sacrificing visuals or framerate, it is always working to improve. New drivers to improve ray tracing's impact on performance are coming on a consistent basis, and over the course of 2019, the games listed above have seen a big performance boost as a result of NVIDIA's efforts.
Also, ray tracing is also being added to titles by more developers soon. Games such as Minecraft, Wolfenstein: Youngblood, and Deliver Us The Moon: Fortuna are going to be able to enjoy extensive benefits to their lighting systems with the power of RTX, and the fun doesn't stop there. Upcoming games like Dying Light 2 and the much-anticipated Cyberpunk 2077 are getting support for ray tracing as well, with more titles sure to follow.
Without a doubt, RTX is here now — and the future looks brighter.
If you're interested in buying a pre-built system that has the power of RTX, or if you're interested in getting something other than an RTX 2060, make sure to check out NVIDIA's suite of holiday deals.
Sign up for Black Friday email alerts!
Get the hottest deals available in your inbox plus news, reviews, opinion, analysis and more from the TechRadar team.