Stop the presses! Samsung Galaxy S8 deals just went berserk. Carpone Warehouse-owned retailer Mobiles.co.uk has released some new tariffs that bring S8 prices down to a new low. We can't remember a time when Galaxy S8 deals have been cheaper.
That means you can now get it for less than £20 per month without paying silly money upfront. And before you get your calculators out, yes that does mean less than £600 over the course of the two year term.
Unsurprisingly since the Samsung Galaxy S9 emerged, the landscape for Galaxy S8 deals has become even prettier. Even though the successor isn't that much of an improvement on the S8, contract prices on the older phone have gone down saving you a packet over the S9.
Our comparison chart below lists all the current cheapest prices of Samsung's brilliant 2017 flagship phone. Notwithstanding the release of the S9, Galaxy Note 8 and iPhone X, the Samsung Galaxy S8 remains one of the most impressive phones ever released. Here you can find, filter and compare all of the best Samsung Galaxy S8 deals currently available in the UK.
Underneath the comparison tool, you'll find our editors' selections for all of the best value S8 deals currently available from the major networks, EE, O2, Vodafone and Three.
See also: Samsung Galaxy S9 deals | Galaxy Note 8 deals | iPhone 8 deals | Mobile phone deals | SIM only deals | Samsung Galaxy S8 review
Filter and compare all of the Galaxy S8 deals available in the UK:
Top 5 best Samsung Galaxy S8 deals on the big networks:
Here we'll walk you through all of the best value Samsung Galaxy S8 deals currently available from EE, Vodafone, O2 and Three in the UK (if you're in the US or Australia, we can help you find the best Galaxy S8 deals for the US and the best Australian Samsung Galaxy S8 deals).

Samsung Galaxy S8: consider going SIM only
If you're determined to get yourself a Samsung Galaxy S8, the most economical way of doing it is to buy the phone outright and pair it with a SIM only deal. The £689 RRP is certainly high, but it can still work out a little cheaper on average over the two years - especially now that some retailers are selling it for £100 less than that. Check out our page dedicated to the best unlocked SIM free Galaxy S8 prices.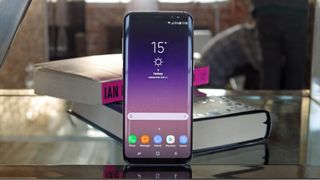 Samsung Galaxy S8 review
Screen size: 5.8-inches | Resolution: 1440 x 2560 | Rear camera: 12MP | Weight: 155g | OS: Android 7 | RAM: 4GB | Storage: 64GB | External storage: microSD up to 256GB | Battery: 3600mAh
Amazing, large display
Huge power
Great camera
Irritating biometric unlocking
With the Galaxy S8, Samsung is getting nearer and nearer to smartphone perfection - so much so that the Galaxy S9 barely seems to have improved on it. The bezel-less design is something a little bit special in an area of tech that can sometimes feel like it's standing still. There are advancements with the splendid screen and fantastic 12MP camera, too.
Read TechRadar's full Samsung Galaxy S8 review

Samsung Galaxy S8 deals by network
Whatever your favoured network, however much data, calls and texts allowance you need, we've trawled the market to pick out our favourite Galaxy S8 deals below.

The best Samsung Galaxy S8 deals on EE
The best Samsung Galaxy S8 deals on O2
The best Samsung Galaxy S8 deals on Vodafone
The best Samsung Galaxy S8 deals on Three