So the Galaxy Note 9 is now here, putting the 8 in the shade. Right? Well that's the theory. But the 2017 model is so damned good - and so much cheaper than its successor - that Samsung Galaxy Note 8 deals are still well worth a look. And it's still getting cheaper!
EE has had Galaxy Note 8 deals locked down for some time now. No other network has generally dared take on the mighty pricing power of the UK's fastest 4G network. - although some O2 tariffs have finally emerged in a similar ballpark. Samsung Note 8 deals are now under the £900-mark in total over the two-year contract , and our clear Editor's Pick now offers 30GB of data a month instead of 20GB and can't be beaten on price.
The Note 8 is still never going to be your go-to option if you're on a tight budget, however. It's a Goliath of a smartphone, both in terms of sheer size and internal power. It's got the screen size and specification smarts to be a competitor to the much lauded iPhone X or iPhone's new massive iPhone XS Max and neither of those come cheap. But there are now some excellent Note 8 deals floating around. Check out our comparison chart and handpicked favourite Note 8 deals below.
It might seem a tad unfair, but we can't not mention the Galaxy Note 7 debacle when talking about its successor. Samsung's 2016 aborted project due to overheating and fire risks means that we've had to wait two years for a fully functioning Note-branded phablet from the South Korean tech behemoth. But we can now move forward from that chapter in tech history - the Note 8 is well and truly here!
Our top 5 best Galaxy Note 8 deals in the UK today:
Should I get the Galaxy Note 8 SIM free?
You must be somebody after our own heart. Always looking to see how you can trim a few pounds off your new favourite gadget. As you probably know, you can now pick up cheap SIM only deals for as little as £4 a month, which could make it worth buying a SIM and handset separately.
The Galaxy Note 8's RRP has dropped massively recently to £669. That is much cheaper than it used to be but you will still be putting up a big chunk of money upfront. Even if you get the cheapest SIM card (usually around £4 a month for 500MB data), that would still cost near to £800 over the two years. You're probably better cranking up the upfront cost in our price comparison chart above, imposing a low maximum for monthlies and finding a cheaper deal in the long run.
To get the best price on your new SIM free Galaxy, you can head to our cheapest unlocked Note 8 deals page.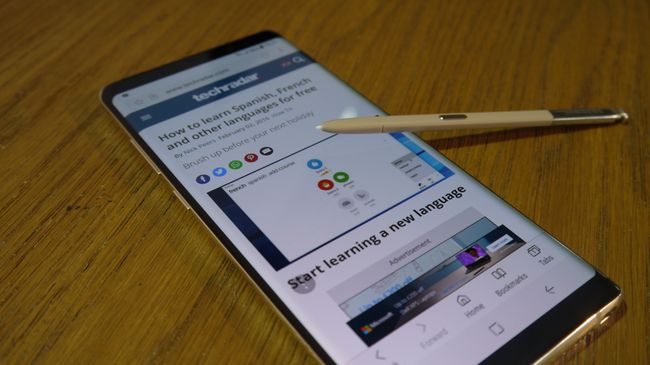 Wondering what all the fuss is about? Well the fervour for the Note 8 is probably doubled due to the fact that the Note 7 was pulled from shelves soon after release. But it doesn't take more than one look at the Note 8 to see that it justifies the hype.
The huge 6.3-inch 'Infinity Display,' is gorgeous to look at, the 6GB RAM innards go like a train and there are two best-in-class rear cameras. It's expensive, but we think the Note 8 is worth it.
Read TechRadar's full Samsung Galaxy Note 8 review