New Star Wars TV shows and movies explained
We round up all the new Star Wars TV shows and movies in development, including the franchise's long-awaited return to the big screen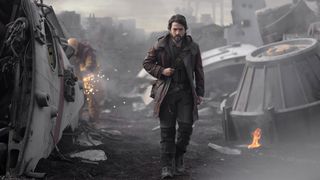 (Image credit: Lucasfilm/Disney Plus)
A long time ago, movies were the dominant force in a galaxy far, far away. That all changed with the launch of Disney Plus, as The Mandalorian quickly became one of the hottest things on television. These days, our list of new Star Wars TV shows and movies is dominated by small-screen adventures in that famous galaxy far, far away – though Lucasfilm has announced plans to return to theaters for the first time since 2019's divisive The Rise of Skywalker.
At the Star Wars Celebration that took place in London in April, Lucasfilm president Kathleen Kennedy announced three new movies. Spread across millennia in the ever-expanding Star Wars timeline, this trio of new stories will explore eras ranging from the dawn of the Jedi to the aftermath of The Rise of Skywalker, when Rey will set out to rebuild the Jedi Order. It's since been revealed that legendary scoundrel Lando Calrissian will also be headlining his own movie.
Over on Disney Plus (one of the best streaming services around), the post-Return of the Jedi story that began with The Mandalorian is currently continuing with new spin-off show Ahsoka, and there's much more TV to come with the returns of Andor and The Bad Batch, and "Goonies in space" show Skeleton Crew.
Below, you can find out about the new Star Wars TV shows and movies preparing to jump out of hyperspace. And if you want to catch up on what's already out there, check out our guide to watching Star Wars in order.
New Star Wars TV shows
Skeleton Crew
Release date: 2023 (TBC)
Despite being yet another show set in the increasingly crowded Mandalorian sector of the Star Wars timeline, Skeleton Crew will have a very different mission briefing to its predecessors. Jon Watts, director of the three Marvel Cinematic Universe Spider-Man movies, reportedly pitched the show as The Goonies in space, and Disney say it'll focus on a group of kids trying to find their way home after making a mysterious discovery. Luckily for them, they won't be making their journey across a dangerous galaxy alone – Jude Law is coming along for the ride as their protector, who may or may not be a Jedi.
"I can't tell you very much about my character," Law told Entertainment Weekly. "He is someone the children meet on their attempt to get home. He is like a lot of the world that they experience: contradictory, and at times a place of nurture and at other times a place of threat."
As for the show's tone, Law added that, "[The show] is through [the kids'] eyes. At times there's a sort of goofy nature and a goofy relationship between the kids and the adults. And then other times it's really quite dark and quite scary, which I guess is what the world probably looks like to an awful lot of 11-year-olds."
The Bad Batch season 3
Release date: 2024
The Clone Wars was the TV series that kept Star Wars' fire alive between Revenge of the Sith and Disney's 2012 Lucasfilm buyout. It's fitting, then, that Disney Plus has stuck with animation for this Clone Wars spin-off about an elite unit of genetically modified Clone Troopers in the early days of the Galactic Empire.
The show's third and final outing was confirmed at Star Wars Celebration in April 2023, and – following the revelations and tragic events of The Bad Batch season 2 finale – will pick up the story of Clone Force 99, now separated and spread across the galaxy. A teaser screened at Celebration also confirmed the return of Ian McDiarmid as the Emperor, while suggesting that the Imperial cloning facility at Mount Tantiss will continue to have significant ramifications for both the Batch and for that galaxy far, far away as a whole.
There's been some speculation that Lucasfilm's decision to close its VFX and animation facility in Singapore (see Variety) might delay the show's return, but director of cinematography, lighting and FX Joel Aron believes that won't be the case.
"Just to be clear, we're not effected [sic] by this closure," he said in a now-deleted post on X (formerly known as Twitter) (via IGN). LAL [Lucasfilm Animation Limited] is not in Singapore :) we've always been at either the [Skywalker] ranch or where we are now in SF [San Francisco] (or working from home!). We are still ferociously busy working with [production company] Cgcg to bring you all s3 of #thebadbatch and #talesofthejedi."
Andor season 2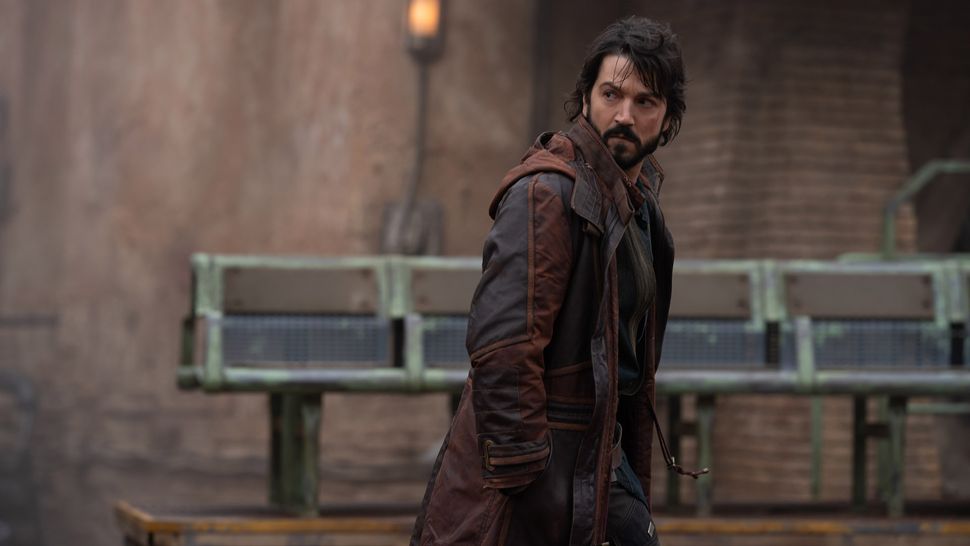 Release date: 2024 (TBC)
Arguably the most critically acclaimed of all Disney Plus's Star Wars TV shows, Andor's ambitious, morally complex first season showed us a darker, grittier side to a galaxy far, far away. Creator/showrunner Tony Gilroy returns to continue the story of Cassian Andor, Mon Mothma and the early days of the Rebel Alliance, with this second and final season. Its 12 episodes will unfold over four years leading up to the events of Rogue One: A Star Wars Story.
"When we come back, it'll be literally like a Friday, Saturday and Sunday," Gilroy said when explaining the second season's structure to Deadline. "Then, we'll jump a year, and then it'll be, like, four or five days, and then we'll jump a year, and then there'll be another four or five days, and then we jump a year, and be another four or five days."
The showrunner is also keen to extol the virtues of having a clear plan for where the story's going. "If you know your ending, it really helps," he explained at Star Wars Celebration (as reported by Variety). "We know exactly where we're going. You know what you have to deliver emotionally and what the story has to do. It's good for us creatively."
Diego Luna and Genevieve O'Reilly are back as Andor and Mothma, respectively, alongside fellow returnees Stellan Skarsgård (Luthen Rael), Denise Gough (Dedra Meero), Kyle Soller (Syril Karn), Adria Arjona (Bix Caleen), Faye Marsay (Vel Sartha) and Varada Sethu (Cinta Kaz). Principal photography on season 2 began in November 2022, and Gilroy told the Celebration crowd that he was hoping for an August 2024 debut. Hollywood's ongoing writers' and actors' strikes have delayed production, however, so we may have to wait a little longer than originally planned.
The Acolyte
Release date: 2024 (TBC)
Every canonical Star Wars movie and TV show to date has been set in the relatively brief seven-decade period between The Phantom Menace and The Rise of Skywalker. That all changes with The Acolyte, as showrunner Leslye Headland (Russian Doll) winds the clock back more than a century to explore the Jedi Order's glory days in the High Republic, an era already portrayed in an ongoing series of books and comics.
The new show has been touted as a mystery thriller and, intriguingly, will focus on characters who'd usually be considered the villains in of the franchise – the word "acolyte" is traditionally used to describe an apprentice of the Dark Side in Star Wars lore. That means the Jedi won't necessarily be portrayed as heroes.
"I think when you think you're going to tell the story about bad guys, and the Jedis might be the antagonist to those [dark] Jedis, I think that makes people nervous," Headland told Collider. "But it didn't make Kathy [Kennedy, Lucasfilm president] nervous. And I will say that in that room, when I pitched her, it was probably one of the most exciting things because it felt like a conversation, and less like I was up for a job. It felt much more like, 'Okay, but what are you going to do about this? And what are you going to do about that?' And so I was able to fold in what I know about Star Wars, and what I love about Star Wars, into what she's always pushing for, which is, 'What's the emotional throughline?'"
The cast includes Amandla Stenberg (The Hate U Give, Dear Evan Hansen), Lee Jung-Jae (Squid Game), Jodie Turner-Smith (Queen & Slim), Carrie-Anne Moss (The Matrix), Joonas Suotamo (Solo: A Star Wars Story) and Dafne Keen (His Dark Materials). Russian Doll star Rebecca Henderson brings Vernestra Rwoh, a fan favorite character from the High Republic books, to the screen.
Tales of the Jedi season 2
Release date: TBC
The first season of CG-animated Tales of the Jedi shorts filled a few gaps in the origin stories of Ahsoka Tano and Jedi-turned-Sith Count Dooku – while also explaining what happened to Yaddle who was, before The Mandalorian's Grogu, the only other member of Yoda's species we'd ever seen on screen.
Not much is known about season two aside from the fact it's happening, and that it'll presumably involve delving into the histories of a few Jedi – in other words, if you want to know more about the likes of Shaak Ti, Ki-Adi-Mundo and Kit Fisto, this is likely to be the place to come. "Tales of the Jedi was so fun the first time, I decided to do some more," Clone Wars, Rebels and Ahsoka showrunner Dave Filoni said at Star Wars Celebration.
Other Star Wars TV shows in the works
While a fourth season of The Mandalorian hasn't been given an official greenlight by Disney Plus (not yet, anyway), further adventures of Din Djarin and Grogu seem inevitable – especially as series creator Jon Favreau confirmed to French TV station BFM in February (via Entertainment Weekly) that "season 4, yeah, I've written it already." That said, with The Book of Boba Fett, Ahsoka and Skeleton Crew seemingly existing as an ever-expanding, interweaving tapestry of Star Wars content set in the post-Return of the Jedi galaxy – and building up to Dave Filoni's movie finale (more on that below) – we have no idea what form season 4 might take.
Although the future of The Book of Boba Fett remains up in the air (more than a year on, a second season remains unconfirmed), we probably won't be seeing Rangers of the New Republic, another proposed Mandalorian spin-off. After it was announced in December 2020, there was much speculation that Rangers might focus on former Rebel shock trooper Cara Dune (Gina Carano) and X-Wing pilots like Carson Teva (Paul Sun-Hyung Lee), who's since evolved into a kind of Outer Rim space cop. By May 2021, however, it was being reported that the show was "no longer in active development", a move seemingly connected to Lucasfilm's decision to part company with Carano that February, after a series of offensive social media tweets from the star.
Don't hold your breath for a second season of Obi-Wan Kenobi either. While leading man Ewan McGregor is apparently keen to pick up his lightsaber again, Lucasfilm boss Kathleen Kennedy told Variety at April 2023's Star Wars Celebration, "That [show] is not in active development."
Maybe we shouldn't give up hope just yet, however. "But never say never," she added, "because there's always the possibility. That show was so well-received and [director] Deborah Chow did such a spectacular job. Ewan McGregor really wants to do another. Everybody's all hands on deck with what we're doing right now. We'll turn our attention to [Obi-Wan Kenobi] again maybe down the road."
Given the versatility of its standalone short story format, we'd be surprised if Star Wars: Visions doesn't return for a third season somewhere down the line. That's yet to be officially confirmed by Lucasfilm, however. The studio also remains tight-lipped regarding the potential return of kids' show Young Jedi Adventures.
Now, onto the movies...
New Star Wars movies
The Mandalorian spin-off movie
Release date: TBC
Baby Yoda is coming to the big screen! In what must be a synergistic dream come true for Disney shareholders, Star Wars is following the MCU's lead by carrying plotlines originated on TV over to the big screen. The overlapping stories of The Mandalorian, The Book of Boba Fett, Ahsoka and (presumably) Skeleton Crew are all set to come together in this "cinematic event", as the "escalating war between the Imperial Remnant and the fledgling New Republic" reaches a climax. Dave Filoni, Ahsoka showrunner and long-time protector of Star Wars lore, is lined up to direct.
"I hesitate to say it's a big meet-up from just [The Mandalorian, Ahsoka, The Book of Boba Fett and Skeleton Crew], because Dave has been developing Star Wars storytelling inside Clone Wars and Rebels and so much of the work he has done for 20 years," Kathleen Kennedy told Entertainment Weekly. "So it will be little bits of all that. There are a lot of sources he's drawing from to see where we're going."
It appears, however, that Filoni is playing his cards close to his chest when it comes to confirming which characters are following him to the big screen. "When I heard they were doing the movie at Celebration in London, I was like, 'Maybe one day I'll find out whether I'm a part of that!'" Ahsoka star Natasha Liu Bordizzo told SFX magazine (via GamesRadar). "This is one of those times when I can so happily tell you I have no idea what's going on with that. I'm happy not to, because that way I don't have to lie to you!"
The Jedi origins movie
Release date: TBC
The Acolyte may be going back to a time a few centuries before the events of The Phantom Menace but that's nothing compared to this Jedi origin story. In fact, at risk of coming over a bit Star Trek, this pre-prequel is boldly going where no Star Wars movie has gone before. James Mangold (who was once attached to a direct a Boba Fett movie, and clearly impressed Lucasfilm with his work on Indiana Jones and the Dial of Destiny) is the filmmaker lined up to take the franchise millennia into the history of that galaxy far, far away – to what StarWars.com describes as the "Dawn of the Jedi" era.
The official summary says the film "will take audiences deep into the past, telling the tale of the first Jedi to wield the Force and harness it as a liberating power in an era of chaos and oppression."
"We've been talking a lot about going well into the past," Kennedy told EW, "and one of the things that's really knitting this all together, obviously are the Jedi. What happened with the Jedi over time? How did the Jedi evolve? They were wiped out with Order 66. Then they gradually have been coming back."
Mangold himself has hinted that, because the movie is such a long time ago (in a galaxy far, far away), words such as "Jedi" and "midi-chlorian" may not appear. "I don't wanna make any guarantees one way or another," he said in an interview with the Happy, Sad, Confused podcast (via GameRant), "but it will be before Jedi, meaning you might be experiencing something that might become Jedi. Despite the fact that other people make movies other ways, I don't tend to think people brand themselves before they've actually found themselves. So you don't come up with a name for your organization."
He explained a little more in an interview with iO9. "I want to be part of the saga, but I also don't want to be holding so much lore in the air that you can hardly tell a story. What I told [Lucasfilm boss Kathleen Kennedy] was, can we make a kind of Ten Commandments of the Force, a kind of origin story of how this Force came to be known, understood, wielded and harnessed."
Rey's New Jedi Order movie
Release date: TBC
Rumors that Lucasfilm is done with the Skywalker Saga may have been greatly exaggerated. Yes, Anakin's bloodline technically ended with the deaths of Luke and Kylo Ren/Ben Solo, but having taken her old master's name, Rey is now most definitely a Skywalker. This movie – the first release to expand the Star Wars chronology beyond The Rise of Skywalker – picks up her story about 15 years later, in the newly named "New Jedi Order" era.
Sequel trilogy star Daisy Ridley will return as Rey, as she rebuilds the New Jedi Order and faces up to "the powers that rise to tear it down". Sharmeen Obaid-Chinoy (Saving Face, Ms Marvel) is signed up to direct.
"We're coming off what was a major war with the First Order," Kathleen Kennedy told GamesRadar. "And now, Rey has made a promise to Luke, and that's really the core of where we're going and what this story will be. And I think it offers just a tremendous opportunity to introduce new characters and start with something fresh, because we culminated with what George [Lucas] was creating, and now we take all of that and move it to the next chapter."
Kennedy also hinted to EW that familiar faces from the sequel trilogy might appear alongside Rey. "It's entirely possible to see some people come back," she teased. (Sequels star John Boyega has told TechRadar he's "open" to the possibility of a return.)
"The question we're going to ask with the New Jedi Order and Rey is, 'Does the galaxy need them any more?'" Kennedy continued. "'Do they want them back?' So there's a lot of food for thought in what we're doing, whether it's in the past [like Mangold's movie], present or future."
Lando
Release date: TBC
Card player, gambler, scoundrel… you'd like him! So much, in fact, that the former administrator of Cloud City is being lined up headline his own movie.
Since a Disney Investor Day announcement way back in December 2020, the one and only Lando Calrissian had been set to front his own event series. Dear White People creator and Haunted Mansion director Justin Simien was attached to write the show, and star Donald Glover was was reportedly keen to return to a role he first played in 2018's Solo: A Star Wars Story.
Then things went rather quiet, until Lucasfilm president Kathleen Kennedy told IGN at Star Wars Celebration 2023 that "[Lando's] still happening".
In the months since, Lando has seemingly gained significant momentum. News broke in July that Simien had left the project (as confirmed by Entertainment Weekly), and that Atlanta creator/star Glover would now be writing a TV show with his brother (and frequent collaborator) Stephen.
Calrissian's unexpected shift to the big screen was confirmed by Stephen Glover during his September appearance on the Pablo Torre Finds Out podcast. "It's not even a show..." he said. "The idea right now is to do a movie. Right now, because of the [Hollywood writers/actors] strike, it's kind of like telephone, all of the information." According to Variety, Lando's transfer to theaters was subsequently confirmed by Lucasfilm.
Other Star Wars movies in the works
In the words of Yoda, "Always in motion is the future" – and the diminutive Jedi Master easily have been talking about the Star Wars movie slate since the release of The Rise of Skywalker. Several projects have come and gone since the franchise made its last visit to theaters in 2019, and while some have subsequently been abandoned, two of the highest profile projects remain in the pipeline.
There's been talk of a new trilogy from writer/director Rian Johnson since he made The Last Jedi, and it seems he's still keen to head back to that galaxy far, far away. "Rian and I talk all the time," Kathleen Kennedy told Variety at Celebration 2023. "He is unbelievably busy. So we're not actively involved in anything at the moment because he's doing another one of the Glass Onion [Knives Out] movies and then God knows what else. But he really wants to step back into the space. It's a big commitment of time so that's really on him."
Thor: Ragnarok/Love and Thunder director Taika Waititi (who's both directed and starred in episodes of The Mandalorian) also continues to orbit a Star Wars project of his own. "Taika is still working away," said Kennedy in April. "He's writing the script himself. He doesn't really want to bring others into that process and I don't blame him. He has a very, very unique voice. So we want to protect that and that's what he's doing. But we're going to make that one day."
"I've got a really good idea for it," Waititi added in a Hollywood Reporter interview in June 2023. "It's just as with all films, it's this middle part. You're like, 'What's going to happen?' And then you look at all of those films that are so great, you're like, 'Well, I guess they can't meet some smuggler with an alien sidekick.' "
Unfortunately, Rogue Squadron, the pilot-focused movie from Wonder Woman director Patty Jenkins, seems to be stuck on the launchpad indefinitely, having been pulled from its original December 2023 slot (per Variety) – though Kathleen Kennedy did tell IGN at Star Wars Celebration earlier this year that it "definitely is something that we still talk about".
It's also been reported that the Star Wars movie produced by Marvel Studios boss Kevin Feige (and reportedly scripted by Doctor Strange in the Multiverse of Madness writer Michael Waldron) is no longer in active development – though it's since emerged that it may never have been a thing in the first place.
"Kevin Feige's project was something announced in the press, or I suppose fandom, but there was nothing, nothing ever got developed," Kathleen Kennedy told IGN at Celebration. "We never discussed an idea. As everybody knows, Kevin's a huge Star Wars fan and if he did come up with something, I would be all ears. But that's never really happened. So it's not an abandoned project, it just didn't happen."
Get daily insight, inspiration and deals in your inbox
Get the hottest deals available in your inbox plus news, reviews, opinion, analysis and more from the TechRadar team.
Richard is a freelance journalist specialising in movies and TV, primarily of the sci-fi and fantasy variety. An early encounter with a certain galaxy far, far away started a lifelong love affair with outer space, and these days Richard's happiest geeking out about Star Wars, Star Trek, Marvel and other long-running pop culture franchises. In a previous life he was editor of legendary sci-fi magazine SFX, where he got to interview many of the biggest names in the business – though he'll always have a soft spot for Jeff Goldblum who (somewhat bizarrely) thought Richard's name was Winter.