The Mandalorian may have changed that galaxy far, far away forever, because for the first time in history, new Star Wars TV shows are now hotter property than the movies.
Lucasfilm confirmed as much in a mega-announcement at Disney's Investor Day in December 2020, when company president Kathleen Kennedy announced a raft of exciting series coming to Disney Plus. There are currently at least eight high-profile new Star Wars TV shows in various stages of development, with the adventures of Mando and Baby Yoda soon to be joined by The Book of Boba Fett, Obi-Wan Kenobi, Andor and many more – including a second season of Clone Wars spin-off The Bad Batch.
But Disney and Lucasfilm haven't forgotten about new Star Wars movies now that The Rise of Skywalker has (apparently) brought the Skywalker Saga to a close – though we may have to wait a while to see lightsabers, X-wings and TIE fighters on the big screen again. Unfortunately, Wonder Woman director Patty Jenkins' Rogue Squadron movie has been delayed indefinitely, while there have been precious few updates about Taika Waititi (Thor: Ragnarok), Rian Johnson (The Last Jedi) and Marvel Studios boss Kevin Feige's own takes on Star Wars movies.
Like a bunch of Bothan spies hunting down Death Star plans, we've put together a handy guide to the new Star Wars TV shows and movies we know are currently in production or development at Lucasfilm. There has arguably never been a more exciting time to be a Star Wars fan – the Force is strong with this one.
New Star Wars TV shows
The Book of Boba Fett
As teased by the finale of The Mandalorian season 2, the legendary Boba Fett now has his own TV show on Disney Plus. The Book of Boba Fett features Temuera Morrison reprising his role as the galaxy's most infamous bounty hunter, and he's joined by his partially cybernetic companion, Fennec Shand (Ming-Na Wen), fresh from her recent appearance in The Bad Batch.
The series focused on Fett's efforts to take control of former boss Jabba the Hutt's crime empire on Tatooine amid a myriad of complications.
Obi-Wan Kenobi
As well as bringing back Ewan McGregor to reprise the Force-wielding role he played in the prequel trilogy, the long-awaited Obi-Wan Kenobi spin-off will feature the return of Hayden Christensen as Anakin Skywalker/Darth Vader – with a new showdown promised between Jedi Master and his failed Padawan.
Now confirmed for a May 27 launch, this new Star Wars TV show is set around a decade after Revenge of the Sith.
Director Deborah Chow has previously confirmed that the starting point will be Obi-Wan carrying out his lonely assignment to protect Luke, and we suspect Luke will be seen at various points during Obi-Wan's narrative. We see him in the trailer, after all, mimicking his dad's old podracer moves.
It seems that from there, though, Obi-Wan will be pulled into an adventure that takes him to other locations across the galaxy...
New concept art from Obi-Wan Kenobi has been officially released, including Obi-Wan and Vader facing off yet again! pic.twitter.com/lRR884Mjs0November 11, 2021
The show's supporting cast features The Queen's Gambit's Moses Ingram, Eternals' Kumail Nanjiani, Game of Thrones' Indira Varma, Homeland's Rupert Friend and Fast & Furious 9's Sung Kang. Joel Edgerton and Bonnie Piesse reprise their prequel trilogy roles as Luke Skywalker's legal guardians, Uncle Owen and Aunt Beru.
Andor
A prequel to 2016's Rogue One: A Star Wars Story, Andor focusses on Rebel Alliance intelligence officer Cassian Andor (played by Diego Luna). Lucasfilm has described this new Star Wars TV show as a spy thriller, and when the crew discuss it in the sizzle reel above, they suggest it'll have movie-scale production values – and 200 named cast members.
Set five years before the Rebels obtained those infamous Death Star plans in Rogue One, the 12-episode series is scheduled for a 2022 launch.
Bourne screenwriter (and Rogue One reshoot overseer) Tony Gilroy is the show's creator, while the ensemble cast features Stellan Skarsgård, Adria Arjona, Fiona Shaw and Kyle Soller. It's also set to feature some veterans of Rogue One, with Genevieve O'Reilly back as Rebel leader Mon Mothma, and Ben Mendelsohn and Forest Whitaker reportedly returning as Orson Krennic and Saw Gerrera, respectively.
Expect Bourne-style espionage in a galaxy far, far away when Andor takes the fight to the Empire next year.
The Bad Batch season 2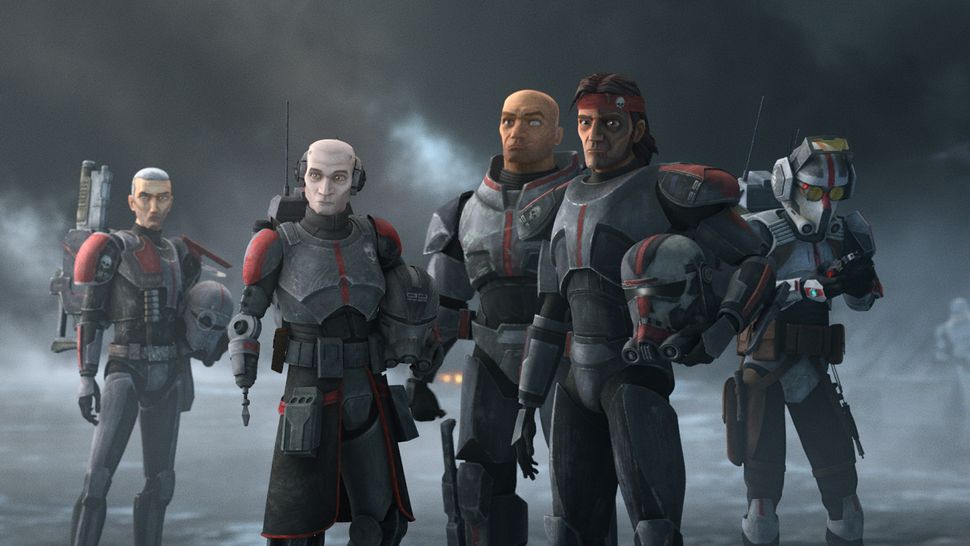 The Clone Wars was the TV show that kept Star Wars' fire alive between Revenge of the Sith and Disney's 2012 Lucasfilm buyout. It's fitting, then, that Disney Plus is sticking with animation for this Clone Wars spin-off about an elite unit of genetically modified Clone Troopers in the early days of the Galactic Empire.
Greenlit back in August 2021, The Bad Batch season 2 will pick up the story of Hunter, Tech, Wrecker, Echo and fellow clone Omega as they try to stay one step ahead of Imperial forces led by their renegade brother, Crosshair. And with (spoilers!) the cloning facilities on Kamino now destroyed and hints that the show will somehow tie into the events of The Mandalorian, this follow-up season could have big ramifications for the Star Wars galaxy.
The Mandalorian season 3
Little is known about the third season of The Mandalorian, but after the season 2 finale – which saw (spoilers!) Din Djarin handing Grogu over to Luke Skywalker so he could train the little green man in the ways of the Force – we have to assume we'll see Mando traveling alone for a little while. Beyond the Baby Yoda story arc, the third season could also feature a duel for the Darksaber between Mando and Bo-Katan Kryze (Katee Sackhoff) – and we're guessing the incarcerated Moff Gideon (Giancarlo Esposito) is going to make himself a very awkward prisoner for the New Republic.
Unfortunately, with Carl Weathers (Greef Karga) confirming in an October 2021 tweet (opens in new tab) that he'd only just started shooting his scenes, we're not going to be seeing Mando's return for some time yet. Given the lengthy post-production process on new Star Wars TV shows, it seems we'll have wait until late 2022 – or maybe even longer – to see it.
Ahsoka
Like The Book of Boba Fett, Ahsoka is a spin-off from The Mandalorian, and will see Rosario Dawson reprising her role as Anakin Skywalker's former Jedi apprentice Ahsoka Tano. Having debuted in The Clone Wars animated series – and returned as a key player in Star Wars: Rebels – Ahsoka made a thrilling move to live-action with the Mandalorian episode 'The Jedi'.
Her appearance alongside Mando and Grogu suggested she was on the hunt for the still-alive Imperial officer Grand Admiral Thrawn, a villain introduced in Star Wars Expanded Universe stories a long time ago, and who was added to the newer Disney continuity with the Star Wars Rebels animated series. It's expected the show will touch upon the epilogue of Rebels, which saw Ahsoka and Mandalorian-turned-Rebel Sabine Wren looking for aspiring Jedi Ezra Bridger, who was last seen heading into the unknown with Thrawn. Indeed, it's now been confirmed that Natasha Liu Bordizzo is joining the cast as Wren.
Dave Filoni – Mandalorian director, former Clone Wars/Rebels showrunner and Lucasfilm's newly appointed executive creative director – will call the shots on this new Star Wars TV show.
The Acolyte
Set at the end of the recently-debuted High Republic era of Star Wars (around two centuries before the events of the original trilogy), The Acolyte is a new Star Wars TV show from the co-creator of Netflix's Russian Doll, Leslye Headland. Lucasfilm boss Kathleen Kennedy didn't say much about the show in her December 2020 Disney Investor Day presentation, other than confirming that it's a "mystery thriller" set in a "galaxy of shadowy secrets and emerging dark side powers".
Past reports have suggested it's a female-centric show with some martial arts stuff included, too – seemingly backed up by the recent news that Dear Evan Hansen, The Eddy and The Hunger Games star Amandla Stenberg is heading up the cast. We can't wait to hear more.
Lando
An 'event series' from writer Justin Simien (Dear White People), this show will focus on Lando Calrissian – though actor Donald Glover wasn't confirmed to reprise his Solo role as the smooth-talking and hard-gambling Bespin administrator, Disney's announcement video sure used a lot of footage of the actor. 'Event series' usually means miniseries – so expect just one season of this show. Could Alden Ehrenreich's Han Solo pop up again too? This one is in its early stages, so you might have to wait a while.
Rangers of the New Republic
This may be one to file as the Star Wars show we never get to see...
Announced back in December 2020, there was much speculation that this spin-off from The Mandalorian could feature X-Wing pilots Trapper Wolf (played by Dave Filoni) and Carson Teva (Paul Sun-Hyung Lee), both seen saving Mando from ice spiders in 'Chapter 10: The Passengers'. Teva also had an important role as a kind of space cop in subsequent episodes.
Others believed it would feature Cara Dune, the former Rebel Shock Trooper played by Gina Carano.
Unfortunately, as it stands we won't get a chance to find out if either (or both) theories were correct as May 2021 reports said that "Rangers of the New Republic is no longer in active development".
This move may be connected to Lucasfilm's decision to part company with Carano in February 2021, after a series of offensive social media tweets from the star.
"Gina Carano is not currently employed by Lucasfilm and there are no plans for her to be in the future," Lucasfilm said in a statement. "Nevertheless, her social media posts denigrating people based on their cultural and religious identities are abhorrent and unacceptable."
Now, onto the movies...
New Star Wars movies
New Star Wars movies
With the Skywalker Saga brought to a close (at least for now...) by 2019's The Rise of Skywalker, Lucasfilm is venturing into new territory with its slate of new Star Wars movies. With Disney Plus's Star Wars TV shows seemingly the priority for now, little is known about the films' storylines at present. But given the filmmaking talent involved, they're set to be exciting additions to that famous galaxy far, far away.
Rogue Squadron
Directed by Wonder Woman's Patty Jenkins, the next Star Wars theatrical release after The Rise of Skywalker was set to be Rogue Squadron. It was due to go into production in 2022, ahead of a mooted December 2023 release date.
But, a story in the Hollywood Reporter (opens in new tab) in November 2021, revealed that Jenkins' commitments to other projects – presumably Wonder Woman 3 and the Cleopatra project she's since left as director (via Deadline (opens in new tab)) – mean Rogue Squadron has been "taken off the production schedule". There may be more to it than that, however, as former Hollywood Reporter editor Matthew Belloni suggested on Puck (opens in new tab) that so-called "creative differences" may be to blame for the delay.
Rogue Squadron, of course, is the name of Luke Skywalker's fighter pilots who fought in the Battle of Hoth, and were formed after the Battle of Yavin. In canon, their name is inspired by the heroic actions of the Rogue One team in the movie of the same name.
Rogue Squadron also featured in author Michael A Stackpole's X-Wing series of books from the now-retired 'Legends' series of Expanded Universe stories that existed before Disney bought Lucasfilm. It was also the name of a series of video games released on the N64, PC and GameCube.
If and when it makes it into theaters, Rogue Squadron will follow a new generation of fighter pilots as they "earn their wings", according to Kennedy, risking their lives in a "future era" of the galaxy – in other words, think Top Gun in space.
Jenkins – herself the daughter of a real-life fighter pilot – admitted in a teaser video on Twitter (opens in new tab) that she has ambitions to make the "greatest fighter pilot movie of all time", but that she'd been unable to find the right project. Until now...
A Droid Story
Coming to Disney Plus, this co-production between Industrial Light and Magic and Lucasfilm Animation will feature R2-D2 and C-3PO alongside a new hero. Their mission? That's a secret that only the droids know. Expect something light-hearted and fun. Lucasfilm confirmed it's a new Star Wars movie, rather than a TV show, on Twitter (opens in new tab). A release date is still TBC.
Taika Waititi's Star Wars movie
Having directed one of the best episodes of The Mandalorian (season 1's finale, where Mando takes down Moff Gideon's TIE Fighter), Thor: Ragnarok and Thor: Love and Thunder director Taika Waititi is also working on a Star Wars movie. This one was announced back in 2020 on Star Wars Day, May 4, and surprisingly it's coming after Rogue Squadron. It's been described by Kennedy as "fresh, unexpected and unique". Waititi is currently writing the film, though he's joked on Instagram (opens in new tab) that, "As a longtime fan of Star Wars I'm so angry about what I'm about to do to ruin it."
Last Night in Soho screenwriter Krysty Wilson-Cairns is attached to co-write the screenplay.
Kevin Feige's Star Wars movie
Everything Marvel Studios chief creative officer (aka overlord) Kevin Feige turns to box office gold, so it's no surprise that his Disney stablemates over at Lucasfilm have given him a call about making a Star Wars movie. He's reportedly producing his own story in that galaxy far, far away, and – according to Deadline (opens in new tab) – has lined up Loki head writer and Doctor Strange in the Multiverse of Madness screenwriter Michael Waldron to pen the screenplay.
Rian Johnson's Star Wars movie trilogy
Ever since The Last Jedi hit theaters in 2017, there's been talk of a new Star Wars movie trilogy from writer/director Rian Johnson. Netflix's eagerly anticipated Knives Out sequel is likely to be dominating Johnson's attention for a good while yet, but – despite many assuming its absence from December 2020's Disney Investor Day announcements meant Lucasfilm had put it on the backburner – it seemed the trilogy is still a going concern. Until early in 2021, at least...
Author Sariah Johnson tweeted (opens in new tab) as much after interviewing Johnson in February 2021:
"Yes, Rian's SW trilogy is still on," she said. "No dates or timelines because he has other projects going on, but it is happening."
She added the caveat that, "THAT IS ALL I KNOW ABOUT IT."
There's been no news since, however, and Matthew Belloni's aforementioned Puck (opens in new tab) story suggests that Johnson's "planned trilogy was shelved". In short, this is one to file in the 'maybe' pile for now.