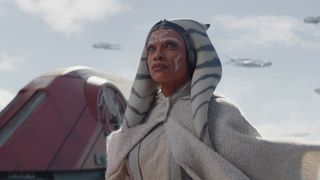 (Image credit: Lucasfilm/Disney Plus)
Full spoilers follow for Star Wars: Ahsoka and Star Wars: The Clone Wars.
The first season (potentially) of Star Wars: Ahsoka has wrapped on Disney Plus and we suspect you have plenty of questions about its final episode.
In our Star Wars: Ahsoka review of its first two episodes, we stated that you didn't need to be a Jedi Master to understand what was going on. Based on events that have transpired in the following six entries, though, that's no longer the case. Indeed, considering what was teased in Star Wars' latest TV show, newcomers to the franchise and/or those who aren't as clued up on that galaxy far, far away will have been left with more questions than answers.
Fear not, though, Padawan. We're here to answer your most pressing questions about one of the best Disney Plus shows' finale. Full spoilers follow for Ahsoka episode eight as well as for the animated series Star Wars: The Clone Wars.
Star Wars: Ahsoka ending explained: is there an end credits scene?
No, Star Wars: Ahsoka doesn't have an end credits scene. Once the final scenes of the episode play out, the credits roll. Once they've done so, there's no extra footage that teases what's to come in a possible second season, how Star Wars: Ahsoka potentially sets up other new Star Wars TV shows and movies or anything else for that matter.
So, if you were thinking of sticking around for something extra after the credits, you'll be disappointed.
Star Wars: Ahsoka ending explained: will there be a season two?
Nothing has been confirmed yet. Some of Disney Plus' most popular TV shows, such as hit Marvel TV series Loki, have had second seasons (read our Loki season 2 review while you're here) confirmed in the immediate aftermath of their first season drawing to a close.
While Star Wars: Ahsoka has proven to be pretty popular on Disney's primary streaming service, a second season hasn't been greenlit yet. However, there is hope that one could be announced in due course. Per a Deadline report, this is "more of a reality in the conversation", suggesting that another outing for Ahsoka's gang has been discussed in the corridors of power. That said, Deadline claims "nothing is locked", meaning Disney and hasn't internally agreed to create another chapter in this corner of Lucasfilm's hugely successful space opera franchise.
Star Wars: Ahsoka ending explained: who are the Mortis Gods and why was Baylan Skoll searching for them?
One of Ahsoka's most intriguing subplots concerned Baylan Skoll, a former Jedi turned mercenary. Initially, Baylan allied himself with Morgan Elsbeth, a Daughter of Dathomir, on the hunt for Grand Admiral Thrawn. However, once the duo – alongside Baylan's apprentice Shin Hati – located Thrawn on Peridea, a planet in another galaxy, Baylan left to go in search of a so-called higher power that had allegedly been calling out to him since Star Wars: Ahsoka began.
Based on the one and only (and brief!) scene we see of Baylan in episode eight, it appears the mystery has finally been solved – and we have Star Wars: The Clone Wars to thank for the reveal.
In said scene, we see Baylan standing atop a giant statue, which is flanked by two other statues – the one on the left is largely untouched, but the one on the right has been destroyed. For anyone who's seen The Clone Wars, the statues represent the Mortis Gods, three immortal beings who represented the Force in some guise.
The Father – the statue Baylan is standing on – represents the balance between the light and the dark sides of the Force. The other statues signify his two children: the Son, who is the physical embodiment of the dark side, and the Daughter, who represents the light side.
There's a lot of history surrounding this trio (and another individual, which we're getting to). To try and simplify things, though, we'll just discuss the most important parts of their backstory and how it ties into Star Wars: Ahsoka.
In The Clone Wars, we learned that the Mortis Gods had a servant named Abeloth. After growing close to the trio, she eventually becomes the final piece of their family, aka the Mother. However, unlike the others, Abeloth wasn't immortal. To combat this, she drank from the Font of Power and bathed in the Pool of Knowledge – essentially, physical manifestations of the Force's dark and light sides – that transformed her into an extremely powerful and dangerous Force wielder.
Horrified, the Mortis Gods imprisoned Abeloth on an at-the-time unknown planet, which we now believe to be Perida. As long as the trio continued to live, too, Abeloth would never be free. To ensure that anyone searching for the Mortis Gods wouldn't accidentally stumble upon her prison and set her free, though, the trio relocated to the planet Mortis. That's where they resided until Obi-Wan Kenobi, Anakin Skywalker, and Ahsoka met them during the Mortis arc in The Clone Wars.
Long story short: the Son accidentally killed the Daughter, the Father sacrificed himself to take away the Son's Force abilities, and the chances of Abeloth being able to free herself have grown exponentially since.
So, to bring it back around to Baylan's search for something greater than himself, the Jedi, and the Sith, it seems he's hunting for Abeloth. Maybe he thinks she'll bring a new balance to the Force but, by unleashing her, he'll spread destruction across the galaxy.
Alternatively, he might have been called by the Mortis Gods themselves. As we've seen countless times in Star Wars, people have a way of persisting after death. Maybe Baylan sees himself as the Father 2.0 and, if he manages to unlock the Mortis Gods' powerful Force channeling abilities, he could install himself as the one to maintain balance in the Force. After all, he's spent eight episodes blabbering away about wanting to break the cycle of Jedi and Sith rule. Bringing a newfound balance to the Force could allow him to do so.
Star Wars: Ahsoka ending explained: who is Morai, the owl that Ahsoka Tano sees?
Morai also has ties to the Mortis Gods. The owl-like being is a female convor – basically, a species of Trandoshan bird – with spiritual ties to the Daughter.
Her appearance isn't important to Star Wars: Ahsoka's story, but it's nonetheless significant. In The Clone Wars' Mortis arc, Ahsoka Tano is killed by the Son, but she's brought back to life when the Daughter uses the last of her life force to revive Ahsoka before the Daughter dies at the Son's hands. In the years that followed, Morai began watching over Ahsoka and the pair even became friends.
Morai's appearance in Star Wars: Ahsoka's season finale, then, suggests we could see Ahsoka seek out Morai (and the Daughter's spirit) on Peridea in a potential second season. If that's the case, we wouldn't be surprised if Ahsoka and Baylan cross paths again, though it remains to be seen if they'll come to blows.
Star Wars: Ahsoka ending explained: what is the Blade of Talzin?
The Blade of Talzin is the flaming green ichor sword wielded by the Nightsisters. It was first conjured by Mother Talzin in The Clone Wars to fight the Jedi known as Mace Windu. The blade is able to withstand lightsaber strikes, too, making it a formidable weapon for any Jedi or Sith or fight a Nightsister who wields it.
Its appearance in Star Wars: Ahsoka is significant in that the three Nightsisters, who have allied themselves with Grand Admiral Thrawn, summon it and grant its use to Morgan Elsbeth. The latter uses the Blade of Talzin to fight Ahsoka in the season one finale, but she's bested in combat and dies at Ahsoka's hands. It's ironic, too, that Morgan is killed by one of Ahsoka's lightsabers and the Blade of Talzin, which Ahsoka wrestles from Morgan's grasp before she inflicts the killing blows.
Star Wars: Ahsoka ending explained: what's the next Star Wars show on Disney Plus?
Right now, Skeleton Crew is expected to be the next Star Wars TV series to debut on Disney Plus. The Jude Law-starring show is slated to air sometime before 2023 ends but, given the Hollywood actors strike, which is ongoing, it could be delayed until the industrial action ends. Disney and Lucasfilm will want the show's cast to be able to promote the series ahead of launch so, unless the strike is resolved soon – discussions are taking place as we speak – Skeleton Crew's release might be postponed.
Apart from Skeleton Crew, the second season of Andor, plus the third and final season of The Bad Batch, are also expected to arrive sometime in 2024. Star Wars: The Acolyte, a series set during the High Republic era (which predates the prequel trilogy), is set to debut next year, too. A fourth season of The Mandalorian has apparently been written as well, but Disney hasn't officially announced it yet.
Get daily insight, inspiration and deals in your inbox
Get the hottest deals available in your inbox plus news, reviews, opinion, analysis and more from the TechRadar team.
Senior Entertainment Reporter
As TechRadar's senior entertainment reporter, Tom covers all of the latest movies, TV shows, and streaming service news that you need to know about. You'll regularly find him writing about the Marvel Cinematic Universe, Star Wars, Netflix, Prime Video, Disney Plus, and many other topics of interest.
An NCTJ-accredited journalist, Tom also writes reviews, analytical articles, opinion pieces, and interview-led features on the biggest franchises, actors, directors and other industry leaders. You may see his quotes pop up in the odd official Marvel Studios video, too, such as this Moon Knight TV spot.
Away from work, Tom can be found checking out the latest video games, immersing himself in his favorite sporting pastime of football, reading the many unread books on his shelf, staying fit at the gym, and petting every dog he comes across.

Got a scoop, interesting story, or an intriguing angle on the latest news in entertainment? Feel free to drop him a line.