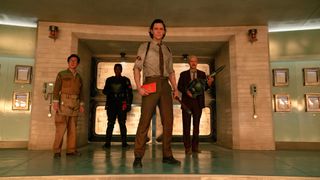 (Image credit: Marvel Studios)
Marvel and its global fan base have high hopes for Loki season 2. Just as Guardians of the Galaxy 3 turned the studio's theatrical fortunes back around after the inauspicious Ant-Man 3, many believe Loki's sophomore season will course-correct Marvel's Disney Plus offerings after the hugely underwhelming Secret Invasion.
Beloved as the trickster-god-fronted series is, though, there are concerns – albeit mumbled ones – about its chances of succeeding. Loki is the most-watched Marvel Cinematic Universe (MCU) Disney Plus show ever but, as Loki's brother Thor ostensibly showed in his maligned fourth film Thor: Love and Thunder, the MCU's most iconic characters can outstay their welcome.
Marvel can't just rely on star power any more to draw in audiences; it needs engrossing storytelling, fundamental character growth, and creative big swings – in tandem with its established blend of humor, action, and drama – to maintain a character's longevity in its juggernaut franchise.
I'm delighted, then, to confirm the first four episodes of Loki season 2 has all of the above in rip-roaring abundance. An expansive and mesmeric follow-up to its 2021 predecessor, Loki's second season is drenched in sci-fi mystique, detective-noir sensibilities, and intelligent narration that will keep you guessing througout. Like most Marvel productions, it contains the odd creative misstep but, as an overall package, it's a sequel that cements the god of mischief's standalone series as one of the best Disney Plus shows.
For all time, always
Picking up right after Loki's season 1 finale, season 2 finds the titular trickster god (Tom Hiddleston) embroiled in a battle for very soul of the Time Variance Authority (TVA). Working alongside returning allies Agent Mobius (Owen Wilson) and Hunter B-15 (Wunmi Mosaku), plus new characters including the TVA's engineer-in-chief Ouroboros/O.B. (Ke Huy Quan), Loki traverses an increasingly dangerous multiverse to try to prevent its collapse.
Doing so won't be easy, though, as Loki has to contend with TVA renegades including Ravonna Renslayer (Gugu Mbatha-Raw) and the AI known as Miss Minutes (voiced by Tara Strong), plus his unpredictable and violent variant Sylvie (Sophia Di Martino), who threaten a mission burdened with – yep, you guessed it – glorious purpose. Throw in the emergence of another Kang the Conqueror variant in Victor Timely (Jonathan Majors), and Loki's time-slipping ailment, which keeps randomly yanking him through time, and this is one multi-pronged situation he can't trick his way out of. In short: time is running out for everyone's favorite Asgardian (sorry, Thor).
It's the last of those issues – Loki's time-slipping – that's of immediate concern. Season 2 begins with an unexpectedly chaotic opening sequence (one with surprising shades of beloved Christmas classic It's a Wonderful Life) that, while reconnecting audiences with this mind-boggling corner of the MCU, feels a bit too frenetic for its own good. Thankfully, the show soon settles into its stride as Mobius, O.B. (more on him later), and Loki endeavor to cure the latter's painful and unrelenting temporal displacement.
Loki season 2 doesn't spend too long remedying Loki's condition, either. An acceptable fix – one that's inventive, but which some viewers might feel slightly slapdash – is found in its first episode, paving the way for this season to tackle a far more ominous problem; that problem being the rapid expansion of the multiverse, born out of Sylvie killing He Who Remains (Jonathan Majors), another Kang variant, in season 1's final episode, which threatens the entire stability of said multiverse.
What that means – outside of, you know, saving the multiverse from imploding – is the long-overdue rectification of Loki and Mobius' buddy-cop dynamic.
The duo's burgeoning bond was an early highlight of Loki season 1; a highly entertaining alliance born out of circumstances that showcased the fact that their combined personalities (albeit ones that clashed) and skill sets were greater than the sum of their parts. It was a shame, then, when season 1 abandoned it in favor of teaming Loki with Sylvie; a contentious move we suggested made Loki a worse show.
Loki season 2 redeems this flaw by reuniting Loki and Mobius as they travel to various points on the MCU's so-called Sacred Timeline to find a solution to the increasingly desperate situation. It's a gratifying do-over that not only reaffirms fans' views that the pair shouldn't have been separated in season 1, but also expands on their blossoming bromance. As the duo traverse the Sacred Timeline, plus some branching realities that hold significant sway in season 2's sweeping plot, we see more of Loki and Mobius' light-hearted True Detective-style investigative work play out in sharp, witty, and brainy fashion. This is the convivial camaraderie I wanted in Loki season 1, so I was heartened to see that Marvel has learned from this past mistake.
Unfortunately, a story execution issue that's plagued the studio's projects since Marvel Phase 4 rears its head here.
Loki season 2's narrative isn't overtly messy – in fact, I'd say its logic-defying and subversive plot is largely clever and nimble in its presentation. However, some plot exposition is clunky or all-too-brief in its explanation, which may bewilder some audience members, and prompt viewers to rewatch certain scenes to contextually understand specific plot points.
One such example involves a small device Loki and Mobius go searching for to equilibrate the Temporal Loom, a huge piece of TVA machinery that maintains the Sacred Timeline's durability. At first, it's not entirely clear what the device is called, nor its vital role in adapting the Temporal Loom. It wasn't until episode 4's straightforward explanation that I fully understood the device's fundamental role in Loki and company's big plan. A comprehensive clarification earlier on, then, would have helped.
By contrast, from an atmosphere standpoint, one thing Loki season 2 does really well is create an authentic sense of foreboding and jolting dread.
Sci-fi horror masterminds Justin Benson and Aaron Moorhead (Moon Knight, Something in the Dirt) are on chief directing duties here, so that's to be expected. Even so, the looming threat of the multiverse's destruction add a delicious doom-filled vibe to proceedings. Loki season 2 is as amusing as its forebear, but Benson and Moorhead – alongside Dan de Leeuw and Kasra Farahani, who direct one episode apiece – instill a genuinely unsettling tone when opportunities present themselves. There's even the odd jump scare – Loki's time-slipping frightens TVA employee Casey (Eugene Cordero) on more than one occasion – plus a chilling off-screen murder in episode 4 that play into Benson and Moorhead's penchant for unnerving spectacle.
Time bandits
But, to circle back to the show's primary dynamic, this isn't the Loki and Mobius show. There are plenty of supporting characters who are as compelling – some more than others, admittedly – and vital to Loki season 2's story.
O.B's introduction, for instance, adds a refreshing and emboldening kineticism that occasionally turns the aforementioned duo into a powerhouse trio. Hiddleston, Wilson, and Quan's natural chemistry permeates the scenes they share, particularly in season 2's opening episodes, where amusing sparks fly between the triumvirate's wildly different personalities. Said humor makes way for weightier story beats as Loki's second season progresses, but such scenes serve up opportunities for the actors' drama chops to collaboratively shine. It's just a pity that, as the plot advances, the lovable O.B – trust me, you'll immediately fall in love with Quan's MCU character – shares less screen time with his newfound friends.
As for the series' returning faces, Mosaku's B-15 benefits from a bigger role this time around. Just as Loki and Mobius' dynamic gets a redo, Loki season 2 makes satisfying character-based amendments to B-15 who was, for all intents and purposes, a bit-part character in season 1.
Indeed, B-15 gets more character development in season 2's first 15 minutes than the entirety of its predecessor. Positioned as the show's moral compass, B-15 embodies the ethical dilemma at the TVA's heart as the time-hopping institution wrestles with its genocidal pruning of alternate realities from the Sacred Timeline. It's an upgraded role Mosaku revels in with an emotional maturity and delicateness that personifies the wider, tragic theme at play.
In sharp contrast to the empathetic B-15, Mbatha-Raw's Renslayer and Strong's Miss Minutes are deliciously corrupt, with each actor imbuing their characters with self-serving and amoral tendencies. Unsurprisingly, their egocentric personas mean they regularly double-cross one another but, in doing so, the fragility of their partnership is pleasingly dichotomous to the unity between Mobius and Loki. Like B-15, you'll be happy to learn Renslayer and Miss Minutes benefit from enhanced character arcs, especially concerning their histories with He Who Remains.
Speaking of Kang's multiversal iterations, the previously mentioned Victor Timely is also central to season 2's primary plot, albeit not in the way I expected. Based on Loki's season 1 finale and one of Ant-Man and the Wasp: Quantumania's post-credits scenes, many viewers have been led to believe that all Kang variants are bad.
However, Loki episode 6 also revealed there are good versions of Kang – or, at least those who aren't looking to conquer and tyrannically rule other realities. Without spoiling too much, I was fascinated by Timely – an eccentric, introverted, and stammering inventor-cum-conman – and how crucial his role, especially in this season's middle act, truly is. Initially, there's a foreboding air of mystery about, and strange wide-eyed innocence to, Timely, which Majors captures in absorbing fashion. But, unless Marvel plans to pull the rug out from under us in the last two episodes of this season, Timely might make me re-evaluate the studio's plan for Kang and his multiversal iterations moving forward.
That said, it's hard to fully appreciate Majors' peerless performance here due to the criminal charges leveled against him. In March 2023, the Creed 3 star was arrested over domestic abuse allegations, and has since been charged with harassment and assault among other offences. Majors and his lawyer have strenuously denied the claims and, given Majors' trial isn't due to begin until October 25, the saying "innocent until proven guilty" must be adhered to. However, considering that three episodes will have aired by the time Majors' court case starts, the actor's presence in Loki season 2 could make for very uncomfortable viewing for some viewers.
There are other character-based problems, although they don't carry the real-world severity of Majors' casting.
For one, Sylvie's involvement feels slightly shoehorned. Sure, her reunion with Loki is beautifully awkward – her anti-heroic ideology juxtaposes his altruistic tendencies during their highly-charged discussions – and she steadily becomes more influential as the plot progresses. Even so, Sylvie's character growth comes across as somewhat constricted, particularly in light of her pleasing developmental arc in season 1.
Key TVA personnel like General Dox (Game of Thrones' Kate Dickie), who fans expected to be one of season 2's main antagonists, and Judge Gamble (The Witcher's Liz Carr) are also underutilized, meaning I found it difficult to care about their piecemeal participation. Hunter X-5, played with real panache and inimicality by Rafael Casal (Blindspotting), has a larger role to play than his fellow newcomers, Quan's O.B. aside, that makes him a fascinating foil to the now-selfless Loki. It's a shame, then, that X-5's involvement after his enjoyable and expansive roles in episodes 2 and 3, is reduced to mere errand boy later on.
My verdict
Loki season 2's first four episodes are a blast from start to finish. What could have been an unwieldy and tangled new chapter in the god of mischief's MCU journey is an explosively brilliant entry that may have huge repercussions for Marvel Phase 5, Phase 6, and beyond. That's if its final two episodes play out as I expect them to – although, based on the entries I've seen and episode 4's jaw-dropping cliff-hanger ending that evokes memories of Avengers: Infinity War's numbingly bleak ending, anything's possible is this subversive and gripping multiverse-traversing series.
It's curious that, for a show whose second season tackles themes of instability – whether that be the multiverse's potential collapse, or the internal conflict its characters grapple with – Loki is the most consistently reliable project in Marvel's back catalog. Its first season, although a tad overhyped, is the most-watched MCU TV series of all time, and I suspect its second season will further cement its position as top dog of Marvel's TV lineup. It's an epic, organically assembled show that, like WandaVision, isn't afraid to be artistically imaginative in its approach – and Marvel could use far more of those to re-assert the MCU's place at the summit of cinematic storytelling.
Loki season 2 makes its Disney Plus debut on Thursday, October 5 in the US, and October 6 in the UK and Australia. New episodes will be released weekly.
Get daily insight, inspiration and deals in your inbox
Get the hottest deals available in your inbox plus news, reviews, opinion, analysis and more from the TechRadar team.
Senior Entertainment Reporter
As TechRadar's senior entertainment reporter, Tom covers all of the latest movies, TV shows, and streaming service news that you need to know about. You'll regularly find him writing about the Marvel Cinematic Universe, Star Wars, Netflix, Prime Video, Disney Plus, and many other topics of interest.
An NCTJ-accredited journalist, Tom also writes reviews, analytical articles, opinion pieces, and interview-led features on the biggest franchises, actors, directors and other industry leaders. You may see his quotes pop up in the odd official Marvel Studios video, too, such as this Moon Knight TV spot.
Away from work, Tom can be found checking out the latest video games, immersing himself in his favorite sporting pastime of football, reading the many unread books on his shelf, staying fit at the gym, and petting every dog he comes across.

Got a scoop, interesting story, or an intriguing angle on the latest news in entertainment? Feel free to drop him a line.