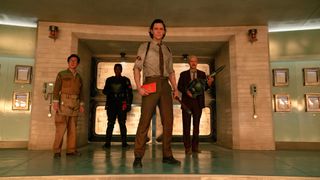 (Image credit: Marvel Studios)
Loki season 2: Key information
- Made its Disney Plus debut in early October
- Story picks up immediately after the season 1 finale
- Official trailer released in late July
- Multiple cast members returned from season 1
- Jonathan Majors featured despite domestic abuse allegations
- Official plot synopsis revealed
- Acts as narrative thread throughout the Multiverse Saga
The wait for Loki season 2 is over. The hugely popular Disney Plus show is back on our screens and, with Marvel Phase 5 being a mixed bag so far, fans are hoping Loki's second season will get the Marvel Cinematic Universe (MCU) back on track – again.
Before you watch it, you'll want to read our spoiler-free thoughts on Loki season 2's first four episodes. If you're looking to conduct a last-minute binge watch of Loki's MCU journey on Disney Plus, too, be sure to read our guides on the seven movies and TV shows you need to stream ahead of Loki season 2.
There's plenty more reading to do about the god of mischief's sophomore outing on one of the world's best streaming services. Below, you'll find more information on season 2's launch date and episodic release schedule, trailers, cast details, plot specifics, and more.
Full spoilers follow for previous Marvel productions, including Loki season 1 and Ant-Man and the Wasp: Quantumania. Potential spoilers for Loki season 2 are also discussed, so proceed with caution.
Loki season 2 release date
Loki season 2 is out now on Disney Plus. It was set make its worldwide debut on Friday, October 6. However, Marvel has since announced a new Disney Plus release date for Loki's second season. In the US, it launched at 6pm PT / 9pm ET on Thursday, October 5. In the UK and Australia, it landed on its initial October 6 date.
For anyone interested, here's the full rundown of season 2's episode schedule:
Episode 1 – Thursday, October 5 (US) / Friday, October 6 (UK and Australia)
Episode 2 – Thursday, October 12 / Friday, October 13
Episode 3 – Thursday, October 19 / Friday, October 20
Episode 4 – Thursday, October 26 / Friday, October 27
Episode 5 – Thursday, November 2 / Friday, November 3
Episode 6 – Thursday, November 9 / Friday, November 10
Additionally, Loki season 2 is reportedly going to be the final MCU TV show of 2023, with the actors strike (plus the now-resolved writers strike) forcing Marvel to delay Echo, which was set for late November, until early 2024.
Eric Martin – who penned half of season 1's episodes – serves as season 2's showrunner. He's been joined in the writers' room by Kathryn Blair, Kasra Farahani, Amber Dupre, and Brett Maline, according to the Writers Guild of America directory (thanks to Reddit for the catch).
Moon Knight directing duo Justin Benson and Aaron Moorhead helm episodes 1, 4, 5, and 6. Dan DeLeeuw (episode 2) and Farahani (episode 3) have also sat in the director's chair this season. Season 1 head writer Michael Waldron returns as an executive producer, while season 1 composer Natalie Holt is also back to create another hauntingly beautiful score.
Loki season 2 trailer
Loki season 2's official trailer arrived in late July, breaking a major Disney Plus record in the process. By the looks of it, time is running out for the trickster god to try and stop the multiverse from collapsing in on itself. A second teaser, which debuted in early September, also appeared to spoil a key plot point from the show.
Loki season 2 cast: confirmed and rumored
Major spoilers follow for Ant-Man and the Wasp: Quantumania.
Here's Loki season 2's confirmed cast list so far:
Tom Hiddleston as Loki
Owen Wilson as Agent Mobius
Sophia Di Martino as Sylvie
Gugu Mbatha-Raw as Ravonna Renslayer
Wunmi Mosaku as Hunter B-15
Ke Quy Huan as Ouroboros
Jonathan Majors as Victor Timely
Tara Strong as Miss Minutes
Eugene Cordero as Casey
Rafael Casal as Brad Wolfe/Hunter X-5
Kate Dickie as General Dox
Liz Carr as Judge Gamble
Tom Hiddleston, Gugu Mbatha-Raw, Owen Wilson, Wunmi Mosaku, Sophia di Martino, and Tara Strong return from Loki season 1.
Oscar winner Ke Huy Quan (Indiana Jones, Everything Everywhere All at Once) has been confirmed as Ouroboros (also known as 'OB'), an expert TVA engineer. Eugene Cordero's scene-stealing TVA employee Casey returns and has been bumped to a series regular.
Big Loki season 2 cast spoilers follow. You have been warned.
The amazing Loki is back.Marvel Studios' #Loki Season 2, an Original series, is time slipping to a new date, streaming October 5 at 6PM PT, only on @DisneyPlus. (previously recorded) pic.twitter.com/wPOkbUaW7gSeptember 18, 2023
Kate Dickie (Game of Thrones) is playing a decorated TVA general named General Dox. She'll act as an initial secondary antagonist in season 2, but her role isn't as extensive as many believed. She'll be joined by Rafael Casal (Blindspotting, Bad Education) on antagonistic duties, with Casal portraying Hunter X-5, a rogue TVA agent who abandons his post to return to his former life on the Sacred Timeline. Liz Carr (The Witcher) has a small role as Judge Gamble, who holds a similar position to Ravonna Renslayer before the latter's defection in the season 1 finale.
Have to agree with Mobius on this one.Marvel Studios' #Loki Season 2, an Original series, starts streaming this Thursday at 6PM PT, only on @DisneyPlus. pic.twitter.com/IGR0ffJQAEOctober 4, 2023
Jonathan Majors, who played Kang the Conqueror in Ant-Man 3, will also appear – but he isn't playing the time-traveling warlord. In Quantumania, Kang was seemingly killed by Ant-Man and the Wasp, so it's unlikely we'll see him again.
So, who is Majors playing? One of Ant-Man and the Wasp: Quantumania's post-credits scenes confirms he'll play another Kang variant called Victor Timely, an early 20th century inventor and industrialist.
In the comics, Victor Timely travels to 1901 to found the technology-rich Wisconsin-based town of Timely. However, as we note in our spoiler-light thoughts (link in the introduction), Timely's role has been tweaked slightly in Loki season 2, so expect the unexpected from this particular Kang variant.
Based on Quantumania's other post-credits scene – the Council of Kangs one – we could see multiple iterations of the Kang gang show up, including Immortus, Rama-Tut, and Scarlet Centurion. If they do, Loki and company will have a group of far more dangerous Kangs to deal with than He Who Remains, who's also rumored to appear this season (per The Cosmic Circus and CanWeGetSomeToast).
Unfortunately, Loki season 2 will have a big Majors-shaped problem hanging over it ahead of, and during, its time on Disney Plus. On March 25, Majors was arrested on domestic abuse allegations and later charged for assault, harassment, and aggravated harassment.
Majors and his lawyer have denied the allegations and, as the case remains open, Marvel hasn't publicly commented on Majors' future involvement in the MCU. Majors' trial isn't due to begin until late October (per Variety) after it was delayed twice, so the series could end before we find out if he'll continue to play a part in Marvel's cinematic juggernaut.
Loki season 2 plot: story synopsis and rumors
Full Loki season 1 spoilers, plus potential season 2 rumors, follow.
Here's the official plot synopsis: "Loki season 2 picks up in the aftermath of the shocking season finale when Loki finds himself in a battle for the soul of the Time Variance Authority. Along with Mobius, Hunter B-15, and a team of new and returning characters, Loki navigates an ever-expanding and increasingly dangerous multiverse in search of Sylvie, Judge Renslayer, Miss Minutes, and the truth of what it means to possess free will and glorious purpose."
In the season 1 finale, Loki found himself in a TVA that he recognizes, but none of its employees know who he is. Clearly, He Who Remains' death – at Sylvie's hands – causes the Marvel multiverse's various timelines to start intersecting and the so-called Sacred Timeline to become overloaded with different realities vying for dominance. These events, which we learned more of in Doctor Strange 2, are called Incursions and they've caused havoc across the MCU ever since season 1 (more on these later).
Before Loki, Mobius, and company can begin to tackle this wider multiversal problem, they'll need to find a cure for Loki's random time-slipping ailment, which we see affecting the god of mischief in the official trailer. Once that's solved, Loki and Mobius can set about fixing the multiversal issue. We're looking forward to seeing them combine their collective intellects (and contrasting personas) again to amusing effect in season 2 – something that was sorely missing after Loki season 1's first two episodes.
This season is sooooo much fun and it could not exist without the insane hard work and lovely humanity of writers and actors.♻️ #LokiSeasonTwo https://t.co/YhQlPzUjnRJuly 31, 2023
So where will the duo start? By embarking on a buddy cop-style adventure across the multiverse to track down any leads, such as how Victor Timely fits into the equation. We can't say what role he'll play this season without spoiling anything, so you'll have to wait for him to show up to find out more.
Interestingly, the teasers reveal that Ravonna Renslayer, the TVA's former director, has tracked Timely down as well. Again, we can't state what her role in Loki season 2 is but, given her romantic ties to Kang in Marvel comics, don't expect her to give our heroes a hand in stopping the multiverse's implosion.
Loki season 2: read our exclusive coverage
And what of He Who Remains? Seeing as he was killed by Sylvie in season 1's finale, we didn't expect to see him back but, as we touched on in our cast section, he might be. This is a multiverse-centric series where people can travel to the past, present, and future, after all, so don't discount anything.
Based on the Council of Kangs post-credits scene in Ant-Man 3, other variants may turn up, too. That could include Mr Gryphon (owner of Qeng Enterprises, whose headquarters showed up as an Easter egg in Loki episode 5) or any of those seen in Quantumania's post-credits sequence.
As for Sylvie, Loki's female multiversal variant appears as if she's ready for a quieter life after murdering He Who Remains. As the official trailer shows, she's living a sheltered life as a McDonald's employee, but she soon crosses paths with Loki again.
Speaking to IGN, producer Kevin Wright revealed why Sylvie had found a new life working for the iconic fast food enterprise, saying: "This woman went on the run as a child, had been running through time, a fugitive of time, living in apocalypses, never being able to relax or slow down, [so] the novelty of walking into a 1980s McDonald's looked appealing. You play a Little League game and go to McDonald's. You go to a kid's birthday party at McDonald's. Someone like Sylvie would never have experienced that and would be really taken by that."
Judging by her pulling a sword on him in the teaser, Sylvie might not be all that pleased to see him. Still, they should put their differences aside and attempt to undo the damage they (or, rather, Sylvie) caused. We see Loki, Sylvie, and Mobius battling a bunch of General Dox's TVA splinter group towards the trailer's end, with the first two using their magical abilities in unison. Outside of that, though, we're not giving up any other Loki-Sylvie team-up secrets.
Loki season 2: how will it impact the MCU?
Marvel Studios president Kevin Feige has already revealed that Loki's second season will connect Phases 4, 5, and 6 together (per Marvel.com). If one of the best Disney Plus shows acts as the narrative through line for the Multiverse Saga, it's possible a third season could be greenlit for Marvel Phase 6.
Regardless, the impact of Loki and Sylvie's actions is already being felt. Spider-Man: No Way Home was affected by universes colliding, while Doctor Strange 2 examined the multiverse and Incursions in greater detail. The first season of What If...? was also loosely connected to Loki's first season, based on its exploration of alternate versions of MCU characters and the dimensions they inhabit. Lastly, Ant-Man and the Wasp: Quantumania introduced Kang and set up events regarding Avengers: The Kang Dynasty, which is currently scheduled for May 1, 2026.
As for upcoming MCU projects, Loki season 2 could tie into the Fantastic Four's MCU debut. Comic fans will know Kang occasionally joins forces with Doctor Doom, the group's infamous villain. So, it's plausible that they could battle Doctor Doom and a Kang variant in their first MCU adventure, which is slated to arrive on May 2, 2025.
Armor Wars, which will star Don Cheadle as War Machine/James Rhodes, might be affected if Marvel brings Iron Lad (another Kang variant) into the equation. In the comics, Iron Lad is the pseudonym of Nathaniel Richards, the descendant of Fantastic Four's Reed Richards. Nathaniel winds up becoming Kang Prime, aka the first iteration of Kang the Conqueror and his many variants. See? It all ties together.
Additionally, Marvel leakers claim Loki season 2 could impact Deadpool 3, with the multiverse offering a potential route into the MCU for the Merc With a Mouth and Hugh Jackman's Wolverine. X-Men 97, a long overdue sequel to the beloved 1990s-era animated series, could have ties to the MCU's multiverse as well. If Deadpool 3 isn't a route into the MCU for everyone's favorite mutants, maybe this animated show will usher them into the MCU. It seems, then, that Loki season 2 (and its predecessor) have a lot to answer for when it comes to the multiverse's arrival and its wider impact on Marvel's cinematic multiverse.
For more MCU-based content, find out how to watch the Marvel movies in order. Alternatively, read up on where Loki season 1 placed in our Marvel Phase 4 ranked article, or get the scoop on The Marvels, 2023's final MCU film.
Get daily insight, inspiration and deals in your inbox
Get the hottest deals available in your inbox plus news, reviews, opinion, analysis and more from the TechRadar team.
Senior Entertainment Reporter
As TechRadar's senior entertainment reporter, Tom covers all of the latest movies, TV shows, and streaming service news that you need to know about. You'll regularly find him writing about the Marvel Cinematic Universe, Star Wars, Netflix, Prime Video, Disney Plus, and many other topics of interest.
An NCTJ-accredited journalist, Tom also writes reviews, analytical articles, opinion pieces, and interview-led features on the biggest franchises, actors, directors and other industry leaders. You may see his quotes pop up in the odd official Marvel Studios video, too, such as this Moon Knight TV spot.
Away from work, Tom can be found checking out the latest video games, immersing himself in his favorite sporting pastime of football, reading the many unread books on his shelf, staying fit at the gym, and petting every dog he comes across.

Got a scoop, interesting story, or an intriguing angle on the latest news in entertainment? Feel free to drop him a line.