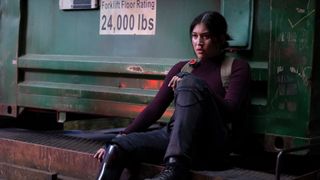 (Image credit: Marvel Studios)
Marvel's Echo: key information
- Releasing in January 2024
- Trailer debuted in early November
- Created by Marion Dayre
- Directed by Sydney Freeland and Catriona McKenzie
- Set after Hawkeye
- Stars Alaqua Cox and Vincent D'Onofrio among others
- Charlie Cox's Daredevil will play a supporting role
- First plot synopsis released
- Leaked information about other key storylines
- May set up the street level corner of the MCU
Echo will be the first Marvel TV show of 2024. That's right, the Hawkeye spin-off series finally has an official release date, and we don't have too long to wait for it.
Indeed, the Disney Plus show will sneak its way onto the streaming giant in January, so (at the time of writing) there are less than two months to go until the next live-action TV show in the Marvel Cinematic Universe (MCU) is on our screeners.
Before Echo makes its long awaited debut – it was originally supposed to be out by now – there are plenty of new details worth reading about. In this guide, we cover everything worth know about the Marvel Phase 5 TV series. That includes its official launch date and release schedule, full trailer, confirmed cast, plot synopsis and rumors, and more.
Major spoilers follow for Hawkeye, which is where Echo made her live-action debut. Potentially big spoilers for her show are also discussed.
Marvel Studios' Echo release date
Check out this brand-new poster for Marvel Studios' #Echo, a new Original series with all episodes streaming January 10 on @DisneyPlus & @Hulu.All episodes will be available on Hulu until April 9. pic.twitter.com/x2CaCQrBrZNovember 3, 2023
Echo will be released on January 10, 2024. It was initially set to arrive on November 29, 2023 but, just three weeks before its original launch, Echo was handed a new release date.
Marvel also confirmed the limited series would be released on Disney Plus and Hulu (in the US), but it'll only be available on the latter until April 9. Additionally, it'll be the first MCU TV show to fall under the studio's new 'Spotlights' banner, which will become the new home for Marvel projects that "focus on street-level stakes over larger MCU continuity" (per Marvel.com).
In May, the studio also revealed Echo would get a Netflix-style launch, with all five episodes releasing simultaneously on launch day.
Marvel Studios' Echo trailer
The first full trailer for Echo was released alongside news of its release date – and it surprisingly confirmed that it'll be the first R-rated MCU TV series.
There's plenty within its two-minute runtime that'll pique viewers' attention, too. Aside from the gratuitous violence doled out by Wilson Fisk/Kingpin and Maya Lopez/Echo, there's a blink-and-you'll-miss-it cameo from Daredevil, flashbacks to her childhood and what appears to be Maya's birth, and a tense reunion between Maya and Fisk; the latter of whom sports an eye patch after the former shot him in Hawkeye's final episode. You can read more about that in our Hawkeye ending explained article.
Marvel Studios' Echo cast: confirmed and rumored
Major spoilers follow for Hawkeye.
Here's Echo's confirmed cast so far:
Alaqua Cox as Maya Lopez/Echo
Vincent D'Onofrio as Wilson Fisk/Kingpin
Charlie Cox as Matt Murdock/Daredevil
Zahn McClarnon as William Lopez
Chaske Spencer as TBA
Graham Greene as TBA
Tantoo Cardinal as TBA
Devery Jacobs as Julie
Cody Lightning as TBA
After making her MCU debut in Hawkeye, Cox's Lopez/Echo returns to front her own show. She'll be joined by McClarnon, who played Echo's father William Lopez in Hawkeye, but whose appearance will be restricted to flashback sequences. In Hawkeye, it's revealed the Tracksuit Mafia's former lynchpin was dead, with William believed to be killed by Clint Barton/Hawkeye (then masquerading as anti-hero Ronin) during the Blip, i.e. the time period between Avengers: Infinity War and Avengers: Endgame.
Following his own MCU entrance in Hawkeye, D'Onofrio's Fisk will also return. Fisk adopted Maya after her father's death and trained the deaf superhero to become an expert combatant for his extensive crime syndicate. However, when it was revealed Fisk ordered the fatal hit on William Lopez, Echo sought revenge on her adopter, shooting him in the face during Hawkeye's finale. Fisk's fate was unknown after that showdown, but now we know he survived.
Cox's Murdock/Daredevil, who appeared in MCU projects Spider-Man: No Way Home and She-Hulk, will add to his supporting roles tally here. Per industry leaker Daniel RPK (as reported by Taverna Marvel), Daredevil will only feature in two episodes. The trailer confirms Daredevil and Echo will fight at some point, too.
As for other supporting players, we don't know most of their identities yet. Marvel confirmed the hiring of other actors in May 2022 but hasn't revealed who they're playing.
However, Deadline claims Devery Jacobs (Reservation Dogs) is playing someone called Julie, who is described as "strong-willed and resilient". In a US copyright filing (thanks to Reddit for the screenshot), other character identities have also seemingly been revealed. They include apparent confirmations that Graham Greene is playing someone called Skully, Chaske Spencer as Henry, Cody Lightning as Cousin Biscuits, and Tantoo Cardinal as Chula.
Marvel Studios' Echo plot: synopsis and story speculation
Here's Echo's official story synopsis, which was released alongside the show's cast announcements: "The origin story of Echo revisits Maya Lopez, whose ruthless behavior in New York City catches up with her in her hometown [of Oklahoma]. She must face her past, reconnect with her Native American roots, and embrace the meaning of family and community if she ever hopes to move forward."
According to industry insider DanielRPK, audiences shouldn't expect audiences to view Maya as a hero or anti-hero in the show. Indeed, Echo is the first MCU project with a villain as the lead (Avengers: Infinity War's Thanos notwithstanding), so expect some questionable decisions to be made on her part.
It sounds like Echo will be a unique series when it arrives, too. Speaking to Collider, producer Stephen Broussard said it's a "very different" type of story from what we've previously seen in the MCU, adding: "It feels very grounded and spiritual in ways that feel fresh for us". Speaking to Marvel.com, director Sydney Freeland also hinted at the show's spiritualistic side, saying: "There's this undercurrent of this fantastical side, which is that we are going to be visiting Maya's matrilineal ancestors, going quite a bit backward in time."
The first look at Maya Lopez's costume in 'ECHO' pic.twitter.com/ekHvpe8CrmNovember 4, 2023
That "spiritual" aspect has a lot to do with Echo's Native American heritage. In the comics, Maya Lopez is a descendant of the Cheyenne Nation, an Indigenous tribe with a strong belief that all living things are spiritually connected.
In the show, though, Maya's Cheyenne heritage has been altered so she's part of Oklahoma's Choctaw Nation (per IGN), which "plays a big part in the series" and creates "a more authentic portrayal of Choctaw people and culture", according to Freeland. Expect to see powwows – celebrations of Native American culture – to genuine costumes and everything in between.
We'll also get some insight into Maya's upbringing and how she joined Fisk's criminal empire. MCU leaker Can WeGet Some Toast (CWGST) claims we'll see a flashback to William Lopez's death in 2019, how Maya's impacted by that loss, her first interaction with Fisk, and her training to become the Tracksuit Mafia's new leader. Freeland confirmed (via Marvel.com) that Maya and Fisk's dynamic is "one of the core relationships in the entire series", and that the miniseries will reveal Fisk's real superpower is "his intellect and... ability to psychologically manipulate people."
Potentially big Echo spoilers follow.
Given Daredevil's supporting role in the show, many fans are curious to learn when and where Echo and The Man Without Fear will cross paths. We're unsure right now but, per CWGST, the duo will only "communicate with their fists", meaning there should be a stellar fight sequence or two between them.
It'll also be interesting to see if Echo makes any parts of Netflix's Daredevil TV series (or any of Netflix's Marvel TV universe, for that matter) canon. Again, there's nothing to be gleaned either way right now but, asked by a journalist if Daredevil had inspired aspects of Echo's development (via IGN), Freeland said "yes and no". The plot thickens...
One story beat that seems ripe for exploration is the Blip, aka the five-year period between Avengers: Infinity War and Avengers: Endgame. Marvel hasn't extensively examined this time period in any movie or TV show, choosing instead to drip-feed pieces of information throughout the MCU. However, MCU insider Charles Murphy has suggested "parts of Echo will take place during the Blip", so we might see how Kingpin's criminal empire gained a foothold during this time and Maya's role in said expansion.
Marvel fans who've seen Hawkeye and/or read Echo-starring comics will know her main superpower is photographic reflexes. Essentially, she's able to mimic the abilities/movements of other people, just like Black Widow villain Taskmaster.
Presumably, then, we'll see Echo hone her mimic-based powers in her series, right? Not quite. In fact, Maya will get a sizable superhero-style upgrade – and it's all thanks to her ancestors.
According to CWGST, Echo will see the titular character acquire new abilities through numerous Native American tattoos. The first one, which manifests in her hands, will grant her superhuman strength. The next one will give her a sharpshooting ability and "manifest the same gun as the ancestor empowering her". Lastly, she'll get enhanced speed and durability, which will help her "determine the trajectory of a person's/item's movement".
It seems these rumors have some truth to them, based on a report from The Direct. During Marvel's section of Disney's 2022 edition of D23 Expo, the first footage of Echo was shown exclusively to attendees and teased Maya's glowing hands. Incidentally, in the comics, Echo is known for the white handprint Maya marks her face with whenever she uses her superhero alias, so it seems Marvel is using this iconic look as a basis for the tattoos the character's MCU iteration will get.
Speaking at an Echo press event (per Variety), Freeland teased Maya will get a superpower upgrade, saying: "Her power in the comic books is that she can copy anything, any movement, any whatever. It's kind of lame. I will say, that is not her power. I'll just kind of leave it at that". It sounds like the rumors are true, then.
How will Echo impact the MCU?
Echo is the second series that explores the MCU' new street-level corner. Hawkeye was the first and, based on events in that series, plus whatever plays out in Echo, the pair might set up multiple Disney Plus series (and potentially one movie) where D'Onofrio's Fisk could be the overarching villain.
According to CWGST, Fisk will run for New York Mayor – once he's recovered from his eye wound, anyway – and win that election. Of course, installing the boss of a criminal empire as mayor won't be good news for New York's superhero contingent, with Mayor Fisk likely to install them as enemies of the state.
So, who could be affected by Mayor Fisk potentially clamping down on these so-called vigilantes? For starters, Daredevil. As we mentioned, Daredevil and Kingpin will square up in Daredevil: Born Again, so expect the Mayor Fisk storyline to bleed over into Daredevil's Disney Plus show.
Echo is also expected to cameo in Born Again (per D'Onofrio, as reported by the Daredevil Updates Twitter account), but those plans may have changed. Daredevil: Born Again was reportedly in serious trouble as Marvel looked to rework the entire series after it failed to live up to the studio's lofty expectations. However, with a new head writer and directors in place – and claims they'll retain parts of the show's original blueprint and already shot scenes – Echo might still show up.
On the movie side, Spider-Man 4, which is in the very early stages of development, could be affected by Fisk's rise to New York Mayor. Kingpin is one of Spider-Man's most notable arch-nemeses, so seeing this pair go toe-to-toe on the big screen would surely get bums on seats. Following the events of No Way Home, it seems Tom Holland's webslinger will become the friendly neighborhood version of Spidey we've been waiting for. And, with the wallcrawler's identity now a closely guarded secret after what transpired in No Way Home, this masked hero could be in Fisk's sights soon enough. Spider-Man and Daredevil big-screen team-up against Kingpin, anyone?
You might also like
Get daily insight, inspiration and deals in your inbox
Get the hottest deals available in your inbox plus news, reviews, opinion, analysis and more from the TechRadar team.
Senior Entertainment Reporter
As TechRadar's senior entertainment reporter, Tom covers all of the latest movies, TV shows, and streaming service news that you need to know about. You'll regularly find him writing about the Marvel Cinematic Universe, Star Wars, Netflix, Prime Video, Disney Plus, and many other topics of interest.
An NCTJ-accredited journalist, Tom also writes reviews, analytical articles, opinion pieces, and interview-led features on the biggest franchises, actors, directors and other industry leaders. You may see his quotes pop up in the odd official Marvel Studios video, too, such as this Moon Knight TV spot.
Away from work, Tom can be found checking out the latest video games, immersing himself in his favorite sporting pastime of football, reading the many unread books on his shelf, staying fit at the gym, and petting every dog he comes across.

Got a scoop, interesting story, or an intriguing angle on the latest news in entertainment? Feel free to drop him a line.