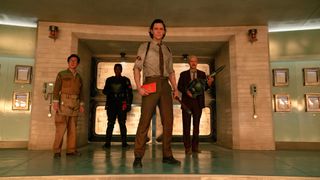 (Image credit: Marvel Studios)
Loki season 2 is almost here, Marvel fans. After a two-year wait, everyone's favorite trickster god will return to TV screens across the US on Thursday, October 5 (and then the UK and Australia on Friday, October 6).
We're certainly excited for Loki's next adventure in the Marvel Cinematic Universe (MCU). The god of mischief's Disney Plus series is not only one of the most-viewed MCU TV shows of all time, but it's also a highly entertaining tale that completes his multi-arc transformation from villain to hero. Little wonder, then, that it's one of the best Disney Plus shows around.
Before Loki returns for its sophomore outing (watch season 2's official trailer above if you haven't yet), you might want to catch up on his story so far.
Below, we've listed the six Marvel movies and one TV show (plus some supplementary material at the end) you need to watch before Loki season 2 makes its long-awaited debut, including full spoilers for each chapter of Loki's MCU journey. Time's running out for him and you, dear reader, so hop to it!
Thor (2011)
This is the movie that altered Loki actor Tom Hiddleston's life and career and turned the trickster god into one of Marvel's most popular characters. In fact, we'd suggest that, aside from the original Avengers (more on them shortly), Hiddleston's Loki is the biggest asset the MCU has – and 2011's Thor proved why.
The God of Thunder's first solo movie introduced Norse mythology, science-based magic, and Chris Hemsworth's immensely powerful but incredibly naive (at the time, anyway) superhero to the MCU. However, the film's titular star was upstaged by Hiddleston's Loki, whose impressive Machiavellian debut as Thor's adopted brother is equal parts delightfully dramatic, terrifically tragic, and appropriately amusing. Thus began the Marvel fandom's 12-years-and-counting love affair with Hiddleston's roguish socialite.
The Avengers (2012)
Not content with being on chief antagonist duties just once – a rare occurrence in the MCU's early years, what with Marvel's penchant for killing its villains – Loki assumed a similar role in The Avengers, which is still one of the best Marvel movies today.
Admittedly, the Norse god was under the influence of the Mind Stone, which resided in a scepter – owned by the Infinity Saga's big bad Thanos (more on him later) – Loki borrowed to try to conquer Earth. Unfortunately for him, Iron Man and company were on hand to thwart his world-domineering plan, resulting in a defeated Loki embarrassingly being taken back to Asgard as a prisoner by Thor.
Thor: The Dark World (2013)
Loki made his third MCU appearance in as many years in this mediocre Thor sequel – and, once again, he stole the spotlight from his hammer-wielding older sibling.
There's plenty to enjoy about Hiddleston's performance in Thor: The Dark World. His constant deception – whether it's hiding his true self following his imprisonment and the death of his adoptive mother or his apparent death at the hands of Malekith's right-hand man Algrim – makes for suitably mischievous viewing.
It's Loki's comical side, though, that really shines here. His unabating quips as he and Thor try to escape Malekith's forces on Asgard, his reaction to being slapped by Jane Foster, and his hilarious transformation into, and impersonation of, Chris Evans' Captain America – one of the best Marvel movie cameos to date – are all terrific. The film's ending, where Loki tricks Thor by masquerading as their father Odin (assuming the Asgardian throne in the process), was a pretty genius move for him to pull, too.
Thor: Ragnarok (2017)
The foundations for Loki's heroic metamorphosis were laid in The Dark World, but it would be another four years before the god of mischief really began to assume his new lionhearted role.
Thor: Ragnarok breathed new life into numerous areas of Thor's movie franchise, not least where Loki was concerned. Sure, he's still a scheming, silly, and somewhat spineless individual in the Taiki Waititi-directed flick, but Loki's character evolution in Thor: Ragnarok is as important as his sibling's. The duo's buddy cop-style dynamic drives the film in fun and surprising ways, and much of that owes its success to the levity, humanity, and believable familial bond Hiddleston and Hemsworth have. A smart and snappy movie that acts as the calm before the Thanos-shaped storm to come.
Avengers: Infinity War (2018)
As superb a film as it is, you don't have to sit through Infinity War's two-and-a-half-hour runtime to appreciate Loki's expansive journey through the MCU. He only appears in the first 10 minutes before – spoilers – being killed by Thanos.
Even so, his death (for real this time) is as heart-wrenching for us as it is for Thor, who's forced to watch as Thanos suffocates his sibling before snapping his neck. It appeared to bring Hiddleston's time as the fan-favorite character to an end, but Marvel's executive team secretly had plans to bring one of their most dynamic and complex individuals back from the dead. This leads us nicely onto...
Avengers: Endgame (2019)
Like Infinity War, you don't need to watch all three hours of Endgame to appreciate Loki's decade-spanning story. You can just skip to the part where the remaining Avengers travel back in time – to the Battle of New York in 2012's The Avengers – as they gather the Infinity Stones to undo Thanos' universe-shattering finger snap known as the Blip.
Here, Loki – remember, he's been defeated and captured by the Avengers at this point – inadvertently comes into possession of the Tesseract, aka the Space Stone, which he uses to escape. It's not really an important scene in the context of Endgame, but it's vital in setting up events depicted in his Disney Plus show. So yes, while Avengers: Endgame is a top-tier Marvel movie that you'll want to rewatch time and again, you only need to sit through five minutes to fully understand Loki seasons 1 and 2.
Loki season 1 (2022)
Unsurprisingly, the first season of Loki's TV show is necessary viewing before its successor rolls around.
The six-part season, which we called a "wild buddy-cop MCU show we didn't know we needed" in our Loki season 1 review, is a mind-boggling, innovative, and multiverse-spanning romp that'll make your head spin. Hiddleston has never been better in Loki's long-overdue standalone project, too. The actor brings his wealth of knowledge to the role once more and broaches multifaceted aspects of the character in fascinating new ways. Check out our Loki season 1 ending explained article for a recap on where we left him and the show's other characters before season 2 arrives.
Additional movies and TV shows to stream
The aforementioned seven Marvel productions are the main ones you need to stream – they're all on Disney Plus, FYI – before Loki season 2 is released. However, if you're after extra content that may impact what happens in the series' next installment, check out the brief list below:
For more extensive Marvel coverage, find out how to watch the Marvel movies in order. Additionally, learn more about The Marvels, the final MCU film of 2023, see where Loki season 1 placed in our Marvel Phase 4 ranked list, or get the lowdown on every movie and TV show coming as part of Marvel Phase 5.
Sign up for Black Friday email alerts!
Get the hottest deals available in your inbox plus news, reviews, opinion, analysis and more from the TechRadar team.
Senior Entertainment Reporter
As TechRadar's senior entertainment reporter, Tom covers all of the latest movies, TV shows, and streaming service news that you need to know about. You'll regularly find him writing about the Marvel Cinematic Universe, Star Wars, Netflix, Prime Video, Disney Plus, and many other topics of interest.
An NCTJ-accredited journalist, Tom also writes reviews, analytical articles, opinion pieces, and interview-led features on the biggest franchises, actors, directors and other industry leaders. You may see his quotes pop up in the odd official Marvel Studios video, too, such as this Moon Knight TV spot.
Away from work, Tom can be found checking out the latest video games, immersing himself in his favorite sporting pastime of football, reading the many unread books on his shelf, staying fit at the gym, and petting every dog he comes across.

Got a scoop, interesting story, or an intriguing angle on the latest news in entertainment? Feel free to drop him a line.