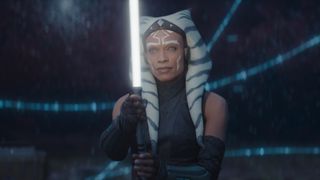 (Image credit: Lucasfilm/Disney Plus)
Light spoilers follow for Star Wars: Ahsoka and other Star Wars TV shows.
I'm not a diehard Star Wars fan. Sure, I've seen plenty of what Lucasfilm's legendary sci-fi franchise has to offer, including its nine movies (10 if you include that lackluster animated Clones Wars flick) and every live-action Disney Plus show. I've also played my fair share of Star Wars video games, such as Republic Commando, Jedi: Survivor, and Rogue Squadron.
Even then, I'm far from the most clued-up fan of that famous galaxy far, far away. There are numerous canon and non-canon books I'm yet to tackle, and that's before I get on to the animated TV shows, some of which – I'm looking at you, The Clone Wars – comprise 100-plus episodes across multiple seasons.
It's that latter series and its pseudo-sequel Star Wars: Rebels I was most worried about missing before I watched Star Wars: Ahsoka's first two episodes. Lucasfilm's latest TV show is a live-action follow-up to events in that pair and The Mandalorian, and while Lucasfilm president Kathleen Kennedy and Ahsoka showrunner Dave Filoni suggested that fans don't need to do their homework leading up to Ahsoka's release, I was wondering whether I'd understand who everyone (sans Ahsoka) was, key moments in their history, and how The Clone Wars and Rebels would impact Ahsoka's plot. In short: maybe I should have taken my own advice and prepared properly for Ahsoka's arrival.
Needless to say, I didn't need to fret. Star Wars: Ahsoka proves that you don't need to be a Jedi Master to understand the vast majority – yes, there are caveats – of the story its first episodes tell. Equally, the gaps in my Star Wars knowledge didn't lessen my enjoyment of Ahsoka's terrifically entertaining and well-assembled slice of Force-fuelled space opera.
Step this way, Padawan
Before I dig into why Star Wars: Ahsoka 's first two episodes are so great – they're immediately accessible to Star Wars novices (or Padawans, if you will), too – what are the very basics you need to know?
Without getting into the minutiae of previous Star Wars TV shows, Ahsoka Tano (Rosario Dawson) is a former Jedi Knight and ex-Padawan of Anakin Skywalker. In The Clone Wars, she walked away from the Jedi Order after being falsely accused of a terrorist attack on the Jedi Temple. In the years that have followed, Ahsoka has become a nomadic, samurai-like Jedi who maintains the peace in the wider galaxy. She also keeps tabs on greater evils lurking in the shadows; and, when rumors reach her of one such threat re-emerging after the Empire's fall, the respected Togruta warrior sets out to investigate if they're true.
Now, in the interests of transparency, I didn't go into Star Wars: Ahsoka completely blind. I was aware of what happens in Rebels' final episodes, either from talking to those in the know or doing some light reading around the subject (hey, it comes with the territory of being an entertainment reporter). So, I had a vague idea of who certain characters are, their relationships to one another, and their place in the wider context of Star Wars' bustling universe.
However, there's plenty I wasn't aware of heading into Ahsoka – but, ultimately, that didn't matter. The show does a great job of delivering enough exposition to help you understand the story it's telling, who's involved, and why it all matters.
Just think back to Star Wars: A New Hope. Nobody knew anything about the history that existed between Obi-Wan Kenobi and Darth Vader prior to its release. Yet, over the course of the movie, you realize the complex and tragic past the pair share, even though this wasn't explored in-depth until the prequel film trilogy arrived.
Star Wars: Ahsoka approaches its narrative, character relations, and universe-building in much the same way. Yes, there's lots that devoted Star Wars fans will already know about Ahsoka, Sabine, Hera, Thrawn, and Ezra, especially if they've watched The Clone Wars and Rebels. Those that haven't, though, aren't left behind. As I said, Ahsoka gives you sufficient material to appreciate what's come before without being overbearing. For newcomers who aren't clued up, learning about these individuals and the series' wider mysteries is all part of the fun, too.
As someone sitting firmly in that latter camp, I never felt alienated by the gaps in my Star Wars memory bank prior to watching Ahsoka. Every time something important was brought up, Star Wars: Ahsoka handily (albeit briefly) explained what I needed to know.
Who's this Ezra Bridger everyone keeps banging on about? You find out through snippets of dialog or the playing of a poignant hologram recording. What's the deal with Grand Admiral Thrawn? And – without spoiling too much – where he's been exiled to, and why are the Empire's remnants searching for him? All starts to become clear as Ahsoka's villains chart a course to track him down. So, if you're worried about not being an expert on the above and more, don't be. You'll learn what you need to know as Star Wars: Ahsoka progresses. An accessible series for first-time viewers, this most certainly is.
Masters of the universe
Star Wars fanatics shouldn't be concerned that Ahsoka's first two entries comprise filler material that they've seen and heard before, though. There's plenty of fascinating lore – new and old – to wrap your head around, call backs to other Star Wars projects, and even the odd hint about how Ahsoka could redefine what you thought you knew about Lucasfilm's iconic franchise.
From the first episode's archetypal opening crawl and dread-inducing attack on a New Republic Heavy Star Cruiser, to nods to Rebels' finale and the role that the hyperspace-traveling space whales known as Purrgil play in it, Ahsoka is stuffed with references to classic and more recent Star Wars fare. If you've watched every single Star Wars film and TV show, this connective tissue will amplify your enjoyment of Ahsoka and the story it tells.
And that's only the tip of the iceberg as far as references that diehard fans will understand go. Again, without heading too far into spoiler territory, there are nods to Star Wars' expansive range of novels and specific Clone Wars episodes, including those centered on the Outer Rim planet known as Dathomir.
Above all else, Star Wars: Ahsoka retains the core elements of what makes Star Wars such a beloved franchise.
Its roots in Akira Kurosawa-inspired action ensure that its lightsaber battles are thrilling and unique. Its rich themes, including the vital bond shared by a master and their apprentice – shown here by Ahsoka rekindling her strained relationship with former student Sabine Wren (Natasha Liu Bordizzo), and fallen Jedi Baylan Skoll and his apprentice Shin Hati (Ivanna Sakhno) – are explored extensively. Its incorporation of the franchise's vast timeline of events, whether that's High Republic Era-based information teased by the millennia-old robot Huyang (David Tennant), or recent expository material from Hera Syndulla (Mary Elizabeth Winstead), broadens viewers' understanding of the wider universe as well.
My verdict
Star Wars: Ahsoka has the feel of an old-school Star Wars movie, which older fans will absolutely revel in. Equally, though, it's equipped with a new-age flavor and attitude that – like The Mandalorian and Andor – breathe new life into Lucasfilm's franchise, and will appeal to younger viewers and/or first-timers.
Yes, it helps to have streamed The Clone Wars, Rebels, and even The Mandalorian (three of the best Disney Plus shows around) before watching Ahsoka. But it's not vital to do so, nor will it impact how entertained you'll be by what's on offer. If, like me, this is your first introduction to some of these fantastic characters and the stories they've shared, you'll eat up what's on show. It might even make you want to watch the aforementioned animated shows, too, which I'll certainly be doing.
If this isn't your first rodeo with Ahsoka and company, you'll adore the transition they make from the animation space to live-action format, plus the numerous references on show. Long story short: it's useful being a Jedi Master heading into Star Wars: Ahsoka, but it isn't necessary in order to be able to savor every electrifying minute.
Star Wars: Ahsoka's first two episodes premiere on Disney Plus on Tuesday, August 22 in the US (August 23 elsewhere). New episodes air weekly.
Get daily insight, inspiration and deals in your inbox
Get the hottest deals available in your inbox plus news, reviews, opinion, analysis and more from the TechRadar team.
Senior Entertainment Reporter
As TechRadar's senior entertainment reporter, Tom covers all of the latest movies, TV shows, and streaming service news that you need to know about. You'll regularly find him writing about the Marvel Cinematic Universe, Star Wars, Netflix, Prime Video, Disney Plus, and many other topics of interest.
An NCTJ-accredited journalist, Tom also writes reviews, analytical articles, opinion pieces, and interview-led features on the biggest franchises, actors, directors and other industry leaders. You may see his quotes pop up in the odd official Marvel Studios video, too, such as this Moon Knight TV spot.
Away from work, Tom can be found checking out the latest video games, immersing himself in his favorite sporting pastime of football, reading the many unread books on his shelf, staying fit at the gym, and petting every dog he comes across.

Got a scoop, interesting story, or an intriguing angle on the latest news in entertainment? Feel free to drop him a line.