Topping the best Sony phones is easily the Sony Xperia 1 III. It's expensive so it won't be for everyone, but below it are plenty of more affordable options.
Naming conventions are a little tricky here. For instance, the Sony Xperia 5 III is a high-end handset with a smaller screen than the previous flagship, the Sony Xperia 1 III - albeit at a lower price.
Fortunately, we've narrowed things down and deciphered the strange naming conventions. We're also eagerly waiting for the Xperia 1 IV and Xperia 5 IV which are likely to be announced at some point this year.
For now, here are the best Sony phones. Below is a complete rundown along with pros and cons to help you decide what's best for you.
Best Sony phones 2022
The Sony Xperia 1 III is the top Sony flagship, with the highlight being that it's the world's first smartphone with a 4K 120Hz display. That's arguably overkill, but it's certainly impressive, with its 6.5-inch OLED display being among the best screens you'll find on a smartphone.
Other aspects of the Sony Xperia 1 III also impress a lot, particularly its battery life, which in our review we found outperformed most flagships, despite the phone only having a middling 4,500mAh capacity.
This is that rare flagship phone that also has a 3.5mm headphone port, which will be a big selling point for some, and the Sony Xperia 1 III additionally has top-end power, and a capable camera setup, which along with main, ultra-wide and depth sensors also has a 12MP adaptive telephoto camera, which can shift between 2.9x and 4.4x optical zoom.
There's no in-screen fingerprint scanner, and the long and narrow design won't suit everyone, but those issues aside this is up there with the best flagships from any brand – and it's priced accordingly.
Read our in-depth review: Sony Xperia 1 III
With an elongated design that prioritizes landscape media content, the Sony Xperia 5 III is a great option for those that love to stream on the move. Alongside that, it also offers excellent performance for its size and a fantastic triple-camera system that's highly flexible.
It lacks a few finer points such as wireless charging and its screen isn't quite as sharp as other Sony phones, but with a focus on media right down to strong audio performance, it's still appealing if you can afford the price tag.
Look out for a feature-packed photography experience in particular. Speed and precision is everything with Sony's camera system and it makes a big difference.

Read our in-depth review: Sony Xperia 5 III
The Sony Xperia 5 II is basically a smaller, cheaper version of the Xperia 1 II. Sure, there are some differences beyond the screen size to get the price down, but the essence remains intact, and this phone arguably strikes a better balance between price and specs.
It has an excellent 6.1-inch 1080 x 2520 OLED screen with a 120Hz refresh rate, ensuring it feels smooth to use. Even the Xperia 1 II doesn't have a refresh rate that high, so in at least one way the Sony Xperia 5 II has the specs edge.
It also has a great triple-lens camera, with 12MP main, ultra-wide and telephoto lenses, plus a high-end Snapdragon 865 chipset, and a decent build – which, thanks to the smaller size, is much easier to hold than the Xperia 1 II.
Read our in-depth review: Sony Xperia 5 II
The Sony Xperia 1 II shows the company listens to feedback, as it fixes some of the biggest issues of its predecessors while bringing a lot more to the table.
The Xperia 1 II - that's 'One Mark Two', as Sony seems to have taken naming inspiration from its Alpha range of cameras - has an impressive 4K display in a 21:9 resolution, three rear cameras that take great photographs, and a long-lasting battery that fixes one of the biggest problems with older Xperia phones.
Sure, the price is definitely on the high side, and the phone is too big for people with small hands (an issue the Xperia 5 II fixes), but if these aren't problems you'll mind, the Sony Xperia 1 II is one of the best Sony phones around.
Read our in-depth review: Sony Xperia 1 II
The Sony Xperia 10 III is a remarkably tough phone thanks to its use of Gorilla Glass 6 and IP 68/65 water resistance. Alongside that, it has a great 6-inch OLED display for the price. 21:9 aspect ratio takes a bit of getting used to but it's great for reading articles on the move.
Where things later is with its weak set of cameras. They sound promising on paper but fail to deliver. Similarly performance is a little on the weak side, but in exchange, you get good battery life for a smaller phone.
Long-lasting and water-resistance, this is a hardy phone if a little unremarkable elsewhere.
Read our in-depth review: Sony Xperia 10 III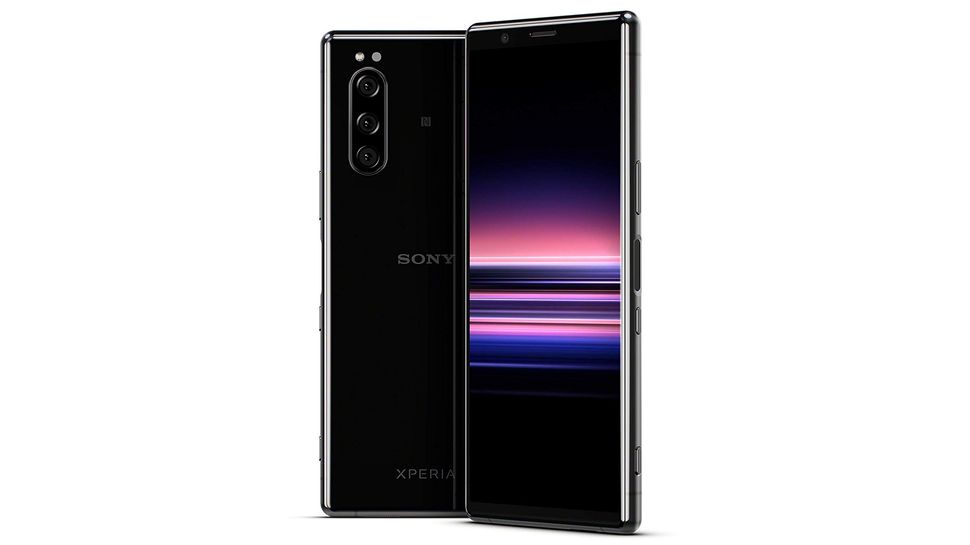 The Xperia 1 might be Sony's true 2019 flagship, but the Sony Xperia 5 is newer and arguably slightly better.
Sure, its screen is smaller and not quite as sharp, but it's actually a more manageable size for many people, and still fairly large at 6.1 inches. The loss of pixels meanwhile is unlikely to be noticed unless you have the phone pressed against your eyeballs, as at 1080 x 2520 you still get 449 pixels per inch.
And in most other ways the Sony Xperia 5 matches the Xperia 1 – it has the same 21:9 aspect ratio that makes it great for movies, the same high-end Snapdragon 855 chipset paired with 6GB of RAM, the same amount of storage, and the same triple-lens rear camera.
Plus, the battery lasts slightly longer and the price is slightly lower. So if you want a high-end Sony handset and don't fancy shelling out on a new model, then the Sony Xperia 5 is a top choice.
Read our in-depth review: Sony Xperia 5