Roll up, roll up, one and all and come see our best smartwatch deals curated for you and your bare wrist.
No longer will you be without time, smartphone notifications and a calculator on your wrist as our best smartwatch deals offer something for every price point.
But let's not drone on, here's our selection of the top smartwatch deals including Wear OS, Tizen and Apple Watch devices.
Wear OS
The platform with the widest choice of smartwatches is Google's Wear OS, with devices arriving in a range of designs, sizes and prices. Previously known as Android Wear, the platform was rebranded at the start of 2018 to reflect more and more iPhone owners are using Wear OS products.
From cheap smartwatch deals to premium smartwatch deals, there's something for everyone who wants a Wear OS watch.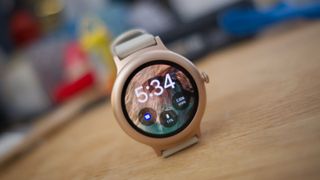 LG Watch Style
The thinnest Android Wear watch around
Thin, sophisticated look
Reasonably priced
Missing NFC and GPS
Still requires nightly charge
The LG Watch Style is undeniably a fashionable device, and in the smartwatch world it's also on the cheaper end of the scale.
It does miss out on GPS and NFC, which means for those looking for a fitness watch or a fancy way to make contactless payments are out of luck here.
However, this is the thinnest Android Wear watch around, making it suitable for more slender wrists - something of a rarity at the moment.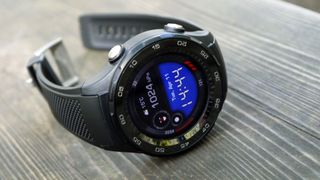 Huawei Watch 2
A feature-packed with more functions than you can shake a stick at
Built in GPS and NFC
Optional 4G variant
Screen a little small
Design not premium
If you're looking for a smartwatch packed-full of features... STOP LOOKING. The Huawei Watch 2 is stuffed full or party pieces, from GPS for tracking your runs and NFC for contactless payments, to an optional 4G variant for internet on the move and the ability to make and receive calls - it's got it all.
Sure it's not cheap, and there are better looking smartwatches on the market, but if it's features you're after the Watch 2 is a great choice.
Tag Heuer Connected
Premium and powerful, with a price to match
Premium feel and style
High-end internal specs
Expensive
Relatively low-res screen
The Tag Heuer Connected is premium in every sense of the word, from its wallet-worrying price, to its stylish design and beefy processor, which makes it the most powerful smartwatch on the market.
It looks and feels like a truly premium wearable – or even like a piece of jewelry, as the best watches should.
Huawei Watch
A near seamless blend of fashion and tech
Premium build and materials
Sharp and fully-circular screen
So-so battery life
The Huawei Watch is not perfect, with iffy battery life watering down the gorgeous presentation. But the once high price has dropped and it's a near seamless blend of fashion and tech.
It's also just received the Android Wear 2.0 update, breathing new life into a smartwatch which still very much looks the part.
LG Watch Urbane
It's beautiful and deluxe, but not for everyone
Fashionable
Passable battery life
A bit bulky
No GPS included
LG's fetching smartwatch nails the look, if the look is more bling than bland. It's rather large, so those with small wrists need not apply, and we feel that the Urbane is a bit light on features.
It has, however, been updated to Android Wear 2.0, giving it a new lease of life, and if you can nab this on a deal you won't regret it.
Asus ZenWatch 3
ZenWatch grows up with its third iteration
Gorgeous display
Excellent battery life
Lacks heart rate sensor, NFC, GPS
Proprietary straps
If you're in the market for an Android Wear smartwatch, the ZenWatch 3 has a great display, useful hardware buttons and good battery life.
It's styling might not be for everyone, and it's lacking in a few sensors, but it looks more like a premium watch than a piece of lifeless technology.
Apple Watch
First announced in September 2014, the Apple Watch now comprises of Series One watches, Series 2 and the Series 3. We refer to Series 2 and Series 3 as Apple Watch 2 and Apple Watch 3 to keep things simple.
They're available in two sizes, 38mm and 42mm, with a range of case materials and straps to choose from - and the fancier you get the steeper the price goes. Keep things simple though, and there are some small savings to be had.
Thing is, Apple products are very good at holding their price - especially the newer stuff - so the chance of some great smartwatch deals is slimmer here. Keep checking back though, as this page will automatically update when cheaper Apple Watch deals are found!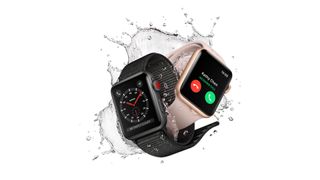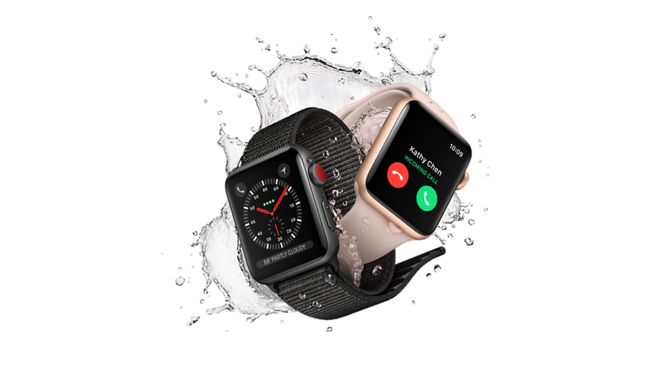 Apple Watch 3 (Series 3)
A modest - but impressive - upgrade
Altimeter
Cellular options
LTE isn't good value
Battery life needs to be longer
The regular Apple Watch 3 and Apple Watch 3 LTE delivers a really minimal upgrade, unlike the new iPhone X. The latter version essentially just adds in connectivity to its latest wearable. This basic Series 3 model though can only be called an incremental upgrade over the Apple Watch 2.
If you're not that bothered about being connected wherever you are - or don't want to pay extra for the capability - you might want to look at the older Apple Watch Series 2 deals below and save yourself some money.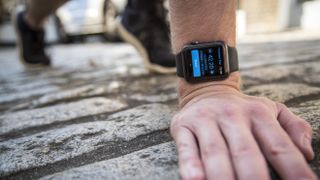 Apple Watch 2 (Series 2)
A speed boost and fitness focus
Water-resistant
GPS onboard
Expensive
Lack of useful apps
The Apple Watch 2 is water-resistant, which means it's more durable than most of the other devices on this list and you won't have to worry about getting it wet in the rain when you're out for a jog.
There's GPS onboard to make running that little bit easier plus. but be warned though, the Apple Watch 2 is expensive. If you already own an Apple Watch, the 2 may not be worth the upgrade plus there's the newer Apple Watch 3 too. It can also be difficult to find the Apple Watch 2 now Apple doesn't actively sell it.
Apple Watch Nike+
The best Apple Watch for fitness fanatics
Improved sports band
Pre-installed Nike+ app
Still expensive
If you're into your fitness and on the hunt for a smartwatch which can help you track your workouts this is the Apple Watch you want. Its sports band makes it more comfortable when you work up a sweat and the pre-installed Nike+ app means you're ready to run right out the box.
Apple Watch (Series 1)
The first iWatch is cheaper and just as convenient
Stylish design
Clever interface
Battery life is one day
Being able to check when you've got a message, or see who's calling and be able to make snap decisions, feels like the future, especially when you're exercising or in another situation where grabbing your phone isn't practical.
Samsung Gear
Samsung started its smartwatch life using Android Wear, but over the past couple of years it's moved away from Google's platform and onto its own Tizen OS offering.
Apps aren't as plentiful here compared to the Apple Watch Android Wear ranges, but the ones you do get (e.g. Spotify, MyFitnessPal, Uber) are very well integrated. They work with both Android and iOS too.
Samsung Gear Sport
A Gear S3, but in a smaller package
Sleeker design
Offline Spotify
Poor exercise tracking
Erratic GPS
This is much like the Gear S3 before it and it only sits above that watch because it's a newer device. The Sport is a fine smartwatch, but we didn't love it and if you can find the Gear S3 a touch cheaper you'll be just as happy.
It does almost precisely what its predecessor does in a slightly sleeker and more water-resistant way, but lowers the battery life somewhat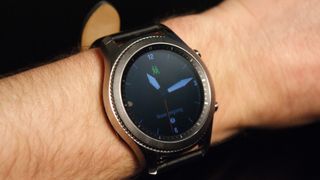 Samsung Gear S3
Samsung's latest goes big against Apple - literally
Intuitive interface
Great activity tracking
Very large on wrist
Severe lack of apps
Despite a lack of original apps, the Samsung Gear S3 is one of the best smartwatch options on the market and it works with iOS and Android. The intuitive controls and Super AMOLED screen from the Gear S2 are here, plus GPS makes its debut too.
While its look is more executive than the Gear S2, it rocks a IP68-protected build and lasts up to 3 days before needing a charge.
Samsung Gear S2
Samsung is finally a real smartwatch contender
Innovative rotating bezel
Works with Android and iOS
Too few apps
The Samsung Gear S2 felt like a real step forward in smartwatch design when it launched, with its rotating bezel and Tizen OS viewed as useful innovations. The Super AMOLED screen is also a real standout feature, it's incredibly sharp, vibrant, and fully circular.