The Apple Watch SE 2 delivers a complete Apple Watch experience for a great price, and with way longer battery life than Apple promises as a bonus. The lack of an always-on screen and more advanced health features is a shame, but for most people, what's here is a great balance.
Pros
+

Very snappy and slick

+

Extremely light and comfortable

+

Great mid-tier fitness tracking

+

New car crash detection

+

Impressive battery life
Cons
-

No always-on screen

-

No ECG built in

-

Battery life lower than Fitbits

-

Not as cheap as Apple Watch 3
Why you can trust TechRadar We spend hours testing every product or service we review, so you can be sure you're buying the best. Find out more about how we test.
Apple Watch SE 2: Two-minute review
The Apple Watch SE 2 very much seems to come from the idea that the original Apple Watch SE wasn't broke, so it didn't need fixing. Instead, Apple has just polished it, giving it an even lighter-weight body, a new processor to future-proof it, new colors, and a small price drop.
If what you want from this Apple Watch SE 2 review is to know whether it's worth upgrading from the original Apple Watch SE, the answer is no. You don't get any big new features here – the most notable is car crash detection, which is obviously desirable, but I don't think too many people will pay $250 / £250 just for that.
If you're wondering whether you should go for the Apple Watch SE 2 or the Apple Watch Series 8, that comes down to the specific features you may want, and what you're willing to pay for them. The Series 8 has an always-on screen (which I think feels like a worthwhile upgrade), plus an ECG, pulse oxygen sensor, and temperature sensor that's designed to help women manage their reproductive health. If you don't feel like you care about any of those health sensors, then the Series 8 is a lot more money for not much of a different experience.
Because the overall experience is what the Apple Watch SE 2 absolutely nails: this is a full-fat Apple Watch, with no complicated questions over what's been cut out compared to the higher-end option. The omissions are listed above. You don't get an older processor that means you have to wonder about speed, and you don't have software restrictions. The screen is a little smaller than the one on the Watch Series 8, with a slightly thicker bezel, but this is not a big deal, especially given Apple's focus on black backgrounds in watchOS.
For the last four years, I've always had whatever the latest flagship Apple Watch is, and I've used it every day. I swapped from my Apple Watch Series 7 to testing the new Apple Watch SE, and I've not felt any diminution in my experience at all, outside of the lack of always-on screen – and I'm living with that perfectly well.
While I wish Apple could fit the always-on screen in here at the price – or would help to democratize home health monitoring by including the ECG and/or pulse oxygen sensor on this cheaper model – there's no question that this is the best Apple Watch for those on a budget, and is one of the best smartwatches of any kind in terms of balancing features and price.
Apple Watch SE 2 review: Price & release date
Released September 2022
40mm version from: $249 / £259 / AU$399
44mm version from: $279 / £299 / AU$449
The Apple Watch SE 2 isn't defined by its status as the low-cost Apple Watch option – but it's not not defined by it. It starts at $249 / £259 / AU$399 for the regular model in the 40mm size, and $299 / £299 / AU$479 if you want cellular connectivity at this size (this is the version we tested).
This is a price drop of $30 in the US compared to the original Watch SE, and £10 in the UK for the regular version, or £20 for the cellular version. A price drop was important, because Apple has now discontinued the $199 Apple Watch Series 3, though obviously it doesn't make the new SE as cheap as that device was.
For comparison, the Apple Watch Series 8 starts at $399 / £419 / AU$629, so the SE 2 is a major saving. You could get a much fancier strap with that saved money…
The other useful comparison here for value, though, is the Fitbit Versa 4, which is coming out at around the same time as the Apple Watch SE 2. The Versa 4 costs $229 / £199 / AU$379 and comes with many similar features – heart rate sensor, GPS, activity tracking, bright screen, contactless payments – but fewer smarts… but it does offer six days of battery life. The Apple Watch SE 2 costs distinctly more, particularly in the UK, but not extortionately so.
Apple Watch SE 2 review: Design
Lighter than any other Apple Watch
Four aluminum color options
Slightly thicker bezel than Series 8
The shape of the Watch SE 2 will be very familiar to anyone who's ever seen an Apple Watch in the past. Coming in 40mm and 44mm sizes, this is the smallest watch in Apple's 2022 collection.
This year, it's available in three aluminum finishes: Midnight (black with a hint of blue), Starlight (silver with a gold sheen), and Silver (which is silver). We had the Midnight version for testing, and it's nice. Looking at the aluminum alone, you can easily think it's just black – but when you compare it to the genuinely black screen, the subtle hint of blue becomes apparent.
The Watch SE uses the familiar combination of the Digital Crown and power / app button on the right-hand side, and like the previous version, the power button is flush with the side of the case.
There's toughened glass with curved edges on the front (as usual, the screen is not sapphire here), and it has the crystal-covered heart rate sensor on the rear – the rest of the rear, though has been tweaked.
Using a 'nylon infused' material, Apple has made the rear of the Watch SE 2 complement the coloring of the aluminum chassis around it, making it look more unified when off the wrist. Given that it won't be off your wrist that much it's not a huge change, but it'll certainly look nicer when you take it out of the box.
More noticeably, though, there's a weight reduction as a result. The new 40mm Apple Watch SE is about 13% lighter than the previous version, and 18% lighter than the 41mm Series 8 aluminum model.
While in practice this is only a few grams, it's noticeable. I've been using the Apple Watch Series 7 aluminum, which is the exact same weight as the Series 8, for the last year, and I noticed the relative lightness of the SE 2 the moment I put it on. Between the slightly smaller size compared to the Series 8, and the lighter weight, if you want the Apple Watch that feels the least like a drag on your wrist, this is it.
The Watch SE 2 is water-resistant to 50m, which means it's fine to use in the pool or open water. Just don't go deep-sea diving (there's an Apple Watch Ultra for that).
There's a slightly larger bezel around the screen of the Apple Watch SE 2 than you get on the Series 8 (or Series 7), but whether you notice this depends largely on what kind of watch face you use. I use one with a black background, which means the bezel is effectively invisible.
A lot of watchOS is designed this way too – with black backgrounds designed to blur the line between the screen and the edge of the Watch – so while you can see the difference in the image below, where we've intentionally highlighted it with the choice of Watch face, I don't see this as any real downside having used it.
Apple Watch SE 2 review: Display
Bright at up to 1,000 nits
No always-on option
Toughened glass – not sapphire
The screen itself appears to be the same as before: an OLED display capable of up to 1,000 nits of brightness. That's the same level as the screen on the Series 8, and it makes the display nicely visible in most situations, including outdoors. Reflections can interfere, but I've not had any real issues.
However, what you don't get here is the always-on display of the Series 8. With the Watch SE 2, when you lower or turn your wrist so the watch isn't facing right towards your head, you get a totally black screen. It also returns to black after a short time even if it's still facing up.
The Apple Watch Series 8, however, has an always-on screen, which means instead of returning to black, its screen dims so that the time (or current workout stats) are still visible, but less power is used.
For most people, the Apple Watch SE 2's approach is absolutely fine. It responds reliably, and extremely quickly, when you move your wrist, which is the kind of movement it's designed to respond to.
Subtlety is not the watch's forte here, though. It requires a notable turn or movement of the arm to trigger the display. As I type this, I'm turning my wrist just a little to try to check the time, and that's not enough. Surreptitiously checking the time during a meeting is out, basically. You can also tap the screen to light it up without turning your wrist – though that will likely be noticed, if you're trying for stealth.
This also means it's harder to check your workout stats during some exercise types – i.e., anything where you might not want to move your hands. Weights, cycling, elliptical – with an always-on screen, you can glance and get information without turning your wrist, but not with the SE 2.
So while we don't consider the absence of an always-on screen to be a major flaw, it's definitely a potential downside, depending on how you want to use your watch. That said, there do seem to be some battery life upsides, which we'll come to in a bit.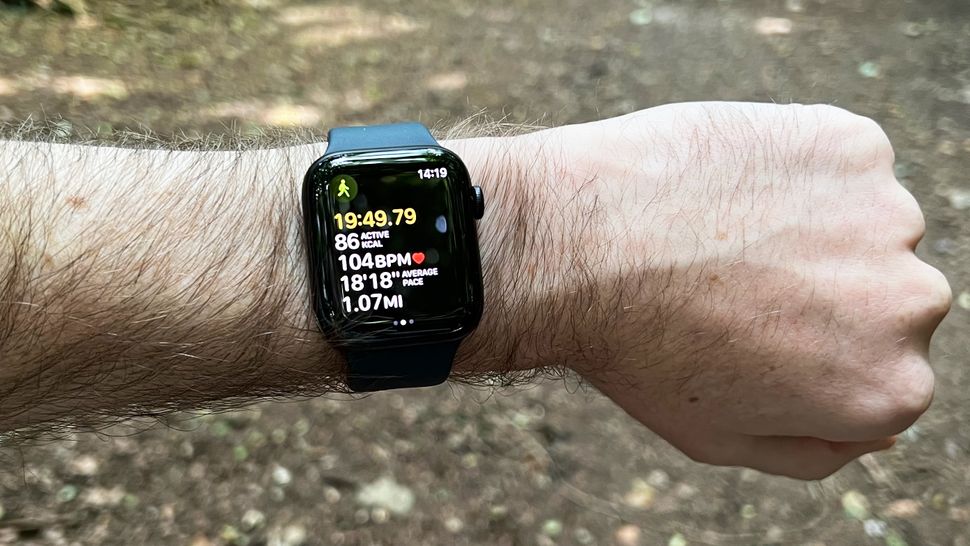 Apple Watch SE 2 review: Fitness & health
No major upgrades, apart from car crash detection
Good workout options, with more running stats in watchOS 9
No ECG or pulse oxygen sensor, but still has irregular heartbeat warning
The Apple Watch SE 2 features very few new health or fitness features compared to the original model, but that means it's still a reasonable package for these things overall – as long as you don't plan to get too hardcore.
You've got motion sensors for movement tracking and personal fall detection, GPS on all models to provide location and speed data, a pulse sensor on the inside that can track heart rate and warn of potential irregular heart rhythms, a noise sensor to warn of potential hearing damage, sleep detection, and lots of software health options.
The only major hardware difference is the addition of a new, more accurate accelerometer (the sensor that detects movement). This enables support for Apple's new Car Crash detection feature, so if you're involved in a crash, your Apple Watch will ask if you're alright, and will call the emergency services automatically if you don't respond.
In theory, this should also improve performance more generally, for activity tracking or the regular fall detection, by being more accurate. I'll tell you now that I'm not seeing any major difference from the previous Apple Watch SE, or the Apple Watch Series 7 when it comes to activity tracking. They already appeared to be suitably accurate… but now they're potentially even more so.
There's no ECG, pulse oxygen sensor or temperature sensor here – three things you get on the Apple Watch Series 8. Equivalent or cheaper smartwatches from the likes of Fitbit (specifically, on the Fitbit Versa and Sense range) support some of these features, so they're certainly not impossible to do for the price.
I get that Apple is building to a budget here, having lowered the price a little, but given what a big push the company is giving to how these features can save or improve your life, I wish the company would take the hit on its margins to at least include the ECG on the Watch SE. The current model is capable of warning you of likely irregular heart rhythms, but the more expensive watches can tell you with more certainty, which may make someone more likely to act.
Apple has improved the sleep tracking in watchOS 9, with more information about how deeply you're sleeping in an easy-to-understand graph. It's also added a medicine reminder tool, which is clever for two reasons: 1) it's great to have a specific place for this away from general reminders you may have; and 2) if you miss your medication, this info being stored in the Health app means you can see what result it may have had, such as reduced activity, altered heart rate, worse sleep and so on.
When it comes to fitness, the Watch SE 2 and watchOS 9 are still based heavily on the Workouts app for tracking activities, but you have the option of using other specialized apps (such as Strava).
The Workouts app includes options for all kinds of exercise, from yoga to running to strength training, and you can trigger a particular kind of workout either by asking Siri (say "Hey Siri, start a cycling workout", for example), or by quickly firing up the Workouts app and finding the right one – there's a long list of options, but the app will always float your most-used ones near the top.
The Apple Watch SE 2 also does some passive fitness tracking, meaning that it will detect exercise even when you haven't triggered a Workout purposely. If it thinks you're doing something that corresponds to one of its Workouts, it will pop up and ask if you want to record it. Normally, this is super-reliable on all Apple Watches, and mostly that's the case here too, though on my first walk with the SE 2, it asked if I was doing an elliptical exercise rather than a walk. I assume the GPS had just struggled to kick in or something, because I'd physically moved a quarter of a mile at that point, which would be weird on an elliptical machine. I haven't had this issue since.
New in watchOS 9 is more detailed info for some of these exercises – the addition of running stats such as power, stride length and contact time sees Apple pushing towards territory held by the best running watches, and there's now automatic switching between sport types for triathletes. Note though that this update is available for other Apple Watches, so these features aren't unique to Apple Watch SE 2.
On top of all this, you still have the three rings, of course, measuring exercise minutes, calories burned, and whether you've stood up often enough during the day. You can tweak the targets for these metrics, either to just help you maintain a minimal level of activity recommended by doctors for healthy living, or to help you hit more intense exercise goals.
As with previous Apple Watches, the heart-rate tracking is accurate enough for casual or semi-serious use – hardcore bio-measurers will still want a chest-based heart rate sensor, though.
If all this sounds familiar, that's because it is. Very little has changed when it comes to fitness here – but it's all been improved with software updates over time.
Fitness & health score: 4/5
Apple Watch SE 2 review: Battery life
Much longer than advertised – around two days in our testing
Low Power Mode can extend it even further
No fast-charging support
The Apple Watch SE 2 gave me a great surprise here – the battery life is way beyond Apple's claims, based on my experience so far. Apple says the SE 2 gives "up to 18 hours" of battery life, which is basically the company's standard claim for its watches. Apple's figures for battery life are often on the conservative side, but this is just straight up under-selling things.
During a full 24-hour period of wearing the Watch SE 2, I'm only seeing the battery drop to about 50%. Obviously this varies day-by-day, but to give you one specific day: I put it on, fully charged, at 9am; I wore it all day, including on a seven-mile walk that I tracked with the Outdoor Walk workout, so the heart-rate sensor and GPS were more active for over two hours; I wore it all night for sleep tracking; I took it off for 20 minutes to shower (but didn't charge it); and then I tracked my two-mile bike commute to the office with an Outdoor Cycle workout.
At exactly 9am the next day, 24 hours later, I had 47% of the battery remaining. In practice, this thing is just about good for two entire days of real-world use, including overnight sleep tracking. If you turn it off overnight, you could get the best part of three days of use from it.
And, to be clear, that's without touching the new Low Power Mode, which can be activated by swiping up from the bottom of the watch display and tapping the battery symbol, then flicking a switch on-screen. This deactivates some stuff the SE 2 does in the background to save battery, such as reducing how often it takes passive heart-rate readings, meaning you won't get irregular heartbeat notifications while it's active.
With Low Power Mode on, I saw a drop of 30% over a 21-hour period of lighter use (no long workouts), including sleep tracking overnight.
The only battery-related downside is that it doesn't charge as fast as the Series 7 or Series 8, which come with a higher-power charging option. Fortunately, the long battery life means that it's not such a problem – if I charge every morning while I get ready for work, it reaches 100% or near enough. It's only if you need to charge from low that it feels slow.
Apple Watch SE 2 review: Performance & watchOS 9
The SE 2 features the same 'S8' processor as the Apple Watch Series 8, and as a result it's extremely snappy and responsive. There's no question of this feeling like a cheaper Apple Watch in that sense – with the latest version of the chip in there, you know that it's comfortably future-proof, as well as doing everything as quickly as you could want. I've been using the Apple Watch Series 7 for the last year, and switching to the SE 2 for this review never once felt like a step down in terms of the software experience.
Similarly, watchOS 9 here is almost the same as you'll get on the Watch 8 or Watch Ultra, with the exception that it obviously doesn't include some of the features of those tied to hardware, such as the temperature sensing, pulse oxygen reading, or options for the Action Button on the Ultra.
One feature you miss out on compared to the other current Apple Watch models is an on-screen keyboard for typing messages. This is a shame, but it depends on how deeply you use your watch for messaging – if I'm replying to someone right from my Apple Watch, it's mostly just with an emoji anyway. If you do want to write something, you can use dictation, or handwrite on the screen.
In general, watchOS 9 continues to be the most slick and well-integrated smartwatch OS when it comes to seamlessly working with your phone (as long as your phone is an iPhone, obviously).
If you want to install apps with specific functionality on your Watch, you can – there's such a big range now, and some are great additions, such as those for downloading and using maps on your wrist while hiking.
However, if you never take even a glance at the Watch's app store, you'll still get tons of functionality from your device – you can take calls without touching your phone, you can read and reply to messages, you'll get calendar notifications, you can read emails on it… or you can do some or none of these. You can make sure your Watch only bothers you with the stuff you actually want.
The newest software version, watchOS 9, mostly adds health and fitness features compared to watchOS 8, which we've covered further up.
Beyond that, watchOS 9's most noticeable change is to the design of notifications and text, and I have to say I'm not a fan of how it appears at the moment (this review is based on testing with watchOS 9.0). Text is now smaller within buttons in some cases, and isn't always perfectly aligned within the body of a notification. It feels like a design step backwards, but I assume the alignment at least will become more consistent following software updates.
There's also a change where, if you're using your Watch and a notification comes in, it will appear at the top as a little banner notification instead of taking over the whole screen. Again, I personally prefer the old way – I'm rarely using my Watch for anything that needs too much focus, and I only have important notifications sent to my Watch, and the banner is too small and easy to miss. I can see this being a mode people would want as an option if using their Watch as a map, but I'm not keen overall.
Apple has also added some new watch face options, including a Lunar face with various language options, and a nice new Metropolitan face, which has a few customization options, my favorite of which is that you can tweak it further outside of the face editing screen. When you're just using it normally, you can turn the Digital Crown to switch between squat numbers on the dial, regular-looking numbers, or tall numbers. The first and last of those have a great '60s speedometer look to them, and it's fun to just fiddle with at moments.
Performance & watchOS score: 4.5/5
Apple Watch SE 2 review: Value
There are features missing from the Apple Watch SE 2 that you can get from rivals for a similar price or less – there's no question of that. Fitbit will give you an ECG for less; the Samsung Watch 5 will give you a lush always-on screen for only a little more.
But none of them have the same level of integration with your iPhone, or the same breadth of apps. The Apple Watch remains the slickest smartwatch experience if you want a do-anything watch – not just fitness, not just productivity, not just communication. All of the above.
And the Watch SE does 99% of what more expensive options do, just as quickly, just as smoothly. It gives you more headroom to be flexible about what you want your watch to do – or the ability to have it do very little, but to do it well.
Should you buy Apple Watch SE 2?
Swipe to scroll horizontally
Apple Watch SE 2

| Attributes | Notes | Rating |
| --- | --- | --- |
| Design | Mostly unchanged (good), but even lighter (great). | 4.5/5 |
| Display | Bright and clear, but it's a shame it isn't always-on. | 4/5 |
| Fitness & Health | Good options overall, even if missing a few sensors. | 4/5 |
| Battery life | Better than advertised – we got two days from it. | 4/5 |
| Performance & watchOS | Very fast, very slick, full of useful options. | 4.5/5 |
| Value | You can get cheaper smartwatches, but not with such flexibility. | 4.5/5 |
Buy it if…
You want the full Apple Watch experience for less
Featuring the same processor as the Apple Watch Series 8, it's not cut-back when you're using it. It feels like as powerful and useful.
You want reliable battery life
Dedicated fitness watches can deliver longer battery life, but for this kind of general smartwatch, the two-day battery life is strong.
You've got an Apple Watch Series 3 or earlier
It'll feel like a massive upgrade in every possible way.
Don't buy it if…
You don't have an iPhone
Might seem obvious, but always worth a reminder: only works with iPhone.
You're a hardcore fitness fan
Dedicated watches from the likes of Garmin will give you even more stats and longer battery life.
You have an Apple Watch Series 5 or later
It won't feel like a step up from these watches, due to the lack of always-on screen and some health sensors.
Also consider…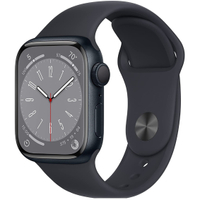 Apple Watch Series 8
Don't like the lack of always-on screen, ECG, pulse-ox sensor or temperature sensor on the SE 2? Well, this has all of those! And the option of a stainless steel body instead of aluminum.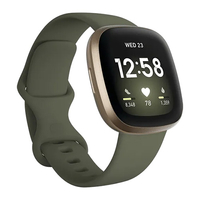 Fitbit Versa 3
You get an always-on display and great fitness features here, plus a very big battery life, but it's a much less slick smartwatch package.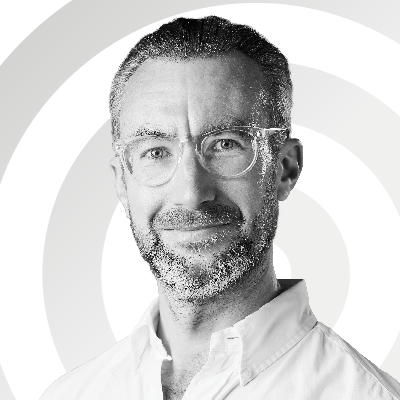 Managing Editor, Entertainment
Matt is TechRadar's Managing Editor for Entertainment, meaning he's in charge of persuading our team of writers and reviewers to watch the latest TV shows and movies on gorgeous TVs and listen to fantastic speakers and headphones. It's a tough task, as you can imagine. Matt has over a decade of experience in tech publishing, and previously ran the TV & audio coverage for our colleagues at T3.com, and before that he edited T3 magazine. During his career, he's also contributed to places as varied as Creative Bloq, PC Gamer, PetsRadar, MacLife, and Edge. TV and movie nerdism is his speciality, and he goes to the cinema three times a week. He's always happy to explain the virtues of Dolby Vision over a drink, but he might need to use props, like he's explaining the offside rule.