The best Garmin deals and sales on smartwatches and fitness trackers for November 2023
Find the best Garmin deals on everything from running watches to swim trackers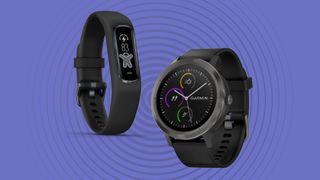 (Image credit: Future)
We've scoured the web to find the best Garmin deals for you, whether you're a runner, swimmer, golfer, or cyclist. Garmin makes a huge range of watches and GPS units, with new devices released almost every month, so there's always a great sale to be found.
Here, we've concentrated on the current range of Garmin devices, including the Fenix 6, Forerunner 945, Vivoactive 4, and Lily, but if you're willing to go back a generation or two, then you can often save even more. You won't get all the most advanced features or the best battery life, but it's worth bearing in mind that Garmin often offers free software updates for its older models, so they can still be a good long-term investment.
This Garmin round-up includes smartwatches and golf helpers, fitness trackers, and activity monitors. No matter what kind of activity you're into, these are great Garmin deals on products you'll love. The many Garmin promo codes are worth checking out, too, for specific savings. Not sure Garmin is the brand for you? Check out the latest cheap Fitbit prices and sales right here on TechRadar, or the best smartwatch deals and sales, and look forward to upcoming discounts at the 2023 Black Friday deals event.
The best Garmin deals and sales
Garmin Vivosmart 4
Good looking
Pulse Ox sensor
Superb fitness tracking
The Vivosmart 4 is a little more expensive than the outgoing 3, but to our eyes it's a lot better looking: you can opt for the standard None More Black version, but if you prefer there's a selection of nice colors to choose from. The burgundy/gold one's particularly nice.
The main difference between 4 and 3 is the addition of a Pulse Ox sensor, which monitors how your body absorbs oxygen. Garmin is clear that it's not a medical device, but it's a pretty good measure of a key part of your general health and fitness. It's a useful addition to an already very impressive fitness device.
Garmin Vivosmart 3
Super thin
Super light
Super generally
There's a lot to like about the Vivosmart 3, and now it's been superseded by the Vivosmart 4 there are some great Garmin deals to be found. It's a fitness tracker rather than a smartwatch and it comes in two wrist sizes, so make sure you order the right one. It's thin, light and fairly discreet – it's more like a thick bangle than a chunky smartwatch – and it's as happy in the water as it is on dry land. It monitors wellness as well as activity thanks to its stress monitoring, which is based on heart rate variability, and you can get notifications from your phone as well as your fitness information.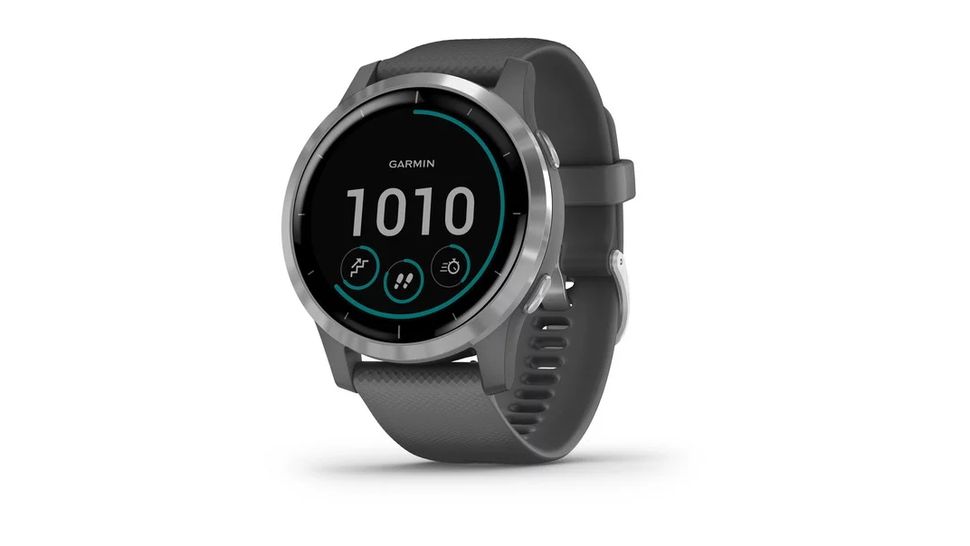 Garmin Vivoactive 4
Music as standard
Onscreen workout animations
New metrics to track
Garmin Pay
Still at launch price
The latest instalment in the Vivoactive range, the Garmin Vivoactive 4 comes in with a higher price tag than those you can currently snag on the 3 model, but a load of features to get your money's worth. Garmin have taken their music storage and playback functionality over to all their new releases this year, so you can keep your favorite playlists on your watch as standard.
You're also getting more sports apps over the previous model, as well as new metrics to track and on-screen workout animations to keep you company. The new model is more than a refresh, it kits out your Vivoactive sport watch with a massive range of new features and quality of life improvements worthy of its launch price.
Garmin Vivoactive 3
Huge flexibility
7 day battery
Personalized faces
Cheaper than ever
If you're looking for a do-everything smartwatch that won't break the bank, may we humbly suggest the Vivoactive 3? It's available in a decent range of colors (white and rose gold looks particularly good) which make a change from GPS watches' usual black, although you can have that if you prefer. There's substance to match the style: seven day battery life, 15 GPS and indoor sports apps, VO2 max estimates, phone notifications and even stress monitoring. You can also customize the display by choosing from a massive selection in the ConnectIQ Store. It's an excellent all-rounder and really good value for money.
Now that the Vivoactive 4 has been released, you're bound to find some great Garmin deals on this older model.
Garmin Vivomove HR
A smart hybrid sports watch
Looks fantastic
Real hands
Extensive tools
It's a sad indictment of the smartwatch sector when something like the Vivomove HR is strikingly beautiful compared to its rivals, but that's very much the case: it's a hybrid smartwatch with a proper watch face as well as a screen, and it looks particularly good in its non-black variants. The rose gold/grey combination and black/sand are particularly nice.
Once again there's substance to match the style: VO2 max measuring, stress tracking and the usual steps, calories, distance, heart rate and intensity recording. It does everything you'd want a smartwatch to do with the added benefit of not looking like an oversized kids' cheapie.
Garmin Vivosport
Always-on color display
GPS
Discreet
The Vivosport looks like a fitness tracker but has much the same feature set as a smartwatch, and its always-on color display means it's immediately a lot less of a pain than a certain famously expensive watch. There's seven days of tracking or eight hours with the internal GPS switched on, and like other Garmin trackers it monitors not just exercise and steps but also VO2 max and stress. You can also take it into the pool or the shower. As trackers go it's one of the better looking ones, and it's available in two sizes and a range of different color options.
Garmin Forerunner 935
One of Garmin's most sophisticated sports watches
Tons of sensors
Multisport
A little chunky
Music and map features come at a premium
The Forerunner looks a little bit Casio G-Shock for our tastes – it's not something you'll want to keep on when you change into your best suit or evening dress – but we can't argue with its capabilities: it's a superb multi-sport activity tracker whether you're a runner, a cyclist or a swimmer. It's got a barometer, an altimeter and an electronic compass as well as GPS for really accurate tracking; it provides incredibly detailed information on everything from stride length to VO2 max; it's compatible with chest straps and other external monitors and it syncs nicely with Strava Premium. It's also very light at just 49g.
While the later model below offers more features as well as music and maps as standard, you'll find some great Garmin deals on this older model for pure fitness tracking.
Garmin Forerunner 645 Music
A sports-focused smartwatch with great extras
Music!
Garmin Pay
7 day battery
The Forerunner 645 is a do-everything smartwatch: you can download up to 500 songs and play them via Bluetooth headphones, or stream from supported third-party services, and you can use it to read and reply to messages and emails.
It has Garmin Pay for contactless payments, a whole host of activity monitoring features (and support for the Running Dynamics Pod and HRM-Run/HRM-Tri monitors) and a really strong battery. You'll get seven days in smartwatch mode, or five hours in GPS mode with music playing. It's also water resistant to 5 ATM.
It's not bad looking either: it's utilitarian rather than decorative, but it works.
Garmin Forerunner 55
Garmin's entry-level running watch
Beginner-friendly
Well designed controls
Recovery time suggestions
No on-watch sleep widget
The Forerunner 55 is Garmin's latest entry-level running watch, and is perfectly suited to anyone who's starting to get serious about their workouts and looking to move on from a Fitbit to something more sophisticated.
Its design is beginner-friendly, with a clear menu system and thoughtfully designed controls. It looks very much like its predecessor, the Forerunner 45, but has some well considered extra features, such as workout suggestions to help give your training some structure, and recovery times at the end of each session so you can get enough rest before your next workout.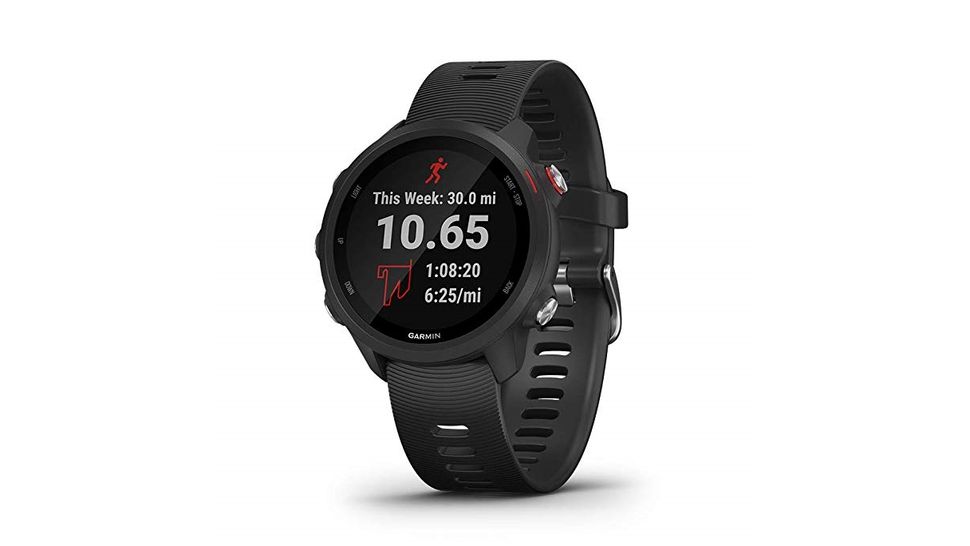 Garmin Forerunner 245
A lightweight everyday sports watch
Strong mid-range fitness tracking
Screen improvements over 235
Comfortable
New tracking features
Plastic shell
An upgrade from the favored sport-watch of many, the Forerunner 245 is the much-awaited sequel to the 235 model that performed so well at launch nearly five years ago. The new version of the lightweight, mid-range smartwatch offers comfortable everyday fitness tracking on an upgraded, larger screen. You're getting far more tracking of far more metrics, including stress, strength, and swimming, as well as a pulse oximeter, a measure of how much oxygen is in your blood often only found in higher price tag models.
This is a sport-watch designed for everyday fitness, so you won't find more intense features like multi-sport tracking. It's a fairly new release, though, so you may well find better Garmin deals on the higher range models below.
Garmin Forerunner 945
Practical, tough, and feature-packed