The Garmin Fenix 6 is one of, if not the best multi-sport smartwatch money can buy, bringing performance and adventure tracking as well as GPS-based mapping to just about every outdoor activity you can think of. However, there's a downside. It comes with a big price tag that will put most people off.
Pros
+

Cannot be beaten for outdoor tracking

+

Solid and robust design

+

Accurate activity tracking
Cons
-

Not many new features over Fenix 5 Plus

-

Very expensive

-

Not the most stylish of watches
Why you can trust TechRadar We spend hours testing every product or service we review, so you can be sure you're buying the best. Find out more about how we test.
Two-minute review
Until the launch of the Garmin Fenix 7 and Epix in early 2022, the Garmin Fenix 6 sat right at the top of the extensive tree of Garmin watches, and represented the best of everything the company had to offer.
The Fenix series have it all when it comes to outdoor fitness and adventure tracking. Stepping things up a notch, Garmin released the Fenix 6 range in August 2019, offering users a slight update in design and some welcome new features over the Fenix 5 Plus.
Key specs
Case diameter: 42mm, 47mm, or 51mm
Weight with strap: from 58g to 93g
Display type: color memory-in-pixel
GPS: yes
Sports modes: 31
Operating system: Garmin Watch OS
The sixth edition comes in what seems like a million different editions depending on what you're looking for in a watch. It starts with the standard Fenix 6 model, which is the one being reviewed in this article and for comparison's sake, has a 47mm case.
Below this is the slightly more compact Fenix 6S, which has a 42mm case and thus a slightly lower battery life. There's also a Pro version of these models available, which adds music compatibility, maps and Wi-Fi connectivity. Above that, there's the more powerful Fenix 6X, which has slightly better battery life alongside music, Wi-Fi and maps as standard.
Finally, there's a super top-spec version of the 6X called the Pro Solar and this boasts a super light all-titanium body along with solar panels around the watch face's rim that give an extra boost in battery life.
While things haven't changed that much since the Fenix 5 Plus that came before it (expect the same big, bold and, yes, quite bulky design), there is a lot to love about the latest upgrade.
From triathlon tracking to skiing, the Fenix 6's sport-specific smarts are extensive to say the least, with advanced training features that will suit everyone and anyone, from amateurs to athletes.
Garmin Fenix 6 price and release date
Out now in the UK, US and Australia
Starts at £529.99 / $599.99 / AU$949
Most expensive costs £999.99 / $1,149.99 / AU$1,549
The Garmin Fenix 6 is out now in the UK, US and Australia, but it doesn't come cheap, with a price ranging from £529.99 / $599.99 / AU$949 all the way up £999 / $1,149.99 / AU$1,549 depending on what you opt for.
However, it's worth bearing in mind that the lowest spec model is significantly cheaper (£70/$200/AU$200) than the Fenix 5 Plus was when it first landed just over a year earlier.
The prices vary based on your choice of model, color, and strap, but generally speaking the base Fenix 6 is the cheapest with the 6S and 6X being a step up in terms of price. The most expensive is the Fenix 6X Pro Solar, which offers everything the 6X does plus solar charging and a lighter body.
The differences in price vary greatly because of the sheer number of added extras available, each of which is targeted at different kinds of users.
Design and display
Slightly bigger display than Fenix 5 Plus adds space for more data
7g lighter and 1.1mm smaller than the previous equivalent model
Same robust and hard-wearing design that will last
Despite its design upgrade, the Fenix 6 doesn't look hugely different when placed side-by-side with its predecessor, the Fenix 5 Plus. This is because the updates are rather minor.
Overall, it still looks quite bulky when compared to most other smartwatches on the market, and even other Garmin ranges like the Vivoactive or Forerunner series. While there's good reason for this extra bulk (ruggedness and battery life) it's still 1.1mm slimmer than the Fenix 5 Plus model, measuring 14.7mm thick, which is down from 15.8mm.
Alright, this isn't noticeably slimmer on the wrist but it does feel slightly lighter - weighing 7g less than the previous equivalent model. This is a welcome improvement for a smartwatch known for being rather cumbersome.
The biggest design upgrade, however, can be seen on the display, which is now 17% larger, jumping from a 1.2-inch, 240 x 240 resolution display to a larger 1.3-inch, 260 x 260 offering. While that doesn't sound like much, it does mean that fitness information is displayed in a much more intuitive way than before as it can now show extra (customizable) data fields.
For instance, you can now fit eight activity measurements of your choice around the edges of the circular watch face screen instead of six, thanks to the slightly larger screen real estate. This allows you to see more of your data at a glance without having to scroll through endless menus. The resolution upgrade also means data is just that tad bit sharper, which helps a lot with this kind of display.
If you're familiar with Garmin devices, you'll know the firm doesn't achieve display brightness through a super powerful backlit AMOLED screen as seen on many other smartwatches. Instead, it uses transflective memory-in-pixel (MIP) tech which relies on external lights to illuminate when in well-lit conditions.
Then there's an LED backlight for when you're in the dark. It doesn't sound ideal, but it works really well. The Fenix 6's display simply glows in direct sunshine, with all the timings, heart rate information and elevations illuminating superbly.
In terms of overall design, the Garmin Fenix 6 is still very much the watch you only wear for the great outdoors, and definitely not something you'd really use as a lifestyle piece. It's not the most stylish bit of wristwear out there (which, for the price would be nice) but this wasn't what this series was designed for (check out Garmin's Vivoactive series for that).
Fenix was made for adventure – your companion while out in the great unknown. Tracking all you can throw at it no matter the extremities in which you do so. It's therefore built with robustness in mind, so it can withstand even the harshest of elements. The latest model is no exception and has to be the best of its kind yet.
The build quality, for instance, is just superb and for this reason, we can't imagine it ever breaking. We've had it thrown in the bottom of a bag, strapped to our wrist during hardcore weight sessions, tracking sweaty HIIT classes, hiking in the Alps, city running, the lot, and there's still not a scratch in sight.
Performance and tracking
Widgets make information more intuitive
Tweaked GPS connectivity
Upgraded heart rate sensor can now work underwater
The Garmin Fenix 6 doesn't introduce any software features that drastically set it apart from the previous year's Garmin Fenix 5 Plus, but rather a number of tweaks and adjustments which all help make the watch more intuitive than before.
One example of this is the introduction of widgets, which group data into more digestible chunks. By simply tapping the up button on the home screen, you can flick through a much more condensed line-up of essential recordings such as last activity, steps, weather, heart rate, notifications, music controls, and calendar, giving you a rundown of vital data at a glance.
It's not a huge change over what we saw on the previous Fenix series, but it does mean you're not overwhelmed by facts and figures and can find things more easily. Other refinements in this vein come in the form of power management and battery transparency so that users can better understand how long the watch will last. We'll speak more about this in the battery section, though.
As with pretty much every other Garmin device we've reviewed, on-screen operations react instantly to button presses.
Buttons are what you'll always be using to interact with the Fenix 6 as there isn't a touchscreen, and rightly so - to ensure the watch is responsive in a plethora of environments be it underwater, in the snow, or anywhere else. A touchscreen just wouldn't suit a watch built for adventure like this one.
One of the most notable improvements to multi-sport tracking is the update to its heart rate sensor. Previously, you had to purchase an additional chest strap to track your heart rate while swimming. However, Garmin has managed to tweak the sensor so it can now measure heart rate underwater, eradicating the need for the additional strap.
GPS connectivity has been given a bit of a boost, too. In our experience the Fenix 6 found GPS almost instantly after hitting the start activity tracking button, with a "GPS connected" message popping up after a few seconds. Speaking of which, you'll find the same great accuracy that we saw on the previous Fenix line-up.
We took the Fenix 6 on a hike in the Alps, just outside the village of Courmayeur. We tracked an expected 50-minute slog to a restaurant on the top of a huge hill known as Refuge Elena. At the end of the session, results came back at 44 minutes with a recorded maximum elevation of 2,063 metres, which was pretty spot on as the Refuge's information point said it stands at an altitude of 2,062 meters.
During a short city run, the Fenix 6 proved just as impressive. What we loved here was how easy it was to hit the go button and get running, without worrying if it had found GPS yet, or that it was measuring things correctly, because the Garmin Fenix 6 is so reliable.
It's nice to have this peace of mind that it's doing what it should be - something you rarely get with many other smartwatches.
All the standard run stuff is there such as distance, speed and pace, and it's super easy to tweak the stats that display on the watch during your session without having to go into the app.
Tracking cardio during a HIIT workout also proved a pleasant experience, although the same couldn't be said for the workout itself. The Fenix 6 doesn't feel too heavy or bulky on the wrists while jumping onto boxes or swinging kettlebells, and due to the placement of the buttons we weren't in much danger of accidentally changing any settings or tracking options during a heavy workout.
We even took the Fenix 6 to a yoga class with us, but it felt a little bit bulky for such an activity and we took it off moments after the class started, so that's something to bear in mind.
Great for those who consider rest time just as important as the activity itself, Garmin's Recovery tools are present on the Fenix 6, working in the same way as they did on the Fenix 5 Plus - to support rest and help prevent injury.
It does this by continuously tracking your heart and giving you an average resting heart rate (RHR) for the week. This is especially handy for spotting an irregular elevation in RHR, which would be a good sign you should probably chill out for a bit. As with the Apple Watch 4 and Apple Watch 5, there's also an abnormal heart rate activity alert - another sign you're probably overdoing it.
As with the Fenix 5 series, the same 'lifestyle' features are present on the Fenix 6, such as music storage, Spotify control support, and Garmin Pay for mobile payments.
All of these work really well - although it would be nice to see Spotify working in offline mode so we don't have to manually transfer MP3 tracks (it's not 2003, guys!). That said, Garmin claims to be currently working on this.
Battery life
Claims to last up to 48 days in battery saving mode
Lots of great software improvements so users can save battery better
Relatively fast charging
In regular smartwatch mode, Garmin claims you should get 14 days of use out of the Fenix 6 before it needs a recharge. If using GPS continuously, that plummets down to 36 hours, or 72 hours when set to max battery GPS mode.
However, you can extend this to 28 days if it's put in expedition GPS activity mode or even a whopping 48 days in the new battery saver mode. We haven't had the watch long enough yet to see how accurate these claims are, but we'll be sure to update you further down the line.
If you're going for the Fenix 6 Pro model, then you can add in up to 10 hours with GPS and Music features in use. Charging is relatively fast, too, taking less than three hours to fill the battery from completely flat.
If you want a bigger battery, Garmin says the Fenix 6X will last you 21 days in smartwatch mode, or 60 hours hours in GPS mode.
The 6X Pro Solar has the same-sized battery, but you can extend the time between charges thanks to solar panels in the watch's face. Garmin reckons that, in optimal sunlight conditions, you can add an extra three days for regular usage, or an extra six hours if you use GPS - although we're not sold on the device (more thoughts on that at the bottom of this section).
Across the board, these battery improvements are plentiful when compared to the Fenix 5 Plus. And - as mentioned earlier - these have largely been achieved via tweaks in the Fenix's software which make management much more intuitive and allow users to better understand what kind of power they have remaining. This has been changed in a number of ways.
Firstly, instead of presenting a remaining battery percent number as seen in most smartwatches on the market currently, the Fenix 6 now reflects the remaining usage in time. So, say there's 10% of the battery left, it will display this in days or hours.
This will also change in real-time, depending on how you use the watch, reducing the remaining time if you're demanding more from the battery, say if you're using GPS or listening to music.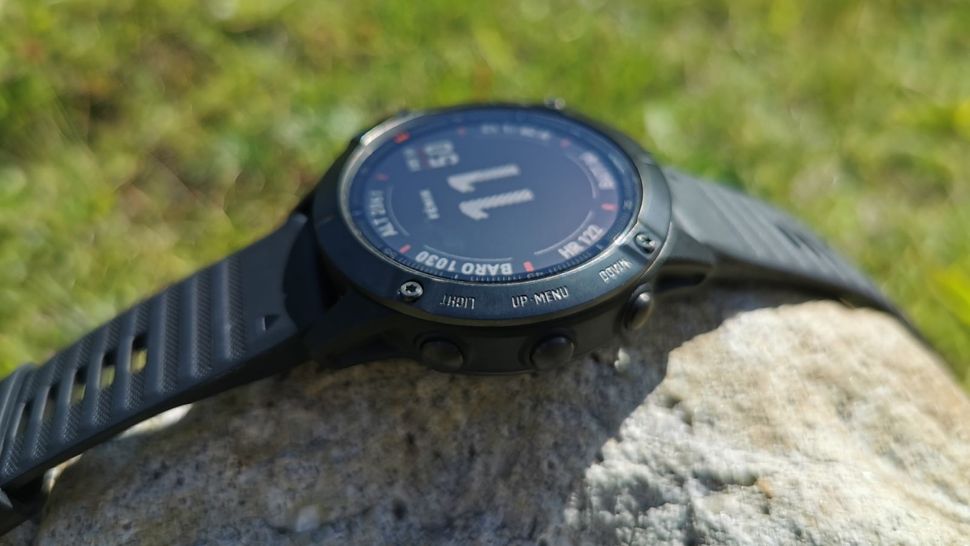 Secondly, there's now also a battery saver mode, which can be accessed by holding down the physical button in the top left-hand corner of the watch. From here you can choose to disable some of the features that are known for draining the battery life in order to prolong watch time.
Finally, the other great battery management feature comes in the form of Power Manager mode. Found deep within the settings menu, this option lets you select from a range of different Power Modes.
The best for power saving is the maximum battery mode, which will turn off most of the Fenix 6's most demanding features, such as the heart rate sensors, music, phone notifications and GPS.
And if you're planning to take it skiing with you, there's even a 'Jacket Mode', which has been created so the watch can be worn on the top of many layers of clothing, turning off heart rate tracking, music and notifications but still giving you GPS navigation, for instance.
All in all, these nifty software tweaks work really well in helping to extend the Fenix 6's life while cramming in a host of (more demanding) features.
The extra battery life you get from the 6X Pro Solar is less impressive. In our testing, it didn't even match up to Garmin's battery estimates for the regular 6X, let alone show us solar charging can extend the time between plug point visits. In seven days of usage, the watch lost 10 days' worth of charge, despite us only switching on the GPS twice, and only very briefly on each occasion.
Image 1 of 2
Its biggest flaw is that it doesn't actually tell you how much battery life you've saved through solar charging. We regularly hit the maximum level of solar intensity, displayed by a graph and icon on the watch's home screen, but have no real way of telling whether it made a difference to our battery.
Garmin's decision not to include that data in the watch is bizarre: we'd have loved to know how much extra time we'd gained, even if it was only a few hours. Without that information, spending extra for solar charging feels like a waste of money.
Verdict
The Fenix 6 is a great example of Garmin's position as one of the best smartwatch makers out there. Whatever's thrown at it, expect it to handle with ease and with great accuracy, no matter where you are and what you're doing.
It truly is a watch made for the adventurer. It might not be the prettiest out there, but this will be the last thing on the mind of those seriously considering investing in this device and looking to get the most out of it.
Obviously, the only major downside here is the price, which is bound to put most people off. If that's the only thing holding you back from purchasing a Fenix 6 right now, you may want to also consider its older counterpart, the Fenix 5 Plus, which has much of the same feature set but has come down in price since the launch of the sixth series.
It's definitely a device made more for enthusiasts, the avid adventurer or at least those super serious about multi-sports. Any other type of use would probably be an unnecessary purchase and waste of this watch's capabilities.
Who's this for?
The Fenix 6 is built for those who are really serious about their fitness and training and are likely to be using the watch on a daily basis for adventure sports and the like.
Even if you consider yourself an avid runner, this watch isn't really for you - it would simply be a waste of its extensive features. For that, look into Garmin's Forerunner series instead.
Buy it if
You're after an all-singing, all-dancing watch
The Fenix 6 has just about everything you can think of in an activity tracker; there's almost no sport you cannot track and all the tools that support this, whether it's super-fast GPS connectivity or accurate altitude measuring, are present here.
You want a serious outdoor smartwatch
If you don't mind investing in a great quality, robust piece of wristwear, and you're serious enough about your multi-sport fitness to get the most out if it, then rest assured that the Garmin Fenix 6 is one of the best that money can buy right now.
Don't buy it if
You're on a budget
While we really like the Fenix 6 and its ability to track just about every activity, it's hard to ignore that hefty price tag. Particularly when you can pick up an older and quite similar Garmin watch for a much lower price, such as the cheapest Fenix 5 Plus model.
You're really just a runner
If you mostly run, and only swim or cycle from time to time, there are more affordable watches that will serve you just as well.
Also consider
Suunto 9
With a big battery, rugged looks and a long list of multi-sport features that will give almost any other watch a run for its money, the Suunto 9 is one of the best Fenix alternatives out there. Especially with its slightly more digestible price tag.
Read our full Suunto 9 review
Garmin Fenix 5 Plus
The Garmin Fenix 5 Plus is almost as capable as the Fenix 6, sporting handy features like built-in music and contactless payments, along with fully-routable color topo maps. It's no longer the best Garmin has to offer, but it still comes close.
Read our full Garmin Fenix 5 Plus review
Garmin Forerunner 935
The Garmin Forerunner 935 is roughly the same price as the Garmin Forerunner 645 Music, but can track more activities, has a longer-lasting battery and more rugged casing. In short, unless you're desperate to have music and a more stylish-looking watch on your wrist, we'd thoroughly recommend this model, as it does almost all the 645 does and more.
Read our full Garmin Forerunner 935 review