The Samsung Galaxy A5 and Samsung Galaxy A3 give you the premium looks of the manufacturer's former flagship Samsung Galaxy S7, but with a much lower price tag. We can see why they're still so popular!
If you fancy getting hold of a smartphone with flagship looks without having to empty your wallet then you'll want to check out the best Samsung Galaxy A5 deals and top Samsung Galaxy A3 deals below. We've gathered up the cheapest prices for both phones in one handy comparison chart, with prices starting as low as just £16 per month for the budget A3.
Our Galaxy A3 deals are perfect for those wanting to stick to a tight budget, with a selection of great low-cost tariffs for you to explore. If you're working with a bit more cash you'll want our great Galaxy A5 deals, which give you a more feature-packed phone at a still affordable price.
More deals: Samsung Galaxy S8 deals | Samsung Galaxy S7 deals | Best iPhone deals | Best mobile phone deals | Cheap SIM only deals
Filter and compare Samsung Galaxy A3 and A5 deals: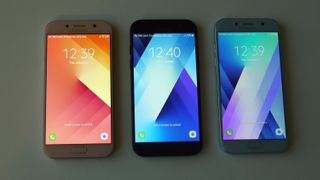 Samsung Galaxy A5 review in brief
Reliable mid-range Android from Samsung
Screen size: 5.2-inch | Display type: Super AMOLED 1080 x 1920 pixels | Main camera: 20MP | Battery: 3000mAh | Operating system: Android 7 Nougat
Brilliant battery
Delightful display
Really well designed
Ordinary processor
The new Samsung Galaxy A5 has all the looks of a flagship phone with the specs of a a mid-ranger. If you don't want to splash your cash on the likes of the Galaxy S8 or iPhone 8, then the A5 is an attractively priced option that shouldn't let you down.
Read TechRadar's full Samsung Galaxy A5 review here.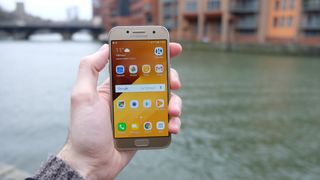 Samsung Galaxy A3 review in brief
Screen size: 4.7-inch | Display type: Super AMOLED 720 x 1080 pixels | Main camera: 13MP | Battery: 2350mAh | Operating system: Android 7 Nougat
Flagship looks
Epic battery life
Water and dust resistant
Underwhelming display
If you like the look of those expensive Samsung Galaxy phones but just can't justify the cost, then you should cast your eyes Galaxy A3-wards. Samsung has created a really solid mid-range smartphone with respectable specs for an affordable price.
Read TechRadar's full Samsung Galaxy A3 review here.