Image 1 of 4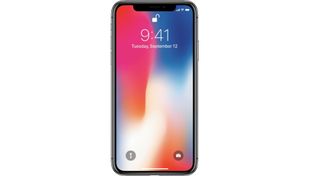 Image 2 of 4
Image 3 of 4
Image 4 of 4
3. iPhone X
The best iPhone Apple has ever made
Release date: October 2017 | Weight: 174g | Dimensions: 143.6 x 70.9 x 7.7mm | OS: iOS 11 | Screen size: 5.8-inch | Resolution: 1125x2436 | CPU: A11 Bionic | RAM: 3GB | Storage: 64/256GB | Battery: 2716mAh | Rear camera: 12MP+12MP | Front camera: 7MP
Brilliant screen
Powerful innards
Incredibly expensive
What's this? The iPhone X (although it's pronounced 'ten') is the redesigned Apple phone that iFans have been crying out for - and it's vying for a place in our top list thanks to a drastic overhaul.
It's got an all new shape, the notch at the top and higher price... but it's the best iPhone that's ever been made too (as long as you don't miss the headphone jack).
Screen: The 5.8-inch OLED screen is the best display Apple has ever crammed into an iPhone. It's far ahead of the iPhone 8 and 8 Plus for so many reasons: the sharpness, the quality, the fact that it fills the whole front of the phone, and the color reproduction.
Battery life: The iPhone X's battery life is pretty good but it's by no means best in class. If you're a very heavy user you might struggle to last more than 12 hours but for most users it'll comfortably last a whole day.
Camera: Cameras on iPhones have always been superb, and the iPhone X is no different. The camera on the X is often stunning, delivering still shots that are rich with detail. Perhaps not quite as brilliant as the Pixel 2 XL, but still right up there with the best.
Mini verdict: This is the phone to buy if you want to treat yourself to a high-end handset – a little extra per month for something you really enjoy taking out of your bag or pocket is worth it (if you can afford it). Will it still be number one next week? It'll need that lower price to hold to stay here...
Read more: iPhone X review