Australian PC Awards 2021 winners: The best of the best in PC
The ultimate in value and performance for PC systems, tech, peripherals & components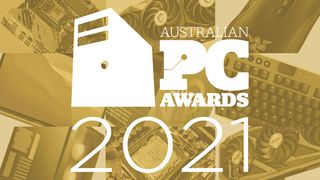 (Image credit: Future)
The last year has been a massive one for PC gaming and home computing and we can finally now get 20/20 hindsight vision for which products of 2020 and the start of 2021 were the absolute best in their field.
The Australian PC Awards are complete, with live streaming reveals airing across three nights on June 23, 24 and 25, 2021.
If you missed them on the nights, you can still tune in to the APCA 2021 episodes to see the live unveilings, some for great debate on the state of PC components... and a chance to win some excellent prizes!
The Australian PC Awards is presented by computing experts from TechRadar, APC, TechLife, PC Gamer, PC PowerPlay and T3. Representing a broad collection of computing veterans from some of Australia's best PC publications, there's no better way to get a complete snapshot of the highs and lows of personal computers in 2020/21.
Anyone here purely for the results of the 2021 Australian PC Awards, read on. Below is the final list of products that beat all the competition in their field to take out an APCA 2021 best product award.
Whether you're looking to build the best value rig around, or you simply want to tick off any components you might already have in your current build, all of the following products are the best in the business.
Motherboards
Best Motherboard Maker 2021
Best Value Motherboard 2021
Highly Commended
Best Premium Motherboard 2021
Highly Commended
Graphics Cards
Best Graphics Card Maker 2021
Highly Commended
Best Value Graphics Card 2021
Highly Commended
Highly Commended
Best Premium Graphics Card 2021
Highly Commended
CPU
Best Value CPU 2021
Highly Commended
Highly Commended
Best Premium CPU 2021
Highly Commended
Highly Commended
Storage
Best Internal Storage Maker 2021
Highly Commended
Best External Storage Maker 2021
Highly Commended
Best SOHO or Home NAS 2021
Highly Commended