The Casper mattress Black Friday sale has started, but I'm waiting for better deals
Casper early Black Friday deals are live, but I'm hoping for a bigger price drop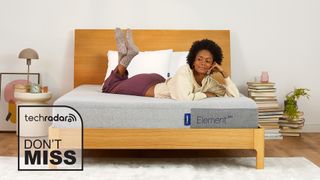 (Image credit: Casper)
Casper kicked off its Black Friday pricing early in November, with up to 25% off sitewide. 'Up to' is a key phrase here. While some items have received the coveted 25% discount, most mattresses have only a 10 or 20% saving. But don't lose hope for a Black Friday mega deal!
I'm predicting that the best Casper Black Friday deals will appear a day or two before Black Friday itself. Last year, Casper's early Black Friday deals fluctuated throughout November. Then, with Black Friday on the horizon, the biggest discounts dropped, and Casper premium mattresses saw a 25% saving. Based on the Casper mattress deals I've seen so far this year, I'm expecting Casper to repeat this strategy.
Casper is widely considered one of the best mattress brands in the US, although we weren't too impressed in our Casper Original mattress review. If you aren't convinced by the Casper deals, check out our Black Friday mattress deals hub, to find the best offers from all our favorite brands. Now, let's explore what I'm predicting from Casper this Black Friday, and why I think this will be a great opportunity to buy a Casper mattress...
I'm waiting for Black Friday because...
Black Friday is an excellent time to shop for a Casper mattress, but don't buy too soon. The early Black Friday sale has already started, but I'm expecting better deals to drop a day or two before Black Friday itself.
Casper rarely offers large discounts across the entire mattress range
Discounts aren't exactly rare at Casper, but it is unusual to see good savings across the entire range. That's really what makes the Black Friday Casper mattress sale stand-out – you can save big on everything from the mid-range Original mattress to the premium Wave Hybrid Snow mattress.
And it isn't just the mattresses getting a price drop. This is a sitewide discount, so savvy shoppers can also save on the excellent Casper bedding. Check out our Casper Down pillow review, to learn more about how highly we rate Casper sleep accessories.
I'm predicting 25% off the majority of Casper mattresses, and a 20% price drop on the cheaper models.
Casper has a bed for (almost) everyone
Casper mattresses has an option for almost every sleeper and almost every budget. I can't guarantee you'll find the perfect mattress, but most sleep styles are accounted for. The Casper Original provides a memory foam 'hug' on a mid-range budget, while the Original Hybrid offers zoned support and a responsive sleep setup. Sleep hot? The Casper Snow uses high-tech cooling technology to keep you comfortable overnight. And that's less than half the Casper mattress range!
I don't expect the deals to get worse
It might not sound like much of a selling point, but I think it's unlikely for Casper to end the Black Friday deal or reduce the discounts before Cyber Monday. If you don't mind hanging on for a few more days, you might get a better saving. At worst, you'll be getting the same deal that's available now.
You might want to buy now because...
I think waiting until Black Friday is the best way to save on your Casper mattress, but it's not a risk-free strategy.
I can't guarantee the prices won't go lower this year
While I can use past experience to predict the Casper Black Friday deal, I can't actually see the future. Casper might choose to surprise us all and drop the prices further post-Black Friday.
If you're undecided, why not try a similar mattress with an already low price? Our Cocoon by Sealy Chill mattress review found it to be a budget-friendly cooling mattress with a versatile sleep surface, and I'm confident that the current deal is the best we'll see from Sealy Chill.
Popular models might sell out
One slight risk of the wait-and-see strategy is that popular models can potentially sell out. I don't see this being a big problem at Casper, but if you have your heart set on a mattress, you might want to act now to ensure you avoid disappointment.
Casper mattresses have also been discounted in the Amazon Black Friday deals hub. However, I recommend buying directly from Casper. There are two good reasons for this. First, Casper offers better aftercare and customer service. Second, Amazon rarely has better deals. In fact, the only Casper mattress I'd recommend buying from Amazon is the Casper Sleep Element mattress. This budget mattress is only available from Amazon.
Sign up for Black Friday email alerts!
Get the hottest deals available in your inbox plus news, reviews, opinion, analysis and more from the TechRadar team.
Ruth is TechRadar's Sleep Writer. She's here to help you find the perfect sleep setup for your budget and personal preferences. As well as keeping a keen eye on everything that's going on in the world of mattresses, she regularly speaks to experts to help you learn how to improve your sleep habits, whether that's by debunking sleep myths or explaining the science behind it all. Prior to joining the TechRadar team, she wrote features and product guides for new parents hoping to get a decent night's sleep, as well as writing for.a variety of online spaces.