To put it frankly, the Huawei Mate 20 Pro really is one of the most beefed up, intelligent phones on the market right now, giving competition to the Galaxy Note 9 and the iPhone XS Max. And not to mention it is a device filled with unique features to make it stand out.
So what makes the Huawei Mate 20 Pro so good? Well this is a serious spec-sporting handset that even packs in a world first. There's a stunning camera, under-screen fingerprint reader and reverse wireless charging - all helping to sustain Huawei's attack on the flagship phone scene.
Yep, it's a bit of a stunner with a 6.39-inch OLED display sporting a QHD+ resolution and a slightly larger dewdrop notch than the Mate 20 thanks to a 3D facial scanning sensor. This is all powered by the latest 7nm Kirin 980 CPU backed by 6GB of RAM and 128GB storage.
This is a top-end price for Huawei but you can see why. So take a look at TechRadar's custom-made price comparison below to see what today's best Huawei Mate 20 Pro deals are.
See also:
Unlocked Huawei Mate 20 Pro SIM-free deals
We've included our price comparison below for unlocked SIM-free Huawei Mate 20 Pro handsets in case you want to buy one upfront, but don't expect any retailers to undercut that lofty £899 RRP too much in these first few months after release.
But if you do have the cash to spend, then a little bit of quick maths (come on we all love some maths) could help you to save over going for a contract. That's because there are always some excellent SIM only deals knocking around that you can combine with the handset. So double check what the lowest overall cost over two years could be before you settle.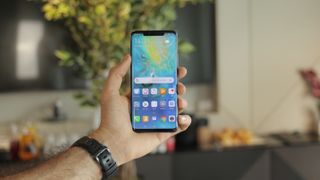 The Huawei Mate 20 Pro is a stunning handset that pushes new tech into our pockets and frankly leaves the likes of Samsung, Apple and Google still wanting for innovation.
Much like the P20 Pro, the Mate 20 Pro also offers a staggering triple sensor main camera on the rear of the phone, but now in a 2x2 grid layout and an ultra-wide sensor instead of that monochrome one, to help with zoom and close-up shots.

This also now comes with that new 7nm processor making it super fast to quickly recognise fingerprints using the in-screen sensor. But the reverse wireless charging is a really stand-out feature that lets you wirelessly charge your earbuds, for example, from your phone's huge 4,200mAh battery.
Read TechRadar's full Huawei Mate 20 Pro review