What can a broadband package include?
From TV bundles, to WiFi boosters and more, learn all about the extras you can find with today's broadband deals.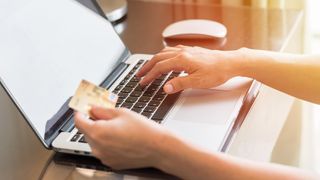 (Image credit: Shutterstock)
When you take a look through the latest and best broadband deals, you'll likely see how they can include different options. Everything from a selection of average download speeds, to varying contract lengths and extras like TV services can be thrown at you, which can also make it hard to know what to choose.
So if you are in the market for a new package, you might want to take a look through this guide first. This is because we've broken down all the different types of broadband deal you can get and have explained more about what can be included in them.
In addition to this, we've also given you some helpful advice and guidance on how to find yourself a broadband deal with some or all of the extras you really want.
What do broadband-only packages typically include?
As the description suggests, this type of package will just include broadband services and is often the basic option given by a provider.
These can of course differ quite significantly in terms of what these services include -
and more importantly in price. A simple rule of thumb is the bigger the speeds and shorter the contract, the higher the costs, although this isn't to say you can't pick up a bargain on a faster tariff.
Within a broadband-only package you'll likely see some or all the following in the description of it:
Average download speeds - how fast you can download data in 'megabits-per-second' Mbps.
Average upload speeds - how fast you'll be able upload data in Mbps.
Data allowances - how much data you can use each month, sometimes these are capped, but now tend to be unlimited.
Contract length - how long you'll be tied into your broadband deal, these are often 12, 18 or 24 months in length.
Router/Hubs - the provider might explain more about the WiFi router or hub that comes with the package.
Upfront fees - you may have to pay one-off costs when you sign up, this could be for the delivery of your new router.
Setup fees - you may also need to pay a one-off cost when you sign up to activate your broadband.
Line rental costs - broadband connections that use older phone cables (ADSL and some 'FTTC' fibre ones) may need to pay a monthly fee to maintain this line.
Speed guarantees - some providers promise your connection won't drop below a certain speed.
If you want to get some additional insights into the other terms you can encounter when browsing through different deals, check out our broadband jargon buster.
What is a broadband bundle?
Unlike a broadband-only package, with a bundle deal you can get additional services to go with it. These are usually extra TV or phone services, or both of them added on to your broadband. In some cases your broadband can also be what supports or facilitates these particular add-ons.
You may also think that including more in your package would automatically mean a higher cost, but while this can be the case, in some instances providers will in fact offer better prices or better value when compared to paying for each service in isolation.
Let's a closer look at some of these:
Broadband and TV bundle deals explained
With a broadband and TV bundle deal you'll receive your internet, plus a digital TV package. Much like your broadband, the TV options can range significantly in terms of the channels you get and the ways you can watch them.
Many broadband providers now offer such bundles, but the most popular choices in the UK tend to be Sky, BT or Virgin Media. Between these big three you can access the widest channel selections. These cover all the free-to-air ones, plus their own entertainment packages (e.g. Sky Cinema, Sky Sports and TNT Sport).
You can also choose from a great selection of TV tech. For instance, if you look at our round up of the latest Sky broadband and TV bundle deals, you'll also see the likes of Sky Q, Sky Stream and Sky Glass being offered. These allow you to stream, record, pause and catch up on your favourite shows and channels.
BT and Virgin Media also have similar services and they have been known to update their channel listings with free additional content.
Broadband and phone bundle deals explained
Whether you have an ADSL or FTTC broadband connection using old phone cables, or you have a new Full Fibre one, you can access broadband and phone bundle deals. They're just supplied and delivered differently through their respective cabling.
Again, as the name suggests, these see you get a phone service from which you can make calls, as well as your broadband. You also get different options to choose from which can include:
Pay-as-you-go - where you only pay for the calls you make.
Free calls at selected times - usually evenings and/or weekends.
Free minutes - you can get or build up free minutes each month.
International calling - the ability to call different countries.
Free local calls - the ability to call local numbers without any charges.
Free calls - essentially a free-to-use phone line whenever you need to make calls.
Broadband, TV, phone and mobile bundle deals explained
This is another bundle where you can work out from the name what can be on offer.
Sometimes known as 'quad-play' bundles because of the four services that get put together, these are quite rare these days and can only be found with a handful of providers.
What extra broadband tech is available?
Alongside the router or hub you get with your broadband, some providers also have some top tech and devices you can include to improve your broadband's performance or give you more ways of using it. A few examples are:
WiFi boosters/extenders - these can be plugged in around your property to increase the range of your broadband.
Dongles - a portable USB device you can plug into a laptop or computer to get internet access on-the-go.
Provider Apps - with these you can do things like check your account, get service updates, connect to free WiFi hotspots and receive customer support.
What broadband protection software and tools can you get?
Some broadband packages come with additional antivirus software built in as standard. This is to give you further protection for your devices against cyber threats when you're using them online.
In other cases, you can get these added in for an additional cost each month. The levels of protection can also extend to things like additional password security features, VPNs and even tech insurance to cover you against damage or theft of your devices.
What broadband discounts can you get?
Possibly one of the key questions when it comes to broadband packages, and you'll be pleased to know that providers regularly offer discounts and savings. Here are some examples of what you can find:
Monthly cost reductions - often during sales events.
Money off if you add on a particular bundle.
Affiliate promotions - special rates you can get through provider partners.
Student discounts (subject to eligibility).
Access to social tariffs (subject to eligibility).
Other broadband package boosters and bolt-ons
To build on the section above, if you look for a broadband deal when a provider is running a promotion - in particular during major sales events like Black Friday - you can often see enticing extras, package boosts and bolt-ons that can see you get more out of your chosen tariff.
These can include:
Free upgrades to faster download speeds
A selected number of months of free/discounted services
Free trials of better packages/services
Vouchers/gift cards when you sign up
Bill credit when you sign up
Free memberships for streaming services (e.g Netflix)
In some cases, broadband providers also do offers that tie in with the services or products of third-parties. Virgin Media for instance has teamed up with O2 and any new customers already using that particular mobile phone network can get access to perks like double data, free speed boost and gift vouchers.
Which broadband deal is right for me?
It's important to remember that you shouldn't just take any deal for the sake of it and instead you should look for one which gives you the best value, meets your needs and potentially gives you extras you'll really benefit from getting.
You can find out more about this in our guide on finding the best broadband provider for your needs, but some of the main considerations you should be making are:
What download speeds will cover the demands of your household.
How much you can afford to pay each month.
Whether you want to add in a TV or phone bundle.
Whether or not you'd consider upgrading your deal if there's a promotion available.
Any tech extras you might want.
If the provider is offering any sign-up incentives (e.g. vouchers).
What contract length you'd be willing to take.
How the deal you've seen compares with the rest of the market.
Where to find the best broadband deals, bundles and extras
Now you know more about what can be included in broadband packages and bundle deals - and you have an idea of what you want to get - the next thing is to find them.
One of the first places to start is with our guide to the best broadband deals. But, you can also enter your postcode into our widget below and we'll show you what offers you can find in your location.
You can also enquire about the deals that pique your interest directly with the provider. Although a lot of these stories are anecdotal, there are still plenty of instances where haggling or talking to a provider has lead to customers getting even better deals.
So it's also worth giving this a try - after all, nothing ventured, nothing gained.
Loading...
Sign up for Black Friday email alerts!
Get the hottest deals available in your inbox plus news, reviews, opinion, analysis and more from the TechRadar team.
Rich is a freelance copywriter and content strategist with over 10 years' experience. His career has seen him work in-house and in various agencies, producing online and offline content marketing campaigns and copywriting for clients in the energy industry.