Best VoIP provider of 2023
Business telecoms made simple and cost-effective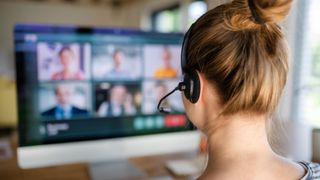 (Image credit: Getty Images)
The best VoIP providers make it simple and easy to set up an internet-based software phone system that supports both office use and remote working.
VoIP (Voice over Internet Protocol) has become an integral feature for modern business communications, and is replacing the familiar landline. The reasons are simple: VoIP is easy to set up for office, remote working, and mobile device use; VoIP can deliver on productivity integrations and analytics; and even better is that VoIP has all features of an advanced PBX phone system but at a fraction of the cost.
There's a lot to consider when choosing a VoIP service provider, and the best for one business isn't necessarily best for another. Therefore, we've picked the best VoIP services based on ease of management, useful features, and practicality as a business phone system using VoIP.
We've made recommendations based on different use-cases and different business sizes and types. Knowing what you need from your VoIP service before you set out to look is key, so you may want to read our article: How to choose a small business VoIP phone service before you proceed, or keep reading for some general advice.
Below we'll list what we think are the best VoIP providers currently available.
Jump to our expert VoIP reviews
We've also featured the best VoIP phone and best VoIP headset.
The top VoIP deals right now
---
What to consider when choosing the best VoIP service provider
Do you need VoIP provider services or VoIP hardware?
It can be easy to mix up the two when you've just started your search, but answering this question early on will help you find the best VoIP provider for your business faster.
While VoIP hardware refers to the phone handsets themselves, VoIP service providers actually deal with the establishment and routing of calls over a high-speed internet connection.
Many VoIP service providers also provide additional telephony features. Often, these features can transform a standalone business VoIP solution into a unified communications (UC) platform, with functions specifically designed for business communication.
Top VoIP service providers for business
Some of the best known VoIP service providers include Aircall, Avaya, Vonage, and RingCentral, in addition to well-known tech firms like Microsoft and Google.
These companies may list their solutions as VoIP services, VoIP business phone systems, or cloud phone systems. Ultimately, these terms all mean using a broadband internet connection to make a voice call instead of a regular (or analog) phone line.
Continues below...
What is VoIP and how does it work?
Let's start with the basics. VoIP, or Voice over Internet Protocol, is a technology that enables voice communications to be transmitted via an internet connection rather than through a traditional phone network.
VoIP works in much the same way as a conventional phone system, but it's usually much more affordable and easier to scale.
VoIP technology also comes with a suite of benefits that traditional phone systems don't. For example, it enables you to make or receive calls from virtually any device, in any location, as long as you have an internet connection. Use your smartphone, tablet, computer, or even dedicated VoIP hardware to stay in touch at all times.
Many VoIP systems also come with several advanced features, such as simple call routing, advanced on-hold messages, and multiple phone numbers.
At the higher end of the spectrum, many VoIP packages are equipped with integrated tools, such as online fax, integrated email marketing, and video conferencing.
The benefits of VoIP
These are some of the most common features offered by VoIP providers. They usually come as standard, although some will only be included in more expensive packages.
How much does VoIP cost?
The cost of a VoIP system can vary immensely. Numerous basic free solutions are available, and premium plans can range from a few dollars per year into the hundreds or even thousands per month for businesses with high-end requirements.
Most VoIP service providers offer unlimited voice and video calling, along with unlimited SMS to numbers in specified parts of the world. Subscriptions are usually offered on a per-user basis, which means that you can expect to pay more if you need support for more team members.
Some providers do offer all-in-one solutions that support a specified number of users for one price, but this payment model isn't all that common.
Expect to pay extra for advanced features, integrations with certain third-party platforms, and international calling options.
The five best VoIP phone services compared
---
The best VoIP providers of 2023 in full:
RingCentral MVP- formerly known as RingCentral Office - is a great all-rounder for businesses, regardless of industry. It's a cloud-based PBX platform that includes all the features that modern organizations have come to expect from their VoIP system: video software, collaboration tools, and even AI capabilities.
All the core features are included, such as an auto-attendant system, a company directory, call forwarding and handling, and multiple extensions. A 99.999% uptime SLA also means that businesses can have peace of mind that any disruptions to their communications network are going to be infrequent affairs.
There is also a range of pricing plans to choose from, starting with the Essentials plan for small to medium-sized businesses, and includes unlimited voice and video calling, a free local and toll-free number, and 1500 toll-free minutes but the limit of 20 users is unlikely to be enough for some firms.
Fortunately, RingCentral's plans for larger businesses are where the solution really comes into its own. The Standard plan comes with no limits on user numbers, while the Premium offering also comes with automatic call recording, real-time analytics, and integrations with popular CRM tools like Salesforce, Zendesk, and more.
For organizations that need the most advanced VoIP solutions, the Ultimate package, also comes with device status reports and unlimited storage. Whatever plan businesses plump for, the scalability of RingCentral MVP is one of its most important benefits. With APIs available in the backend, this is a VoIP solution that can be scaled and customized accordingly into a full-scale unified communications solution as well as a cloud contact center.
Read our full RingCentral MVP review.

If you're considering cloud-based communication for your employees and customers, Nextiva certainly has many points in its favor, including flexible pricing plans and a range of features to match many of its rivals.
You can make unlimited calls to any phone in the US or Canada, and its real-time presence feature also allows you to see which of your contacts is currently available, while the call queue allows you to handle calls during busy times. Video conferencing is available with all plans, and Nextiva allows you to share screens and files during your conferences. You can also use Nextiva's video function to livestream virtual events and webinars.
Other features include that voicemail messages can be delivered directly to your email inbox, and the software also gives you the ability to record your outgoing voicemail message. You can also send and receive an unlimited number of text messages, and you can send and receive unlimited faxes.
Nextiva's system has clearly been designed with usability and functionality in mind. By dividing its tools on the basis of communication, sales, and service, the company allows you to find the features you need as soon as you log in.
There are also various integrations available, such as for Outlook and Google Contacts, as well as for Salesforce, Hubspot, and Zendesk on the Professional plan.
One of the biggest selling points could lie in the option for a free trial. If you're still undecided, it might be worth signing up for the trial to see if Nextiva is the right solution for your organization.
Read our full Nextiva VoIP services review.

Software has changed the nature of telephone communications in many offices and this is particularly evident when using Dialpad. The VoIP solution is cost-effective and well-designed and is particularly suited to businesses that have workflows favorable to using softphones – software applications that are installed on internet-connected devices in order to make phone calls.
The company's VoIP offering, actually called Dialpad Talk, uses cloud calling and AI to boost employee productivity and flexibility. Members of staff can work from anywhere and use any device for their business conversations, and AI-powered voice intelligence can be used to automating note-taking and detect customer sentiments during a call.
User setup is straightforward as Dialpad comes with one central administrator portal that makes it easy to add new users, assign them phone numbers, connect them with office suites like Google Workspace and Microsoft 365, and establish their permissions. The whole process should only take a few minutes and either a desktop interface or smartphone app can be used to manage user profiles day-to-day.
While remote working has certainly become more common of late, Dialpad remains compatible with many desk-based phones, and the company has also partnered with Jabra and Poly to integrate functionality with a number of headsets.
Price-wise, Dialpad Talk is extremely competitive, and there is an option to include integration with the identity management platform Okta.
Read our full Dialpad review.

Perhaps the first thing to notice about the 8x8 eXperience Communications Platform is its price tag. For an enterprise-standard VoIP service, its base offering is very affordable, which is ideal for any organization that feels like it is currently spending too much on its communication tools.
The 8x8 Express Plan comes with unlimited video conferencing, chat, calling, and SMS messages across the US and Canada and a bespoke app to manage all your business communications. As a sweetener, the plan also comes with a one-month free trial, plus three months of Wix Unlimited so small businesses can get started with their website building plans as well.
For businesses that need more features than those on offer with the Express plan, the X Series X2 plan provides unlimited calling within 14 countries, video and audio conferencing, SMS, MMS and Teams chat functionality, and various enterprise integrations, including Google Workspace, Microsoft 365, Outlook, NetSuite, Salesforce and ZenDesk.
The X Series X4 plan, meanwhile, adds unlimited calling within 47 countries, call quality reporting, and supervisor analytics. Additional plans are designed to cater for voice-focused contact centers and multichannel associates.
It is worth noting that the 8x8 eXperience Communications Platform does not offer a bargain basement service – and higher-level plans can come at a significant cost. Aside from the great affordability provided by 8x8's more basic plans, all the company's solutions also make great collaboration tools. A universal team messaging application allows businesses to collaborate internally as well as with clients and vendors and includes extensive interoperability with third–party solutions.
Read our full 8x8 review.

With all of the VoIP solutions featured in this guide, there is a multitude of different features on offer, depending on the particular pricing plan that businesses decide to go for. What makes GoToConnect so impressive is the sheer number of features available, with the platform offering businesses more than 100 calling, collaboration, and mobile features and tools, as well as several video conferencing services.
All of the general features, including custom call routing, team-based call distribution, as well as time-based and geolocation routing, are included, and customers also have access to personal meeting rooms.
Advertising itself as a UCaaS solution, businesses don't need to install any new equipment and GoToConnect will handle all maintenance and upgrades. That being said, the company does recommend that customers have a business-standard router, an Ethernet switch capable of Quality of Service, and a firewall configured to allow access to HTTP, HTTPS, and UDP traffic on their network.
Interestingly, unlike most VoIP service providers, GoToConnect does not charge businesses more for additional features. Instead, the company's pricing plan varies based on how many employees a business has. Prices range from $29.95 per user, per month for customers with between one and four users, to as little as $19.95 per user, per month for businesses with between 50 and 99 users. All pricing plans come with access to the majority of GoToConnect's tools, and bespoke pricing plans are available for businesses with more than 100 members of staff.
Among the available features are Cloud PBX, custom hold music, call management, advanced ring strategies, and one-click screen sharing. Of course, more features do mean a greater potential for things to go wrong, but GoToConnect also offers extensive email and call support should any issues arise.
Read our full GoToConnect review.