The global pandemic has caused the biggest disruption of established working practices that many of us can remember. Many people have had to make the switch to remote working, relying heavily on web conferencing tools for communication and collaboration.
Please note
This is our all-in-one roundup looking at the Microsoft 365 Business Voice service. On this page, after our brief intro, you'll find
(a) an overview of the different plans and pricing available
(b) a detailed breakdown of the features on offer
(c) a look at the user interface
(d) a look at the support available
(e) and how it fares against the competition
You can jump to the review section that interests you most by clicking on the links in the bar at the top of this page, but bear in mind that this article is really designed to be read all the way through, as businesses will benefit from assessing the service in its entirety before deciding if it meets their needs.
One of the platforms that has benefitted more than most from this workplace transition has been Microsoft Teams (opens in new tab). Competing against Zoom, Google Meet, and a host of other video collaboration tools, Teams has regularly launched new upgrades to ensure that businesses can access all the features they need remotely.
Earlier this year, Microsoft decided to retire its Skype for Business platform in order to launch Microsoft 365 Business Voice as an add-on to Microsoft Teams. Essentially, the Redmond-based tech firm wanted to bring more of its collaboration tools under the increasingly popular Teams umbrella
If you're unsure where to begin given the sheer number of VoIP (opens in new tab) solutions and other communication tools out there today, we've got you covered. We'll tell you where Microsoft 365 Business Voice stands among the best video conferencing software (opens in new tab) in this independent review.
Plans and pricing
While a free version of Skype for Business was previously available to download via the Microsoft website, things are a little different with Microsoft 365 Business Voice. First, you'll need to purchase some standalone hardware - making sure that it is compatible with Microsoft Teams. Fortunately, Teams provides a list of certified devices on its website - with many of the major name VoIP handset (opens in new tab) manufacturers included, such as offerings from Yealink and Poly.
Of course, the fact that a limited number of handsets are supported might mean additional hardware costs. In addition, users will also have to stump up for a Microsoft 365 subscription - which again could make Microsoft 365 Business Voice more expensive than initially planned. Once these costs are out of the way, users can choose between Microsoft 365 Business Basic, which comes in at $5 per user, per month, based on an annual commitment, or Microsoft 365 Business Standard, which costs $12.50 per user, per month.
As mentioned, Skype for Business was retired on July 31st, 2021, with Microsoft users being required to make the transition to Teams. For businesses that have become very familiar with Teams over the last year or so, the inconveniences of moving away from Skype for Business is likely to be minor compared to the benefits of having closer Teams integration. In fact, for organizations that depend on a lot of Microsoft services, Microsoft 365 Business Voice is certain to be a worthwhile investment.
Features
Microsoft 365 Business Voice has been optimized for use on desktops and mobiles, with the premium version supporting meetings with up to 300 participants and featuring a variety of advanced collaboration tools. The excellent capacity for high-volume calls makes it the ideal platform for remote meetings, conferences, and webinars. Screen sharing allows for the live review and amendment of documents. There's also the option to record calls, which can then be shared and watched at team members' convenience.
As mentioned, Microsoft Business Voice 365 is fully integrated with other software in the Microsoft 365 suite. The OneNote integration allows for the seamless creation and email sharing of meeting notes. Outlook integration is another key feature, enabling the uploading of contacts and email messaging of colleagues.
Microsoft 365 Business Voice is aimed at equipping Teams users with voice capabilities through the Teams app interface, and businesses can have no complaints if that's what they are looking for. With the service only receiving a formal launch relatively recently, there are still a few teething problems. But expect Microsoft to release further updates over the coming weeks and months - particularly as remote and hybrid working (opens in new tab) appears to be here to stay.
User interface
Rating the Microsoft 365 Business Voice interface will largely depend on how comfortable individuals are with the Teams platform. Certainly, anyone that is familiar with Teams will find the Business Voice interface easy to manage. It's a professional-looking platform and represents an excellent choice for businesses looking for a user-friendly plug-and-play solution.
As mentioned, the Teams platform has undergone a number of changes over the past 12 months, but Microsoft has managed these additions gradually, releasing updates through its developer channels first (and giving plenty of warning). Your exact configuration will also depend on the exact plan that your organization has signed up for. However, however your Teams dashboard looks exactly, it should be relatively easy to get to grips with the platform.
Looking at just the desktop and web versions, Microsoft Teams comes with primary navigation section, a secondary left rail with additional navigation, and a large center window for any other interactions. It's easy to locate your prior activity, as well as previous chats, meetings, and files. The sidebar is also customizable, so you can tinker with the features until you get them exactly to your liking.
Looking specifically at Microsoft 365 Business Voice again, the user interface is incredibly intuitive. Whether you're using a desk phone or a mobile, answering calls, switching to video, or accessing any number of other features can be achieved with the simple click of a button.
Support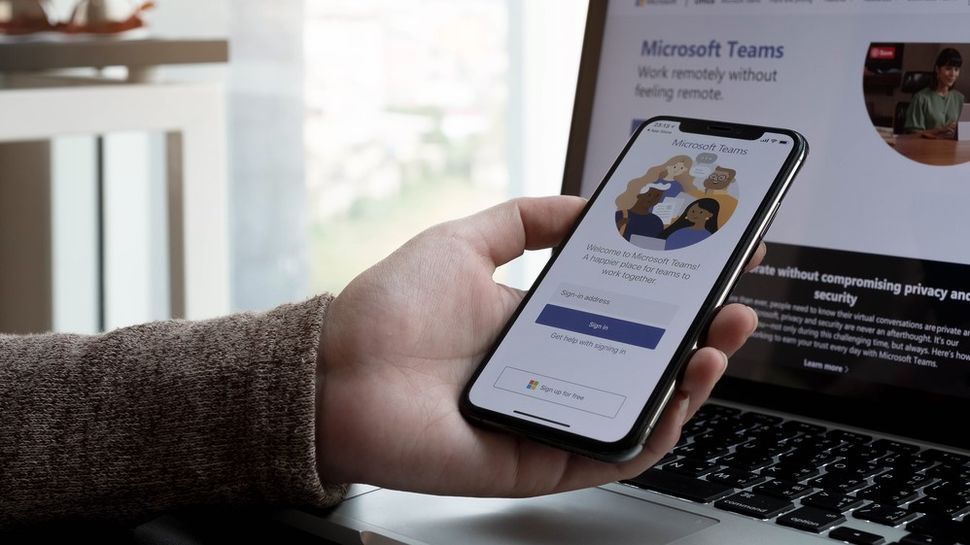 Microsoft 365 Business Voice customers are able to access guides to everything from the arrangement of calling plans to the creation of online reports via Microsoft Office Support. It's also possible to ask questions of other users or contact the support team directly.
The dedicated online support is quite responsive, with clear and direct guidance provided. However, you should be aware that there may be delays, given the number of people attempting to access online support during the pandemic.
There is a dedicated line for billing support available from 9am to 5pm through the working week. You can also phone for technical support, 24 hours a day, 7 days a week. Make sure that you have your account details to hand when calling.
Microsoft 365 Business Voice also comes with administration tools for managing users and apps, usage reporting and analytics for Microsoft 365 services, and configurable user settings and policies. That should mean that individuals can solve potential issues without having to contact Microsoft directly most of the time. Similarly, the service promises 99.9% financially backed uptime.
The competition
The recently rebranded Google Meet (opens in new tab) (formerly Google Hangouts Meet) is the most obvious rival, given its integration within Google Workspace (opens in new tab). Designed for remote team connection, this video conferencing platform has a clear interface and is very easy to use. Unlike Microsoft 365 Business Voice, however, the Google Meet enterprise tier limits the number of meeting participants to just 250 - not much less than the 300 that Microsoft allows, but it's something worth bearing in mind. One major bonus that Google Meet has going for it, however, is that the basic version is available for free to account holders.
Of course, there are plenty of other VoIP services vying for attention should businesses shouldn't limit themselves to offering from the tech giants. Those with a need for advanced functionality may decide that cloud-based communication platforms such as RingCentral Office (opens in new tab) and 8X8 Virtual Office Pro (opens in new tab) are worth a try. With integrated dial-in audio conferencing, emergency calling, and call forwarding, we recommend these platforms for business use. Ultimately, your choice may depend on the kind of integrations you'll rely on. Certainly, Microsoft Teams is a major draw for many companies - and this might just be enough for them to make Microsoft 365 Business Voice their VoIP solution of choice.
Final verdict
There's plenty to recommend the affordable and user-friendly Microsoft 365 Business Voice. While it may have been somewhat annoying for businesses that had to migrate from Skype for Business earlier this year, the transition does mean closer integration with other Teams services. How annoying that turned out to be will largely depend on the extent to which organizations were already using Teams. For businesses that were already major Microsoft fans, then this additional integration is likely to be welcomed. For businesses that predominantly rely on solutions provided by other tech firms, then Microsoft 365 Business Voice may not be that appealing. In that case, it might be worth giving the free version of Google Meet a try before making any financial commitment.