Best free video conferencing service of 2023
There are great services that will cost you nothing.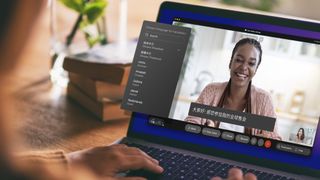 (Image credit: Cisco)
The best free video conferencing services make it simple and easy for you to attend online video meetings without having to pay.
Since the pandemic, video conferencing has become the norm for business, but it's also become far more popular for personal users. Simply put, it's so much more convenient to use, and often more engaging than simply speaking on the phone or texting.
Thanks to free video conferencing services and any of the best webcams, you can see and communicate with them in real-time from anywhere in the world. The only two requirements are a compatible device and an internet connection.
Free video conferencing services target individual and business users, and each also offers paid options to push your video conferencing to fun, new levels.
What are free video conferencing services?
Why you can trust TechRadar We spend hours testing every product or service we review, so you can be sure you're buying the best. Find out more about how we test.
With the best free video conferencing service, you can conference online with family, friends, and work colleagues without costing you or your business a dime.
Today's cloud technology makes it possible for reliable video conferencing that's both accessible and affordable. And it has gotten even better since the unexpected demand brought on by the pandemic when the only way to work was remote.
Even now, video conferencing remains a popular tool and will likely remain so as individuals and companies become more concerned about leaving a carbon footprint. Because communication technology is so good, there's less of a reason to meet face to face, eliminating costly travel.
Not surprisingly, free vs. paid video conferencing services differ, with the former offering fewer tools. And yet, even the most basic plans can allow you to communicate via video with anyone.
You might also be interested in the best VoIP iPhones and best VoIP providers.
---
The best free video conferencing services of 2023 in full
Affordable video conferencing software apps
Reasons to buy
+
Simple setup
+
Invite up to 100 people for free
Reasons to avoid
-
Limited time for meetings
Before the pandemic, you probably had never heard of Zoom. And yet when nearly the entire world locked its doors, Zoom was there to provide easy-to-use video conferencing software to the masses — and you were probably one of them. Years later, Zoom remains a popular choice for businesses and individuals alike.
With a free Zoom account, you can host up to 100 participants for unlimited meetings. Features include three editable whiteboards, team chat, and mail and calendar integration. On the downside, meetings are limited to 40 minutes each.
Zoom offers video conferencing and messaging across multiple desktop and app platforms. It's one of the easiest solutions to get started with an intuitive interview second-to-none for free services.
Read our full Zoom review.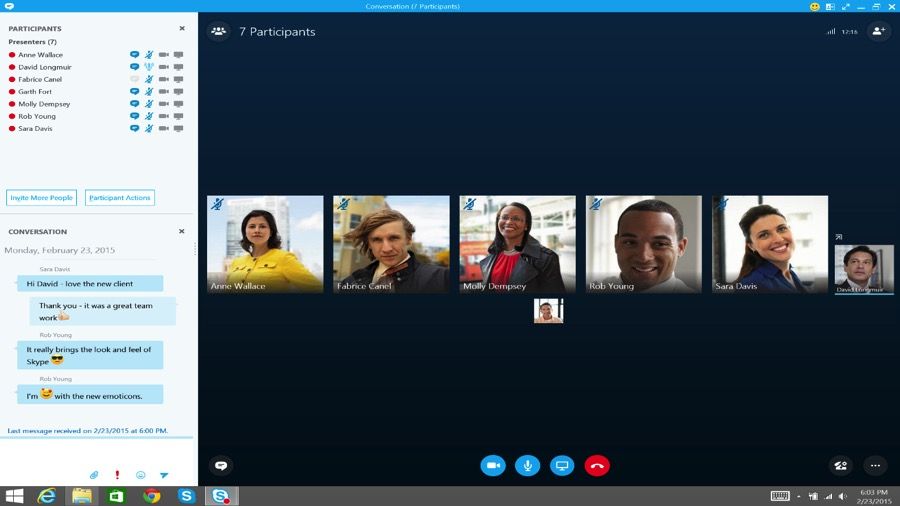 Microsoft's video conferencing app has a generous free tier
Reasons to buy
+
Cross-platform support
+
Can be used in web browser
+
Live subtitles
Reasons to avoid
-
Microsoft Meeting might be a better option
One of the earliest telecommunications apps to make a splash, Skype offers video chat and voice call services. With it, you can create conference calls, send instant messages, and exchange files and images. Live subtitles are also available. You can communicate with others via computers, smartphones, and tablets with a free plan. It's also available through Xbox, which makes sense since Microsoft has owned Skype since 2011.
Skype meetings can include up to 100 users making it a terrific solution for small-to-mid-sized companies. With group screen sharing, you can also present (Microsoft) PowerPoint slides, video recordings, and more. If you need a solution that allows for up to 250 people per meeting, consider Skype for Business, which is available for a low monthly price. Besides allowing more group attendees, the solution offers advanced Microsoft 365 integration and increased security. However, Microsoft Teams might be a better-paid option for your organization.
Read our full Skype review.

Great starting point for possible Google Workspace users
Reasons to buy
+
Easy setup
+
Upgrade quickly for extra features
+
Great way to ease into Google Workspace
Reasons to avoid
-
Limited to 60 minutes per meeting
Google Meet is a robust solution available at various price points. Its free offering will remind many of Zoom with its list of features and limitations. For example, a host with a free plan can invite up to 100 users to a meeting. However, these meetings are limited to 60 minutes. Like similar solutions, Google Meet includes screen sharing, recording, and live captions, and it's available on multiple platforms and operating systems.
For current Google customers looking for a free video-conferencing solution, Google Meet is an excellent way. For extra tools, there's Google Workspace.
In recent years, Google has increased its business offerings in the form of Google Workspace. The paid subscription service is ideally suited for businesses, education, and non-profit organizations. In addition, Google Workspace has Google Meet baked into the solution alongside Gmail, Calendar, Drive, Docs, Sheets, Slides, and more.
Read our full Google Meeting review.

Familiar free version, better paid option
Reasons to buy
+
Up to 100 participants
+
Various platforms
Reasons to avoid
-
No cloud storage with free version
-
Can be difficult to access
-
Limited to 40 minute meetings
Cisco's free WebEx video conferencing solution lets up to 100 people meet for up to 40 minutes. A free account includes interactive whiteboarding, noise removal and voice optimization, and a secure lobby so strangers can't get into the meeting. It also allows you to record meetings (for local storage) and offers limited-stage layouts for customization.
Closed captions, live polling, the ability to add one or more cohosts, and additional extras are available at this subscription level. It also adds cloud storage.
The WebEx free video conferencing solution isn't the easiest one to set up. And yet, it still comes recommended because of its basic features. The 40-minute-per-meeting limit might be hard to overcome, however.
Read our full WebEx review.

---
Excellent free video conferencing for small international meetings
Reasons to buy
+
No desktop software necessary
+
International dial-in available
Reasons to avoid
-
Maximum five participants
FreeConference offers a no-software-required solution for computer users. Instead, everything is done via any of the best web browsers. Mobile apps are available, however, allowing you to use the tool across multiple platforms.
FreeConference offers international dial-in numbers, screen sharing, an online whiteboard, meeting chat, document sharing, email support, breakout rooms, and more. Yet, surprisingly, FreeConference limits its free plan to five web participants. This restriction is a significant one, especially for businesses.
Read our full FreeConference.com review.

Intuitive webinar and video meetings
Reasons to buy
+
Easy to use
+
Up to 100 participants
Reasons to avoid
-
Some "basic" features not available on free version
Zoho Meeting offers a video conferencing solution short on advanced features but works very well at what it does. The free version limits participants to 100 for (unlimited) meetings up to 60 minutes each. You get screen sharing, meeting chat and notes, and multiple video layouts for this. In addition, the free version offers moderation, virtual backgrounds, and a collaborative whiteboard.
For as little as $1 per month, hosts can add cloud storage, meetings up to 24 hours, panel polls, remote control, meeting recording, VoIP, phone and toll-free add-ons, third-party integrations, and more.
Read our full Zoho Meeting review.
---
How we choose the best video conferencing services
There are various points to consider when looking for a free video-conferencing service. Not surprisingly, these are essentially the same points you would consider when choosing the best video conferencing software, free or otherwise.
Ultimately, the software's ease of use will go a long way in whether users will embrace it. For example, if a system proves difficult for organizers to schedule and start a meeting and for users to join, there will be immediate pushback. Likewise, a service that is characterized by interruptions or long delays is also going to be problematic.
This ease of use must extend to all platforms, which increasingly means mobile. So, for example, video conference software should work seamlessly on smartphones and any of the best tablets. Better still, the experience should be positive on these devices and wherever it's supported.
You'll need to determine the maximum number of participants likely to be invited to video conferences. In a work environment especially, this could reach the thousands. For individual use, not so much. Video conferencing software providers typically charge on a per-participant basis. However, most provide a free service (it's why you're here) that includes a limited number of concurrent users. When you go over the free limit ever-so-slightly, some companies allow it to happen as long it doesn't become a regular occurrence. For example, if the service you select includes a 10-person limit and one time you invite 12 people to join the meeting, it will be allowed.
Integration is also important. Countless third-party apps work smoothly with video conferencing software. You might already own one or two of these and would like to use them during presentations. Microsoft PowerPoint, for example, is an excellent example, as is Google Calendar. Select a free video-conferencing service that integrates with your favorite software titles. Doing so will save you a lot of time later in the process.
Screen sharing and recording are two features that make video conferencing even better. With the former, an organizer can allow any attendee to show their computer screen to the rest of the group to get the point across. Screen sharing is a great way to add interactivity to a meeting that could otherwise become boring. The latter makes it possible to keep a video copy of a meeting for later viewing either by an original participant or someone new. Having recorded sessions is a great way to avoid burnout or repetition.
When choosing a solution, you should also review the customer support offerings. Some freebie services don't offer any customer support, and if they do, it costs money. In cases where the asset is free, it might only be available through email, not phone calls. Instead of either, some companies only publish a website FAQ.
Finally, you should think about extras and whether having them could be helpful. Some video conferencing platforms, for example, now offer smart meetings that use integrated artificial intelligence. Others provide automatic note-taking so that participants can get a written meeting summary.
The following is a look at our favorite free video conferencing services and why we like and recommend them.
You might also be interested in the best VoIP providers and best on-hold messaging services.
Are you a pro? Subscribe to our newsletter
Sign up to the TechRadar Pro newsletter to get all the top news, opinion, features and guidance your business needs to succeed!
Bryan M. Wolfe is a staff writer at TechRadar, iMore, and wherever Future can use him. Though his passion is Apple-based products, he doesn't have a problem using Windows and Android. Bryan's a single father of a 15-year-old daughter and a puppy, Isabelle. Thanks for reading!