Best VoIP phones of 2023: IP handsets for small businesses
Find the best VoIP phones for your business whether your team is on-site or in their home office.
VERDICT
REASONS TO BUY
REASONS TO AVOID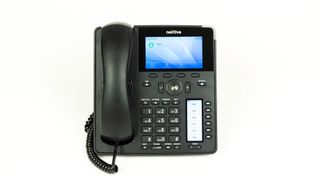 (Image credit: Devin Pickell on Unsplash)
Some of the best VoIP phones run on modern smartphone operating systems such as Android to give them advanced features – from video conferencing to multi-user calls, as well as contact and schedule management. These can also work with audio conferencing services to get the most out of your communications.
Major brands in the VoIP space include Cisco, Poly, Grandstream IP phones, Mitel, and several others such as Nextiva and RingCentral. These VoIP providers have cornered a sizeable section of the IP phone market by offering much-needed features like speed dial keys, graphical displays, Bluetooth compatibility, and much more.
These in-demand features have appealed to both business and home users, with VoIP phones being embraced by both corporate and remote work users. Outside of the office, B2C and home IP phones have becoming increasingly popular of late.
This is largely in part to the COVID-19 pandemic. Corporate organizations and small business owners have looked for new ways to maintain business continuity. Because of this, home-based workers have been quickly introduced to both VoIP and IP phones, which have each gained a renewed interest. Popular UCaaS provider Zoom, which uses VoIP technology "was downloaded 485 million times in 2020."
We've compared these VoIP phones across multiple aspects, like their audio quality, design, energy efficiency, and connectivity. We also checked their interface, ease of setup, panel display, and pricing, among other aspects.
---
The best VoIP phones of 2023 in full
Why you can trust TechRadar We spend hours testing every product or service we review, so you can be sure you're buying the best. Find out more about how we test.
The best VoIP phones all-round
Specifications
Key features:
Encrypted communications; fully programmable line keys; unified communication features
Reasons to buy
+
Ease of use and training
+
LCD display
+
Integrated gigabit ethernet switch
+
Low power consumption
+
Excellent voice quality
+
Reliable and recyclable hardware
Reasons to avoid
-
GUI could be more intuitive
-
Earlier models use black and white display
Cisco offers a wide range of hardware, software, and other telecommunications equipment but the company has recently built up a reputation for offering some of the best VoIP business phones around. The company now manufactures a portfolio of different handsets, including cloud phones, PBX phones, and unified communication phones.
Here, we've decided to shine a spotlight on Cisco's 6800, 7800, and 8800 series of VoIP phones – perfect for both the office and the home office. Each range has its own strengths and weaknesses, with the 7800 series best suited to general business VoIP communications, 8800 devices offering next-generation video and voice calling features, while the 6800 range covers more entry-level devices that are ideal for occasional use.
Cisco 6800 series VoIP phone
Looking at each device range individually, the 6800 series boasts an ergonomic design, wideband audio capabilities, and comes with a high-resolution 3.5-inch grayscale display with white backlighting for easy reading.
Cisco 7800 series VoIP phone
The 7800 range, which comes equipped with the same usability standards as the 6800 series, also offers localized language support and boasts impeccable green credentials through its power-save mode.
Cisco 8800 series VoIP phone
As a UC phone, the Cisco 8800 series is more expensive than other models but does come with a built-in Gigabit Ethernet switch for your PC connection, an optional wall-mount kit, and USB connectivity. Particular models, including the 8845 and the 8865, also come with HD video capabilities, which could be particularly sought after for businesses that foresee remote working becoming a permanent fixture of office life.
With each Cisco VoIP phone comes a range of VoIP headsets, and a competitive price tag is attached to each. Overall, the Cisco 6800, 7800, and 8800 range of devices are great all-rounders for your colleagues – whether they want a simple, easy-to-use VoIP phone or are looking for high-end UC functionality.
Read the full Cisco IP Phone 6800, 7800, 8800 series review here.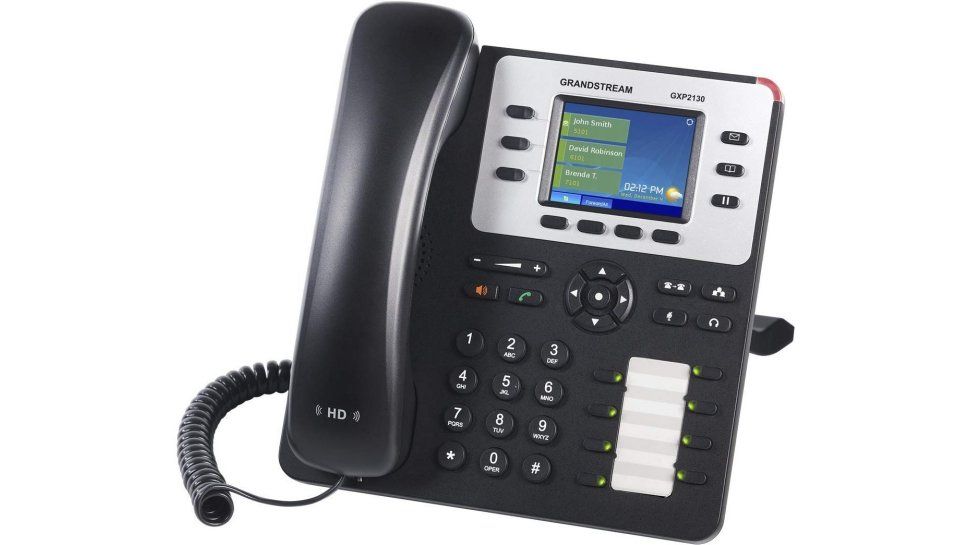 Smart multi-tasker VoIP phones with touchscreen functionality
Specifications
Key features:
Supports 3 lines, 3 SIP Accounts and 4-way voice conferencing; 8 speed dial keys; 2.8 inch LCD screen; HD audio speakerphone
Reasons to buy
+
Excellent call quality
+
Big bright LCD touchscreen
+
Conferencing functionality
Reasons to avoid
-
Reports of glitches from some users
Grandstream Networks supplies both businesses and consumers with IP voice and video communications equipment. It's GRP, GXP and GXV ranges all make excellent choices for individuals that need a top-quality VoIP handset.
The GRP range is a series of carrier-grade IP phones that are intended for mass deployment. It includes the GRP2600 series, which features a sleek new design, a reimagined user experience, and unified firmware. There are also Essential IP phones that are designed for affordable deployment, whether businesses have on-site or remote workers.
The GXP series, meanwhile, is designed for individuals that use the phone frequently and require access to more advanced features. The GXP2130 offers dedicated landline and SIP functionality, working with all the features you'd expect to come with a good VoIP phone.
GXP2130's eight speed dial keys make it quick and easy to get in touch with main contacts efficiently. The HD audio on this IP phone means that the sound should be clear both through the handset and also through the speakerphone. Four XML programmable soft keys allow for four-way voice conferencing and Bluetooth support allows you to switch between phones as required.
For added features, businesses need to look no further than the Grandstream GXV range. These devices come equipped with video functionality to deliver a multimedia experience. The addition of the Android operating system and touchscreen functionality also means that workers get the benefits of a desk phone and a tablet in one single, handy device.
Read the full Grandstream IP Phone GRP, GXP, GXV series review here.
Fantastic IP phones at great prices
Specifications
Key features:
Supports up to 12 SIP accounts on some models; Wi-Fi and Bluetooth adapter compatible; USB recording; unified firmware
Reasons to buy
+
Supports multiple VoIP accounts
+
Some models support Bluetooth and USB recording
+
Wall mountable
+
Very affordable
+
Easy setup
+
Low latency
Reasons to avoid
-
A lack of USB ports on some models
-
Display lacks adjustment options
-
Pow adapter not included with some models
Communications equipment company Yealink specializes in delivering the collaboration tools that modern businesses need in order to connect with clients and customers all over the world. It offers a range of VoIP phones at different price levels so there is likely to be a device to suit all budget ranges.
Yealink SIP T2 series VoIP phones
The entry-level offering comes via the Yealink SIP T2 range and although it may not offer some of the flashier features of a more expensive model, still comes with all the necessary additions that businesses have come to expect from VoIP phones: a built-in phone directory, HD voice, and Power over Ethernet (PoE) functionality.
The handsets may largely be accompanied by greyscale LCD interfaces but they all offer great functionality at a cost-effective price.
Yealink SIP T3 series VoIP phones
The SIP T3 range, meanwhile, promises to deliver a smoother office experience through its Smart Noise Filtering Technology and Yealink Device Management Platform.
Yealink SIP T4 series VoIP phones
All the devices in this series are easy to maintain and upgrade by virtue of the fact that they come equipped with unified firmware and a powerful CPU. The T4 range is similarly feature-rich, and also comes equipped with expansion options via Bluetooth, Wi-Fi, and USB recording features.
Yealink SIP T5 series VoIP phones
For businesses that want a VoIP phone that redefines workplace collaboration, then the SIP T5 series is a good choice. The VP59, for example, supports a dynamic, removable 1080P HD camera, an eight-inch capacitive touch screen, 27 touch keys, and uses the Android 7.1 operating system. Like all the devices manufactured by Yealink, it provides great functionality, at a cost-effective price.
Read the full Yealink SIP T2, 3, 4, 5 series review here.
Boasting an ergonomic, sleek modern VoIP phone design
Specifications
Key features:
SIP support; native IP office support; mute and mute alerting; built-in volume boost; recent call log; Ethernet cable support
Reasons to buy
+
Stylish look
+
Support for most common codecs
Reasons to avoid
-
Limited functionality for lower end devices
-
Some users have had installation difficulties
Avaya phones are well-known for their reliable, straightforward handsets – devices that can streamline the communication experience for workers whether they are based in the office or at home. The J series, which features six devices, boasts a sleek, ergonomic design and comes with a large easy-to-read screen, PoE support, and dual network ports.
Avaya J129 IP phone
The entry-level model, the J129 phone, is ideal for waiting areas, hallways, and junior members of staff. It comes with a 100-entry call log, a clear, monochrome display, and a 10/100mbps port for connecting a workstation computer. Three context-sensitive soft keys, mute alerting, and a built-in volume boost option round out the feature list.
Avaya J139 IP phone
Moving up the pay scale, the J139 comes with a bright, color display, boasts four status indicators, and is ideal for users that require only the most commonly used features including Hold, Transfer, Conference, Forward, Call Park /UnPark.
Avaya J159 IP phone
The J159, meanwhile, comes with both primary and secondary color displays, uses flexible architecture to accommodate shifting business needs, and works with Avaya Aura, Avaya IP Office, and select third-party call control platforms.
Avaya J169, J179, J189 IP phones
Three higher-end devices are also offered by Avaya in the form of the J169, J179, and J189 handsets. These add additional features like multi-language support, message waiting indicators, and LED buttons. Both the J179 and J189 handsets also come with color displays and a large range of physical and virtual buttons to ensure a premium desktop experience.
It is also worth considering that the J100 expansion module is available for owners of the J169/J179 handsets and is ideal for situations where wired Ethernet is not available, such as pop-up locations, trade shows, and remote work environments.
Read the full Avaya J Series review here.
Diverse VoIP phone options for even the most complex business environments
Specifications
Key features:
Gesture-based, multitouch-capable touchscreen; 7-inch color LCD display; screensaver; on-screen virtual keyboard; voicemail support
Reasons to buy
+
Easy installation
+
Large touchscreen
+
Simple to train staff on
+
Integrates with bluetooth and PC functions
Reasons to avoid
-
Some users have experienced issues with lag developing over time
Previously known as Polycom, Poly continues to produce audio communications equipment for both businesses and consumers, with its VoIP phones recognized as being among the best around.
The company has two primary ranges of IP phones: the V and C series of devices. While the C series is designed to support employees, whether based in a central or home office, the V series has a number of features to boost customer engagement for call center environments.
Poly CCX IP phones
CCX models allow businesses to choose between headsets or handsets, come with a color touchscreen, and offer a native Microsoft Teams experience. Award-winning audio technology also ensures that individuals should not have a problem making out information on a call, and the exclusive Audio Fence feature blocks out background noise for anyone taking calls in a busy office or noisy home environment.
Among the C series devices, the CCX 400 may be the entry-level option but still comes with a five-inch multi-touch LCD display and Android 9 powered performance. Similarly, the CCX 500 is also Microsoft Teams-certified but comes with its own dedicated button to make it easier to find meetings and contacts. The CCX 600 boasts all this, plus an echo-cancellation solution and the option of installing the phone anywhere thanks to integrated Wi-Fi.
Poly VVX IP phones
The VVX models, meanwhile, range from cheaper devices with greyscale screens to more luxury higher-end alternatives. In particular, the VVX 500 has received praise for its functionality as a hosted phone, working well with any number of highly-rated VoIP providers.
Read the full Poly V, C Series review here.
Best VoIP phones for larger organizations
Specifications
Key features:
USB support; Bluetooth compatibility; high resolution display; password-protected web interface; wall mountable
Reasons to buy
+
Impressive screen quality
+
Lightweight compared to competitor models
+
Hearing-aid compatible
+
Low power consumption
+
Clean design
Reasons to avoid
-
Sound quality lacking on cheaper models
Headquartered in Berlin, Snom has been making VoIP phones since 1999. The company has a broad range of handsets on offer and is particularly keen to appeal to organizations that require a large installation of phones, such as hotels, health care firms, or major-scale corporations.
Snom D120 VoIP phone
The combination of its low purchase price and high levels of energy efficiency make the D120 model, in particular, well suited to companies with a sizeable number of employees that need to remain connected.
Although there have been a few complaints regarding the sound quality of the D120, the device has largely been praised for its straightforward design, its clear display, and the inclusion of several special function keys, including call holding and fast access to a corporate directory. The inclusion of a backlit display for the D120 is also unique among VoIP phones in this price range.
Snom D3XX VoIP phones
For businesses that need a greater range of features, Snom's D3XX family of devices delivers proven quality, whether companies use on-premise or hosted PBX VoIP solutions. The D385 model provides the ideal combination of elegant design and cutting-edge technology, boasting a 4.3-inch TFT color display.
The screen also allows users to create up to 48 multicolored LED function keys, each of which can be individually assigned to features like speed-dialing, call-forwarding, and many other functions.
Snom D7XX VoIP phones
The D7XX series is Snom's most advanced range of VoIP phones and is led by the D785, which features an integrated Digital Signal Processor, a second screen, and Bluetooth connectivity. The Snom D7 Colour Expansion Module also allows firms to add 16 physical (and 48 virtual) freely programmable LED keys for added functionality.
Read the full Snom D1, 3 & 7 Series review here.
Excellent VoIP phones for businesses that need top audio quality
Specifications
Key features:
programmable call management; hearing aid compatible; Bluetooth support; multiple Ethernet ports
Reasons to buy
+
Fantastic audio quality
+
Bluetooth connectivity
+
Wireless handsets
+
Integration between mobile and work phones
Reasons to avoid
-
Some complaints over downtime
Mitel is one of the most respected companies in the communications space and the quality of its IP or VoIP phones is one of the reasons why. In particular, its devices are renowned for their excellent audio quality - something that is increasingly important for all industries given the amount of remote working taking place.
Mitel MiVoice 5304 VoIP phone
At the lower end of the price range, Mitel offers the MiVoice 5304 IP Phone as an entry-level device that supports both SIP and MiNet protocols. Its compact design means that it is particularly well suited to being deployed in environments where a small footprint is required, including cruise ship cabins, hotel guest room phones, university dorms, or classrooms.
Mitel MiVoice 5360 VoIP phone
Moving up the price scale, the MiVoice 5360 is an executive-class desktop handset that comes with one-touch access to several phone features and a built-in HTML toolkit for desktop applications development. The MiVoice 6910, meanwhile, offers dual Gigabit Ethernet ports and a large 3.4-inch LCD display that makes it ideal for businesses of all sizes.
Mitel MiVoice 6940 VoIP phone
One of the flagship devices offered by Mitel is the MiVoice 6940. With its Bluetooth 4.1 connectivity and wireless handset, employees can benefit from added mobility that means they can take calls in any part of the home or office.
Even more impressive, is that the MiVoice 6940 comes with MobileLink functionality, which means that smartphone calls and contacts can be synced with the desk phone. Members of staff never need worry about switching between multiple devices again, as they can enjoy the crystal clear audio of the 6940 when taking calls using any of their contact numbers.
Read the full Mitel MiVoice series review here.
---
What is a VoIP phone?
Voice over Internet Protocol, or VoIP, is a technology that allows phone calls to take place over the internet. IP phones, also known as VoIP phones, come in a number of varieties, depending on an organization's particular needs.
Among a broad spectrum of VoIP office phones, there are both corded and cordless varieties for businesses to choose from, for extra mobility during calls. There are also VoIP phones that are specifically designed for conference calls, have speakerphone functionality, some that offer video calling, and others that work best in call centers.
In this buying guide, we'll be taking a look at the hardware behind the best VoIP phones on the market for your small business. Although VoIP services play an important role in the quality of a company's phone networks, the hardware underpinning a VoIP business phone system determines the kind of functionality that will be available.
How to choose the best VoIP phones for you?
When choosing the best VoIP phones for your business, begin with assessing how easy it is to set up and use. You'll then want to check what type of display it has, how much power it consumes, the voice quality, video calling features, and Ethernet cable support.
Consider the quality of the device's hardware, latency, recording capabilities, and support for multiple VoIP accounts. Not all models come with power adapters, so you'll want to look out for that too.
Lastly, consider how easy it is to train your staff on the VoIP phone, whether there's wireless handset support, and the pricing.
How does a VoIP phone work?
VoIP phones work by converting analogue voice signals into audio data packets. The data packets are delivered via broadband rather than by traditional PSTN and ISDN telephone networks, means that VoIP services are usually cheaper and more scalable than traditional Private Branch Exchange (PBX) phone networks and offer advanced telephony features.
What is the difference between VoIP and IP telephony?
Although often used interchangeably, IP phones and VoIP phone systems have a subtle difference: VoIP phones use the public Internet to carry voice traffic while an IP phone uses a private data network for outbound calls.
Regardless of the intricacies of the particular system you chose, both VoIP and IP phones offer a number of advantages over traditional phone lines.
Can I use my smartphone or a normal landline phone for VoIP or do I need to buy a special phone for VoIP?
One of the major benefits of VoIP telephony is its flexibility and this extends to the type of handsets that are compatible with VoIP solutions. The short answer to whether a smartphone or normal landline phone can be used for VoIP solutions is yes. However, there may be some tricky configuration involved and a few features may not necessarily be available.
If businesses or individuals want to use VoIP services with their normal landline, they will first need to purchase some sort of adapter to connect their phone to the internet. Usually, this connects your phone to your wireless router using an Ethernet cable. Users will then need to enter the IP address of their VoIP adapter using another internet-connected device, following the instructions that came with the adapter. Once the configuration is complete, individuals can use their ordinary analog phone to make and receive calls over the internet.
Thankfully, things are even easier when it comes to using a smartphone to access VoIP solutions. As smartphones already have the capability of connecting to the internet, using VoIP services is usually pretty straightforward. In fact, there are several VoIP providers that are specifically targeting the smartphone market, looking to take advantage of businesses adopting bring-you-own-device (BYOD) policies.
With a call routing feature in place, employees can continue using their personal smartphone while it will appear to callers and recipients as though they are using their work number or extension. Employees using VoIP services on their smartphone can use the company Wi-Fi instantly to gain access to the usual VoIP platform but can easily switch off VoIP functionality outside of contract hours to ensure they maintain a good work-life balance.
However, although it is possible to use an ordinary landline or smartphone to access VoIP solutions, that does not mean that businesses and employees will be able to receive an optimum service. The kinds of handsets reviewed above are specifically designed to work with VoIP solutions and have particular hardware features that make them well suited to some of the modern innovations that are generally included with VoIP platforms.
Although standard landline and mobile devices will work with most VoIP services, they may mean that you are overpaying for a VoIP solution if you cannot access all of its features.
How hard is it to use a VoIP phone?
For individuals new to the world of VoIP, there's no need to be intimidated. The good news is that the task that you'll be using the device for most often — making and receiving calls — is no more complicated than with an analog landline handset or smartphone.
The only aspect of most VoIP phones that may be difficult is the installation process, but the best VoIP service providers will help with this. Office VoIP users will need to make sure that they have a working internet connection, a router, and a PBX server before they get started on their VoIP journey. You'll also need to select your IP phone, connect it to your network, and install your VoIP software.
Once your VoIP phone is all set up, how easy or hard it is to use will depend heavily on the types of features on offer. Modern VoIP phones come with a wide variety of features and a sizeable number of buttons - both physical and digital. It's a good idea for new VoIP users to familiarize themselves with the instructions that come with their device before getting started.
That being said, most IP phones pride themselves on their ease of use, so individuals shouldn't find using any VoIP phone particularly difficult. What's more, customer support should be able to offer assistance if any is required.
The best VoIP phones: How we test
We tested the best VoIP phones across various factors, from their display quality and power consumption to their connectivity and hardware durability.
We assessed their ease of setup, interface, audio and microphone quality, video calling features, and connectivity options (like Bluetooth, USB, and Ethernet).
If they had recording capabilities, we made sure to test and mention it. We examined their latency, wireless performance, panel display type, and pricing, among many other things.
Are you a pro? Subscribe to our newsletter
Sign up to the TechRadar Pro newsletter to get all the top news, opinion, features and guidance your business needs to succeed!
Barclay has been writing about technology for a decade, starting out as a freelancer with ITProPortal covering everything from London's start-up scene to comparisons of the best cloud storage services. After that, he spent some time as the managing editor of an online outlet focusing on cloud computing, furthering his interest in virtualization, Big Data, and the Internet of Things.