RingCentral MVP is a strong solution for organizing all your business communications, from voice calls to team chat. Though not the cheapest option, it has a wide range of software integration and strong security.
Pros
+

Easy app for all communications

+

Wide range of software integration

+

Advanced AI functionality

+

Impressive security processes
Cons
-

Limited basic plan

-

Not the cheapest option

-

Support varies by plan
Why you can trust TechRadar We spend hours testing every product or service we review, so you can be sure you're buying the best. Find out more about how we test.
As modern businesses are increasingly relying on the Internet for most communications, many companies like RingCentral have started to offer all-in-one web-based communications packages, taking in Voice over Internet Protocol (VoIP) technology - that is, calls made over the internet rather than traditional phone lines. But with so many providers available, it can be difficult to choose the best VoIP service for your business.
RingCentral offers one of the market leading products here: RingCentral MVP, which was formerly known as RingCentral Office. While it may not be covered in this review, the company's aptly named video conferencing suite - Video - is also highly acclaimed.
In our RingCentral MVP review, we look at the popular provider and assess its pricing, features, interface, support, and security to see how it fares against the competition. Read next: Nextiva vs RingCentral VoIP review.
RingCentral MVP: Plans and pricing
There are four main pricing options to suit varying sizes of businesses.
The cheapest is the Essentials package, which costs $29.99 per user per month. This includes one dedicated phone number per user, which can be used via the included mobile app or on separately purchased hardware, with 100 toll-free minutes. The plan allows unlimited calls to the US and Canada, unlimited SMS messages, and team messaging. However, there is a maximum of 20 users allowed on this plan.
For businesses with more than 20 employees, the most affordable option is the Standard plan, at $37.99 per user per month. This has no user limit and includes 1,000 toll-free minutes. There's unlimited audio conferencing, video conferences with up to 100 participants, internet-based fax, and integrations with various apps, such as Microsoft 365, G Suite, and Slack. It also gets access to 24/7 support, which can be critical for companies seeking to deploy customized collaboration and productivity tools.
The next plan up is Premium, which costs $44.99 per user per month. This includes 2,500 toll-free minutes, video conferences with up to 200 participants, advanced analytics, call handling options like whisper and barge, and a developer platform. A greater range of integrations is also possible, including Salesforce, Zendesk, and industry-specific applications like Canvas and Smarsh. Premium may make a little more sense to companies with an extensive network of online tools thanks to single sign-on (SSO) support, as long as this tier's additional benefits help to justify its higher price tag.
Finally, there's the Ultimate Plan for $59.99 per user per month, which includes everything in the Premium plan and 10,000 toll-free minutes, device status monitoring, and unlimited storage.
Prices can begin to look pretty steep compared with other VoIP platforms on the market, however there can be several benefits to choosing a well-known company whose specialty it is to serve up communication tools. Additionally, customers can currently save between 17% and 33% - depending on the plan - for annual commitments, and larger organizations with more than 100 employees will get access to even lower prices again.
For most small and medium businesses, the Essentials package may be a little too basic, so the Standard and Premium options will be the ideal choices. You can try out RingCentral with a 15-day free trial. While it's limited to a maximum of five users, this should be enough for an internal IT department to figure out whether RingCentral MVP is suitable.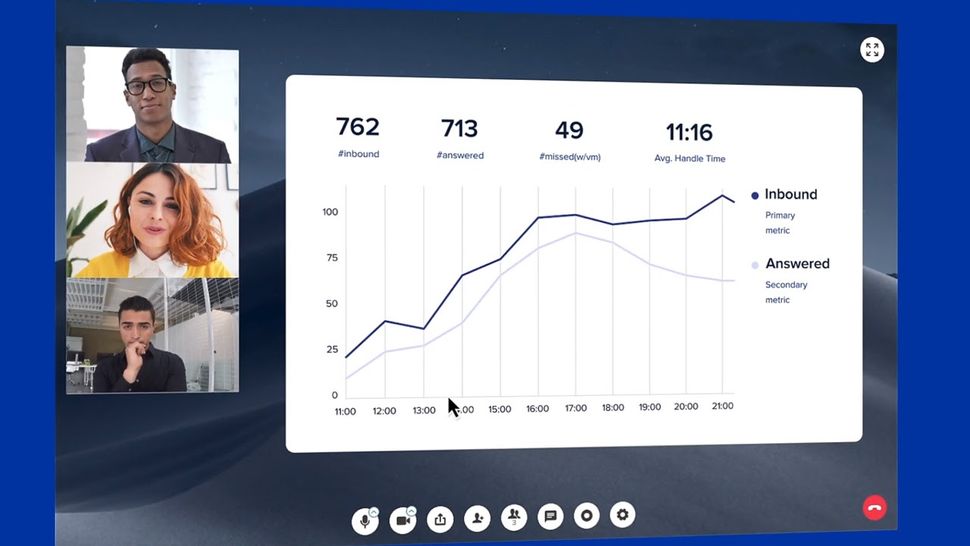 RingCentral MVP: Features
A separate app that comes integrated with RingCentral MVP, Glip is a way for teams to connect and work collaboratively. Text messaging and video meetings are collected in one platform, which can be accessed via mobile app or desktop, and it's possible to create dedicated threads for projects and topics.
RingCentral accounts for the fact that meetings are increasingly being held over video rather than in person. From the Standard plan up, it's possible to hold video meetings for teams or conferences of up to 100 people (200 in the Premium and Ultimate plans). The video is in HD, and meetings are password-protected for security.
RingCentral has started building AI capabilities into its platform using technology developed by a start-up called XSELL. By using machine learning, this technology monitors sales agents' discussions with customers, both over text chat and calls, and can recommend strategies. It can also monitor employee performance to help management identify and reward employees following best practices. While this may seem a little bit Big Brother - and indeed a recent Dutch court hearing (xxx) found that monitoring staff using webcams and screen sharing tools is "disproportionate" and ultimately wrong - using computing methods like AI and ML is a much more sensitive and often anonymous way of collecting data.
For RingCentral Video users specifically, further artificial intelligence improvements were rolled out in September 2022 including improvements to live transcription, noise reduction, and automatic video summaries that are designed to provide a quick overview in the form of a reel.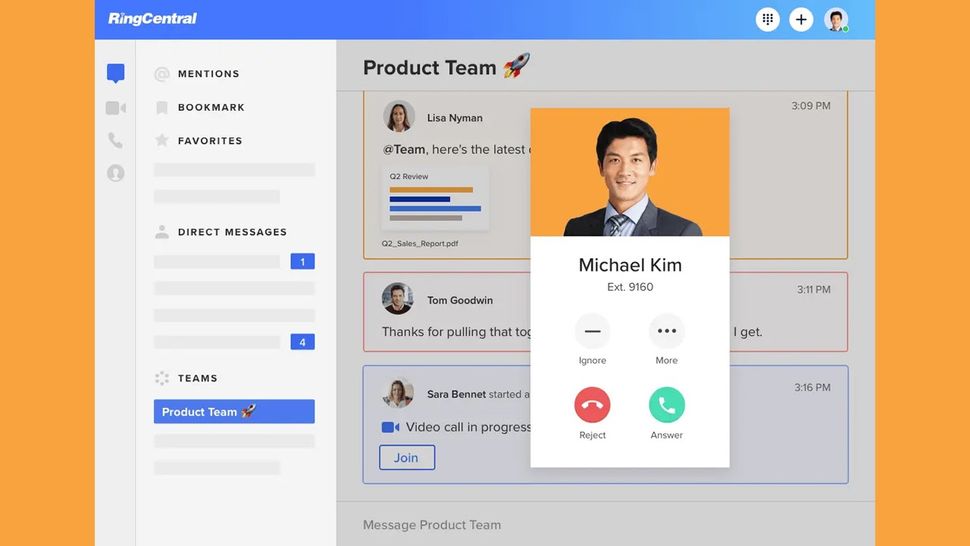 RingCentral MVP: Interface and in use
It's quite easy to set up your company on RingCentral. In a few basic steps, you select a phone number to use with the account, set how many users you want, and then put in your personal and payment details. After that, you can use the main dashboard to go further into the specifics.
The main interface from a user perspective is the RingCentral app, which works on both mobile and desktop devices, and access is also available from a web browser. The app is simple and easy to navigate and has all the needed functions. Phone calls and text messaging are both accessed from this interface, and RingCentral Video is also integrated, so conference calls can be joined from here. For users transitioning from more widely adopted video conferencing and collaboration tools like Teams, RingCentral should feel fairly familiar.
RingCentral MVP: Support
The RingCentral website hosts a knowledge base and a community forum on which you can find solutions to a large number of problems. There's also a live chat option, though this is an AI that directs you to relevant posts in the knowledge base, so it's not much more than a search engine.
If you have a problem that you need to get in touch with tech support about, your options are calling them or raising a support case online. If you're on the Standard plan or above, the phone lines are available 24/7. The online ticket system takes a bit longer to get through, but the responses are generally useful provided you shared as much detailed information as possible.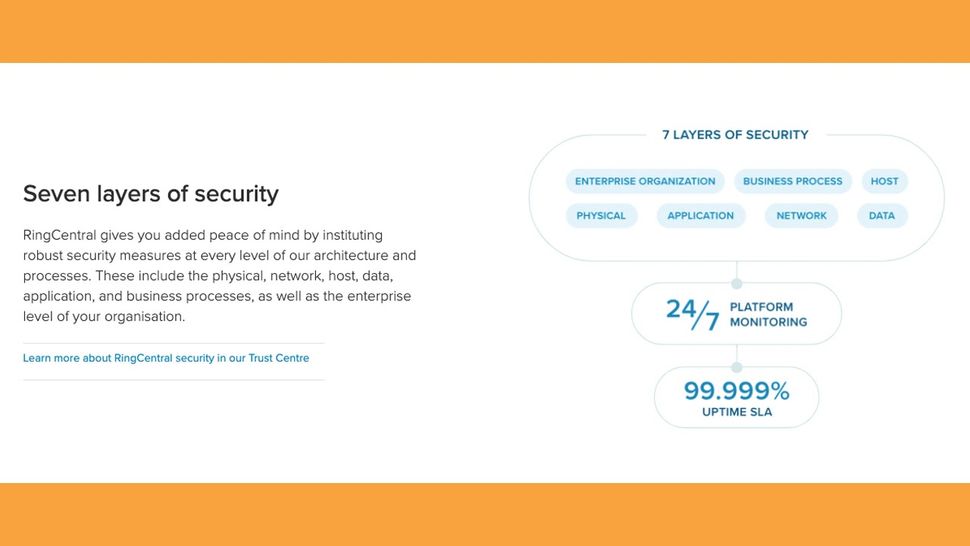 RingCentral MVP: Security
It's crucial to know if your communications systems are secure, especially if your business deals with confidential information. Fortunately, RingCentral is open about what security processes it has in place and regularly has independent verifications of these processes, which seem to be quite substantial.
All communications are encrypted using both Transport Layer Security and Secure Real-Time Transport Protocol to prevent interception. Also, firewalls are installed on the network, administrative functions require multiple levels of authentication, and the data centers are securely protected by electronic systems and on-site specialists.
It would be irresponsible to say that the company's services are attack-proof, but they're about as good as it gets.
The competition
One popular rival is 8x8 All-in-One Communications. This is a cheaper option, with plans starting at $15 (£10) per user per month, and the basic plan is more comprehensive than RingCentral's, with video conferencing and unlimited domestic calls.
Another option is Dialpad. Its basic plan also costs $15 per user per month, which is a little cheaper than RingCentral, although climbing the subscription hierarchy can quickly add to the cost. It's another all-round good service that has recently made improvements to its video conferencing offerings.
Final verdict
There's much to like about RingCentral MVP. It has a useful app interface from which employees can easily access voice calls, team chat, video conferences, and more. It can also be integrated with a wide range of software, including impressive AI technology.
It isn't the cheapest option available and the Essentials plan is quite limited, but from the Standard plan upward, RingCentral MVP proves to be a worthwhile investment for many small and medium businesses. It's also reassuring that its security systems are among the best on the market.
You can sign up to RingCentral here.
---
Kieron Moore is a freelance writer based in Manchester, England. He contributes to Future sites including TechRadar and Creative Bloq, focusing on subjects including creative software, video editing, and streaming services. This work draws on his experience as an independent filmmaker and an independent TV watcher.