The best help desk software makes it simple and easy to manage support requests from customers and staff.
Help desk and ticketing software has become an essential part of modern business operations. The best help desk software will integrate with wider business software platforms, such as CRM software to improve business productivity.
Additionally, the inclusion of analytics within help desk platforms makes them invaluable for measuring key performance indicators (KPI's) for helping to improve overall efficiency and productivity.
Help desk software isn't just for ticketing support for staff either, as it can easily be used for front-facing customer support issues. This has been underlined by the recent pandemic, with enterprises moving customer support platforms online instead of relying on telephone call centers.
However, finding the best help desk and ticketing software for you can be a challenge when there are now so many different options available. We'll therefore feature the best help desk software currently available, along with their features, pricing, and any other considerations.
We've also highlighted the best live chat software.
---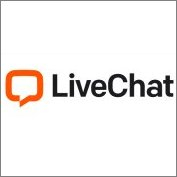 LiveChat Software | Connect with your customers
Try Livechat free for 30 days. We have the live chat for your business. Trusted by nearly 30,000 customers worldwide. Start chatting with visitors who need your help. Try now for free with no obligation! Reports & statistics. Easy to use with E-commerce tools. Full customization. Add Chat on your website within minutes.
---
The best help desk software of 2023 in full:
Why you can trust TechRadar We spend hours testing every product or service we review, so you can be sure you're buying the best. Find out more about how we test.
LiveChat offers a complete customer help desk platform to help support customers as well as sales teams. As well as being able to add chat widgets to your website, you can also manage multiple communications channels from a single dashboard, which can include email, chat, SMS, apps, as well as the website itself.
Additionally, LiveChat also offers integrations for a wide range of other common software platforms, such as Salesforce, Facebook Messenger, Shopify, Hubspot, Pipedrive, and WhatsApp.
LiveChat also makes it easier to manage messages, offering sneak peeks, customer details, and agent groups. It also allows you to share announcements, introduce new products, and invite visitors to chat. Personalized greetings are available according to range of criteria, such as time on site, location, and previously visited pages.
As a help desk and ticketing solution, LiveChat is very price competitive, with even the starter plan offering a rich array of features. More expensive plans add more features, which can include more advanced reporting, additional customizations, and more team administration functions.
Read our full LiveChat review.

RingCentral Contact Center includes all the main features you'd expect from an advanced communications platform, from call handling to omnichannel routing, CRM integrations, to analytics for agent performance management.
One area where RingCentral stands out, though, is a focus on collaboration that runs through the service, and not only allow agents to have quick access to the information they need, but also allow them to update this on the fly according to changing conditions.
Another strong point is the wide range of integrations RingCentral is able to handle, such as from SalesForce, Zendesk, Oracle, ServiceNow, and Microsoft Dynamics, so that communications can better work with sales, CRM, and other essential backend software.
RingCentral also offers a range of advanced features to allow for more advanced service customization, especially through its developer platform.
Read our full RingCentral Contact Center review.

Tidio is a live chat, chatbot, and ticketing solution aimed at mid-size businesses looking to solve customer problems while generating sales. Its extensive chatbot template library covers both support and sales scenarios, and an advanced AI response bot can hold a conversation for a heftier price tag.
Tidio grabs attention with a slick design, quick messaging, and straightforward features. It gives customers plenty of support options, from live chat and chatbots to ticketing, Instagram messages, and Facebook Messenger chat. A self-learning AI response bot sets it apart from similar competitors, while the free plan offers a basic option for the budget-conscious.
However, while Tidio's neatly-designed live chat, chatbot, and ticketing combo is great if you're starting out or growing, for advanced support and analytics features you may need to look elsewhere.
Read our full Tidio review.

SolarWinds Service Desk is a full-range IT service management (ITSM) solution for medium to large businesses. It is entirely cloud-based and boasts powerful features like smart ticketing, asset management, and workflow automation.
SolarWinds is built upon a ticketing system that allows employees to submit support requests to the IT department. It also comes with an asset management functionality that helps you keep track of all your hardware and software throughout their life cycles.
Solarwinds Service Desk is ideally suited to companies with large IT departments that are looking to provide high levels of service for their own employees and internal customers. It is reasonably priced and comes with a generous free trial so you have enough time to evaluate its capabilities.
While we did find the web app to be a bit slow sometimes, in general, we were impressed by how easy Solarwinds Service Desk is to use and the level of control offered over how data was presented and updated.
Read our full SolarWinds Service Desk review.

Freshdesk is a help desk software solution that has a number of features to increase the efficiency of workflows. These include a team inbox to manage incoming tickets from several channels to one location, the ability to designate and create custom ticket statuses that work for your organization, canned responses to common trouble issues, and a team huddle to bring in expertise on more complicated challenges.
This software can also integrate information from multiple channels including email, phone, social media and chat.
There's a free tier that helps provide a taste of how the software works, though it is necessarily limited in scope. Paid plans add automations, time tracking, satisfaction surveys, performance reports, and a host of other features. channel.
Addons are available to introduce AI and machine learning into workflows, as well as a field service management platform.
Read our full Freshdesk review.

LiveAgent uses a merged narrative model where all communications with the customer are presented to the agent as a unified conversation, irrespective of the channels used.
This blended call center solution has sophisticated rule-based escalation, live chat, scripting, call logging and recording. And, it includes analytical analysis to gauge service standards and avoid customer satisfaction issues.
Integrations are also available, such as for Zapier, tracking with Google Analytics, email marketing with MailChimp, eCommerce with numerous packages, CRM, CMS, and social media via Facebook and Twitter.
They also enjoy how scaleable LiveAgent is, progressing from a small number of agents to a massive support center on the same platform.
Read our full LiveAgent review.

Zendesk Support is a software package that provides organization with a variety of customer support interactions in one accessible database. It has the features for an efficient workflow, including web widgets, the ability to search a customer's history, and predefined ticket responses. Another standout feature is integrated surveys for customer satisfaction ratings, combined with analytics and performance dashboards to track ongoing performance.
Zendesk is competitively priced, but it doesn't have a free option like some competitors. It has a large feature set and an impressive approach to security. Its ticketing management system provides a lot of fine-grained control over tickets.
Read our full Zendesk Support review.
---
Other help desk software to consider
Zoho Desk is the cloud-based, help desk software offering that focuses on being context aware. It includes features such as prioritization of higher importance or overdue tickets, dashboards to track quality metrics, and the support to create a Knowledge Base for simpler issues that can be self-serviced. Zoho Desk can be used by agents with mobile apps for iOS and Android.
Kayako is a help desk software offering that focuses on ease to use, and fosters a personal conversation with the customer. Standout features include support for the creation of multiple help centers each with their own content (termed Multibrand), live chat support, canned responses for common questions, support for SLA's, and the ability to automate the workflow with smart business rules.
Agiloft is another help desk option that aims to streamline operations and efficiency, and make actionable insights more easily available. It's a very scalable solution but also offers some very good pricing options. Agiloft have been a market leader since the 1990's, and the latest offering is slick and easy to both understand and use.
Bitrix24 is a powerful platform that includes a contact center as well as features for staff communications, project management, and CRM. The contact center aspect allows for a wide range of communications channels to be covered, not least live chat, social media messages, as well as SMS, email, and even phone calls. There's a free tier for up to 12 users.
We've listed the best Contact Center as a Service (CCaaS) platforms.
---
How we tested the best help desk software
To test for the best help desk software we searched for a range of popular options as well as took recommendations from people we know who use help desk software regularly. We then tried each platform to see how user-friendly each was, as well as determine what range of tools and advanced options were available. Pricing also came into account when determining our best list.
Which help desk software is best for you?
When deciding which help desk software to use, first consider what actual needs you have. For example, someone simply wanting to communicate with a handful of people on a casual basis may find a a free options such as email or social media cheaper is the more cost-effective. However, for professional or business purposes, especially with a large number of people and on a regular basis, then you will probably want to look to the higher-end help desk software options to properly cater for your needs, while also providing for all of the more advanced tools that are included.