FTTC and FTTP: what's the difference?
Two initialisms for two of the most popular UK broadband types, but what do they mean and how do they differ?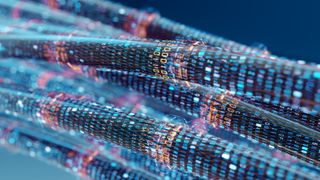 (Image credit: Shutterstock)
When you're in the market for a new internet package, it's likely you'll see the terms 'FTTC' and 'FTTP' being used in the descriptions of the best broadband deals around. Without the right technical knowledge, these terms might seem a little confusing, but you don't need to worry, as we're here to explain all.
Simply put, these are two types of broadband - two of the most popular in fact - with each offering similarities and differences in everything from how they work to how much they cost. Moreover, FTTC and FTTP have different availability in terms of their network rollout and might not even be available at your property just yet.
So, in this guide we've detailed more about FTTC and FTTP broadband packages, compared some of their key features, explained which internet service providers (ISPs) offer them and how and where to check which you can access.
FTTC and FTTP are both 'fibre broadband'
An important point to cover first is that both FTTC and FTTP fall under the 'fibre broadband' umbrella, as both feature the use of fibre-optic cables in some capacity to provide internet services.
At the same time though, this is where the key differences start to be shown and it's important to know exactly how much these particular cables figure in your connection, as it can significantly affect what type and level of internet service you're getting.
So let's look at the definitions to get a clearer idea of these different uses of fibre:
What is FTTC?
FTTC stands for 'fibre to the cabinet' broadband and it's so called because it's an internet connection which sees fibre-optic cables running from your ISP to your nearest telephone cabinet. The rest of the connection from the cabinet to a property is via the old, copper telephone lines.
Such connections are much more reliable and faster in terms of download and upload speeds than standard 'ADSL' broadband. This is because fibre-optic cables are much sturdier and can transmit more data far faster than copper cables - whereas ADSL relies solely on these old lines for the full network connection.
However, because the final part of the connection is still on the copper lines, it does still limit the speeds and the amount of data that can be sent.
What is FTTP?
This term stands for 'fibre to the premises' (it can also sometimes be 'FTTH', which is 'fibre to the home') and as you might be able to work out, it's a broadband connection which sees fibre-optic cables running all the way to a property.
As you might also work out, if you had a FTTP connection you'd be able to access really fast download and upload speeds. The issue here is that FTTP has yet to be fully rolled out across the UK, so only certain households and businesses can currently get it.
The latest rollout data suggests 50% of UK premises are now covered by 'Full Fibre' FTTP connections.
FTTC and FTTP: other names you might encounter
Much like how older ADSL broadband gets referred to as 'standard' broadband, it's true that both FTTC and FTTP can also have different names. These can vary from ISP to ISP, but can include:
FTTC - also known as 'fibre', 'fast fibre' and 'superfast fibre' broadband.
FTTP - also known as 'Full Fibre', 'FTTH', 'ultrafast fibre' and in some cases 'gigabit-capable' broadband.
FTTC vs FTTP: average download speeds
As we've explained above, there are some big overall differences here in terms of average download speeds, but at the same time you can also get lots of different options with each connection type.
On a general level, you'll find the following ranges of average download speeds:
FTTC - average download speeds tend to start at 35Mbps and can go up to around 75Mbps.
FTTP - with 'Full Fibre' connections, average download speeds can go from 50Mbps to in excess of 1,000Mbps.
FTTC vs FTTP: upload speed
It's a similar situation with upload speeds with these broadband types, here's what you can typically encounter with each:
FTTC - upload speeds can typically be between 5Mbps and 10Mbps.
FTTP - theoretically these can be the same as your download speeds as some FTTP connections offer what are known as 'symmetrical' internet speeds. However, this depends on the ISP and in most cases they're 50-95% slower than the average download speeds.
Another important thing to remember here is that these are also 'average' download and upload speeds and what you're advertised and sold in your package might not necessarily be the speeds you always receive. This is because both can be affected by external factors like higher numbers of users and technical issues with the cables and connections.
In the case of FTTC, the distance your property is from the cabinet and the quality of the existing copper line can also affect your broadband performance.
FTTC vs FTTP: Cost
With all internet packages you can apply a general rule that the faster the package, the more expensive it's likely to be each month. So it shouldn't be a surprise to know that with FTTP you're probably going to be paying more than you would for a FTTC tariff.
However, this isn't to say there aren't deals to be had, and if you look when an ISP is running its deals and promotions, you might pick up a top deal on a faster package.
Another thing to bear in mind is that with FTTC you'll still have to pay line rental on your bills - a maintenance charge for the copper phone line - but this isn't a cost you'll incur with FTTP, as they don't use them!
FTTC vs FTTP: reliability
FTTP is hands down the more reliable of the two broadbands. This is because the fibre-optic cables that run from the ISP to your property are much more hardwearing than the copper ones still used in ADSL and FTTC connections. This means they're less likely to suffer outages and can ultimately provide a more secure connection.
If we look at the bigger picture here as well, an ultrafast FTTP connection with unlimited data will be a more dependable option for businesses and households with high usage. This is down to the simple fact that they are better equipped to support and handle being used by multiple people and devices simultaneously.
FTTC vs FTTP: what extras can you get?
With both FTTC and FTTP broadband you can get a variety of extras within the packages you can be offered. The only real difference here is performance. For instance, on the slower FTTC speeds you might not be able to stream as well in UHD, or enjoy online gaming simultaneously on the same connection.
But to give you an idea of exactly what you can get with both, here are some popular options:
TV bundles
A landline included
Combinations of the above
Steaming TV and app services
The Pros and Cons of FTTC and FTTP
If you're still a little on the fence about which you'd prefer, below we've weighed up the pros and cons of each connection to help make your decision-making a bit easier:
FTTC: pros
Faster download and upload speeds than ADSL.
A more affordable option for fibre broadband.
Now widely available across the UK.
You can still get TV and phone bundles.
FTTC: cons
Nowhere near as fast in terms of download and upload speeds as FTTP.
You'll likely need to pay line rental.
The copper cables are more prone to outages and performance issues.
You won't be able to stream in UHD as well as FTTP.
FTTP: pros
Very fast average download and upload speeds.
More reliable than FTTC and less likely to have performance issues.
No requirement to have a phone line or pay line rental.
You can also get access to phone and TV bundles with UHD streaming.
FTTP: cons
Typically the more expensive of these two broadband options.
Isn't widely available in the UK yet.
Ultrafast speeds might be unnecessary for certain properties and usage requirements.
You can end up paying more for bundle deals without any notable performance upgrades.
Which ISPs offer FTTC?
A positive to FTTC is that it is an option that can be found from most UK ISPs within their respective broadband packages. Here's a selection of some of the most popular providers that offer FTTC packages:
Which ISPs offer FTTP?
As mentioned above, FTTP broadband isn't as widely available as FTTC broadband, but more and more ISPs are starting to offer it to customers. Here's a selection of the most popular providers that have ultrafast speeds amongst their deals right now:
We should also give honourable mentions here to Gigaclear and Hyperoptic. These ISPs offer many ultrafast broadband packages on their own independent cable and fibre networks that are separate to the Openreach network that most other providers utilise.
In addition to this, Virgin Media has its own independent cable network but could fall under both FTTC and FTTP. This is because its cables technically run to its cabinets, but thanks to the technology used in these it can offer speeds ranging past 1,000Mbps!
What does the future hold for FTTC?
For now FTTC can be a great choice for consumers looking to get decent speeds for lower prices, but it's not going to be around forever. This is because the network operator, Openreach, plans to retire its old copper network.
Openreach claims that it's becoming too expensive to maintain and repair the copper phone wires and once it's brought 'Full Fibre' into every area, it will start switching off any old lines. The company is aiming to complete its Full Fibre rollout by December 2026.
What does the future hold for FTTP?
Alongside FTTP likely becoming the preferred and main broadband option for UK households and businesses, there are a few other things we can speculate might happen with it:
It becomes cheaper as it becomes more widely available.
We get a wider choice of FTTP broadband packages.
ISPs may vary their average download speed options as well.
Fibre-optic lines may get upgrades to offer even faster speeds.
So which broadband option should I choose?
Ultimately, this is down to your specific broadband needs and your budget. We go into more detail about this subject in our 'how do I find the best broadband provider for me?' guide, but as a general rule of thumb, if you're worried about performance, speed and reliability - and less so cost - then FTTP is the way forward for you.
The other big factor here though is whether or not you can even get FTTP broadband to your property. You can check this with different providers, but be prepared to learn that 'Full Fibre' has yet to be rolled out in your area. Although it does mean you can be absolutely sure that FTTC is the broadband for you!
Where to find the best FTTC and FTTP broadband deals
With our regularly updated guide to the best broadband deals, you'll quickly be able to track down the best offers for both FTTC and FTTP internet packages. We can even show you what's available in your specific location if you enter your postcode into our widget below.
Loading...
Get daily insight, inspiration and deals in your inbox
Get the hottest deals available in your inbox plus news, reviews, opinion, analysis and more from the TechRadar team.
Rich is a freelance copywriter and content strategist with over 10 years' experience. His career has seen him work in-house and in various agencies, producing online and offline content marketing campaigns and copywriting for clients in the energy industry.