The best Sky broadband deals in December 2023
Discover some of the cheapest and best Sky Broadband deals and packages available now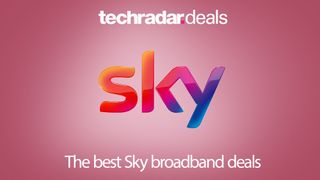 (Image credit: Future)
Sky's broadband offering is one of the most popular available and regularly features in our run down of the best broadband deals. Whether it's their fast speeds, reliable service, the array of add-ons or the prestige of this long-established tech brand, it's not hard to see why so many households choose Sky Broadband.
However, a key difference between Sky and other broadband-only providers is that Sky often doesn't provide the cheapest broadband deals. Although, if you want to opt for a bundle broadband and TV deal, Sky is typically considered to be the best choice over others like Virgin Media.
That said, if you don't want any TV add-ons or boosts to your package, Sky also has a variety of gigabit internet, 'Full Fibre' and standard fibre broadband deals, as well as a limited selection of slower and ADSL speeds.
So if you're considering choosing Sky Broadband then be sure to read on. We've rounded up some of the best Sky Broadband deals you can get right now. We've also gone into more detail about all the features you can get and what really makes Sky stand out as a leading provider.
To start with, below you can use our comparison widget to see what Sky Broadband deals are available in your location…
Sky Broadband deals comparison
Loading...
The top Sky Broadband deals available right now
If you shop around you'll see that you can pick up some great deals on your broadband - and Sky Broadband is no exception. Moreover, if you look online you'll find that Sky regularly partners with other websites offering incentives, such as reward cards, if you sign up via these third-party platforms.
However, if you go directly to Sky you'll find there are currently a number of special offers available (subject to your location and fibre/Full Fibre connection), which are amongst the best you can get from the provider right now. Sky also has some special discounts available on its broadband for any businesses looking to use its services.
Here's a selection of what's currently available:
What broadband speeds can I get?
Sky uses the Openreach network for its fibre connections. This means that if your property can access this network, you'll also be able to access Sky's 'Superfast' packages. However, the top 'Ultrafast/Plus' and its gigabit-capable 'Gigafast' services rely on a 'Full Fibre' connection and right now this is only available in around 41% and 35% of households in the UK, respectively.
If you're unsure about your property's connectivity status, you can check using the latest 'Full Fibre' roll out information from Openreach. Or you can simply check directly with Sky when browsing their broadband packages.
For a top-level overview, here's a breakdown of each Sky Broadband package (without any deals or promotions applied) that are usually available – again, this is broadband-only and dependent on your location and fibre/full fibre connection:
Essential Plus – from £30 per month, average speed 11Mbps, unlimited usage and an 18-month contract
Superfast 35 – from £25 per month, average speed 35Mbps, unlimited usage and an 18-month contract
Superfast - from £30 per month, average speed 61Mbps, unlimited usage and an 18-month contract
Full Fibre 100 - from £38 per month, average speed 100Mbps, unlimited usage and an 18-month contract
Ultrafast - from £38 per month, average speed 145Mbps, unlimited usage and an 18-month contract
Ultrafast Plus - from £48 per month, average speed 500Mbps, unlimited usage and an 18-month contract
Gigafast - from £58 per month, average speed 900Mbps, unlimited usage and an 18-month contract
Sky Broadband deals - add-ons and features:
What contracts does Sky offer?
Sky used to offer some 12-month contracts with their broadband, but now all their packages are exclusively for 18 months. If you look online, there are stories of customers being able to select 12-month and 'rolling' contracts by speaking directly with Sky when choosing a broadband deal. However, this is purely anecdotal evidence.
Can I add Sky TV packages to my broadband?
In short, yes, but it will increase your monthly costs.
Sky has a range of TV options, including movies, sport and kids' channels. What's more, certain features like catch up, streaming app integration and UHD can be chosen. But, these are all subject to things like your broadband speed and the package you select.
If you're considering getting Sky TV with your broadband then it's a smart move to check out our guide on the best Sky TV and broadband deals on offer right now.
Do I get a phone line with Sky Broadband?
Most of Sky's broadband services include a phone service, which comes through their own phone service called 'Sky Talk'.
The basic phone service option with Sky Talk can then be included in your broadband, but you do have a selection of tariffs to choose from to suit your needs. For example, if you rarely use a home phone, you can have a simplified 'Pay-as-you-Talk' option which just gives you broadband, and as the name suggests, you pay as and when you use your landline.
If you know you'll regularly use your landline you can upgrade to packages that come with free inclusive calls, even on weekends. You can learn more about how phone lines and landlines work in our guide here to get a better understanding of the situation.
However, if you definitely want a landline phone service included with your broadband, the best thing to do is to check directly with Sky about the options you have with your chosen deal.
What is 'Sky WiFi'?
As a Sky Broadband customer, you can download and use 'Sky WiFi', an app which allows you to connect to Sky's UK-wide Wi-Fi hotspots - all for free and with unlimited usage. You can connect up to six devices to the hotspot locations, which include popular coffee and restaurant chains.
What is Sky's 'WiFi Max'?
This is Sky's 'Next Generation broadband hub' and comes with selected 'Full Fibre' packages. Sky says it gives its 'fastest WiFi guarantee' and has advanced security settings for online browsing. You can also attach WiFi boosting 'Max Pods' to it, which help improve the WiFi signal around your home.
What is 'Sky Broadband Shield'?
Sky Broadband Shield is included with every Sky Broadband package and adds a layer of online security to your internet.
As well as seeking out and preventing you from accessing sites with viruses, malware and phishing scams, Sky Broadband Shield includes parental controls and filters for Google and Bing search results. It even works for any device that connects to your Sky Broadband.
What is 'Sky Protect'?
This is Sky's latest insurance product that it promotes as 'Smart Home Insurance'. It has a specific focus on smart tech and is often marketed alongside its broadband and tv packages. It is now also 5-star Defaqto rated.
What is 'Sky Broadband Boost'?
One of Sky's many add-ons, Sky Broadband Boost, allows you to upgrade your Sky Broadband package in a few key ways. It mostly offers a more concrete system if anything goes wrong.
Some of Sky Broadband Boost's features include:
A Wi-Fi guarantee that your speeds shouldn't drop below 3Mbps (you get money back on your Boost subscription if it does)
You can get Sky engineer visits at times that suit you
Daily checks of your internet line
Control of your family's screen time via the 'Sky Broadband Buddy' app.
If you're a Sky Mobile customer, you'll get 2GB of data added to your plan.
While these features won't be worthwhile to everyone, those looking to have the best experience of their Sky Broadband will find some good value here.
Sky now only tends to offer this product to customers still using its older generation Broadband Hubs. Any new customers, or those who upgrade to the new 'WiFi Max' hubs, will instead be offered Sky's improved 'Wall to Wall WiFi Guarantee' as well as all the features listed above.
What is Sky's 'Wall to Wall WiFi Guarantee'?
This is a standard guarantee Sky now has with its latest broadband packages. Like the name suggests, it gives you 'Wall to Wall WiFi in every room of your home or money back'. The speed guarantees can differ depending on the speed of your connection.
Has Sky won any awards for its broadband?
The most recent accolade Sky has earned for its broadband was in relation to its customer services. Last year (2022), it received the prestigious 'gold' level of recognition in the Choose Broadband awards.
Sign up for Black Friday email alerts!
Get the hottest deals available in your inbox plus news, reviews, opinion, analysis and more from the TechRadar team.
Alex is a journalist who has written extensively about all things broadband, SIMs and phone contracts, as well as scouring the internet to land you the best prices on the very latest in gadgets and tech. Whether that be with the latest iPhones and Android handsets, breaking down how broadband works or revealing the cheapest SIM plans, he's in the know, and will help you land a bargain.