What is gigabit internet?
Gigabit internet could be the next big thing for UK broadband, but is it any good and do we really need it right now?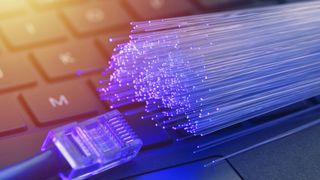 (Image credit: Daniel Chetroni / Getty Images)
When browsing for the best broadband deals on the market, you might have seen 'gigabit internet' or 'gigabit broadband' being offered amongst the different packages. These options can be eye catching, as they appear capable of delivering some huge average download speeds.
Whether you're curious about what's really on offer here, or you've simply heard the description being used lately and want to know more, be sure to read on.
In this explainer guide we tell you everything there is to know about gigabit internet and, as an added bonus, we've covered some of the top FAQs people tend to have about it.
What is gigabit internet?
A gigabit internet connection is one which is capable of offering average download speeds of 1Gbps - which is the same as 1,000Mbps. In other words, really, really fast internet. However, this broadband type is currently only available in certain locations and from specific internet service providers (ISPs).
How does gigabit internet work?
Gigabit internet is delivered in a similar manner to fibre and ADSL broadband. However, in order to get these huge speeds, it requires a 'Full Fibre' or 'fibre-to-the-premises' connection.
With this type of connection, fibre-optic lines (which are capable of sending data at light speed) run directly from your nearest broadband exchange to your property. As such, there aren't any disruptions or limitations (like what you can get with ADSL and FTTC connections).
In addition, some ISPs with independent networks - such as Virgin Media and Hyperoptic - can also offer gigabit speeds via their own cables. These providers often use 'coaxial cables', which work in a similar way to fibre-optic ones.
If you'd like to learn more about the different broadband types available in the UK right now, check out our guide here.
What speeds does gigabit internet offer?
As mentioned above, gigabit internet gives average download speeds of 1Gbps or 1,000Mbps. You also may encounter some tariffs that are classed as 'gigabit broadband' if their average download speeds are between 900Mbps and 1,000Mbps, this is because the 'Full Fibre' connections they use can theoretically reach gigabit speeds.
However, there are some exceptions to this and some ISPs can offer broadband deals that are faster than 1Gbps. The main example of this is Virgin Media's top 'Gig1' tariff, which offers average download speeds of 1,130Mbps. Currently, this is the fastest package you can get in the UK from a leading and nationwide ISP. Although admittedly, if you live in London, you can get a mighty 3Gbps connection from independent provider Community Fibre - but this is exclusive to selected boroughs across the UK capital.
We also shouldn't ignore upload speeds, as these also tend to be quite high with gigabit broadband connections. Even those that come under the 1,000Mbps average download speed threshold can still give upload speeds in excess of 100Mbps.
To give you a greater sense of perspective here, the UK industry regulator Ofcom's latest broadband report says that as of September 2022, 'the average download speed for home broadband connections in the UK was 65.3 Mbps'. Even though this is an increase of 10% compared to March 2022, it's still significantly slower than what gigabit broadband can deliver.
How reliable is gigabit internet?
Thanks mainly to the big speeds and the use of fibre-optic and coaxial cables, gigabit internet is one of the most reliable broadband types out there right now.
The direct-to-property cables prevent drops in performance that you may otherwise have with older, less-dependable copper cables that you get with FTTC and ADSL broadband. This is because copper cables are limited by the amount of data they can send and their broadband speeds are affected by their distance from the broadband and telephone exchange serving your property. What's more, fibre and coaxial cables are more durable and are less likely to get damaged and suffer from wear and tear, which can lead to performance issues.
Direct cables also don't tend to have as many issues with lag when compared to satellite broadband and 4G and 5G broadband. This is because they won't be affected by external circumstances such as poor weather and a weak signal strength.
Lastly, with the big download and upload speeds, gigabit broadband can comfortably handle high intensity usage from many different devices at once, all while maintaining a quality connection for each user. In turn, this can make people more productive when working online.
What can you do online with gigabit internet?
The possibilities are almost endless with gigabit internet in terms of downloads, streaming and browsing, but the big speeds make it especially good for:
Online gaming - as the chance of lag is significantly reduced.
Streaming in UHD - even on multiple devices at once you'll get 4K.
Using the cloud - any online storage can be quickly accessed and utilised.
Home working - you can Zoom, download and browse without issues.
Using VR - the reduced latency and fast speeds improve the experience.
Where can I get gigabit internet?
According to Ofcom's most recent data - and as of its spring 2023 'Connected Nations' report - the number of homes across the UK that can access gigabit-capable internet via a 'Full Fibre' or cable connection is 21.9 million, which is around 73% of all properties. But if we just look at 'Full Fibre' in isolation it's around 48% of homes.
These figures are steadily continuing to rise and network operators including Openreach and Virgin Media have issued targets to make gigabit broadband available to 99% of properties by 2030.
However, this lack of a widespread rollout is one of the downsides to gigabit-broadband, as ultimately it's not as accessible as some other types. This is perhaps most noticeable when compared to fibre broadband, which can be accessed by 97% of the UK.
If you are interested in getting a gigabit broadband deal, the best thing to do is find the best broadband deals with these 900-1,000+Mbps speeds and then go to the provider to see if their network has reached your location, or if your property can be connected to it.
Which ISPs offer gigabit broadband?
Using our best broadband deals guide and our widget at the bottom of this page we can show you a selection of UK ISPs that currently have gigabit and gigabit-capable packages available.
However, to give you a top-level overview, here's a selection of popular providers where you can find tariffs with speeds ranging from 900 to 1,000+Mbps:
A tip to remember here is that aside from independent cable providers like Virgin and Hyperoptic, most ISPs use the Openreach network, so will invariably offer similar speeds across their broadband packages - they'll just be packaged up and priced differently.
Gigabit internet and gigabit broadband: FAQs
To give you some additional insights into gigabit broadband, here are some of the frequently asked questions people have about it:
Do you need special tech for gigabit internet?
On the most part, the technology involved is the same as most broadband types in that you'll need a router, some connectors and possibly a modem. The difference is you'll likely need a modern router that's capable of handling and distributing WiFi at these big speeds. However, your provider will probably provide this as part of the deal.
Another point to note is that you may have some WiFi connectivity issues or you might not be able to get the fastest speeds if you're using older devices.
Are there any other incentives to get gigabit broadband?
In the UK the government has pledged £5bn as part of its 'Project Gigabit' programme. This is to help bring gigabit-capable broadband to all areas of the country, but there's a specific voucher scheme available to help certain households cover the costs of installing the broadband in their properties.
You can find out more about it here.
Do you always get a gigabit connection?
Like with any broadband, the speeds you're advertised aren't always the speeds you'll receive as performance can be affected by factors such as:
The number of people using the internet.
The quality of your router and your distance from it.
Whether or not you're using a wired connection to the router.
Technical issues with the provider.
Do all UK new build homes get gigabit internet?
Only in England. In January 2023 the UK Department for Digital, Culture, Media, and Sport (DCMS) announced amendments to the country's 'Building Regulations 2010'. As a result, all new homes in England must now be built with gigabit broadband connections in place.
Is gigabit internet expensive?
Gigabit broadband tends to sit at the more expensive end of the broadband market, but you can still find good deals and offers if you shop around.
Is gigabit broadband the same as 'ultrafast broadband'?
It depends on the ISP. You might find some providers categorising their gigabit broadband under an 'ultrafast' description and this is now widely accepted as referring to the fastest deals they offer.
By comparison, the slower ADSL speeds are usually referred to as 'standard' broadband, while fibre is 'superfast'. If you're ever in any doubt, simply ask the provider when you're enquiring about a deal.
Should I get gigabit internet?
Knowing whether or not gigabit internet is the right choice for you really depends on your budget. As if you're prepared to spend a bit more for seamless, future-proofed and reliable broadband then getting these ultrafast speeds is a no brainer.
That said, if you have older tech at home, you might want check whether these pieces of equipment are compatible before you make any decisions.
Plus, if you're looking for something more affordable, it's worth remembering that you can still get decent and fast speeds in mid-range packages and these will still support the demands of busy households and businesses.
Where to get your next gigabit broadband deal
As we mentioned earlier, our best broadband deals page will show you what gigabit internet packages are available right now. But, feel free to make the most of our widget below. Just enter your postcode and it will show you exactly what's available in your area.
Other than this, you may wish to go direct to your current provider and see if you can upgrade or move to a gigabit broadband deal. It might also be worth waiting for them to release their promotional offers if you want to get some extras or bring your monthly costs down a bit.
Loading...
Sign up to receive daily breaking news, reviews, opinion, analysis, deals and more from the world of tech.
Rich is a freelance copywriter and content strategist with over 10 years' experience. His career has seen him work in-house and in various agencies, producing online and offline content marketing campaigns and copywriting for clients in the energy industry.