What is superfast broadband?
The name suggests you're getting quick download speeds, but there's much more to this popular broadband type.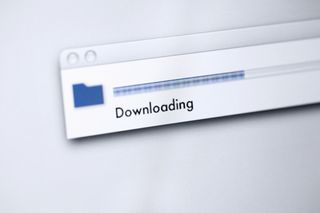 (Image credit: Getty Images / Epoxydude)
You might have come across the term 'superfast' when you've been looking through some of the best broadband deals on the market. It's no secret this can mean that these deals have quick average download speeds, but it is also a blanket term that can refer to many different packages and broadband tariffs.
So to give you some more insights into what 'superfast broadband' can actually involve and include, we've put this guide together that explains all you need to know about it.
What is 'superfast broadband'?
In simple terms, 'superfast broadband' is a type of internet connection that gives faster speeds than 'standard' ADSL broadband. You may also hear or see it being referred to as 'fibre broadband'. The maximum average download speeds it offers can range, but typically the minimum you can get will start at 30Mbps.
How does superfast broadband work?
With superfast broadband you'll have what's known as a FTTC - or 'fibre-to-the-cabinet' - connection. This is the most-used type of connection in the UK. It involves a fibre optic cable running from your local broadband exchange to the nearest street telephone cabinet. The rest of the connection into your property is then done through the older telephone cable network.
It's this use of fibre optic cables that brings the faster average download speeds, as they are able to send more data much more quickly than the telephone cable networks that are used for older ADSL connections.
However, the use of copper telephone lines does still limit the top speeds we can get with FTTC. This is unlike the huge download speeds that are available with 'Full Fibre' - or FTTP (fibre-to-the-premises) - broadband, which utilises a complete fibre optic connection right through to a property.
If you want to find out more about how these different connections work, you can take a look at our guide to all the broadband types we can get in the UK.
What are 'superfast' average download speeds?
These can range from 30Mbps to 300Mbps, although this can also depend on whose official definitions you choose to follow.
For instance, the UK communications regulator, Ofcom, defines 'superfast' average download speeds like those we've just mentioned above. However, network operator Openreach claims they max out at 80Mbps and the government says they can in fact start at 24Mbps.
So you will get some variation from providers, but if you're ever unsure just check with them directly to get clarification on the average download speeds you're expected to receive, or that you're currently receiving for your broadband.
How reliable is superfast broadband?
Thanks to the use of fibre optic cables, superfast broadband is much more secure and reliable than standard ADSL broadband. This is because fibre optic cabling is less likely to break, suffer wear and tear or have issues transmitting data when compared to the older copper wires.
What can you do online with superfast broadband?
The faster average download speeds you receive will allow you to do more online than you can with ADSL broadband. Moreover, the connection will be able to manage multiple devices running simultaneously and doing things like:
Streaming in UHD
Downloading large files
Uploading large files
Online gaming
Home working
Casual browsing
Online video calling
Using smart devices about the home
It's also important to note that the faster the superfast package is, the better it will be at handling these types of tasks being done online. Plus, the faster the package, the greater the number of devices that will be able to use the connection at the same time without suffering from performance issues.
Which providers offer superfast broadband?
One of the best things about superfast broadband is that pretty much all of the UK's best and most popular internet service providers (ISPs) offer it as a service - mainly because they use the same Openreach network. As such, you'll find tariffs from the likes of:
Even providers with their own independent broadband cable networks - such as Virgin Media - have tariffs that offer speeds that can be classified within the 'superfast' category.
Superfast broadband: UK coverage
To add to the fact you have a wealth of ISPs offering superfast broadband, another big positive is that the fibre network now covers 97% of the UK. This is according to Ofcom's most-recent (Summer 2023) 'Connected Nations' report, which also states that 'the number of premises unable to get access to decent broadband, when factoring in fixed wireless and fixed line networks, has dropped from 68,000 to 62,000 premises since our Spring 2023 report'.
More superfast broadband FAQs
To give some more in-depth insights into this subject, here are some of the questions people have about this particular broadband type:
What is the difference between 'superfast' and 'ultrafast' broadband?
This can also vary from provider to provider, but generally speaking 'ultrafast' means any speeds above 300Mbps up to 1,000Mbps (or 1Gbps). Speeds of 1Gbps or more are also known as 'gigabit internet'.
Can I upgrade my superfast broadband?
If you're on a slower 'superfast' package (e.g. 30Mbps), you can either switch to another provider (but you might need to pay exit fees if your current contract hasn't ended) who is offering a faster speed, or you can speak with your existing provider to see what faster packages they have available in your area. However, you may end up having to pay more each month for this upgrade.
Do I have to get superfast broadband?
Unless you live in an area where only ADSL broadband is offered, it's more than likely you will have to opt for superfast fibre broadband through a FTTC connection or Full Fibre via a FTTP connection.
What extras can I get with superfast broadband?
Different ISPs often have lots of different optional extras, add-ons and incentives available. With the faster speeds you can open yourself up to things like:
Upgraded tech (e.g. routers and WiFi boosters).
A landline.
Monthly discounts.
Vouchers and gift cards.
Mobile phone contracts.
4G and/or 5G WiFi guarantees.
Streaming app subscriptions.
How expensive is superfast broadband?
As with any broadband package, things like faster average download speeds or the amount of extras included can often increase your monthly costs. So there's no set price for superfast broadband, but what you should do is look out for the promotional offers and deals ISPs regularly put out.
What will happen with FTTC connections in the future?
Openreach - the broadband network used by most ISPs - has set itself a target to bring 'Full Fibre' FTTP connections to 85% of homes and businesses by 2026. What this means is that FTTC connections might become a less popular option in the future as the ultrafast deals become more available and competitively priced. In addition, Openreach is planning to retire its ADSL copper lines, so eventually the fibre network will be retired too when the company gets rid of all its copper phone lines.
It's likely consumers will also have more choice with their broadband in the coming years. Both 5G broadband and satellite broadband are becoming faster and more available around the UK and with some refinements to the technology, these more mobile connections may also be the preferred option for many households and businesses.
Although, the wider choice of broadband types may one day lead to cheaper deals on what will eventually be older superfast connections.
Should I get superfast broadband?
If you're still on an ADSL connection and fibre is available, you should probably look to make the switch - especially if these lines are being phased out. The step up to a basic superfast plan probably won't be any more expensive, but if you want something faster than 30Mbps, you should consider the following points:
What you can afford to pay each month
Whether there are any upfront fees to pay
What extras the ISP will include in your deal
Any upgrade options
The quality of the provider's customer services
The overall reputation of the provider
Other considerations to make before choosing superfast broadband
With such a big choice of superfast broadband deals available, there are a few more things to consider to help narrow down your options.
Slower speeds (30-50Mbps)
Ideal for those in smaller households that only use a small number of devices at the same time for casual browsing or streaming.
Mid-range speeds (50-100Mbps)
A strong choice for small to medium-sized households with moderate usage demands (e.g. online gaming, streaming in UHD, home working).
Faster speeds (100-300Mbps)
Any large and busy properties with multiple devices being used for UHD streaming, online gaming, video calling and more.
More ways to choose a superfast broadband package
As well as looking through our selection of the best broadband deals, there are a few other ways you can find a new superfast broadband package:
Contact your current provider
As we've alluded to earlier, you can go directly to your existing supplier to learn more about the superfast broadband packages they currently have available. This can either give you an idea of what you could upgrade to or it can be something you then compare to the deals you've already found from other ISPs. If you feel confident enough you could even try haggling with your provider about getting a better superfast speed but at a price that's more in line with your budget.
Uncover the best deals in your location
Another easy option we can help facilitate involves simply entering your postcode into our widget below. We'll then show you exactly which superfast broadband deals and options are available in your location. Then all you need to do is enquire about your chosen package and make the most of your new speedy connection.
Loading...
Sign up for Black Friday email alerts!
Get the hottest deals available in your inbox plus news, reviews, opinion, analysis and more from the TechRadar team.
Rich is a freelance copywriter and content strategist with over 10 years' experience. His career has seen him work in-house and in various agencies, producing online and offline content marketing campaigns and copywriting for clients in the energy industry.