The best wireless speaker in the UAE 2022: our top picks from Sonos, Bose, and more
Best
Contributions from
published
We've tested the best speakers you can buy for your home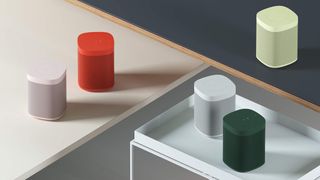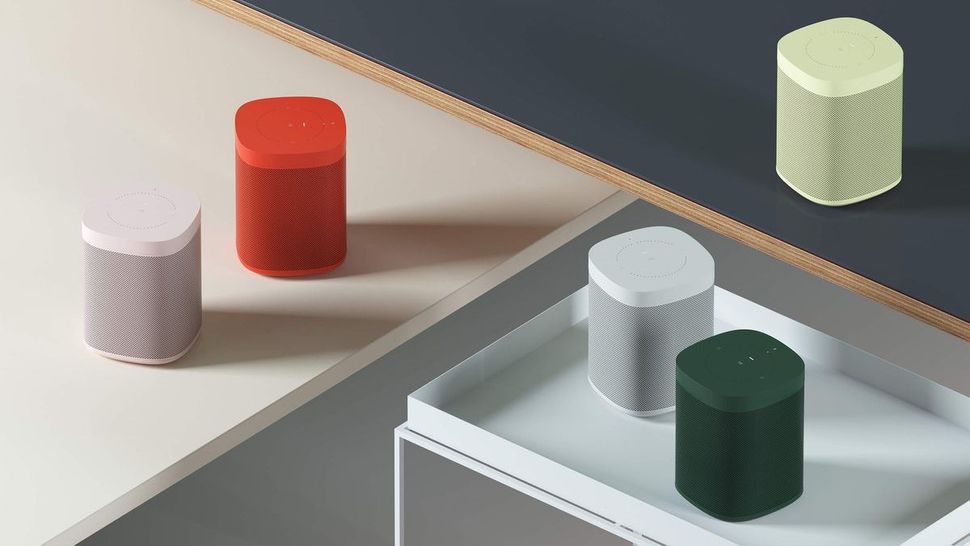 (Image credit: Sonos)
The best wireless speakers in 2021 come in a range of shapes and sizes, from compact voice assistant-enabled desk buddies right through to big multi-room models that'll fill your home with sound.
As well as offering pristine audio playback, the best wireless speakers have lots of modern features packed in, including smart assistants like Siri, Alexa and Google Assistant. Many of the best home speakers also boast built-in support for a range of your favorite streaming services, as well as slick designs that will look the part in any home.
Some of these wireless speakers double up as Bluetooth speakers as well. This means you can easily cast music from your phone or another Bluetooth device, though some rely on a Wi-Fi network.
This round-up of the best speakers of 2021 is growing all the time, and with the new Amazon Echo, the latest Google Nest Audio smart speaker, and the Apple HomePod mini, there are plenty of new devices to sink your teeth into. We also expect plenty more to be unveiled as 2021 unfolds.
Whatever you need a new wireless speaker for, making the right decision can be a challenge, there's just so much choice. That's why we've selected and ranked the best wireless speakers for 2021 based on price and performance to make your decision a little easier.
Our top picks
1. Sonos One
For the time-being, the Sonos One is the king of connected speakers
Specifications
Weight:
1.85kg (4.08 lbs)
Size:
6.36 x 4.69 x 4.69 in
Drivers:
1 x tweeters, 1 x woofer
Supported Connectivity:
AirPlay, Bluetooth 4.2, Google Cast, Spotify Connect, 3.5mm, RCA
Reasons to buy
+
Full-bodied, rich sound
+
Alexa and Google Assistant
+
Combine two for stereo setup
If you're in the market for a cleanly designed, exceptional sounding connected speaker, you'll find none better than the Sonos One. Offering the best of both Sonos' multi-room speaker platform and both Amazon Alexa and Google Assistant's smart home prowess, the Sonos One is the pinnacle of connectivity.
Want to hear your favorite song from Spotify? All you need to do is ask! Want every speaker in the upstairs to play the same song? Group them together via the Sonos app and you'll have a house party in minutes.
While there are more powerful (and more expensive) speakers listed down below, for the vast majority of folks, the Sonos One is the best wireless speaker of 2021.
Read more: Sonos One review

Sonos' biggest wireless speaker is kind of a big deal generally
Specifications
Dimensions:
203 x 364 x 154 mm (H x W x D)
Drivers:
6x Class-D digital amplifiers, 3x midwoofers, 3x tweeters
Supported Connectivity:
AirPlay, Spotify Connect, Wi-Fi 2.4/5 GHz, Sonos multi-room
Reasons to buy
+
Expansive, room-filling sound
+
AirPlay 2 and Sonos multi-room connectivity
+
Dual placement option and stereo-pairing
Reasons to avoid
-
No Bluetooth connectivity
-
No mics for standalone voice control
-
No hi-res support just yet
The Sonos Five will look very familiar to anyone who knows their way around Sonos' 2015 Play:5 Gen. 2, which you can find lower down in this buying guide (or even the 2009 inaugural Sonos Play:5, originally called the S5). Considering the brilliance of Sonos' innovative, long-standing and highly popular multi-room speaker lineup, that's no bad thing.
The newer Five is the biggest and most powerful wireless home speaker in Sonos' range, and it sounds every inch as detailed and musically pleasing as we've come to expect from Sonos. This flagship iteration (released in June 2020) adds increased memory, snappier processing and a new, er, wireless radio feature. If that doesn't sound like a huge upgrade, know that the last Play:5 was mightily good to start with – and the new all-white or all-black styling does look slightly sleeker.
More than that, though, the new processor puts to rest any doubts you might have about future compatibility and firmware updates (even though the older Play:5 was already compatible with the company's S2 platform) and may even mean support for hi-res audio at some point – something that has definitely been hinted at in Sonos circles.
Ultimately, the Five's powerful and regimented bass clout, undeniably classy audio performance and the Sonos multi-room platform will be all the reason many people need to click 'buy' – and we certainly won't be stopping you.
Read the full Sonos Five review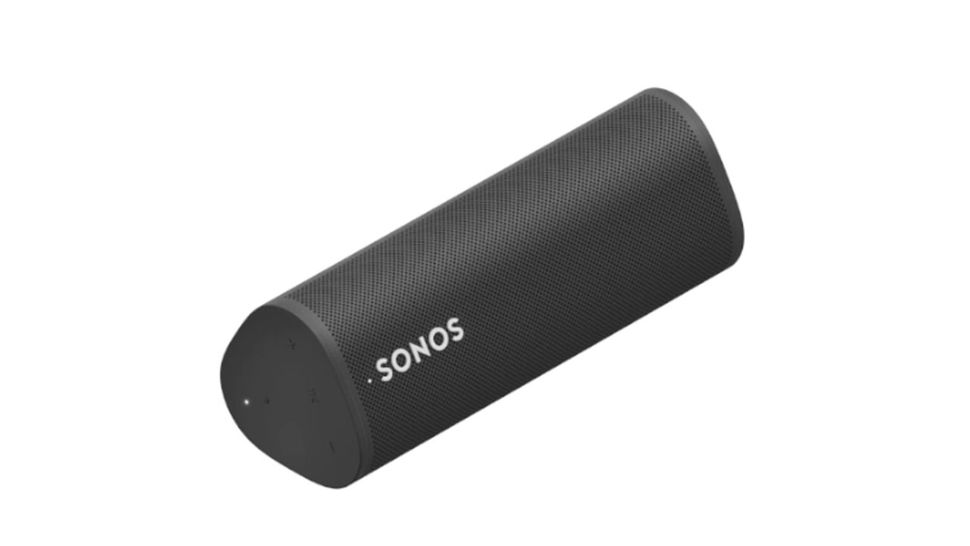 The best Bluetooth speaker that comes with Wi-Fi
Specifications
Dimensions:
6.5 x 2.5 x 2.5 inch / 168 x 60 x 62 mm
Drivers:
One tweeter, one mid-woofer
Supported connectivity:
Wi-Fi and Bluetooth 5
Reasons to buy
+
Powerful audio performance
+
Easily portable design
+
Wi-Fi and Bluetooth
Reasons to avoid
-
Bass can be overwhelming
The Sonos Roam is our pick for the best Bluetooth speaker on the planet, with a powerful sound, rugged design, excellent connectivity features, and smart home control. A bass-heavy audio performance makes it ideal for use outdoors, while a clever Automatic Switching feature means it's easily used indoors, too – though audiophiles may dislike the overwhelming low frequencies and rhythmic handling.
Following in the footsteps of the Sonos Move, the Sonos Roam comes with both Bluetooth and Wi-Fi connectivity, which means it can work as a portable speaker as well as part of your wider multi-room Sonos system – and with Google Assistant and Alexa onboard, it doubles up a smart speaker too.
In spite of its (relatively) low price you're getting a lot for your money here. Its slick design means the Sonos Roam won't look out of place in your home, while a rugged, waterproof and dustproof build and a decent battery life make it ideal for listening to music outdoors.
Read the full Sonos Roam review
Update: Sonos has now announced the brand new Sonos Roam SL. Much like the Sonos One its Sonos One SL counterpart, this new version of the Roam lacks a microphone but is otherwise identical in terms of specs. If you're concerned about privacy and want to save around $20 / £20 / AU$30 then the Roam SL could be exactly what you want.

The best wireless speakers for your home theater
Specifications
Weight:
1.6 lbs (control box), 6 lbs (speakers)
Dimensions:
6 x 2-1/8 x 6 inches(control box), 6-3/8 x 12-3/8 x 5-7/8 inches (speakers)
Drivers:
Up-firing speaker (X-Balanced Speaker Unit), Soft Dome Type Tweeter, Wide Directivity Woofer (X-Balanced Speaker Unit)
Supported connectivity :
HDMI eARC, Bluetooth, Wi-Fi, Chromecast built-in, Spotify Connect, Apple AirPlay 2
Reasons to buy
+
Immersive audio sounds great
+
Supports all kinds of audio technologies
Reasons to avoid
-
Expensive compared to buying a soundbar
-
Doesn't come with a subwoofer
The Sony HT-A9 is a set of four wireless speakers that communicate to each other wirelessly via a control box while creating a further 12 "phantom" speakers by bouncing sound off your walls and ceiling.
This box attaches to an eARC port on your TV and also supports wireless standards such as Bluetooth, AirPlay and Google Cast to enjoy audio not just from your TV but also supports wireless standards such as Bluetooth, AirPlay and Google Cast to enjoy audio not just from your TV but also your phone, tablet and other devices.
The setup is a great solution for someone looking for a better Dolby Atmos sound solution than a soundbar, but who isn't quite ready to invest in a full-fledged home theater system. What's lacking is an included subwoofer and sometimes, the omission of a dedicated center speaker is missed.
Read the full Sony HT-A9 review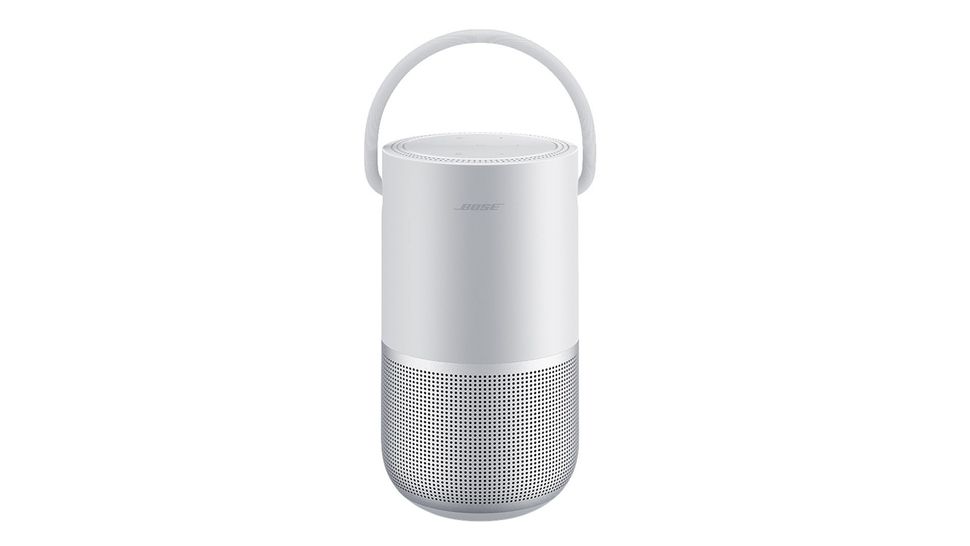 5. Bose Home Portable Speaker
A great Sonos Move alternative
Reasons to buy
+
Great design
+
Well-balanced sound
Reasons to avoid
-
Expensive
-
Lacking in bass
There's a growing market for portable smart speakers, and the Bose Portable Home Speaker is a great example, offering the smarts of Google Assistant and Alexa alongside Bluetooth connectivity.
The Bose Portable Home Speaker isn't the brand's first outdoor-friendly speaker, and it shows: gorgeous minimalist design meets weather-ready robustness, with a light build and handle that lends itself to listening on the go.
It doesn't quite meet the sonic dexterity of the Sonos Move, or the value for money of the UE Boom 3 and JBL Charge 4 – but if you love that Bose sound and build quality, this is the speaker for you.
Read more: Bose Portable Home Speaker review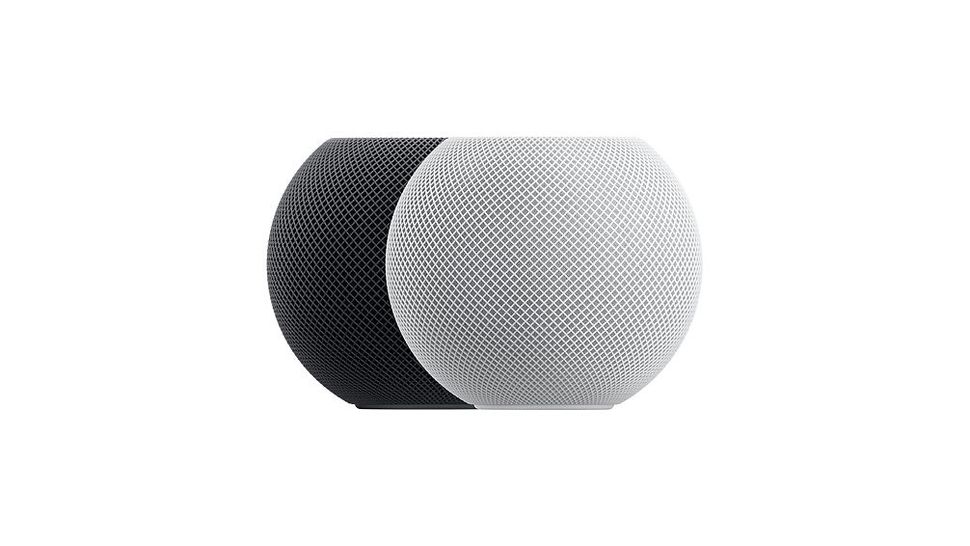 The best wireless speaker for Siri
Specifications
Dimensions:
3.3 x 3.9 x 3.9 inch / 8.43 x 9.79 x 9.79 cm
Drivers:
Full-range driver and dual passive radiators for deep bass and crisp high frequencies
Supported connectivity :
Wi-Fi, Bluetooth 5, AirPlay
Reasons to buy
+
Incredible sound
+
Sleek design
+
Only smart speaker with Siri built-in
Reasons to avoid
-
Needs Apple Music for full function
-
Small number of compatible smart home devices
For anyone looking to enter the Apple smart ecosystem, or who has an Apple Music subscription, this is the wireless speaker to go for. It's far cheaper than some might expect, packing mighty sounds and an elegant design for under $100 / £100 / AU$150.
However, if you don't have an Apple Music subscription, you're rather limited when it comes to music streaming. You can't ask the HomePod mini to play anything through Spotify – that can only be enabled through AirPlay, and requires using your phone rather than the simpler method of asking Siri to play tunes with your voice.
If you're wondering about the original Apple HomePod, you can still buy it, but it has been discontinued. Stock is still available to buy, but it's likely to sell out fairly soon.
Read the full Apple HomePod mini review

7. Sonos Arc
The best wireless soundbar you can buy right now
Specifications
Dimensions:
1141.7 x 87 x 115.7mm (W x H x D)
Speaker configuration:
5.0.2
Connections:
HDMI input (ARC), optical digital audio to HDMI converter, Bluetooth, Ethernet port, 802.11b,g Wi-Fi, Apple AirPlay 2, IR receiver
Reasons to buy
+
Dolby Atmos, TrueHD and Dolby Digital Plus
+
Discrete all-in-one soundbar
+
Amazing surround sound and music playback
Sonos has a new surround sound solution and it's contained entirely in a single soundbar it calls Arc.
The Sonos Arc draws on Dolby's latest TrueHD and Dolby Digital Plus sound codecs to deliver the best quality lossless audio found on cutting edge Blu-ray disks and some of the leading streaming services. It then enhances the 3D soundscape using Dolby Atmos object tracks to bounce certain sounds off the walls around you so they feel like they're coming at you from all angles.
While all this might sound complicated, the Sonos Arc setup couldn't be simpler, involving just a couple of steps on the smartphone app. The minimalist cable connections and all-in-one system construction add to this no-fuss feeling and streamlined aesthetic – making it the best soundbar you can buy in 2021 that doubles up as a fantastic wireless speaker for your TV.
Read more: Sonos Arc review
Looking for more great soundbars? Check out the best soundbars you can buy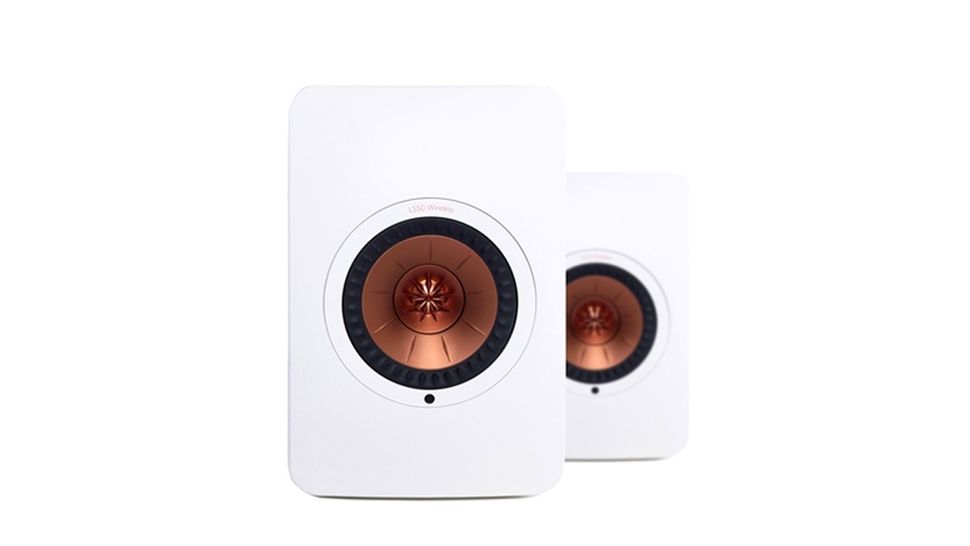 8. KEF LS50 Wireless II
Truly phenomenal stereo speakers for wire-free listening
Specifications
Dimensions:
305 x 200 x 311 mm (12 x 7.9 x 12.2 in.)
Weight:
20.1kg (44.31lbs)
Dolby Atmos / DTS:X enabled:
No
Active or Passive:
Active
Frequency response:
40 Hz – 47 kHz
Reasons to buy
+
Phenomenal audio quality
+
Easy setup
+
Lots of connection options
Available in a range of chic colors, the LS50 Wireless II build upon the success of LS50 Wireless, which impressed with their detailed sound and connectivity options, to create what could be the best stereo speakers you can buy today at this price.
With support for Hi-Res Audio, an expansive soundstage, and excellent detail and dexterity, audio quality is nothing short of fantastic. Add to this a vastly improved app, the ability to adjust the EQ settings, and blissfully easy setup, and you have yourself a pair of stereo speakers that can really do no wrong in our eyes.
Read more: KEF LS50 Wireless II review

9. Marshall Stanmore
A hyper-connected stylish speaker
Specifications
Drivers:
2x Mid-to-high range, 1x Woofer
Supported Connectivity:
Wi-Fi, Bluetooth aptX, USB, Toslink/3.5mm
Reasons to buy
+
Lots of connectivity options
+
Great retro design
Of its trio of wireless multi-room speakers, the Marshall Stanmore is the middle child. However, that doesn't mean it's the unloved sibling.
While the larger Woburn is just a little too big for most rooms, and the smaller Acton has a number of connectivity issues, the Stanmore strikes a nice balance between the two with a sound that's big and punchy, without straying too far into 'overkill' territory (although mark our words, it will if you want it to).
It features its own app for controlling it, but we were fans of how nicely it integrates with a host of other services including AirPlay, Google Cast and Spotify Connect, meaning you can stick to the apps you're familiar with while still controlling your new toy.
But it's the on-board controls that impressed us the most. You're able to set presets from a number of different services, meaning you can happily switch between pre-defined Spotify playlists and internet radio stations with a twist of a vintage Marshall-styled brass knob.
It's not got the most refined sound out of the speakers on this list, but the Marshall Stanmore is intelligently designed and simple to use. If you're looking for something to take on the road, check out our Marshall Tufton review – it packs the vintage Marshall look and rocking sound into a portable design.
Read more: Marshall Stanmore review

10. Amazon Echo Studio
The best Alexa speaker
Specifications
Drivers:
1 x upward-firing midrange speaker, 1 x right-firing midrange speaker, 1 x left-firing mid-range speaker, 1 x forward-firing tweeter, 1 x downward-firing woofer
Supported Connectivity:
WiFi, Bluetooth, Airplay
Reasons to buy
+
Gigantic sound
+
Alexa smarts
Reasons to avoid
-
Larger than your average Echo
-
3D audio is a mixed bag
The Amazon Echo Studio is an impressive offering - a smart-speaker and Dolby Atmos immersive sound home cinema unit, all in one tidy package. Some of its experiments with upmixing stereo sources can sound a bit confused, but it's otherwise a very powerful, feature-rich smart speaker – especially considering the price.
It's a good option for anyone who's low on space and can't stretch to an upfiring soundbar or multi-speaker setup, while Alexa smarts means that it can act as the center of your smart home, as well as your music player.
If you're upgrading from the simple speakers built into your TV, or a lowly stereo soundbar, it's a fantastic and simple upgrade to make to your home cinema system. You'll get a cracking, resonant bass response, excellent volume and far more depth than a comparably-priced soundbar can offer.
As ever with virtualized surround sound, it's not as impactful as having discrete physical speaker channels above and behind you, hooked up to an AV receiver. But that's a huge expense, and not practical for all living room arrangements, making the powerful Echo Studio an impressive value option.
Read more: Amazon Echo Studio review
[Update: We've just reviewed the Amazon Echo Show 10, which comes with a rotating screen and can double up as a home security camera.]
Best wireless speakers 2022 at a glance
Why you can trust TechRadar We spend hours testing every product or service we review, so you can be sure you're buying the best. Find out more about how we test.
Sonos One
Sonos Five
Sonos Roam
Sony HT-A9 Home Theater System
Bose Portable Home Speaker
Apple HomePod Mini
Sonos Arc
KEF LS50 Wireless II
Marshall Stanmore
Amazon Echo Studio
How to choose the best wireless speaker for you
When it comes to picking a new home speaker, sound is probably the most important factor. If you're looking for room-filling sound, check out models that feature 360-degree grilles and disperse audio at all angles; the Amazon Echo Studio or the Sonos One are good places to start.
If it's true audio-fidelity you're after, opt for trusted brands like Sonos, Bowers & Wilkins, and KEF – speakers from these companies are always likely to sound brilliant.
If smart home connectivity is your main concern, then check out Amazon Echo and Google Home / Nest speakers; you'll need to work out which voice assistant's ecosystem suits you, Alexa or Google Assistant.
Wireless speaker deals
Sign up to receive daily breaking news, reviews, opinion, analysis, deals and more from the world of tech.
Mufaddal Fakhruddin is an experienced Editor with a demonstrated history of working in the computer games industry. He is skilled in social media, video idea creation and production, media relations, and journalism.